So you saw someone truck camping and thought, "damn that looks cool, I wanna try it!"
Awesome! Truck camping (also referred to as overlanding) is an amazing hobby that gives you the freedom to explore the world and wake up to the most incredible views.
We want more people to experience that, so we made this guide!
Whether you're brand new to the world of camping or you're a master who's ready to hop into a pickup truck bed for cozier sleeping and the ability to carry more gear, this guide is for you.
I've been truck camping and RVing for over 10 years now and I've tried every method, from a campershell to a rooftop tent and a truck bed tent. Here's everything I learned in my years on the road!
Table of Contents (Click to Expand)
The 5 Things You Need to Truck Camp
First things first: There are five key things you need to cover when truck camping:
1. Food
Obviously, you need food. Whether you just pack dry goods that require no cooking or you want a five-star camping meal, you'll need a way to store, cook, and clean up your food. More on that later.
2. Water
Secondly, you can't survive without water. While you can just buy water bottles, this creates a lot of extra unnecessary waste. I'll cover other ways to make sure you stay hydrated on your adventures.
3. Shelter
Next up, you need a place to sleep! Whether that's a tent or a camper shell is up to you – I'll share the three main truck camping methods in the next section.
4. A Way to Regulate Your Temperature
When living out of your pickup truck, you don't have central air. I'll discuss some ways to stay cool in hot climates and warm in cold ones. This is especially important if you're camping with dogs or kids.
5. A Good Night's Sleep
What's the point of camping if you spend all night tossing and turning? If you're going to spend more than one night on the road in your truck, you'll want to make sure you're comfortable and able to sleep well so you can hit the trail bright-eyed and bushy-tailed in the morning!
For a more comprehensive gear overview, check out our guide to the 50+ Best Truck Camping Gear and Accessories.
Truck Camping Methods
Now that you know the basics, let's talk about the different methods of truck bed camping:
1. Camper Shell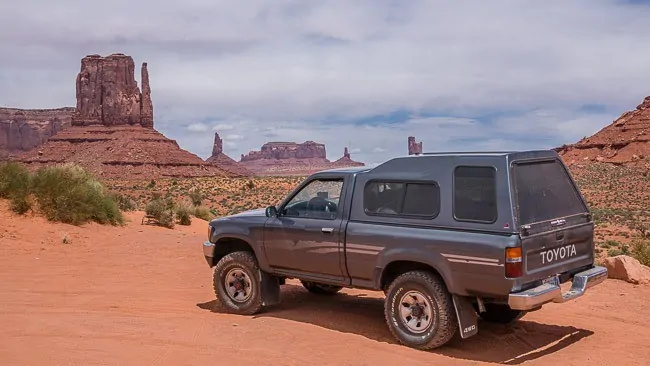 You've probably seen plenty of pickup trucks with a camper shell on the back. This is one of the most common methods truck bed camping because it's as simple as throwing a shell on the back and tossing a mattress in your bed.
You may be dreaming of turning your Toyota Tacoma into a truck camper after Toyota teased us with the unveiling of the Tacoma Tacozilla. Since the Tacozilla will never hit the market, all we can do is dream and try to recreate the dreamy camper the best we can.
There are lots of ways to use the camper shell—you can either have a simple mattress or you can build out a whole platform that includes storage shelves! There are tons of camper options for short-bed Tacomas and long beds as well.
Check out our guide to our favorite Tacoma bed caps for inspiration on what bed cap is right for you. Also, we love this guide from Desk to Dirtbag for more info on camper shells.
2. Rooftop Tent
The method I'm currently using is the rooftop tent method. The benefits of a rooftop tent are that they are light-weight, easy to use, and come with a built-in sleeping pad and sleeping platform. You're off the ground but still have that fun tent experience!
There are several kinds of rooftop tents, but they fall into one of two categories: Hard-shell and soft-shell.
I have the iKamper SkyCamp Mini on the back of my Tacoma, which is a two-person hard-shell tent. I like the hard-shell tent because it is easier to assemble and break down, easier to keep clean, and isn't as exposed to the elements.
I am also a huge fan of the Go Fast Campers because of their modular design—this allows you to even stand up inside your tent! Check out our full review of the Go Fast Campers if you want to check out another great hard-shell RTT design.
However, hard shell RTTs are typically much more expensive than their soft-shell counterparts, and soft-shell RTTs typically have more room inside because they aren't forced to use the shell as one of the walls of the tent.
TLDR: Hard-shell if you want convenience, soft-shell if you want money savings and a bit more space.
Some options for rooftop tents include:
3. Truck Bed Tent
Rooftop tents are awesome, but if you don't have thousands of dollars to spend on a tent, another great option is to get a truck bed tent. These tents set up directly in your truck bed, allowing you to get the benefits of being off the ground without breaking the bank.
Some options for truck bed tents include:
4. Ground Tent
Last but not least, a ground tent is another option for truck camping. While you're not totally utilizing your truck bed, at least you get to go camping and have all your gear in your vehicle!
Wanna camp in luxury? Check out some of these 14-person tents!
How to Sleep Comfortably in Your Tent or Shell
Remember: A good night's sleep is important! You need two things to sleep well – a mattress and a sleeping bag.
1. Mattress
Many of the rooftop tents come with mattresses. However, they aren't always the most comfortable. And if you opted for another method, such as the camper shell, you'll need to buy a mattress.
One of the most popular mattresses for truck bed camping is the Exped inflatable mattress series. Don't let the inflatable title fool you – these mattresses are extremely comfortable, light-weight, and take up virtually no storage space. They're definitely worth the price tag if you can afford it!
Other options are a memory foam mattress or a sleeping pad. But if you have a mattress laying around, just toss that in the truck bed and hit the trails!
2. Sleeping Bag
Trust me when I say a good sleeping bag makes a world of difference. I highly recommend you carry a zero degree or 15 degree sleeping bag in the back of your truck. I've had too many cold sleepless nights while camping to skimp on a sleeping bag.
There are two things to pay attention to with your bag:
Synthetic Insulation – synthetic is best for truck camping because, unlike down fill bags, a synthetic-fill sleeping bag won't be as affected by condensation and moisture.
Proper Temperature Rating – again, I prefer lower temperature rating sleeping bags like zero or 15 degrees for most situations. However, if you're camping in the middle of summer and it doesn't get below 60, a summer bag will work much better.
I personally use a Big Agnes 15 degree bag with a sleeping bag liner. The bag liner gives added warmth while also giving you something you can easily remove and wash so your bag doesn't get stinky!
As for your pillow – bring your favorite one from home! No need to buy a camping pillow when you can have the real deal and sleep more comfortably.
Truck Bed Camping Kitchen
Sure, you could eat dehydrated camping meals that just require hot water, or you can roast some hot dogs on sticks. But if you're going to spend more than one or two nights a year camping, you'll want a better setup than that!
You need two things for cooking out of the back of your truck: A camp stove and some kitchenware.
1. Camping Stove
A good camp stove is an important part of any camping setup. And with truck camping, you get to hold some slightly heavier (and also better) burners!
I personally love the Eureka! Ignite Portable Camp Stove. It's a good price, reliable, and packs easily. Plus, you can cook on it right on your pickup's tailgate.
If you prefer a standing grill, the Camp Chef Yukon is another excellent choice.
If you're on a budget, a simple Coleman two-burner grill is another option.
Reminder: Don't forget the propane fuel with your grill!
2. Kitchenware
I personally like to keep my kitchen setup as minimal and simple as possible. But if you like to cook fancy meals on the road, you'll need more than me.
Personally, I bring these for my camp kitchen:
Backpacking Pot/Pan Set
Spatula
Good Knife
Utensils
Camping Plate
Camping Mug
Paper Towels
Cutting Board
Tongs
Scissors
Tinfoil
Don't forget clean up! It's important to have trash bags, and I also like to bring a collapsible dish bag with some camp soap for cleaning up the dishes afterwards.
Truck Camping Storage
Next up, let's talk storage. If you're anything like me, you'll get excited about all the cool camping gadgets and overlanding gear and buy all of the things! You'll need a way to keep it all organized.
Gear Storage
Storing everything from your kitchen gear to your clothes, off-road recovery gear, sleeping bags, etc. is fairly easy. Some options include:
Totes (from Walmart or Target)
Pelican Cargo Cases
ROAM Cases
Rubbermaid Cases
Zarges Off-Road Storage Boxes
Check out our guide to the best off-road storage boxes for more information!
Water Storage
Like I said in the beginning, you can always buy water bottles or water Jerry cans. However, I prefer to eliminate as much waste as possible, and also keep myself off-grid for as long as possible. So here's my setup:
MSR Dramedary Bag for Water Storage
Sawyer Water Filter (if you want to be able to drink from local water sources)
With a good water source and a water filter, you can stay off-grid almost indefinitely! At the very least, you can fill your dramedary bag for free at most campgrounds, travel centers and rest stops.
Just make sure you only fill with potable water – and I'd recommend using the filter even on that. You never know what might be in their water!
Food Storage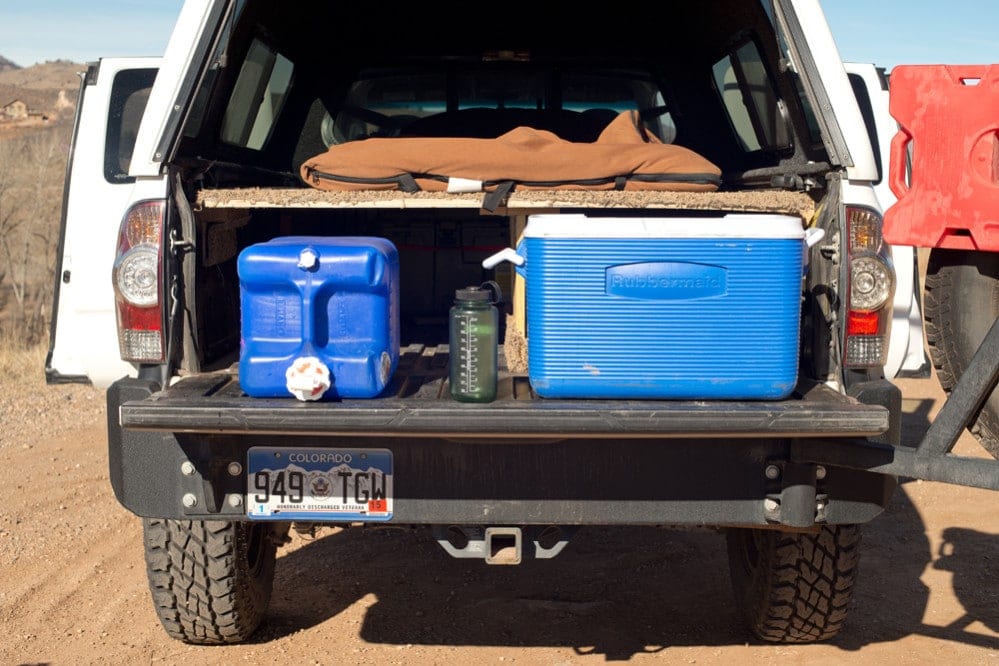 Food storage is probably one of the biggest pains of truck bed camping. Your options include a cooler and ice, a portable fridge that plugs into your truck, or just bringing things that don't need to be refrigerated.
Portable 12v Fridge
Ice Chest or Cooler
Dry Food
I've done all three options, and I can say I really love my BougeRV portable fridge. It plugs right into my cigarette lighter, and when the truck is off, I plug it into my Jackery Solar Generator. Plus, it was only $200, which is less than most good roto-molded coolers!
I would like to upgrade to a portable fridge that also has a built-in battery, however. If I'm not running the truck and my Jackery battery is dead, I can't run the fridge, which can get annoying.
As for cooler options, I have personally used and love the RTIC coolers. They hold ice for over a week and they're durable enough to last a long time.
Finally, you could just grab a small tote or bag and stuff everything in that. Start with what you have! No need to go spending a ton of money to enjoy truck bed camping.
Warning: While plastic totes and containers are fine, if you're camping in bear country, you should consider investing in a bear-proof container to secure your food and familiarize yourself with the best practices when sleeping in bear territory.
Truck Camping Safety & Repair Equipment
There are a few things you should have in your pickup truck at all times, and these include:
Tire Patch Kit
First Aid Kit
Bear Spray
Bug Spray
Sun Screen
Basic Tool Box
I personally carry a small tool bag with all the tools I need to fix minor breaks. I'm not one of those crazy guys that brings a welder and metal and is ready to fix a broken axle on the trail, but if I pop a tire and need to patch or change it, or if I need to tighten a bolt on my roofrack, I have the means to do so.
My tool kit includes:
Ratchet
Screwdriver
Hammer
Drill Gun & Bits / Attachments
Simple, right? It all fits in a small bag I store behind the back seat of my Tacoma.
If you're looking for more gear you should have while truck camping, we also put together a more complete guide to must-have overlanding gear you can check out!
Bathing While Truck Camping
Keeping clean while camping doesn't have to be super difficult. You can find showers at most campgrounds and at truck stops and travel centers.
But a nice shower in the woods is always an option, too!
Either bring a sponge and use your collapsible sink as a water basin to give yourself a nice sponge bath or get something like the Road Shower to have a pressurized water hose you can spray yourself with!
They also make portable shower curtains you can use to stay hidden while showering or using the bathroom.
Finally, another option is to bring baby wipes or, better yet, full-body wipes like Venture Wipes. You can clean your whole body with one wipe, and they can even be repurposed to reduce waste!
Using The Bathroom While Truck Camping
One of the most common questions I get about truck camping is: Where do you go to the bathroom?
While a good old-fashioned shovel and some toilet paper can do the trick in many places, a lot of places like National Parks and protected land don't allow you to go to the bathroom in nature.
Most campgrounds will have a bathroom. But if you're wild camping (camping outside of a campground where there are no amenities), you will need a bathroom solution.
You could always bring a bucket with a toilet lid and some toilet bags in it and carry them out. But if you want to save on space (buckets take up a lot of space), then consider getting a collapsible toilet.
One of the best options is the Thunder Box. It folds up to take up almost no space, is super light weight, and is still strong enough to hold up for a long time.
Staying Warm While Truck Bed Camping
Unless you're planning on camping in extreme temperatures (like winter in the mountains or summer in the desert), you're probably fine with a good sleeping bag like I suggested earlier.
However, if you ARE going to be camping in sub-freezing weather, it's important to be prepared.
Some of your options include purchasing a tent liner meant to keep your tent warmer, a heater to heat your living space, and sleeping bag liners to increase the temperature rating by 5-10 degrees fahrennheit.
Additionally, keep in mind that you can move your camping setup easily to a more ideal location!
I'm not talking about driving hundreds of miles to warmer weather (although that is always an option). What I'm talking about is moving your truck to a lower altitude location and putting it somewhere to help block the wind, like in between some trees.
If you're camping inside a camper shell or van you'll want to ensure you have insulated curtains to help block the cold out. There are tons on the internet, or you can get creative and DIY your own campervan curtains!
If you're more of a warm-weather camper, staying cool in the summer can be just as important. Check out our guide for staying cool while summer camping.
Truck Camping Off-Grid Power
When it comes to truck bed camping, you'll often be staying in places with no access to electricity.
Enter: Generators!
Obviously, there are gas-powered generator options. However, these are loud and require constant fuel. That's why I prefer solar-powered batteries, such as the Jackery Battery with Solar Panels.
Having solar power means free power almost anywhere! It's also completely quiet to run. And, if you set up the wiring properly, you can charge your solar batteries off your trucks alternator while you're driving!
Check out our full guide to overlanding solar setups here.
Other Useful Truck Camping Gear
In addition to everything we already talked about, here's a list of things I always bring when I go truck bed camping:
Camp Tables
Head Lamps
Decorative Lighting
Propane Fire Pit
Leveling Blocks
First Aid Kit
Portable Toilet and Pop-up Shower Tent
Hatchet
How to Find Places to Go Truck Camping
So the bed of your truck is packed and you're ready to go camping! There are lots of ways to find truck camping spots for your trip.
My first go-to method of finding adventure locations is through these apps:
Besides the apps, simply Googling places to truck camp in your area is an easy way to find hidden gems for your adventure.
You can also get a subscription to a service like Harvest Hosts, which lets you camp at wineries and breweries for free! Just keep in mind you need a black water tank to get a membership, so this one is only for people with a camper in their truck bed.
A Few Final Tips
I hope you found this guide to truck bed camping helpful! Truck camping is one of my absolute favorite ways to explore and get off the grid.
While you can spend tons of money on camping gear and building out the ultimate truck camp system, the best method is to simply get out there and start doing it! You don't need the fanciest sleeping area or expensive solar power battery setups to enjoy the outdoors.
My best advice is to make a list of everything in your truck, down to the last little item. Whenever you go on a camping trip, check off each item as you use it. Any time you wish you had something that would make your life easier (like a cooler or a nicer camp chair), put that on a separate list.
After 3 or 4 adventures, you'll have a good idea of what camping gear you actually use and what's just adding unnecessary weight and clutter to your rig. You'll also have a list of essentials you wish you had to help you figure out what you actually need to buy and what's just for glamor.
If you have any questions or ideas, drop a comment below! You can find more info and awesome photos of my truck camping adventures on Instagram at Adventures On The Rocks!
Related Reading: All The Best 4×4 Adventure Vans