If you're intent on building a badass overlanding rig, you need a roof rack.
An overland roof rack gives you the space you need for everything from solar panels and light bars to mounting solar panels or even a roof top tent.
But with all the options out there, how do you know which one to pick?
I did all the research—and tested a few on my Toyota Tacoma overland build—to help you answer that question.
Here are the best overland roof racks available right now.
Table of Contents (Click to Expand)
Our Top Pick
Prinsu Racks - Overland Roof, Bed & Cabin Racks
Prinsu is one of the most well-known overland roof racks for Toyota Tacomas, Toyota Tundras, and Jeep Wranglers. They're known across the world for their quality and ease of installation compared to other rack options. I love my Prinsu.
View on Overland Junction
We earn a commission if you make a purchase, at no additional cost to you. We appreciate you!
Things to Consider When Buying a Roof Rack
Below I listed the best roof racks for overlanding and off-roading. However, before you dive in and buy one, there are a few things to consider:
What is the weight of the rack? Weight is super important to consider when building an overland rig. The heavier it is, the less other stuff you can add before needing to upgrade shocks and other parts.
What is the material? Aluminum will be lightweight and rust-resistant, but may not be as heavy-duty or durable as a stainless steel rack. Which you choose depends on…
What will you carry? Roof racks are great for kayaks, roof top tents, awnings, storage boxes, or even just as extra space for hauling stuff. Which you buy depends on what you'll be carrying. Light weight racks can accommodate light loads, but if you're hauling heavier stuff, you'll need something more heavy-duty. However, also consider the max cab load for your particular vehicle! You don't want to over-load the roof.
Looks and wind reduction. Let's face it—you probably want your rack to look cool. And, while you're at it, you probably want to reduce impact on your MPGs. These factor in as well!
You also don't have to place your roof rack on top of your truck, either! If you were to build a DIY overland trailer, you could place it on top of your build.
Now that's out of the way, let's dive into the best racks!
Related Reading: The 7 Best Toyota Tacoma Camper Truck Setups in 2022
One of the top brands, the Prinsu roof rack is the one I currently have installed on my 3rd gen Toyota Tacoma. Made from lightweight aluminum and powder coated with a Satin Black textured finish, this thing is both sleek and badass.
It has the option of coming with or without a light bar cutout—I got mine with the cutout, but I admit I regret it slightly. The roof is a bad spot for a lightbar because it lights up your windshield more than the road in front of you, and it will cut into your gas mileage slightly because of reduced aerodynamics. Between you and me, do yourself a favor and get a high-quality light bar that mounts on the front of your grill instead of on the roof rack.
Prinsu racks come with an edge trim to minimize wind noise, and I haven't noticed increased noise after installing it. It does require drilling to install, however, so be aware of that! Lastly, it's important to note that it has rails which you can easily use to install hooks or semi-permanently mount things to it.
They have a model to fit nearly any popular pickup truck, jeep wrangler, jeep gladiator, Toyota 4Runner, and more. There's a custom cab rack for almost any overlanding vehicle.
Note that I've put things like lumber, kayaks, and more on my Prinsu with zero issues! Overall I'm very happy with it.
Related Reading: Best Roof Racks For a Toyota Tacoma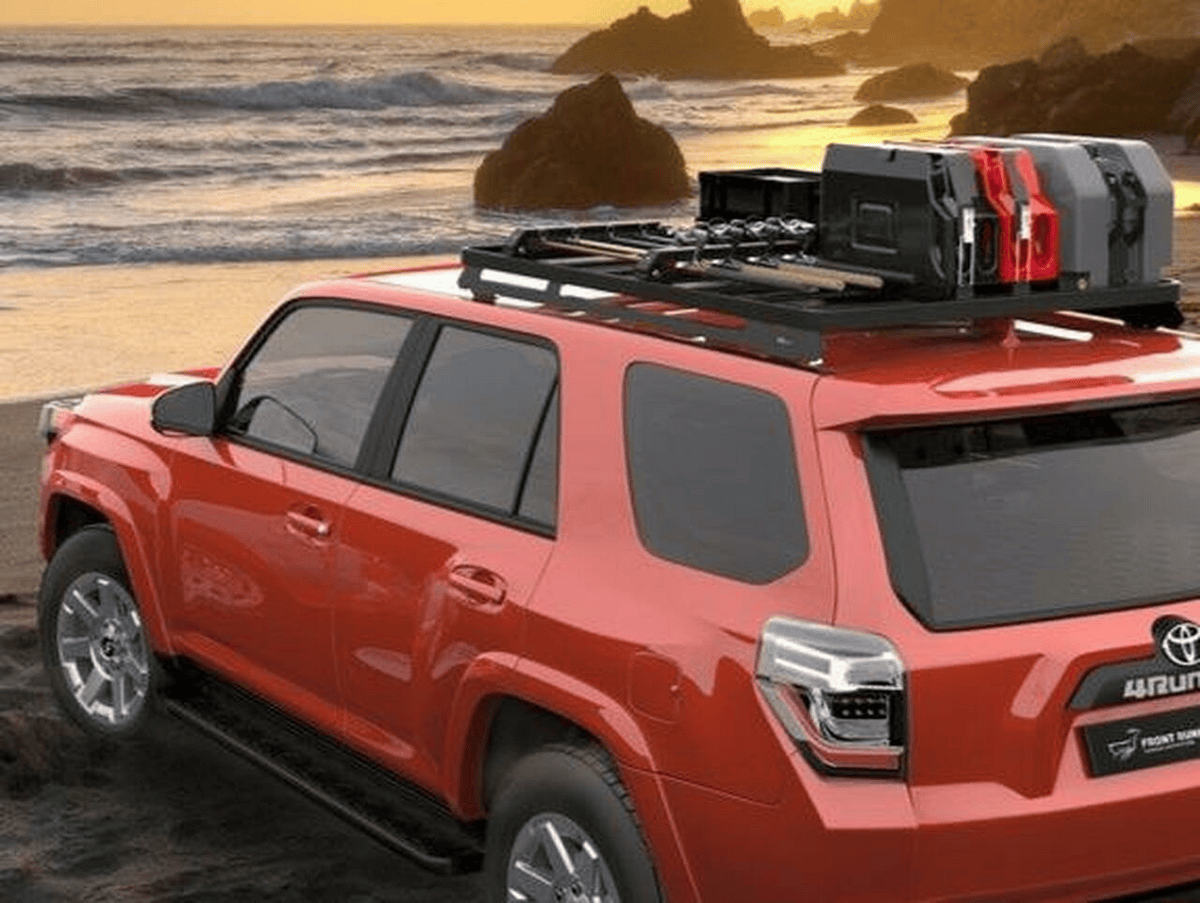 I installed a Front Runner bed rack over my Diamondback tonneau cover. Their roof racks are also solid, with a low profile and a useful lip around the edge to hold things in place while driving.
I'm not a fan of the flat front, however. While Prinsu has a slanted wind deflecting front, Front Runner instead has a flat front that smacks the wind head-on. This leads to more road noise and slightly worse MPGs.
Overall, if you need a rack with a lip and mounting rails, you can't go wrong with a Front Runner.
This rack is compatible with several different vehicles, including the 4Runner and Tacoma. We also compiled a complete list of our favorite roof racks for the 4Runner, so be sure to check that out!
3. ARB 4×4 Flat Roof Rack
A solid roof rack that is sure to hold up for many years, the ARB flat roof mount is heavy and durable. While ARB doesn't have many mounting accessories, you can check out FourTreks for tons of different mounting options.
The aluminum alloy version could shave a few pounds, but the steel version is pretty heavy. It just depends on whether you prefer something more durable or losing weight.
4. Warrior Products Universal Platform Rack
The Warrior Products platform rack is another excellent choice, with enough room underneath to mount a light bar while still keeping a fairly slim profile.
It's also a good lightweight option. Check out this forum post for a more in-depth review and installation pictures.
5. Garvin Industries Expedition Rack, Jeep Wrangler JL 2-Door
If you happen to have a Jeep Wrangler, this Garvin Industries rack will serve you well. There is plenty of room to install all kinds of goodies.
One of the nice features of this rack is that it folds away fairly easily if you have a soft-top jeep and still want to be able to put the top down on those nice days.
6. Rhino-Rack Pioneer Platform
Expedition Portal has an excellent in-depth review of the Rhino-Rack platform. TLDR; It's a slim, strong, lightweight rack that doesn't break the bank. What more could you want?
7. Baja Rack G5 Utility Roof Racks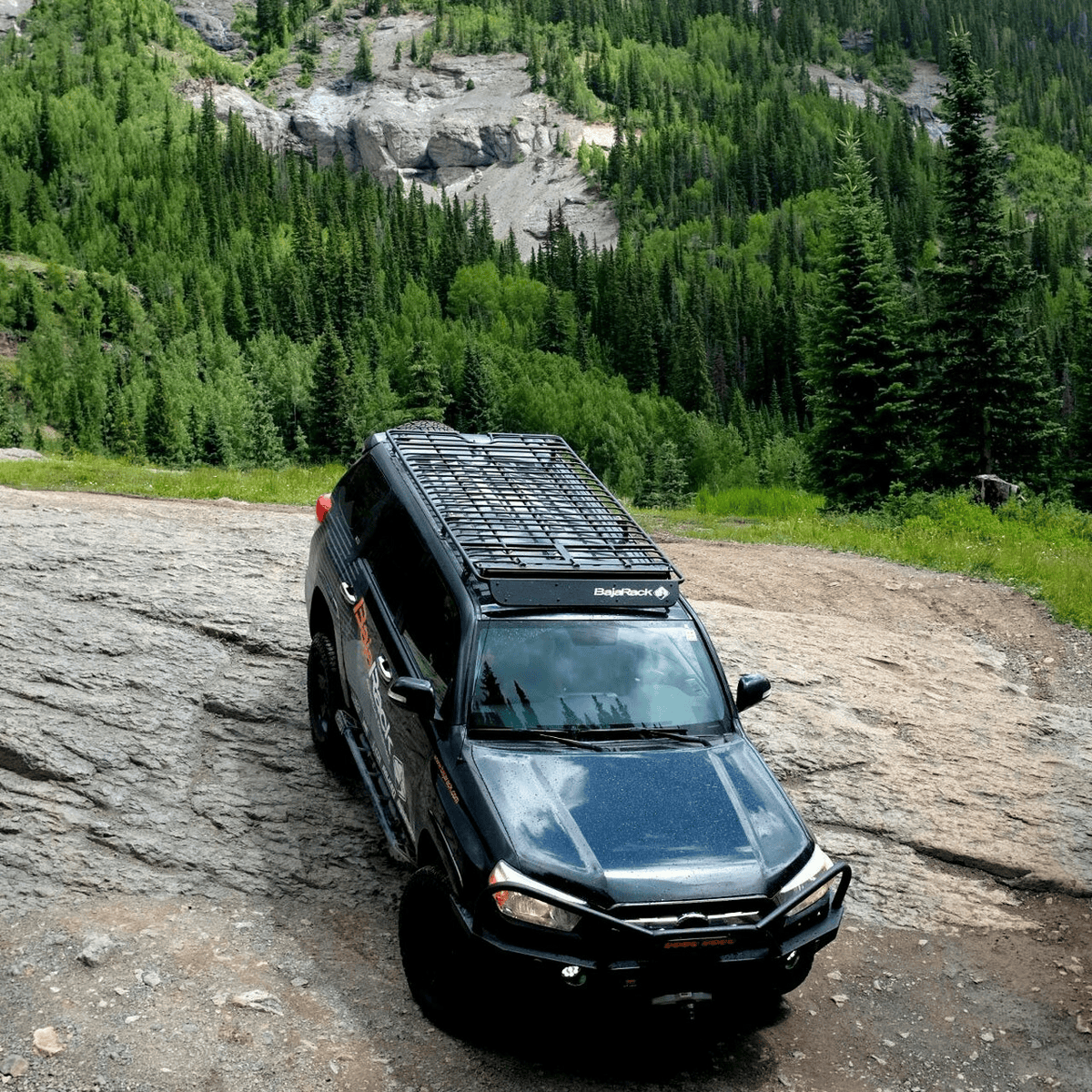 The Baja Utility rack is an excellent semi-budget option for any Toyota Tacoma, Toyota 4Runner, or Jeep Gladiator. It's held up well over the years and does what you need it to do.
And, because it's multiple pieces, it's lighter-weight and easier to ship. Here's a forum post with a few people's experiences. Seems like no one has any complaints.
8. Yakima LockNLoad System
One of the great things about Yakima's LockNLoad system is its extreme customizability. With the T rails, you can attach almost anything to this rack with a simple nut and bolt setup.
It weighs roughly 85lbs without any accessories or add-ons and is off-road rated to 165-330lbs.
The rack itself mounts directly to your stock cross bars, but if you don't have crossbars, you'll need the TimberLine Towers with two sets of the SL (Streamline) Adapters.
9. Fab Fours Overland Rack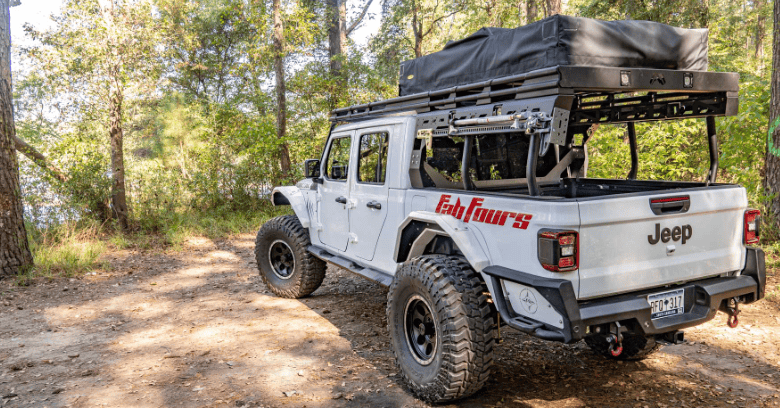 Made specifically for the Jeep Gladiator, the Fab Fours overland rack is actually a bed rack roof rack combo. It installs like regular bed racks, but has a roof rack that extends from the bed rack over the cab.
It looks just as badass as it handles. However, it is made of solid steel, so this sucker is heavy. Don't expect to save any weight with this rack.
That said, it's extremely rugged and will ensure you have the space and safety you need to explore the heartiest of trails!
Other Overlanding Gear
Once you've gotten your roof rack, it's time to look into some other gear, such as:
Rock sliders to protect your body
Water cans to stay hydrated
Bed racks and rack systems
Check out our guide to essential overlanding gear for more insights into what you might want while off the beaten path!