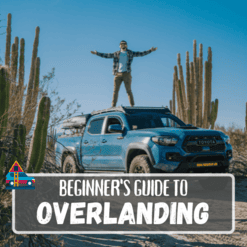 So, you're interested in overlanding, eh?
Overlanding travel is one of the oldest and most adventurous ways to get around. Before it became a recreational activity in the early 1900's, it was just called travel.
Every trip from one place to another was overlanding. But nowadays, most people get into overlanding to have fun camping off-grid in beautiful places.
I've overlanded thousands of miles, from Maine to Washington and even down to Baja Mexico. And I'm about to share everything I know!
If you're ready to take your first overland trip, this guide will help you learn everything you need to know about the basic camping gear, overlanding vehicle, and skills to get out there.
What is Overlanding?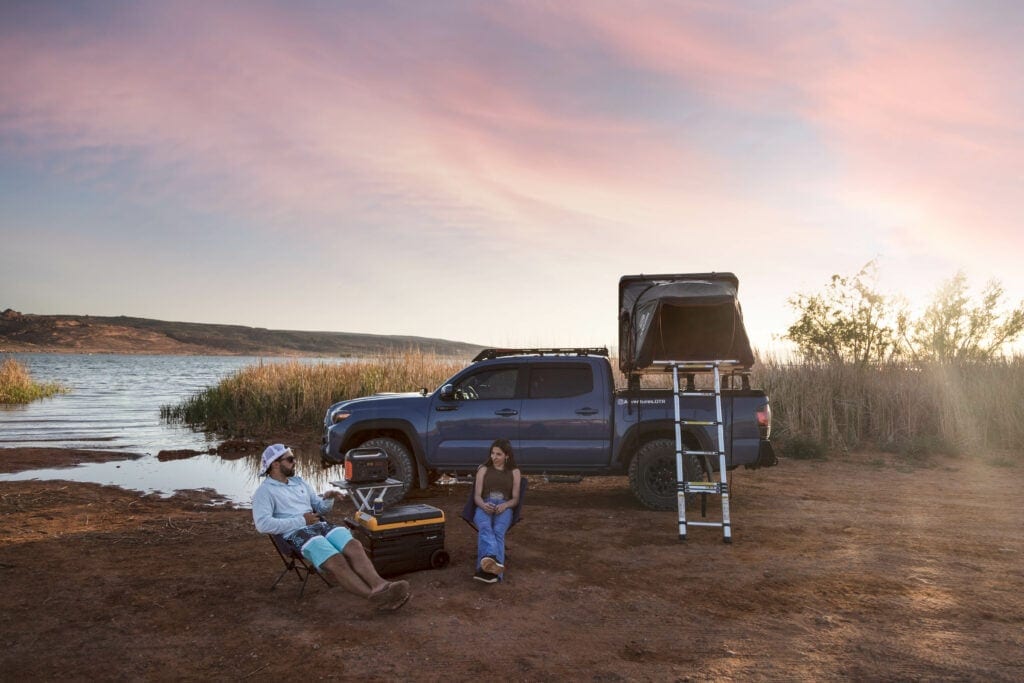 Overlanding is vehicle-based, self-reliant adventure travel. It's about packing some gear and a tent and going off-road to remote destinations.
Historically, overlanding began as backcountry motorcycle exploration with adventure bikes. But since its inception as a recreational activity in the early 1900's, it's grown to include all kinds of off-road vehicles.
Related Reading: Off-Road Vehicles Create Booming $12.3 Billion Dollar Market
What Vehicle Do You Need to Start Overlanding?
The best overlanding vehicles are those with high-clearance and 4WD. However, you can turn simple car camping into an overlanding trip, regardless of what vehicle you have right now.
The thing is, while you may need four-wheel drive to do some of the more fun off-roading trips, there are plenty of cool dirt roads any vehicle can go on so you can start with what you have.
All wheel drive helps, but again, it isn't needed.
What you really need is a reliable vehicle, some food & water, a place to sleep, and a general idea of where you can and can't go with your vehicle.
Related Reading: The 7 Best Toyota Tacoma Camper Truck Setups in 2022
Where Should You Go?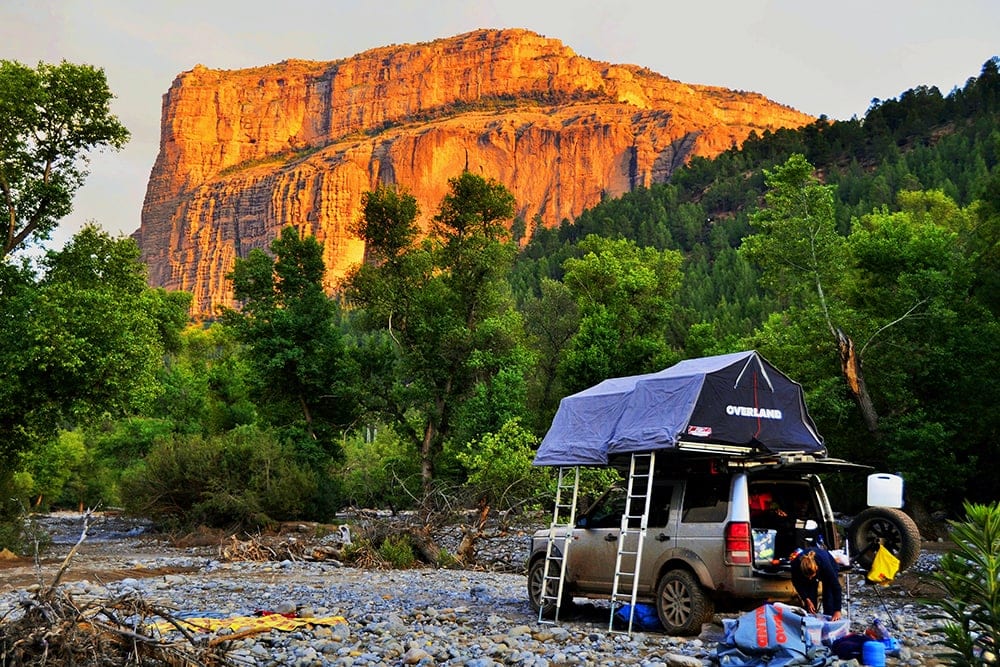 There are so many incredible places to explore and go dispersed camping in the US and even in Mexico. The options are almost endless.
For your first trip, you should go somewhere you already know that either has cell service or isn't too far out in the middle of nowhere. Any old back road will do (that you have permission to be on, of course!)
But if you don't have anywhere in mind, you can find overlanding spots with Google and apps.
I like to use the app OnX Off Road. They have off-road maps with trails that show terrain, difficulty rating, and other overlandering enthusiasts' reviews of the trail.
You'll often see pictures of the trail and people will say whether you need 4×4 or high-clearance to get through the trail.
Other options for finding cool overlanding trip ideas include:
You can also always call or visit your local ranger's office and ask them where trails are and what your specific vehicle can handle. They often have local maps that show the area and far more insight than you'll get in most apps.
In general, you want to look for public lands like BLM (Bureau of Land Management) land or national forests.
What Gear Do You Need for Overlanding?
When it comes to overlanding gear, you can easily get carried away. At least, I know I did when I first started!
But before you dump all your money into cool camping gear, here's some advice:
Make a list of everything you have, take it on a weekend trip, then note everything you didn't use and everything you wished you had while on the trip.
This way, you're not packing extra unnecessary gear and you get to see exactly what overlanding gear you'll need but don't have.
That said, the true essential overlanding gear is:
Shelter (tent or spot to sleep in your car)
Bedding (pillows and blankets or sleeping bags)
Food & water (and a place to store it)
Lighting (flashlight or headlamp)
Basic recovery gear (like a shovel, recovery strap, and jack stand)
Communication gear (like a satellite phone, GMRS radio, or at least a cell service booster)
First aid kit
Tire repair kit
A good pocket knife
Some good traction boards (just in case)
A lighter
Everything beyond this is about making life easier and more fun. But with just the above essentials, you can get on the road.
Of course, if you really want to go to remote places and have an off-roading journey, you should also look into vehicle gear like skid plates, a roof rack, good off-road tires, and other must have gear for heading to remote areas. But these are advanced and not necessary to get started.
How to Start Overlanding Today
Ready to get started overlanding? Awesome! Here's what to do:
Make a list of everything you have for overland travel
Pack it all up into your overlanding vehicle
Pick where you want to go by researching on the apps or calling a ranger station
Head off road to your destination
Enjoy & return!
It really is that simple. My best advice would be to go out there with what you have now and see if you enjoy it. If you do, you can look into buying true overlanding vehicles and decking it out with all the best off-roading gear you can find over time as you learn what you like.
Related Reading: The Ultimate Guide to Camping With Dogs
Frequently Asked Questions
Here are a few things I'm often asked about overlanding:
Where do you poop when overlanding?
You have a few bathroom options when you're off the beaten path:
Use public restrooms or pit toilets when available
Go outside and bury your poop
Poop in a bag and pack it out
Be sure to adhere to local rules and guidelines. Some places won't even allow you to bury your poop and make you pack it out, in which case it's a good idea to have a portable toilet.
It's also fun to have a portable camp shower to stay clean no matter where you go!
What is the difference between overlanding and camping?
Overlanding and camping are basically the same thing. The only difference is that overlanding typically means vehicle-based camping over long distances, sometimes for long stretches of time. You can camp for a weekend. You can overland for a month!
What is the best state for overlanding?
The best state for overlanding right now is Utah. With all of its national forests, public lands, and vast stretches of empty space, there are more options to explore than other states.
California, Arizona, and Colorado are also excellent states to go overlanding in. But regardless of the state you live in, there are places to go exploring. You just have to look!
Do you need 4×4 to overland?
No, you do not need 4×4 to overland. Most overlanders have 4×4 vehicles, but you can absolutely go overlanding in whatever vehicle you have right now, as long as it's reliable.
That said, to truly go off-roading to the more remote destinations, you will likely need four-wheel drive with high clearance. It really just depends on where you want to go.
But some of the coolest places I've ever visited were on simple dirt roads that any old vehicle could go on.
Final Thoughts
I hope this beginner's guide to overlanding helped you find some basic information and get out there to go on an adventure!
If you have any questions on overlanding or off-roading, feel free to drop a comment below and I'll do my best to answer it.
In the meantime, here are some other guides to help you become more self-sufficient and explore the coolest wilderness areas: