Shopping for a reliable off-road air compressor isn't as easy as it seems.
With so many different options from seemingly endless brands, figuring out what air compressor is right for you can be difficult.
Luckily, we've put together a guide of some of the best air compressors that will take your off-road experience to exciting new heights.
Here are three off-road air compressors for overlanding and wheeling.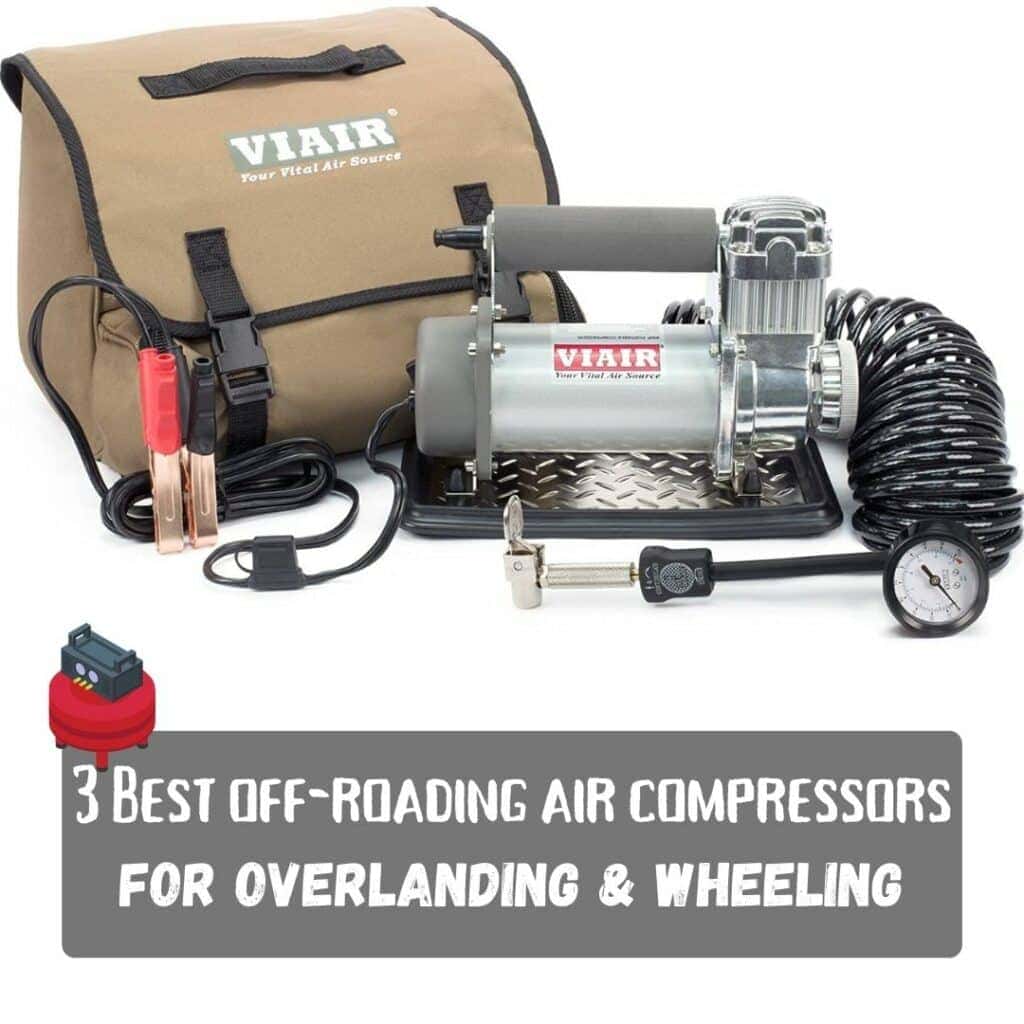 Top-Rated Off-Road Air Compressors
There's a lot to consider when buying a new air compressor. You need to evaluate tank size, durability, power, and more before committing to a purchase. It can be overwhelming, but with this guide, you will learn what to look for and how to choose the best portable air compressor for 4-wheel drive vehicles.
One of the most important metrics to consider when shopping for an off-road air compressor is CFM (cubic feet per minute). CFM measures how much air can move through a compressor during a specific period of time.
Compressors with a high CFM rating can inflate tires much quicker than average units. Hardcore off-roaders want an air compressor with high CFM so they can maximize their time on the trails.
Although largely assumed to be an important metric for 4×4 tire inflators, PSI (pounds per square inch) isn't as significant as the CFM rating. However, a good portable air compressor still needs a decent amount of PSI.
Check that a unit has both a good PSI and a good CFM rating before purchase. Some companies like to hide low CFM ratings behind high PSI, so doing a bit of homework before committing to a specific air compressor pays off.
Most off-roaders don't want to spend more time inflating or deflating their tires than they have to. That's why most veterans seek out air compressors with high duty cycles. Duty cycles refer to how long an air compressor can run before going through a cool-down process and how long the cool-down process lasts.
Units with a high duty cycle can run longer and recover faster, diminishing the time it takes to prepare your vehicle for off-road trails. Don't be fooled by cheap air compressors that boast long runtimes while hiding short duty cycles in the fine print. A unit might run for 45 minutes, but if it has a low duty cycle percentage, the cool-down process might be twice as long.
When it comes to heavy-duty portable air compressors, you can't go wrong with the ARB CKMTA12 Twin. Don't let its compact structure fool you—the ARB CKMTA12 is built to last and can handle the most rugged rides in the most extreme temperatures.
The internal thermal protection and top-of-the-line design give it an extra layer of protection, so you don't have to worry about it breaking down any time soon. The ARB CKMTA12 utilizes a compact twin motor capable of compressing more air than any other air compressor in its class. With 6.16 CFM and a 100% duty cycle rating, the ARB CKMTA12 can handle even the most experienced off-roader's inflation needs.
It's also equipped with an over-pressure safety valve to prevent over-inflation. The ARB CKMTA12 can also reach up to 150 PSI and go from 20 PSI to 40 PSI in about 90 seconds. Despite its power, the ARB CKMTA12 is easy to use and incredibly quiet compared to similar air compressors.
If you are looking for a simple yet powerful off-road air compressor, check out the ARB CKMTA12.
Pros
Durable and built to last
Quiet operation
Powerful
Easy to use
Can handle high temperatures
Comes with an over-pressure safety valve
Fast inflation
100% duty cycle
6.16 CFM rating
Cons
Doesn't come with solenoid or front/rear switches
No pressure gauge
Small alligator clips
Can be a bit pricey
A bit heavy compared to similar compressors
Experienced off-roaders will probably be familiar with VIAIR. They've been supplying the automotive community with quality products for many years, establishing themselves as one of the leading brands in the industry.
The VIAIR 400P air compressor continues the company's winning streak with its exceptional power and fast-acting inflation. It has a 2.54 CFM rating at 0 PSI and produces up to 150 PSI for 15 minutes. The VIAIR shouldn't have any problems filling a 35-inch tire with ease, making it one of the best off-road air compressors on the market.
One of the best aspects of the VIAIR 400P air compressor is how easy it is to maintain. It's a self-lubricating unit, making it practically maintenance-free. Although a bit larger than the ARB CKMTA12, it is very light and easy to use. Its 25-inch hose makes it easy to fill up all four tires without unwanted extensions.
While the VIAIR 400P is one of the best portable air compressors for 4wd out there, it does require a 15-minute cool-down process after use. This is primarily due to its duty cycle of just 33% at 100 PSI. The unit can get hotter than other air compressors, but it's a small price to pay for extraordinary results.
Pros
Made with quality materials
Lightweight
Extremely accurate pressure gauge
Low maintenance
Long and durable hose
Comes with three extra adapters
2.54 CFM rating at 0 PSI
Cons
Requires a cool-down period after use
The unit can get hotter than most rival air compressors
Short power cord
33% duty cycle
If you're looking for a powerful and dependable 4wd air compressor without breaking the bank, look no further than the Smittybilt 2781 air compressor. Constructed of quality steel, the Smittybilt 2781 promises durability and a long lifespan.
Despite its low price, the Smittybilt 2781 can keep up with some of the more luxurious off-road air compressors, going from five PSI to 30 PSI in about two minutes and topping out at about 150 PSI. It also holds a 5.65 CFM rating as well as a 40-minute run time at 40 PSI, making it ideal for journeymen off-roaders.
The Smittybilt 2781 is equipped with an automatic thermal cut-off switch, diminishing the chances of overheating and motor damage. Customers will also receive three extra adapters and a nifty carrying bag for easy transportation. However, the bag isn't of the highest quality.
You might want to swap it out with a secure carrying case if you plan on using it regularly. That being said, the Smittybilt 2781 is a fantastic 4×4 tire inflator with a price you just can't beat. If you want a quality off-road air compressor at a fraction of the price, the Smittybilt 2781 is for you.
Pros
Made with quality steel to ensure a long lifespan
Equipped with an auto thermal cut-off switch to prevent damage and over inflation
Affordable
Reasonably quiet
Comes with three extra adapters
Long power cord
Long air hose
5.65 CFM rating
Decent duty cycle
Cons
The storage bag isn't the highest quality
A bit heavy compared to other air compressors
Related Reading: Best 37-Inch Tires for Overlanding & Off-Roading
What Size Air Compressor Do You Need to Fill Truck Tires?
Different sized projects require different sized air compressors. If you are an off-road enthusiast who commonly goes on excursions through the backwoods, you will likely need a more heavy-duty air compressor than the average motorist.
A compressor with around a 20-gallon tank that does at least 90 PSI should work for off-road veterans. Most only require a few minutes to inflate large tires. Air compressors with larger tanks will be able to handle all your off-road needs in a blink of an eye.
If you enjoy off-roading but rarely hits the trails, you might want to consider a smaller unit. Although big air compressors with high CFM ratings tend to work faster, they aren't always necessary for budding off-roaders. Many smaller units can handle most of your air compression needs without putting stress on your pocketbook.
The only downside is many take longer to fill up larger tires. However, if you aren't in a rush to hit the trails or only off-road occasionally, a small air compressor with a reasonable CFM and duty cycle might be the better choice.
Air compressors come in many forms. It's important you know the differences so you can find the best 4wd air compressor.
Hardcore off-roading fans will need a bigger 4×4 tire inflator with a high CFM and duty cycle, while novice off-roaders might want to start with a smaller air compressor with less power. The ARB CKMTA12, VIAIR 400P Portable, and the Smittybilt 2781 are all wonderful air compressors for both novice and experienced off-roaders.
Read Next: Best Off-Road Storage Boxes & Containers