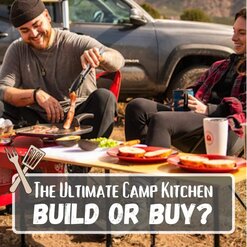 As a general rule of thumb, all food tastes better when you're camping.
Maybe it's because camping typically goes hand in hand with exhausting outdoor activities that tend to build up a wicked appetite. Maybe it's because camp meals are typically cooked over an open flame—which is always the superior method of cooking.
Regardless, if you're an avid camping enthusiast, you know the importance of having a great camping kitchen set up.
Here we will walk you through the ultimate guide to either buying or building your perfect camp kitchen.
Decide: Build or Buy?
Deciding whether you want to build or buy your dream camping kitchen is a big decision. Building will give you the greatest flexibility and creativity in creating your dream camp kitchen set up.
Conversely, deciding to build your camp kitchen will take much more time and expertise than just buying a premade kitchen.
Ideally, take a look at some of the different pre-made camp kitchens listed below and figure out if any of them can support your dream of becoming the ultimate camp chef.
If none of them are truly going to assist you in creating the most mouth-watering camping meals to impress your friends—it's time to roll up your sleeves, grab your tape measurer and get to work!
The Best Camp Kitchens You Can Buy
Here are some of the best camp kitchens on the market:
1. Best Overall: GCI Outdoor Master Cook Station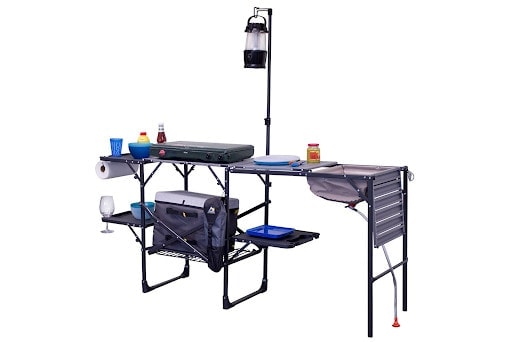 The GCI Outdoor Master Cook Station is the ultimate cooking set up for advanced and budgenoning camp chefs. With ample counter space, room for your camp stove, cooler, and even a portable stove— this popup station provides everything you'll need in one convenient place.
The built- in collapsible sink comes with a foldable cover that creates more food prep space. There is also a built in paper towel holder, wine glass holder, and ample storage space.
While this camp kitchen does fold up for transporting, it does take up a bit more space than some of the other options on this list.
2. Best Portable Camp Kitchen: VBENLEM Portable Camping Kitchen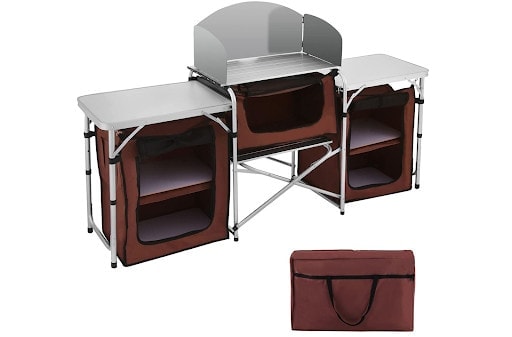 The VBENLEM Portable Camping Kitchen truly comes with just about anything you could ever need in a camp kitchen. This camping kitchen folds up very compact for ease of transportation and carrying, while also featuring a detachable three-tier organizer to keep your stored goods dust and dirt free.
This camp kitchen offers ample covered storage for all of your camp supplies and cooking utensils, plus a pop up windscreen to ensure you can cook in conditions that are less than ideal.
3. Best for Overlanding: Ikamper Aioks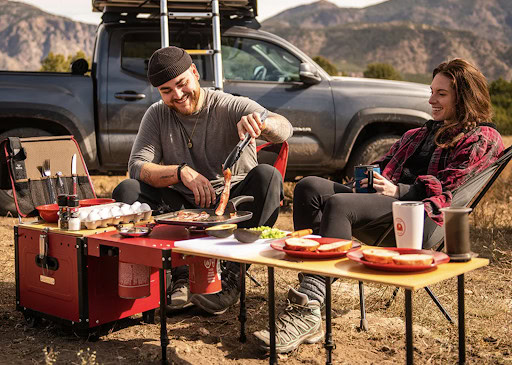 Photo credit: iKamper.com
The iKamper Aioks is ideal for bringing along on your overlanding adventures because of its sturdy construction and portable design.
This kitchen features an extra long folding camp table so you never have to run out of food prep space, cooking room, and space to hang out. Each of the legs on the table are adjustable so you never have to worry about setting up on uneven ground.
This camp kitchen also has two built-in burners that make set-up and tear-down even easier.
4. Best Budget Pick: VEVOR Aluminum Portable Folding Picnic Station
The VEVOR Aluminum Portable Folding Picnic Station packs in plenty of bang for your buck! Complete with four separate stations for storing your camping stove, washing dishes, food prep, holding your spice rack, or any other important camp kitchen essentials— this station will not leave you wanting more.
This camp kitchen may be smaller than some of the other options on this list, but it is ideal for those hoping to save on space.
This camp kitchen also comes with a pop up windscreen so cooking is possible even in less than ideal weather. It also comes with a two-tier canvas zippered pantry to protect your kitchen essentials from the elements.
5. Honorary Mention: Cabela's Deluxe Camp Kitchen
The Cabela's Deluxe Camp Kitchen packs in tons of different features in one lightweight and ultra-portable design.
This camping kitchen features a spice rack, utensil hooks, a lantern pole, food prep space, a side table, a hook for paper towels, and even a zippered fabric pantry.
This option is very affordable in comparison to some of the other options on this list, and provides everything you'd need for the ultimate camping kitchen.
How to Build Your Own Camp Kitchen
If none of the options on this list are going to give you the ultimate camp cooking experience, then it may be best to build your own. For those who want a compact camp kitchen setup, you may want to consider building or buying a chuck box.
We have an entire guide to building your own diy chuck box. We lay out all of our favorite chuck boxes you can purchase, and even link to different diy plans you can download.
Chuck boxes are essentially compact versions of camping kitchens. They are meant to be an all-in-one kitchen that is ultra-portable and perfect for overlanding, tent camping, or even just a weekend trip to the mountains.
The downside to building your own camping kitchen is that it will obviously take much more time than buying a pre-built one. You may think at first glance that building would be the more cost effective option, but deciding to build could actually end up costing much more than buying one outright.
Between rising costs of lumbar and potentially needing to buy the right tools—building can very easily cost you much more.
However, designing, building and executing the construction of your own perfect camping kitchen is an undeniably rewarding experience. Plus, you'll get to include every feature you'll ever crave in your ideal camp kitchen.
You can also save money by using a portable fire pit to cook over. This isn't the most advanced solution, but it works if you're on a budget!
Interested in doing more DIY projects? Check out our complete guide to making your own camper van curtains.
Frequently Asked Questions
Here are some of camping kitchen frequently asked questions:
What do you need in a camp kitchen?
What you need in a camp kitchen will depend on what kind of camp chef you are. This will depend on whether you are someone who typically camps in big or small groups, and whether or not you will be camping as a family, or just a solo traveler.
Your camp kitchen should include some of the most important and most used essentials in your home kitchen. If you need a ton of counter space for food prep at home, you will most likely crave that on the road too.
Walk through the entire experience of cooking some of your favorite meals on the road. Will you want a place to put your spices, a paper towel holder, a built in sink or extra table space? Or is having the ultimate compact camping kitchen your ultimate goal?
How do you store a camp kitchen?
Storing your camp kitchen will depend on what rig you take on your camping trip. If you're keen on overlanding, consider the fact that all of your things will most likely be bouncing around in your trunk. This means you will want to store your valuable camping kitchen securely in a sturdy container.
Always be mindful of how you are storing your propane as well. Propane tanks should always be placed upright and in a ventilated space away from your cab or sleeping area.
Other Camping Tips & Gear
Creating your perfect portable kitchen is such a fun way to elevate your camping experience. Regardless of whether you decide to build or buy, there are some important things to consider in creating your ideal camp kitchen setup:
1. How Will You Wash Dishes?
Washing dishes is probably no one's favorite chore. It definitely isn't mine! It is always worthwhile to make this dreaded experience as pain-free as possible. Consider purchasing a camp sink to make this a more pleasant experience.
2. Will You Have a Cooler or Fridge?
Maybe your overlanding setup is dressed to the nines in solar and all the latest technology. You may consider purchasing a plug-in fridge for your adventures. If not, you may want to consider bringing along a traditional cooler.
If you're not wanting to fuss with either option—don't fret. There are tons of different meals you can make that do not require refrigeration. We wrote a whole guide to 101 non-refrigerated meals for camping.
3. How Much Water Should You Bring?
Bringing enough water is essential for your camping trips and overlanding adventures. Unfortunately water takes up tons of space and there is no way to make it lighter. Not having enough water or a way to filter more is a quick and easy way to ruin a camping trip.
If you're still in the market for the perfect water storage solution for your adventures—here is the ultimate guide to overlanding water storage.