Camping is an awesome past time. The great outdoors, the smell of fresh air…
But not having a sink sucks.
Whether you want to wash dishes or your hands, having a sink takes camping to a whole other level.
That's why we made this review of the five best camping sinks – so you can find what you need and get back out to camping!
In a rush? The best portable camping sink is the SereneLife. Read on to learn why!
The 5 Best Camping Sinks
Below are the five best portable camping sinks on the market today and, bonus, you can use them while tent camping! They're all environmentally friendly, too!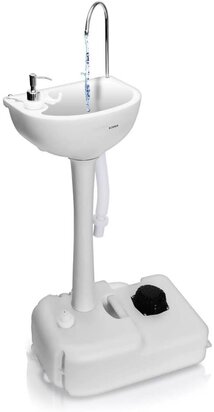 The SereneLife Portable Camping Sink is an awesome piece of camping gear. This portable camp sink allows for maximum cleanliness on the go. It is easy to transport and even easier to assemble—it only takes a few minutes to set up!  
The most significant benefit of this portable camping sink is its similar design to a residential model, allowing for ample cleaning and washing space. The unit also comes with rolling wheels for easy movement around your campsite.
This sink also boasts hands-free operation. With the foot-pump operation, you can keep the sink and soap dispenser clean after multiple uses.
The SereneLife Portable Camping Sink holds up to five gallons of water in its portable basin and comes with a flexible drainage hose allowing for easy drainage of wastewater.
The HDPE plastic for this unit makes it both non-toxic and food safe—two essential attributes for your camping needs. It also includes a stainless-steel towel rack for durability, hygiene, and convenience.
Though the SereneLife Portable Camping Sink boasts numerous attributes, the unit's base be imbalanced on uneven ground and is prone to wobbling. It would be a great addition on your camping trips! While it isn't a collapsible sink, it's great for camping trips and doesn't require too much extra storage.
Pros:
Built-in rolling wheels for easy transport
Five-gallon water tank capacity
Foot pump water dispenser for greater cleanliness and sanitation
Includes towel holder and soap dispenser
Cons: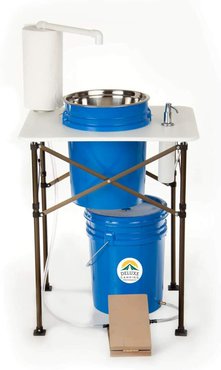 While maybe not the most aesthetically appealing portable camping sink unit, the Deluxe Camping Products Deluxe Camp Sink is a reliable and functional camp sink for your next outdoor excursion, with a foot-operated water dispensing system for maximum cleanliness and hygiene, as well as ease of operation.
The integrated bucket system means the unit is self-contained, which translates to fewer issues with leakage and spilling. With additional features such as a soap dispenser and towel holder, your camping trip will feel more like home.
The basic structure and easy set-up of the Deluxe Camping Products Portable Camp Sink mean that getting this camp sink up and running takes no time at all. In just a few minutes, you can have a cleaning station for any outdoor activity. 
Though the Deluxe Camping Products Deluxe Camp Sink is highly functional and reliable, the price tag may seem a little high based on its simple construction.
Pros:
Simple assembly
Foot-operated water pump
Self-contained to minimize leakage and spills
Built-in soap dispenser and towel holder
Cons:
A collapsible dish basin is a functional but basic camp sink, perfect for anyone on a budget who doesn't need all the running water and other bells and whistles.
Since it's collapsible, it can easily be stored almost anywhere, weighs next to nothing, and thanks to its collapsible design, it takes up almost no space!   
Going with a collapsible dish basin offers a simple and inexpensive camping sink for first-time buyers or camping on a budget.  
This is one of the best collapsible sinks on the market today and takes up barely any space in your camping kitchen. This sink can be used for washing dishes, too. It's a crucial piece of camping gear that we highly recommend to everyone!
Pros:
Inexpensive
Easy assembly
Easy cleanup
Cons:
No additional features like a soap dispenser or towel holder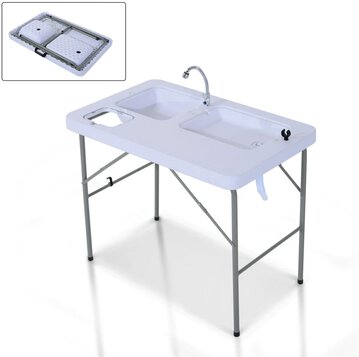 The Outsunny Portable Folding Camping Table w/ Faucet is a simple and durable and portable camp sink for your next outdoor adventure. This model offers ample counter space for food prep as well as a faucet for easy hand washing or dish cleaning after your meals by the fire.  
This unit contains two separate steel basins and hoses to get your running water. It also includes an attachment to hold a garbage bag with a weight capacity of 132 pounds, which is an excellent feature for keeping your camping area clean and free from pesky critters.
The Outsunny Portable Folding Camping Table w/ Faucet is an excellent addition for your next camping vacation if you're looking for a reliable, no-nonsense portable camping sink.
Pros:
Durable steel frame
Easy assembly and hook up
Cons:
No storage
No soap or towel holder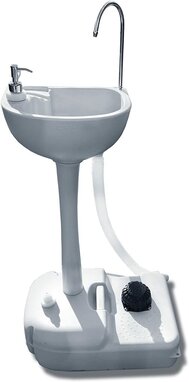 The Portable Outdoor White Basin Wash Sink with 19-liter (five-gallon) Water Capacity is an outstanding choice for your next portable camp sink. This model offers the classic stand-up design to mirror residential sinks while also providing ample water capacity for extended use.  
This model features a hands-free, foot-operated water pump that helps keep the unit clean and includes a convenient built-in soap dispenser for easy sanitation.
The Portable Outdoor White Basin Wash Sink with 19L Water Capacity is made of food-safe material, allowing for safe cooking practices when cleaning food.
This model offers easy transportation with rolling wheels and a lightweight frame for maximum efficiency around your campsite.
Combine these attributes with a modest price tag, and the Portable Outdoor White Basin Wash Sink with 19L Water Capacity is an exceptional addition to your outdoor equipment needs.
Pros:
Holds 19 liters of water
Rolling wheels making it easy to transport
Soap tank included
Cons:
Leaks may occur at connection points as the unit ages
How to Make a Portable Camping Sink
If none of these options look like the right camping sink for you, or you have a DIY spirit, then making your own camp sink might be the option for you! With a little know-how and the right equipment, you can have your very own portable sink for camping for your next outdoor adventure in no time at all. 
First, you need to have the proper equipment. The simple gravity well design only requires a receptacle to hold water above a basin where water can drain. You can build this by simply putting an empty container on the edge of a table with the spigot hanging over the edge. Have a basin where the excess water can collect to prevent pooling underneath.
While this method of a camp sink does not have the bells and whistles of higher-end models, it still gets the job done. Remember that when it comes to camp sinks, cleanliness and hygiene are key. So, whether it's a high-end unit or a self-made system, adding a camp sink to your next outdoor adventure is a decision you will not regret.
Here's a great video you can follow if you want to make some portable sinks for yourself:
Interested in more gear? Check out our guide to the must-have overlanding gear.
Conclusion
Summer is upon us, which means returning to all of the outdoor activities we love so much. That often means loading up the family and heading to the campgrounds for days in the lake and nights by the fire. Those memorable moments are made even more so by having a durable, functional, and reliable camp sink at your disposal.
These wonderful pieces of camping equipment bring the comfort of cleanliness and hygiene to your next outdoor adventure. Whether you choose one of the models we have presented here or decide to build your own, don't hesitate! Get your camp sink today for your next summer camping vacation!