With a beefy engine, excellent stock clearance, and plenty of interior space for holding all your overlanding gear, the Toyota 4Runner is a force to be reckoned with (especially if you plan on rock crawling)!
Whether you're thinking about getting a 4Runner or you're just looking for inspiration for your own rig, these 7 overland 4Runner builds are sure to impress.
Let's dive in!
Table of Contents (Click to Expand)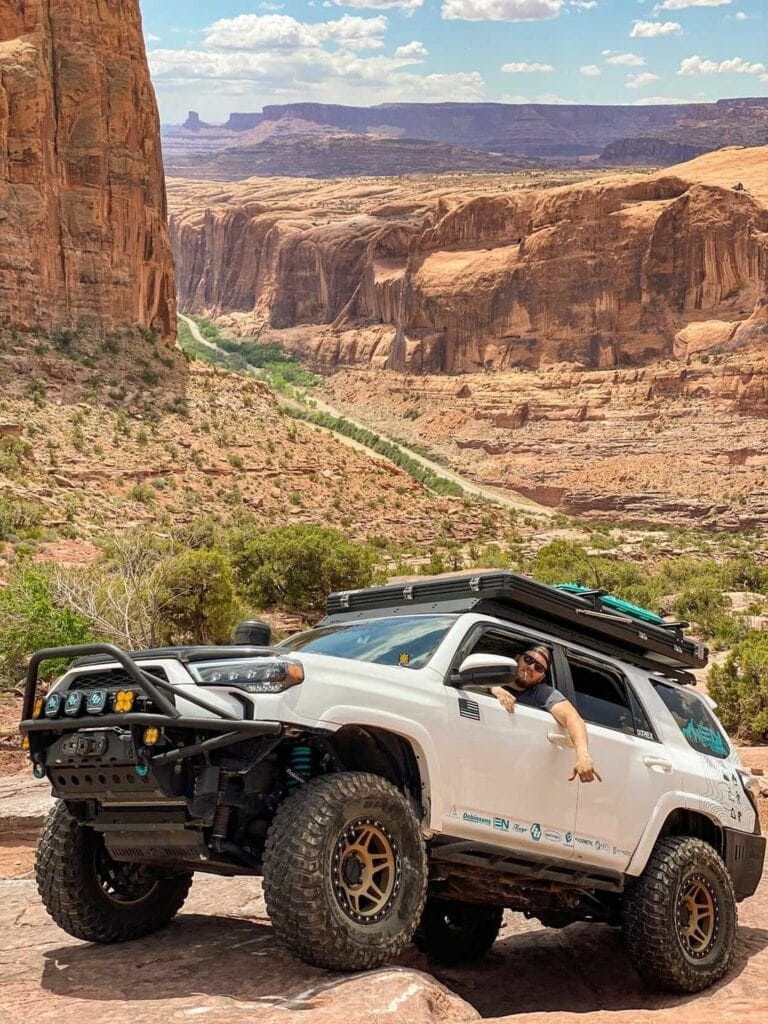 Austin is running a 2015 Trail Edition 4runner overland that's obviously gotten lots of love. We hope to see him at an Overland Expo one day!
Here are the deets:
@bajadesignsofficial – Squadron pro / LED driving combo / s1 ditch lights / 5 XL linkable
@prinsuedesignstudio -7/8s Roof Rack
@c4fabrication – Rear Bumper Half Swing overland series
@heftyfabworks – Hybrid Front Bumper
@smittybilt – 10k X20 Winch w/ Synthetic Rope
@Factor55 – Winch Flat Link / 1 inch Fair Lead
@Dobinsons – 3 inch lift kit w/ KDSS/ c59 -352 heavy duty springs 700 twins up front w UCA / 701 twins in back w c59-329 springs rear / Snorkel
@Methodracewheels – MRW312's
@bfgoodrichkm3 – 35×12.50/R17
@frontrunneroutfitters – Storage drawers
@ragofabrication – Rear Window Morley Panels
@automotivepersonalized – Vinyl work
@alpharexusa – Headlights – Alpha Rex Nova Black series
@expeditionessentials – Radio Head unit display mount
@pioneeraudio – Pioneer DMH-WT7600NEX
@lfdoffroad – Engine / Transmission Skid Plate
@joeequipment – rear passenger molley panel/ w/ MaxTrax attachment
@snorkelupgrade – Filter
@maxtrax – Recovery Boards
@sprintbooster – Throttle Controller
@cvtfamily – Mt. Hood hard top RTT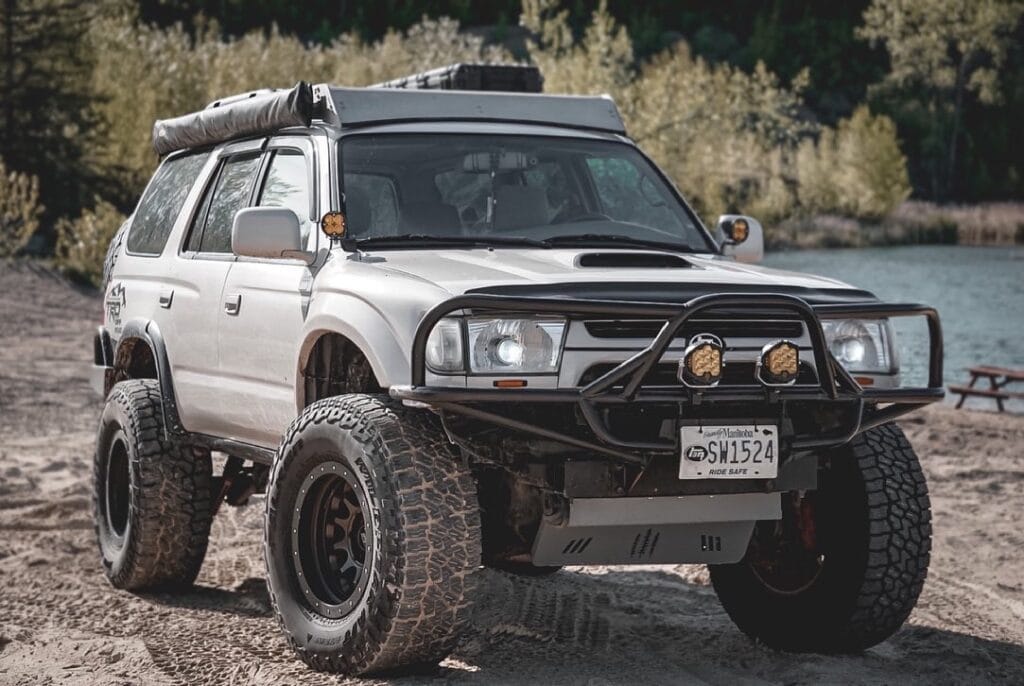 Kevin's rockin' it old school with his 1999 Toyota 4Runner overland SR5! While we haven't yet met him, it would be awesome to see each other at an Overland Expo one year.
Check out the 4Runner mods in this build:
Suspension & Wheels
Front
Total chaos fabrication UCA
Bilstein 5100 with Dobinsons c59-238
Energy bushings top hat isolators
Total chaos fabrication spindle gussets
Wheelers off-road steel braided brake lines
Sequoia sway bar links
Soon to have kings suspension
Rear
5thgen 4runner Icon overland rear springs 52800
Landcruiser KYB Japan monomax rear shocks
Eimkeith trailing arm gussets
Eimkeith pan-hard correction kit
OEM lower trailing arms with white line bushings
Wheelers off-road extended steel braided brake lines
Rear sway bar delete
ARB diff breather
Wheels & Tires
Stealth custom series 17×9 -38 in bronze
315 70 17 Falken wild peak at3w tires
Exterior & Lights
Ckautofab custom front bumper with coastal off-road hoops.
Coastal off-road rear bumper with tire swing out
Coastal off-road drivetrain skidplate
Ckautofab custom retrofit headlights
JDM clear corner lights
LED depo tail lights
Custom headlight filler signals
CBI-off-road ditch light brackets
Baja-Designs squadron R ditch lights
Vivid lumen front 5" lights
Rock lights and roof rack side light
Mcniel racing fenders
SR5 big flares
2002 4runner Sport hood and hood scoop
Sherpa equipment co. aluminum roof rack
Custom recovery board mount and pelican box
Ckautofab cb antenna mount
Smittybuilt awning
Interior
Leather seat conversion from a limited 4runner
JVC double din with Apple car play
Auxbeam 8 switch panel
Rear view mirror dash cam and back up camera
LED dash and interior light conversion
On-board VIA air set up
Drawer set up
Engine
We would definitely call this the ultimate overland vehicle – wouldn't you?!
Lift: 2 inch BL
Front: King 2.5 Coilovers
UCA: Camburg Uni
Rear: King 2.5 Piggyback Shock
Rear: Springs OME 861 (Landcruiser)
4.88 nitro gears
Factory Rear E-locker
Rims & wheels
16×9 -1 lodio drive
Bfg km3 315/75/16
Armor:
Custom front bumper
Eimkeith rear with custom swing out
Custom rock sliders
Prinsu rack
Roofnest falcon RTT
Custom storage platform
@kingshocks 2.5 adjusters
@c4_fabrication hybrid bumper
@ecotechne hoodrack
@spidernodrillroofrack
@bajadesignsofficial lights
@factor55llc
@apexdesignsusa rpv's
@pittman_outdoors awning
@falkentire 295 70r17s
@vtxwheels terras
@coastal.offroad dual swingout
@spidertrax 1.5
@dirtkingfabrication ucas
@krazybeavertools shovel
@alpharexusa headlights
@rc.fabrication gusset double sheer spindles and solid tierods.
R1 concept performance rotors.
Suspension, Wheels, Tires & Brakes
Dobinson's 3″/2″ Twin-Tube Nitro Suspension Lift (C59-314 Front Springs/C59-327 Rear Springs)
Dirt King Tubular Ball Joint UCA's
Total Chaos LCA Cam Tab Reinforcements
RSG Metalworks Body Mount Chop
Dobinson's Differential Drop Kit
Icon Vehicle Dynamics Swaybar Relocation Kit
Whiteline Heavy Front Swaybar Links
Dobinson's Extended Rear Swaybar End Links
Energy Suspension Front Extended Bumpstops
Durobumps Rear Extended Bumpstops
Siberian Bushings Polyurethane Bushings – Front/Rear Swaybar Bushings, LCA Bushings, Panhard Bushings
Stealth Custom Series RAY10's Gunmetal -38 Offset
BFGoodrich 315/70R17 KM3 Mud Terrain's
R1 Concepts eLine Drilled & Slotted Rotors
R1 Concepts Performance Brake Pads
Armor, Recovery & Mounting Solutions
ARB Deluxe Front Full Bumper
Paranoid Fabrications Fog & Turn Signal Mounts for Baja's
TreatyOakOffroad Recovery Points (ARB Bumper Compatible)
Factor55 Offset 1.5 Fairlead
Factor55 Flatlink E (Red)
Warn Industries VR EVO 10-S Winch w/ Synthetic
Coastal Offroad Rear Dual-Swing Bumper w/ custom OZventure Driver Swingout (Rotopax/Maxtrax/HiLift)
RCI Offroad Engine Plate Skid (1/4″ Raw Aluminum)
RCI Offroad Transmission Skid (1/4″ Raw Aluminum)
RCI Offroad Transfer Case Skid (1/4″ Raw Aluminum)
RCI Offroad A-Arm Skids (non-KDSS / 1/4″ Raw Aluminum)
RCI Offroad Rock Sliders (20 Degree w/ Tread Plate)
SSO Southern Style Offroad Washer Reservoir Protector
HiLift Jack 48″ Red/Black
Maxtrax MKII FJ Red Recovery Tracks (Boards)
(2) Rotopax 4 Gallon Gasoline Pax
Rago Fabrication Ditch Light Brackets
Rago Fabrication Lower Shock Guards
Rago Fabrication Modular Dash Mount
Rago Fabrication ARB Compressor Mount
Rago Fabrication Air Mounts for On-Board Air System
RAMmounts X-Grip Universal Tablet Holder (12″)
(2) RAMmounts X-Grip Large Phone Mount
RAMmounts Clip Base
(4) RAMmounts Diamond 1″ Ball Base
OZventure Custom Direct Rooftop Tent Mounting Rails
OZventure Custom Rocker Panel Trim (Trail Edition)
Lighting & Electrical
GRDIAN NOVA 4K Dash / Rear Camera
Redarc Electronics Dual Input DC-to-DC Battery Charger (BCDC1225D)
NOCO Genius GEN2 20A Dual On-Board Battery Charger
Off-Grid Engineering Complete Dual Battery System
SwitchPros SP-9100 Switch Panel Power System
(2) Optima Yellow Group 34 D34/78 Battery's
Blue Sea Systems ST Blade Fuse Block – 6 Circuit
Blue Sea Systems Circuit Breaker Switch Panel – 12V / Dual-USB
Blue Sea Systems 2408 Terminal Block 8 Circuit
Blue Sea Systems Maxibus 250A Busbar
Blue Sea Systems 187 Panel Mount Circuit Breaker 120A
KUSTOM54 Custom Black Projector Headlights (Morimoto H1 Bi-Xenon Projects w/ Morimoto Panamera Shroud Halos)
Unique Style Racing 14+ Black Housing Upgrade Tail Lights
XenonDepot – All Interior & Exterior Accessory LED's (5000K)
BajaDesigns S2 Sport LED Turn (Amber / Wide Cornering)
BajaDesigns S2 Sport LED Rear Chase (Amber / Wide Cornering)
BajaDesigns Squardon-R Fogs (Amber / Wide Cornering)
BajaDesigns Squadron Sport Ditch (White w/ Amber Cover / Driving Combo)
Audio
Pioneer Amp
Focal Speakers
Miscellaneous
TheBushCompany Alpha Clamshell Roof top Tent
ConsoleVault 4Runner Lockable Vault
Ultragauge OBDII Scan Tool
Cobra 75WXST CB Radio
Midland USA Handheld GXT 1000 GMRS Radios
Midland MXT275 MicroMobile GMRS Radio
ARB On-Board Dual Air Compressor CKMTA12
OZventure On-Board Air System (inspired by @sponsoredbywifey #wifeyairsystem)
ARB Differential Breather Kit
Dobinsons 4X4 Snorkel Kit (4Runner)
AVS Window Rain Deflectors
Black Trail Edition Door Handles
OZventure Stacked Dual-Drawer System
Dometic CFX3 55im Refrigerator / Ice Maker
Related Reading: Everything You Need to Know About Vehicle Snorkels
"My husband has an FJZ80, 1997. I've always liked the rugged, adventurous look of overland rigs. I've liked the 4R since I was a kid so as soon as I finally got mine, I hit the ground running with mods.
I appreciate nature and our beautiful country and the desire to explore it all got me into off-roading/over landing. It's true therapy to get away from the concrete jungle and appreciate fresh air and beautiful views.
It's also a great time to spend with family without electronics interfering. I'm looking forward to go camping and road trips when my kids get a little older."
Meeting Karina and her husband at an Overland Expo one day would be sick.
Mods
Bilstein Shocks 6112 front, 5100 back
Shrockworks sliders
C4 lo pro front bumper with high bar and high clearance side additions
Gobi rack
Baja Designs fog lights
TRD front skid plate
Method Wheels rims on Falken Wildpeak tires 70/270/17
3" lift with UPA (SPC)
Thuan is rocking a 2004 Limited AWD V8 4Runner.
"I originally was looking to trade in my 4Runner for a newer generation 4Runner or a Tacoma but the more I delved into my research I realized that I already had an extremely capable vehicle with a infamous bullet proof million mile engine. So I decided to slowly add modifications onto the truck piece by piece and doing research and learning more about the community as I went along.
It also made much more financial sense: it's much cheaper to add 1-2 mods every couple months than make $600 monthly payments on a newer car. I've met a lot of great people in this community and have learned so much about my rig and the outdoor community.
I love how capable this 4Runner can be and do just about whatever you need it do and you can build it however you'd like: from basic weekend camping trips to some crazy off road racing builds. From originally wanting to trade in the truck to now never letting it go, I'm excited to continually work on and make changes to it."
Suspension: Icon 3″ LiftIcon Delta Joints UCA
Tires/Wheels: Nitto G2 Terra Grapplers 285/70/17, Stealth Custom Series Sr8
Lights: BX Built HeadlightsBaja Design SAE Fog Lights, Solid Shift Concepts Fog Light Housing, Amazon LED Roof Pod Lights
Roof Rack/Storage: Prinsu Roof Rack, Joe's Original Equipment S.L.A.P. Detour's of Maine Swingout Tire Carrier, Lost Trails Lo-Pro Bumper
Miscellaneous: Body Mount Chop, Sound Deadening: roof, floors, doors, Custom drawers
Final Thoughts & Extra Gear
If you're looking for more overlanding gear for your 4runner, here are a few new products that weren't featured in any of the vehicles above:
These accessories aren't exactly needed by any means, but they're great to have in your 4runner build. Everything mentioned (besides the first aid kit) is constructed of premium materials and will last a long time if taken care of.
Do you have a 4runner you'd like to share? Leave us a comment down below! Or, if you've seen any awesome 4runners at an overland expo, we'd love to hear from you!
Related Reading: