Looking to mod your Toyota Tacoma to make it even more capable?
I've tested hundreds of mods and accessories on my 2018 Toyota Tacoma TRD Pro, and I've gone to dozens of overland expos and events.
I want to help you skip the garbage and get straight to the good stuff!
Here is a list of 37 of my absolute favorite Toyota Tacoma mods & accessories for 2nd and 3rd gen Tacos.
Table of Contents (Click to Expand)
Best Tacoma Interior Mods
First up, let's take a look inside the vehicle. The following Toyota Tacoma accessories and mods are for comfort, style, and utility inside the cab.
1. Scosche Magnetic Phone Mount
I absolutely love this thing. I've used a lot of phone mounts, but the Scoshe magnetic phone mount has been my favorite. It's easy to use and just works.
Note that you have to install a metal plate on the back of your phone case and this can mess with wireless charging. Also, it's not the best mount for off-roading—your phone will bounce around like crazy when you hit those bumps and rocks.
2. Pop & Lock Power Tailgate Lock
I spent a whole year locking and unlocking my tailgate by hand. It got old quick. I finally got fed up with it and ordered the pop & lock power tailgate lock so I could lock the trunk when I pressed the button to lock the cab.
Why the Toyota Motor Corporation didn't install this in the factory is beyond me. But do yourself a favor and get one of these right away! They are fairly easy to install and save you a lot of headaches.
3. Center Console Organizer Tray
This one is another no-brainer—the center console doesn't come with any kind of organizer tray in it from stock. This center console organizer tray gives you a lot of extra usable space in there.
4. Floor Mat Anti-Slip Fastener Clips
Few things are as annoying as your floor mat moving around on you all the time. So grab some floor mat anti-slip fastener clips from Amazon for a few bucks!
5. Goose Gear Tacoma Seat Delete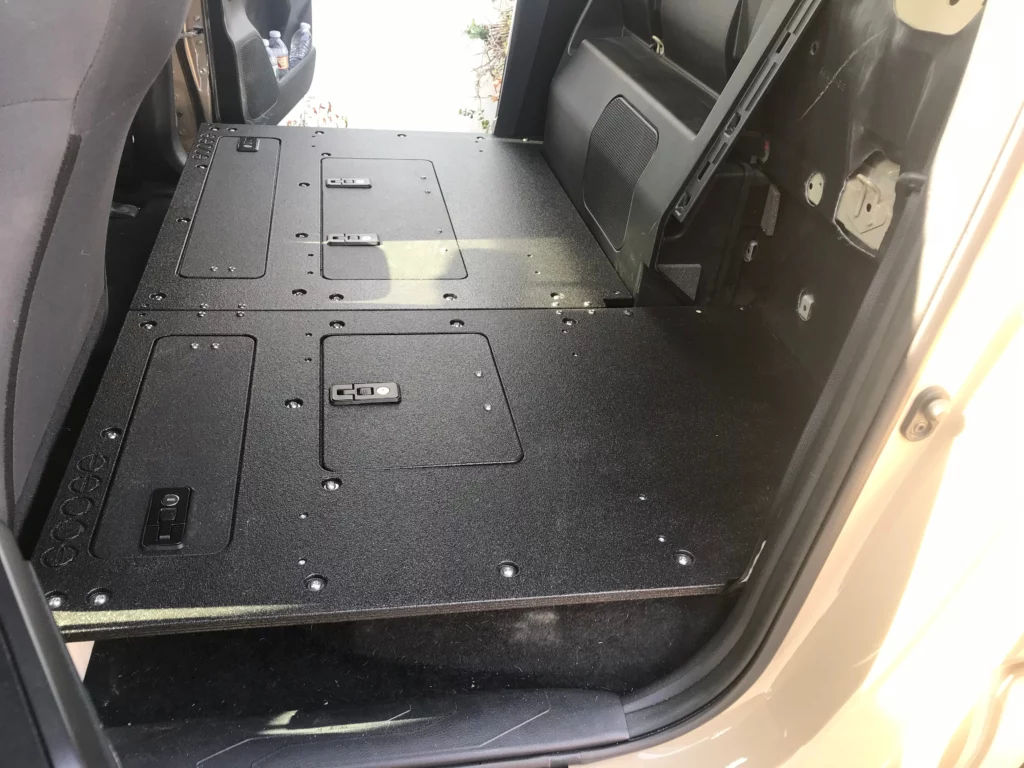 If you're serious about taking your Tacoma overlanding (and don't need to carry more than two people), the Goose Gear rear seat delete system is a no-brainer.
It is a replacement for your rear seats, which adds a TON of extra storage space that's otherwise wasted on your seats. It's perfect for storing your camping gear and creating a flat surface to sit your 12V fridge.
6. Premium Audio Upgrade – Tweeters / Front Speakers / Rear Speakers (Less Than $250)
This is one of the first Tacoma mods I made on my truck. The factory Toyota Tacoma speakers leave a lot to be desired. For less than $250 you can get a sound setup that matches all but the most nerdy sound systems. (Note that this is only for the 3rd gen Tacoma.)
You'll need to buy the following parts:
7. Phone Holder Attachment
If you got the Scoshe mount already, you might not need this. But I still find that having some extra storage space in the front comes in handy for all the random crap in your pockets.
8. K&N Performance Air Filter
While this won't completely change your vehicle, a K&N performance air filter will add a few HP and improve your engine's air intake over the factory air filter. Plus a small boost to MPGs never hurt anyone!
You don't even need any tools. Just pop out the old air filter and put in the new one. You will need this cleaning spray to keep it clean though (unless you feel like buying a new one every few months).
9. K&N Air Intake System
If you want to really upgrade your air intake, K&N also has an air intake system you can install. They claim you get up to 9.5 more HP from your engine.
10. Pedal Commander Throttle Response Controller
The Pedal Commander Throttle Response Controller improves the sluggish acceleration most 3rd gen Tacoma owners complain about. I installed one in mine and it's probably one of my top three favorite truck modifications!
We did a thorough review of the Pedal Commander and explained all of the pros and cons in depth—so be sure to check that out!
Best Tacoma Exterior Mods
Next up, let's move on to the exterior Toyota Tacoma mods to add utility and make your truck look even more badass!
11. ARB Old Man Emu 2 Inch Lift Kit (2016-2023)
If you want that classic lifted Tacoma look, the ARB Old Man Emu 2-inch lift kit is an easy choice on any 3rd gen Tacoma. It gives you a 2-inch lift AND the added performance of an upgraded suspension, so you can hit the trails hard without worrying about your precious Taco.
Want to learn more? Check out our complete guide to lifting your Toyota Tacoma.
12. TRD Pro Style Grille
If you love the look of the TRD Pro style grilles but didn't buy the TRD pro, you're in luck! You can buy the grille separately and install it yourself. Installation is super easy, too.
13. Anytime Front Camera
One of my only complaints about the Toyota Tacoma is how fat the hood is. It's really hard to see what's in front of you over the hood. That's why I highly recommend getting this Anytime Front Camera so you can avoid hitting rocks or driving off edges.
14. Gator Tri-Fold Tonneau Bed Cover
Having a bed cover means you can store things in the back and lock them in, protect them from weather, and keep them away from prying eyes.
This Gator Tri-Fold Tonneau Cover is a nice affordable option that's really easy to install.
15. Diamondback Bed Cover
Speaking of bed covers—I absolutely love my Diamondback HD Bed Cover. It's a much pricier option, but it comes with the added benefit of being able to hold up to 3,000 lbs!
Diamondback also has the cheaper SE option. Tonneau covers are one of the best truck bed storage accessories to help you protect and organize your stuff.
16. Vinyl Decal Tailgate Inserts
If you've ever wanted your "TACOMA" text on the tailgate to stand out more, these black vinyl decal inserts are exactly what you need!
17. DECKED Truck Bed Drawer System
The DECKED Drawer System is a better way to utilize your truck bed for accessible, lockable storage.
While you do lose a bit of space around the wheel wells, it's nice to have a way to access things stored all the way at the back of your bed without needing to climb in. Plus, their drawers are rated to hold up to 2,000 lbs on top of them, so you can still use your truck bed as a truck bed.
18. Cali Raised Replacement LED Fog Light Pods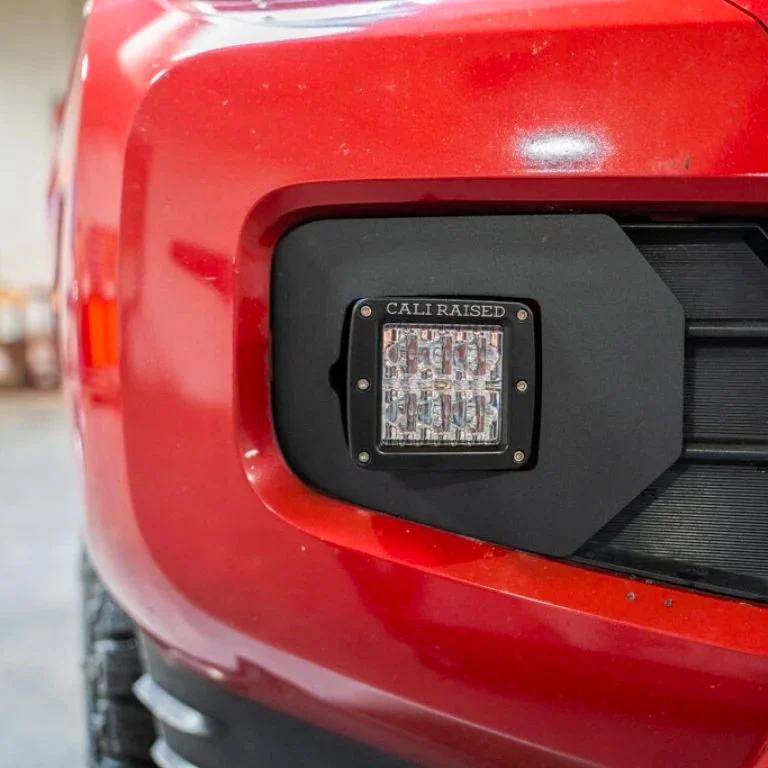 The factory fog lights on the Tacoma leave a lot to be desired. These Cali Raised Replacement LED Fog Light Pods are much brighter, and again, have super easy installation.
19. Window Tint
Window tint keeps out prying eyes and is an affordable upgrade that also looks great. What's not to like? Call up your local window tint dealer for a quote.
20. AC Drain Mod
2nd gen Tacomas have an issue with the AC leaking right on the frame, which can cause rust over time. This AC drain mod fix only costs $20 and can save you from a rusted frame.
21. Hood Bulge Glare Blocker Sticker
While the TRD Pro Tacoma hoods are super sexy, the hood bulge on them causes really bad glare in the sunlight. Adding one of these black glare blocker stickers to it will prevent that—and, in my opinion, looks way better!
22. OEM Bed Mat Short Bed / Long Bed
If you've ever put anything in your truck bed, you know how slippery that plastic is. These OEM bed mats (short bed / long bed) give you a rubber surface that prevents everything in your trunk from sliding constantly.
23. Spidertrax Wheel Spacers
Want that wide, aggressive truck stance but don't want to buy wider tires? These Spidertrax wheel spacers solve the problem!
24. Prinsu Roof Rack
The Prinsu roof racks not only look great, but they also give you lots of extra storage space to hold kayaks, a portable shower system, or whatever you might need. You could even install a bike rack on your Tacoma's roof rack.
Related Reading: These Are The Best Overlanding Roof Racks
25. MOVE Bumper
Getting an aftermarket rear bumper is one of the best ways to improve the look of your Taco (in my opinion, anyway). Once my sister's friend backed into my truck in the driveway and smashed the rear bumper, I decided it was time for an upgrade.
These weld-together MOVE bumpers are one of the cheapest options for a bumper install you will find. Of course, you have to be able to weld it yourself, so it's not for everyone.
26. Hiline Series Front Bumper
One of the things I really wanted on my Taco was a winch for off-road excursions. But to install a winch, you need a custom front bumper that has room for it.
I wasn't ready to completely cut off the entire front of my Tacoma, so I instead opted to make a small cut and install this lightweight, low-profile hiline series bumper.
27. Toyota Tacoma PRO Grille Letter Compatible Overlays
These cool grille letter overlays make your TOYOTA sign different colors. Neat!
28. Upgraded Suspension
If you're serious about beefing up your Tacoma, it's a good idea to invest in some better leaf springs. They will eliminate rear-end sag and give you a slightly higher payload for all the other mods like a bumper, rooftop tent, and rack system.
You can also look into upgrading the front-end coil-over springs and shocks for a smoother ride and overall better payload capacity. We recommend the Fox 2.0 shocks.
Toyota Tacoma Lighting
Improving the lighting on your truck is not only safer, but can also improve the look of your vehicle. These are some of my favorite lighting mods:
29. Cali Raised Behind Grille LED Light Bar
Light bars are great for off-road excursions after dark. This one by Cali Raised LED goes in the perfect spot just under your grille.
30. Tacoma Raptor Light Kit
Love the look of the Ford Raptor? These Tacoma raptor light kits can be installed to match it!
31. Matt Gecko Under Bed Rail LED Lights
If you want to see in your truck bed at night, check out these Matt Gecko Under Bed Rail LED lights.
32. Cali Raised LED Side Projection Ditch Lights
Ditch lights are a life-saver at night if you're going off-road. They light up the sides of the road to, as the name implies, see any potential ditches or other hazards. Plus, they look cool!
33. LED Interior Lights
If the factory interior lighting isn't good enough for you, try upgrading to these LED options.
Toyota Tacoma Accessories
The following section is for accessories that didn't really fit in the other categories.
34. Meso Customs Minimalist Key Fob
Want a more rugged key fob? Look no further than this one from Meso Customs.
35. N2 Designs Remote Start
If you live in a hot or cold climate, having a remote start can be nice to temperature control your vehicle before you get in without going outside. What more do I need to say about it?
36. Air Compressor
A good air compressor can help you inflate and deflate your tires for off-road riding. You can either get a cheap portable option like this one or invest in an on-board system like this one.
Related Reading: These Are The Best Off-Road Air Compressors for Overlanding
37. Sunshade
Last but not least, a sunshade can keep your vehicle cooler in the summer and protect your leather and vinyl interior. Whoo!
38. 270 Degree Awning
Looking for some more shade around your vehicle? Grab yourself a 270-degree awning!
Other Tacoma Gear Guides
We hope you've enjoyed this list of Tacoma modifications and accessories. Itching to learn more? Here are some Tacoma customization guides you may like:
Are you a Toyota Tundra owner? Check out our guide to the 27 Best Toyota Tundra Mods and Accessories (3rd Gen)