Are you looking for ways to optimize the space in your Toyota Tacoma?
A roof rack is a simple and easy way of providing additional storage space for water, sporting equipment, recovery gear, and so much more. It is one of the quickest and easiest ways to skyrocket the versatility and utility of your rig.
Below we break down everything you need to know before buying a roof rack for your Tacoma, and we will show you our favorite roof racks currently on the market.
Our Top Pick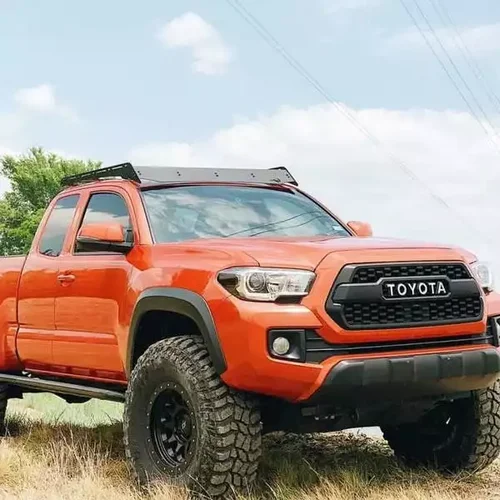 We earn a commission if you make a purchase, at no additional cost to you. We appreciate you!
Considerations When Buying a Tacoma Roof Rack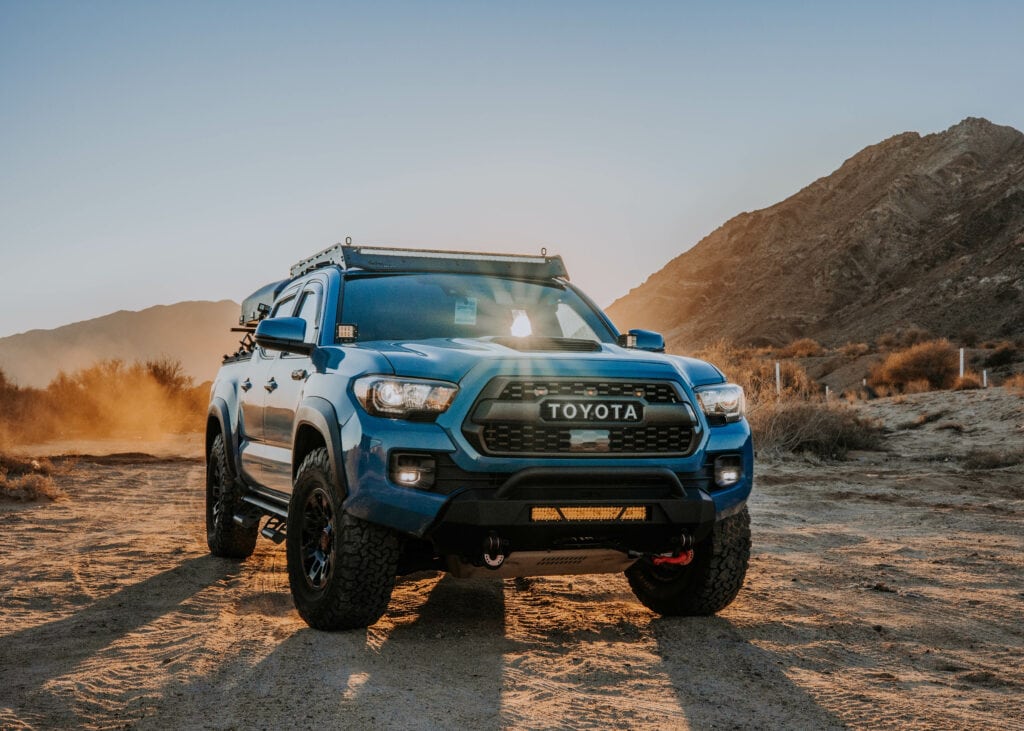 Here are some things to think about before you bite the bullet on a certain roof rack:
1. How will you attach things to it?
There are several ways you can attach larger items safely to your roof. You can use a rope or ratchet straps. But the best roof racks and bed racks will also have some kind of system to install permanent fixtures using nuts and bolts. More about that later.
2. How much weight will you put on it?
If you are just looking for a way to transport lumber, small camping items, or skis, you really won't have to worry about weight too much.
However, if you are looking to load a cooler, roof rack, bike rack, or rooftop tent—you are going to have to do some math calculations to ensure you are within the weight limit of your roof rack and, even more importantly, your roof's weight capacity.
Keep in mind that there is a difference between static weight and dynamic weight. Your Tacoma roof rack can hold much more weight while parked or static than it can when it is moving or dynamic.
Your dynamic weight goes down even further if you plan on doing any off-roading, due to the flex that happens on rough terrain. Regardless, it is always worth it to check your vehicle manual for suggestions, and follow the weight guides provided with your roof rack.
Related Reading: How to Buy & Install Roof Rack Solar Panels
3. Do you need a cutout for a light bar?
If you plan on installing a lightbar now or anytime in the future, it may be wise to look for a roof rack that is already compatible to hold one. Of course, you can always make your own lightbar cutout later, but that could involve quite a bit of elbow grease.
4. Are you comfortable installing it yourself?
Roof racks are generally fairly simple to install. If you follow the instructions carefully, you could easily have it installed in an afternoon. If you are unsure or unable to install your own roof rack you can always contact a local auto shop and pay them to install it for you.
Some roof racks will require you to drill into your roof. This can be the hardest part of the mounting process as it can take some courage to do. So if this is not something you are comfortable with, plan to hire someone or just purchase a roof rack that can be installed without needing to drill it in.
5. What is your budget?
Roof racks can vary dramatically in price. There are plenty of budget roof racks that you can purchase for under $100 that will most likely be adequate for carrying small, lightweight items.
However, top of the line racks can easily cost over $500. The additional cost is well worth it if you anticipate driving long distances or carrying heavy items. These higher end roof racks are designed to cut down on wind noise and preserve your gas mileage with their aerodynamics.
Related Reading: The 7 Best 4Runner Roof Racks For Overlanding
5 Best Tacoma Roof Rack Options
Here are our favorite Tacoma roof rack options:
1. Best Overall: Prinsu Rack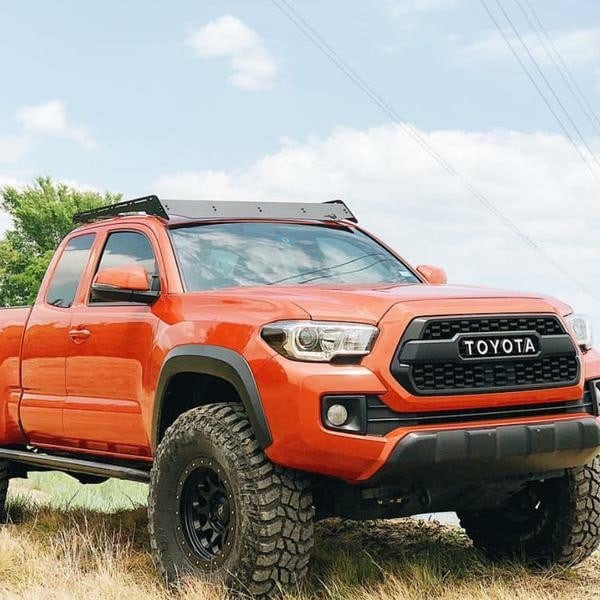 Photo Credit: Prinsu.com
The Prinsu Rack is a favorite of Tacoma owners, and it is very easy to see why. These racks are made from a lightweight yet durable laser cut aluminum. It's a product powder coated in a satin black texture coating that looks as high quality as it is.
The Prinsu rack boasts easy installation and has options that both do and do not need to be drilled into your roof.
What makes this our top choice is that it has one of the highest weight limits of any other rack on the market, yet it remains incredibly lightweight. Keep in mind that this product is only compatible with 2nd and 3rd generation Tacomas, so if your Tacoma is older than 2005, you will need to find a rack like this one.
2. Best Runner-Up: AL Off-Road HD Roof Rack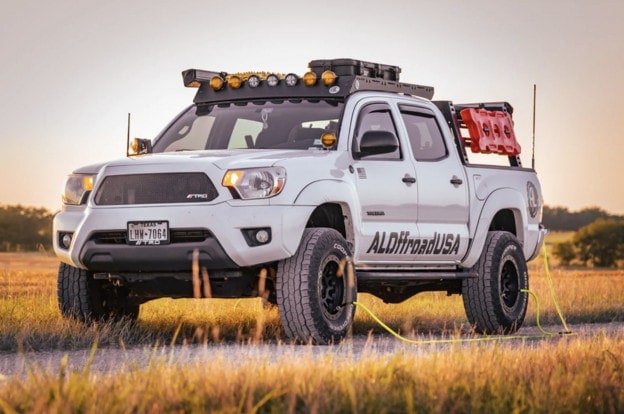 The AL Off-Road HD Roof Rack is an ultralight design that boasts being completely noiseless up to 80 miles per hour, even during a windstorm. This rack is built from a high strength aluminum material that is completely rust resistant and lightweight.
You can also choose to include a lightbar cutout, and choose between the all black "onyx" option, or the original that has silver logos and hardware. This rack can be ordered in a custom color if you contact the manufacturer.

Overall, this roof rack is incredibly versatile and truly one of the most high quality racks you can purchase. The main downside to this rack is that it is quite expensive compared to others on this list. It also has quite a long lead time and can take 6-8 weeks to receive from your date of purchase.
3. Best Lightweight Option: Baja Rack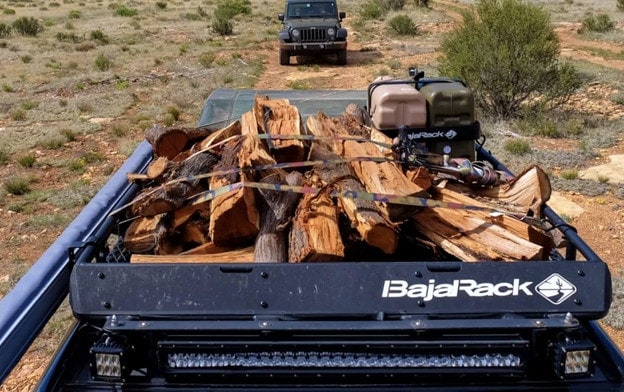 Baja Rack is known for their superb quality and reliability. This standard basket roof rack comes in at just 42 pounds and is crafted from aluminum. This rack is also designed to sit in the factory threaded inserts located under the plastic strips. This means that there is no drilling required for installation.
Another huge benefit to purchasing this rack is that Baja Rack has seemingly endless accessories you can purchase that will be compatible with your roof rack. You can also choose whether or not you'd like the rack that comes with a light bar.
One downside of this rack is that it is not rated to carry as much weight as some of the other options on this list. One previous downside to ordering from Baja Rack is that they used to have incredibly long lead times. Fortunately, they have recently been able to improve this and you can now expect to receive your order in 3-8 weeks.
4. Best Budget Roof Rack: Hooke Road Roof Rack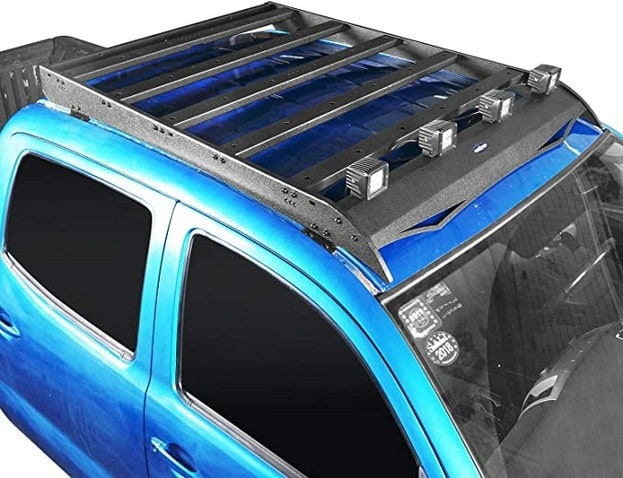 This Hooke Road roof rack is made from steel and boasts being aerodynamic, and is able to hold up to 350 pounds of distributed weight. This rack has a textured black coating that is resistant to rust.
This roof rack may not be able to carry as much weight as some of the others, but it is also a fraction of the price and even comes with high power spotlights.
Overall, this roof rack packs a giant punch for its inexpensive price point.
5. Best Low-Profile Rack: Slimsport Roof Rack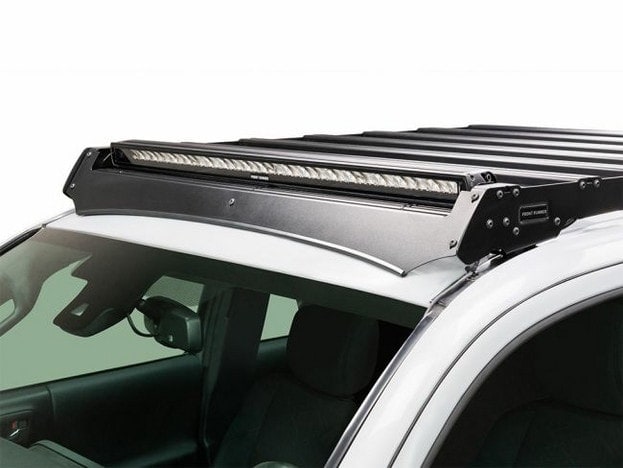 The Slimsport Roof Rack from Front Runner Outfitters is a high quality, lightweight design that comes ready to install a light bar. This rack has an extremely low profile and is equipped with a wind deflector.
If saving gas mileage is a top requirement for you, you will not be disappointed with this ultra-low profile rack. Front Runner is a leader in providing quality products, and offers a lifetime warranty on all of their racks.
Other Tacoma Roof Rack Options
Here are some other great roof rack options on the market:
1. ARB Roof Rack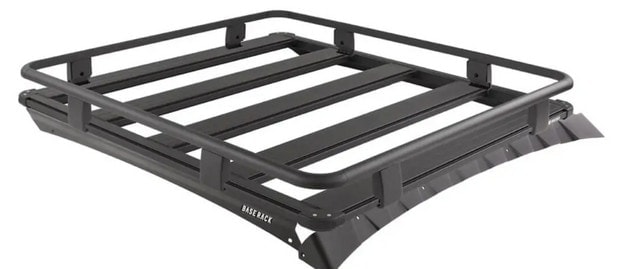 ARB is known for their high quality products and their roof racks are no exception. They are made from welded aluminum and are incredibly durable while staying lightweight. ARB also offers plenty of accessories to further customize your rack.
One general concern with low-profile racks such as this one is that they will bend and flex and ultimately cause damage to your roof. ARB ensures that this rack is completely bend proof and will not cause any damage.
2. Victory 4X4 Roof Rack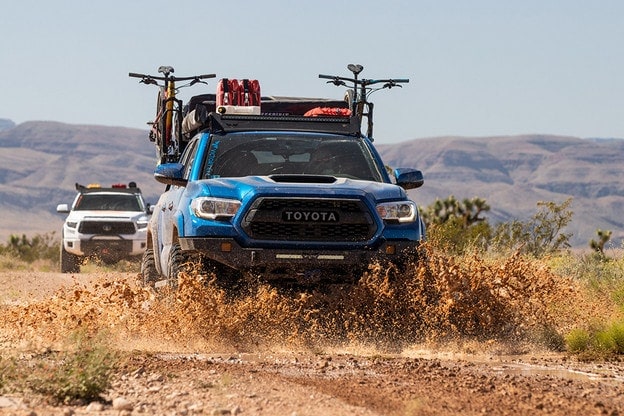 The Victory 4X4 Roof Rack is crafted from aluminum using a CNC cut machine and boasts being light weight and highly versatile. You can opt for the version with or without the light bar cutouts, and they all come with a wind deflector to help preserve your gas mileage.
While Victory is new to making Tacoma accessories, they are the sister company to JcrOffroad who specializes in truck mods. Victory specializes in heavy duty off roading equipment, so you can be sure that you are getting high quality products.
Another great thing about this rack is that shipping is free and quick.
3. The Grand Teton Roof Rack
The Grand Teton Roof Rack by Sherpa Equipment Co boasts being one of the toughest available on the market. Their racks are crafted with quarter-inch thick aircraft grade aluminum panels and steel hardware.
This rack is "drill free" and can be installed quickly and easily to your Tacoma roof using the provided mounting hardware. This rack also only weighs 45 pounds making it one of the lightest options on this list.
4. Bravo Tacoma Roof Rack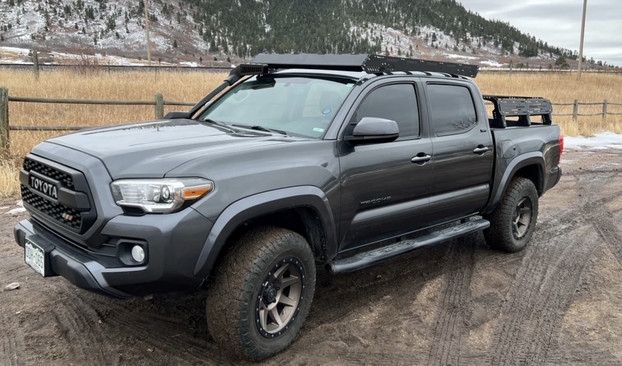 The Bravo Tacoma Roof Rack boasts being incredibly user friendly and offers plenty of machine cuts to customize the placement of your gear. This rack has several options available in terms of sizing and light bar cutouts.
This rack is only suitable for a double cab Tacoma that is 2nd generation or newer. The brand's mission is to bring overlanding accessories to the public at an affordable price. So if you're in the market for budget Tacoma modifications that are high quality and versatile— Up Top makes tons of great affordable products.
Final Thoughts
There are seemingly endless roof rack options available on the market and it can be tough to figure out what to look for.
There are plenty of fantastic options on the market for almost any budget. The most important thing is that you are buying a rack that is compatible with your needs and will provide the functionality you are looking for.
Also just because some racks are more expensive than other racks, does not mean they will always serve you better. Always be sure you are using your rack properly to ensure you are not damaging your Toyota Tacoma's frame or body.
Ready for more? Check out: