Chances are if you own a Tacoma you're probably an adventure seeker.
Whether you traverse cliff sides on a dual-suspension mountain bike or venture through cities on a sleek road bike—transporting your bike safely and easily can bring you peace of mind and help you hit the trails more often.
There are several different types of bike racks, so we will break down all of the details on what to look out for and how to choose the right rack for your needs.
Let's deep dive into the best bike racks currently available for your Toyota Tacoma.
Table of Contents (Click to Expand)
Biggest Carrying Capacity
What are The Different Types of Bike Racks?
Photo Courtesy of The Adventure Dispatch
Not all bike racks are made the same, so here are some things to know about each of the different main types of racks:
Hitch Racks
Hitch bike racks are great because they're fairly quick and easy to install; however, it should be noted that you'll need to install a hitch receiver if you don't already have one. These are fairly simple and inexpensive to purchase and install, and places like UHaul will install them for you for a fee.
One of the biggest downsides to hitch-mounted bike racks is that they block access to your truck bed while your bikes are mounted. I've found this to be pretty annoying to deal with in the past, especially when the rest of your gear needs to go in the trunk or bed.
Overall they're easy to install, can hold up to five bikes, and can generally be locked to deter theft.
Roof-Mounted Racks
Roof racks are great because they provide a versatile way to carry many different kinds of cargo items. This means that while your bike rack isn't in use, you can use your rack for other things.
They're also built to be really sturdy since they have to endure so much wind. This means that between the height of the rack and the built-in locking mechanisms, theft is unlikely.
Another thing to consider is that getting your bikes on and off of lifted Tacomas or other tall vehicles can be tricky since they sit up so high, especially if you're shorter like I am.
The initial set-up can also be tedious, and the unavoidable wobble of your bikes can cause scratches and damage over time.
Truck Bed Racks
There are different styles of Tacoma truck bed racks, but they're great options since there is plenty of room in your truck's bed to carry several bikes—plus, your bed should be tough enough to keep from scratching.
Obviously, this will take up quite a bit of your truck bed space, but it'll leave your hitch open so you could still potentially pull a trailer if needed.
Another thing to note is that some truck bed bike racks are simple to install and remove, while others can be more complex and tedious.
Before biting the bullet you should decide whether you want your rack to stay in your bed permanently or if you want it to be removed easily between uses.
Trunk Mounted Racks
Trunk mounted racks are easy to install and can be removed easily. This makes them a great choice for those who wish to remove their bike rack between uses.
These racks latch on your trunk or hatch and sometimes ratchet on. When mounted properly they shouldn't rattle around or cause damage; however, this can take time and practice to get right. When I had a trunk mounted rack I had to pull off the freeway a few times in the beginning because the rack was rattling around.
Trunk mounted racks can typically only hold two bikes, which can be a deal breaker, but they're also the least expensive option overall. They're a great value for recreational cyclists who aren't frequently transporting bikes.
The 7 Best Bike Racks For the Toyota Tacoma
Here are all of our favorite bike rack options available for the Toyota Tacoma:
1. North Shore Racks NSR—6
Type: Hitch-mounted
Weight: 69 pounds
Carrying Capacity: 6 bikes—2 & 4 also available
Where To Buy: North Shore Racks
There are so many things to love about the North Shore Racks NSR—6.
First, it can carry up to 6 bikes, and finding a rack that can move that many bikes is almost unheard of. There are two-bike and four-bike options available too, if six is overkill for your setup.
While this rack is hitch-mounted and would typically impede on your access to your truck's bed, this rack is great because of the articulating arm that allows the bikes to swing out of the way. The NSR racks boast being the quickest racks to load on the market, and can even hold bikes with thicker frames like e-bikes and fat tire bikes.
It should be noted that the carrying capacity of this rack is 300 pounds, which shouldn't be an issue with mountain bikes and road bikes, but e-bikes can easily break the scale since they can often weigh up to 80 pounds each.
One downside of this rack is I've had experience lifting bikes onto many different types of bike racks, and lifting a bike vertically over your head while your tire is swinging around isn't comfortable. One person can load bikes onto this rack, but it would be much easier with a spare set of hands.
Just keep an eye on your Tacoma's leaf springs if you go with this design as it can add quite a lot of weight!
2. Rocky Mounts BackStage Swing Away Platform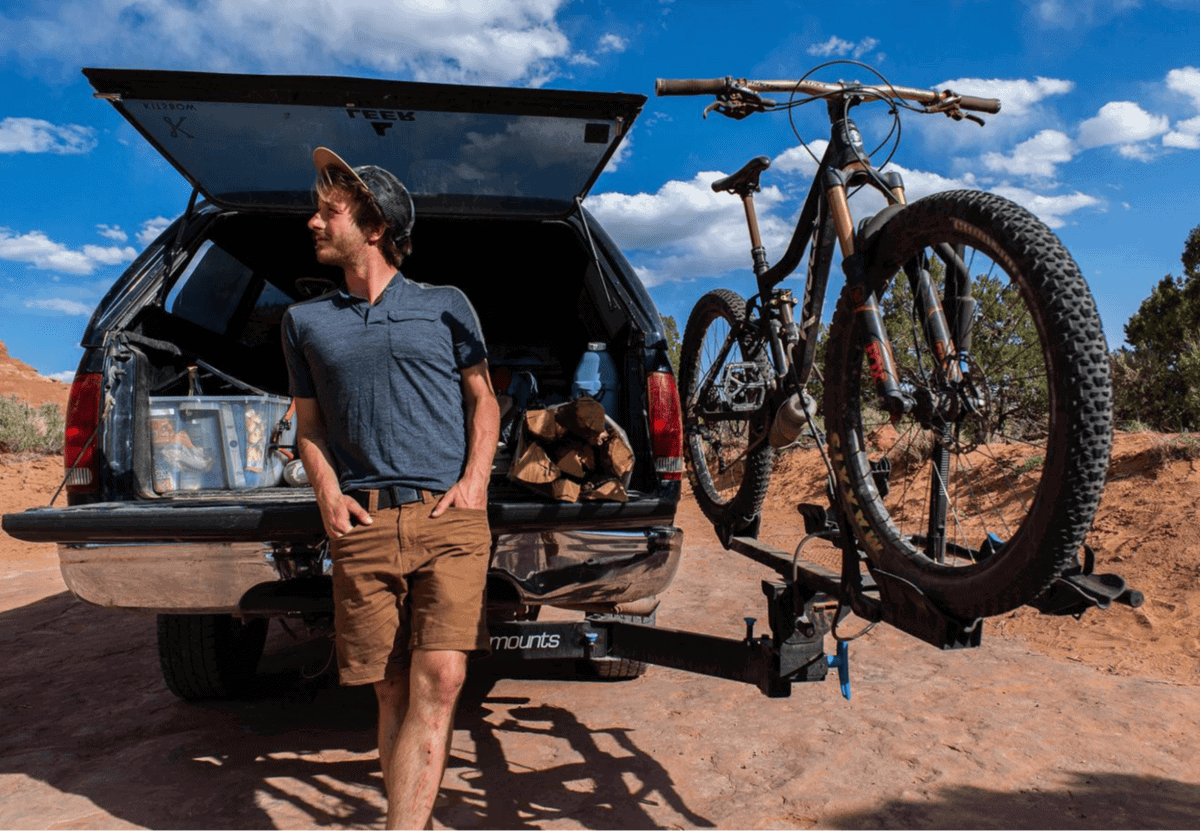 Photo Courtesy of TheRadivist
Type: Hitch mounted
Weight: 75 pounds
Carrying Capacity: 2 bikes
Where To Buy: Backcountry, Amazon
Similar to the last rack, the Rocky Mounts Swing Away Platform bike rack is a hitch-mounted rack that swings out of the way to provide easy access to your trunk or truck bed.
The Rocky Mounts rack also has no contact with the frame or body of your vehicle meaning it won't cause damage even while off-road. This rack can also only transport 2 bikes, but is truly the most ideal rack for overlanders since it still allows for easy access to gear.
The biggest downside to this rack is the cost. It is similarly priced to some of the other high-end racks on this list, but can only carry two bikes. This makes it more expensive per bike to transport.
Overall, this is our favorite design for overlanding and outdoor adventurers. It's also the only design on this list that can safely and efficiently work with a truck bed camper.
3. Thule ProRide XT Rooftop Bike Rack
Type: Roof-mounted
Weight: 11 pounds
Carrying Capacity: 1 bike
Where To Buy: REI, Backcountry
What I love most about the Thule ProRide XT Rooftop Bike Rack is that it's ultra-lightweight, is easy to install, and features a tool-free interface.
This rack can be mounted to almost any roof rack for the Toyota Tacoma because of its adjustable design, and has soft claw feet that help even distribute weight on your roof to prevent damage.
While a roof-mounted bike rack can be tough to load and unload on a tall vehicle, it also will naturally help prevent theft.
There are locking cylinders that can be purchased separately to prevent theft even further.
4. Kuat Trio Fork Bike Rack
While the Kuat Trio Fork Bike Rack is only rated to hold one bike, you can easily add one or two more of these racks to your existing roof rack. This makes their design much more versatile than some of the others on this list because it can spare additional space on your roof for a cargo box, kayak, tool box, etc.
The fork mount design can feel tedious since you have to remove your front tire. However, I've always loved this design since it creates less wind drag and makes your bike much harder to steal—especially with the integrated locking mechanism.
You'll need to ensure you have a space to store your tire, but these can easily fit inside your cab or in your truck bed.
One downside to fork mounts is that you'll need to be wary when transporting your bike with no front tire since hitting the brake lever can mess with your hydraulic braking system.
Overall, this is an easy to install design that can be modified on your roof rack to make the most of your adventures.
5. Race Face T2 Tailgate Pad
Photo Courtesy of @scottwhitemtb on Instagram
If you're looking for a unique and simple way to store bikes in your Toyota Tacoma, you might want to consider adding a simple tailgate pad. These securely fasten to your Toyota Tacomas tailgate and keep your bikes securely hanging over your tailgate.
They are the most lightweight "rack" option since they work in harmony with your existing truck design to properly secure your bikes in place.
The Race Face T2 Tailgate Pad can carry 5 bikes and has plenty of cushion to prevent dings or scratches on your truck.
We love this design since it is so lightweight, doesn't need to be removed between rides, and makes packing your bikes up a breeze.
6. Advantage SportsRack BedRack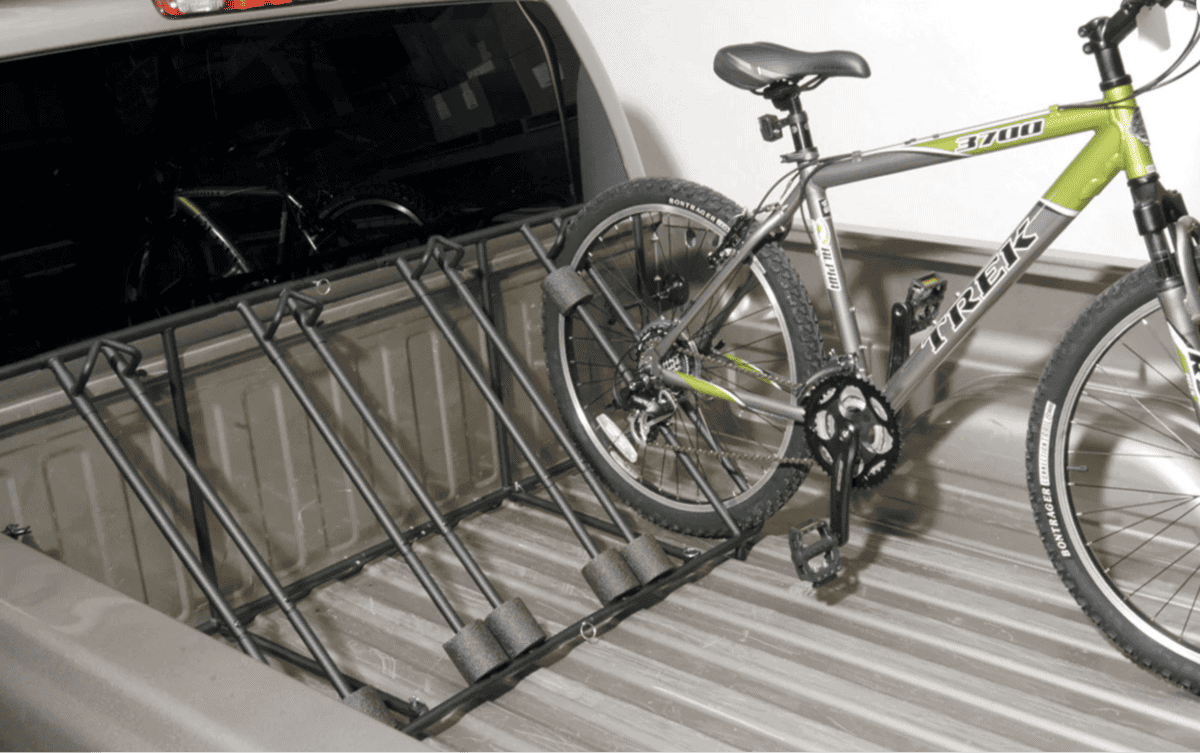 Type: Truck bed
Weight: 30 pounds
Carrying Capacity: 4 bike
Where To Buy: Amazon
If you're looking for a straightforward design you can just sit in your truck bed and load up—you'll love the Advantage SportsRack BedRack. This rack expands with tension poles to secure it into your Toyota Tacoma.
We love this design because it can be used as a free standing bike rack while your crew gears up, and can even be used in your garage or storage shed between uses to keep your bikes secure.
The Advantage SportsRack boasts a design that wont scratch either your truck bed lining or your bike, and can carry up to four bikes.
7. Yakima StageTwo 2-Bike Hitch Rack
Photo Courtesy of PinkBike
Type: Hitch mounted
Weight: 66 pounds
Carrying Capacity: 2 bike (with add-ons available)
Where To Buy: REI
I've used the Yakima StageTwo 2-Bike Hitch Rack many times as it's a favorite amongst our biking buddies. I love this design since it doesn't require any tools to install because of the integrated speed knob for easy installation. It also makes loading up bikes a breeze because of the folding arms and strong arm hook.
While it makes getting to your bed storage a bit more difficult since you can't lower your tailgate, it is in my opinion the easiest design to load bikes onto.
What I love about platform racks is that they fold up nice and small between uses, or they can simply just unclip from your trailer hitch and store away. There are plenty of similar designs by other brands, but the Yakima is premium quality and will stand the test of time.
Yes, most bike racks are perfectly fine to get wet.
Bear in mind that many are powder coated and can become rusted if the powder coating chips. It's best to inspect your rack often and touch up the powder coating as needed to make sure it doesn't rust.
Frequently Asked Questions
Here are some commonly asked questions you may have about Tacoma bike racks:
Will a bike rack hurt my vehicle?
Generally speaking, no. A quality bike rack that is properly installed shouldn't damage your vehicle.
However racks, that mount to your tailgate, trunk, or the roof of your vehicle without a rack can easily cause damage if not installed perfectly.
This is why it is best to invest in a quality rack that won't make direct contact with your vehicle's body.
Can you take a bike rack through a car wash?
No, it isn't ever a good idea to go through a carwash with a bike rack attached. There are often many moving parts on a bike rack and they can easily get snagged, rusted, or damaged while going through a car wash.
It's best to either remove your rack or wash your vehicle by hand to ensure the integrity of your rack is maintained.
Can bike racks get stolen?
The simple answer is yes. However, many bike racks have locking mechanisms integrated into the rack or have locking devices that can be purchased separately. It's never a bad idea to attach a cable lock or U-lock to your rack to prevent it from being stolen.
Can bike racks get wet?
Yes, most bike racks are perfectly fine to get wet.
Bear in mind that many are powder coated and can become rusted if the powder coating chips. It's best to inspect your rack often and touch up the powder coating as needed to make sure it doesn't rust.
Can you leave a rack on your vehicle long-term?
A good quality rack can be left on your vehicle long term and won't cause damage. They can affect your gas mileage, but they shouldn't cause any damage or harm to your vehicle.
Final Thoughts
There are so many different kinds of bike racks available on the market and finding the right one will require a good hard look at your own individual needs.
If you want quick access to your Toyota Tacoma's bed, you'll probably want to find a roof mounted rack or invest in a swinging hitch design like the Rocky Mounts Swingaway Platform Rack.
If you're just looking for a removable and lightweight rack for the occasional weekend trip, then the Race Face T2 Tailgate Pad could be the best choice.
Just be wary about the fact that bikes are a big target item for theft—so whatever system you decide to go with, be sure you also invest in a quality lock and take plenty of safety measures.