The Toyota Tacoma is an extremely capable truck—it's no wonder it's considered one of the best overlanding vehicles, even straight from the factory.
But we can make it better.
If you want to turn your Taco into the ultimate overlanding rig, there's no shortage of aftermarket mods and accessories to improve your truck's ride quality, functionality, and off-road capabilities.
To help you decide how you want to improve your rig, here are three very different (and very awesome) Toyota Tacoma overland builds, with a list of all the mods they're rocking:
Table of Contents (Click to Expand)
1. The Ultimate Toyota Tacoma Overland Build: Atigun
First up, we have what is truly one of the best Toyota Tacoma overlanding builds I've ever seen: Atigun. Atigun is a 2021 Toyota Tacoma TRD Off-Road with a 3.5L Atkinson Cycle V6 engine.
Built by the team at XOverland; this thing is a monster of a truck. It utilizes the 3rd Gen Tacoma body with state-of-the-art features and technology to create a powerful overlanding vehicle.
It's got it some major modifications; roof racks, onboard air, high ground clearance, recovery gear, a new suspension system, and all the creature comforts you could want in an adventure rig. And it was build on a brand new truck with less than 10,000 miles.
Here's a visual overview they provided of their entire build: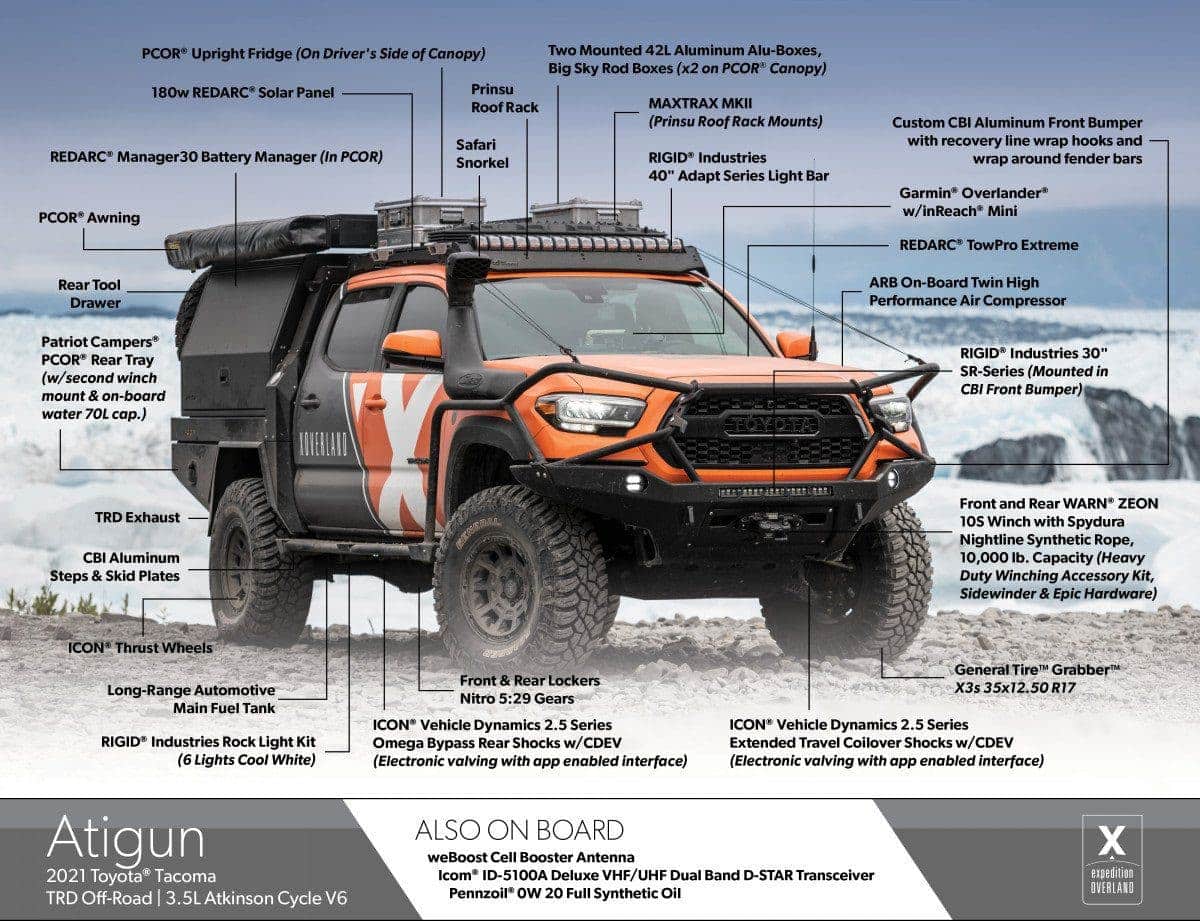 Here are all the links to the parts and modifications:
OVERLAND GEAR
Camper System

Patriot Campers® Flat bed with ¾ PCOR® canopy system
Fridge

PCOR® Up Right Fridge on Driver's Side of Canopy
Auxiliary Water

On board water in PCOR® Tray
Auxiliary Gas

Long Range Automotive Fuel Tank
TIRES, SUSPENSION, WHEELS
Front Suspension

Coilover Shocks w/CDEV Electronic controlled valving with app enabled interface
BODY ARMOR
Front Bumper

Custom CBI Aluminum Front Bumper with recovery line wrap hooks and wrap around fender bars
Rear Bumper

PCOR® rear tray with second winch mount
ELECTRICAL
Truck Satellite Phone

Iridium Go. | Revolution Battery Lithium 160AH in PCOR® Canopy
RECOVERY
LIGHTING SETUP
PCOR® TRAY & 3/4 CANOPY
Pressurized Compartments
LED Lighting Suite
REDARC® BMS1230
Spare Tire Holder
Rooftop Tent Compatible
Integrated Upright Fridge
Internal Storage Drawer
Central Locking Doors
Rear Tool Drawer
70L Water Tank
Secondary Rear Winch Mount
MISCELLANEOUS
TRD Accessories

TRD PRO Tuned Exhaust, TRD PRO Grill
Tinted Windows

Tinted Windows | Bos Tint & Sound Bozeman, MT
Custom Vehicle Wrap

Vehicle Wrap | SCS Wraps in Bozeman, MT
Video Walkaround
2. The Budget-Friendly Tacoma Build: 2001 SR5 Double Cab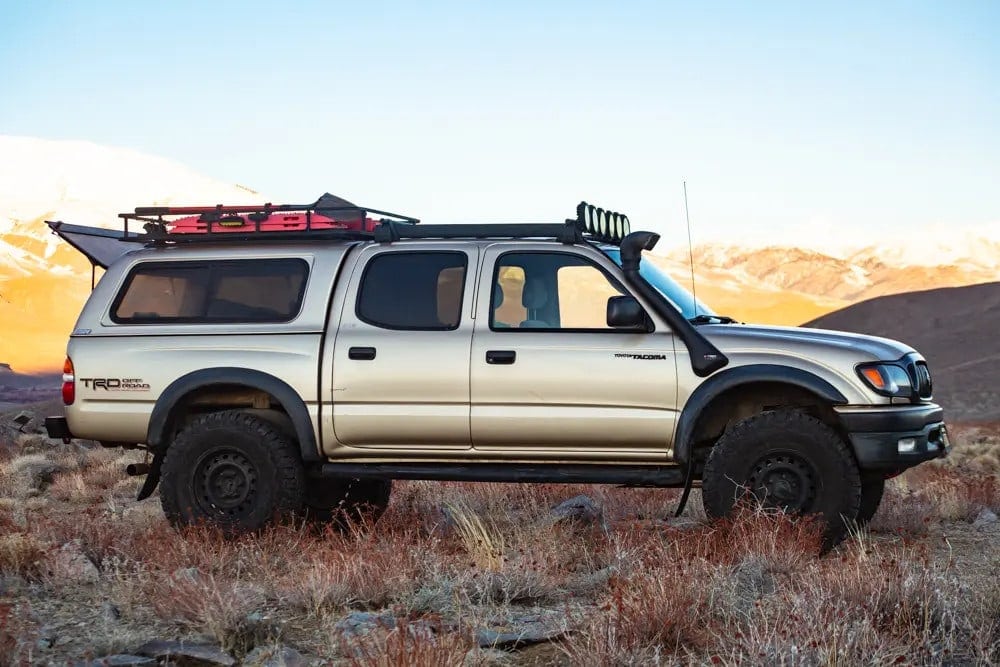 After looking at that last build, you might be stressing about how much all this overlanding gear is going to cost you. I don't blame you—that's a lot of beans!
To round out this list, I wanted to share my favorite budget Tacoma overland build that was bought and modified for under $10,000!
Built on a 2001 Mystic Gold Metallic Toyota Tacoma Double Cab with the optional SR5 and TRD off-road packages, this 1st gen Tacoma has seen more trails than most at a fraction of the cost.
Most of the truck was stock in this photo (he's since built his own flatbed camper on the back!)
Shout out to Micah Weber (@overlandunderbudget) for sharing his build and prices. He also has tons of tutorials on everything from creating your own flatbed Tacoma to custom bumpers and bike racks and loads more on his YouTube channel—definitely give him a watch!
While I couldn't quite figure out everything in his build, here's most of it:
BOUGHT
Factory E-Locker
eBay Snorkel
Stout Equipment Rear Bumper
Nomad Headlight Retrofits
Bilstein 5100 Shocks (front & rear)
Toyota Steelies
Ultra Guage
DIY BUILDS
Storage Case Mount
Camper Shell Rack
Transmission Skid
Rock Sliders
Sleeping Platform
12V Bed Power Panel
Air Compressor Engine Bay Mount
Magnetic Phone Mount
Video Walkaround
3. The Weekend Warrior Tacoma Build: 2016 TRD Off-Road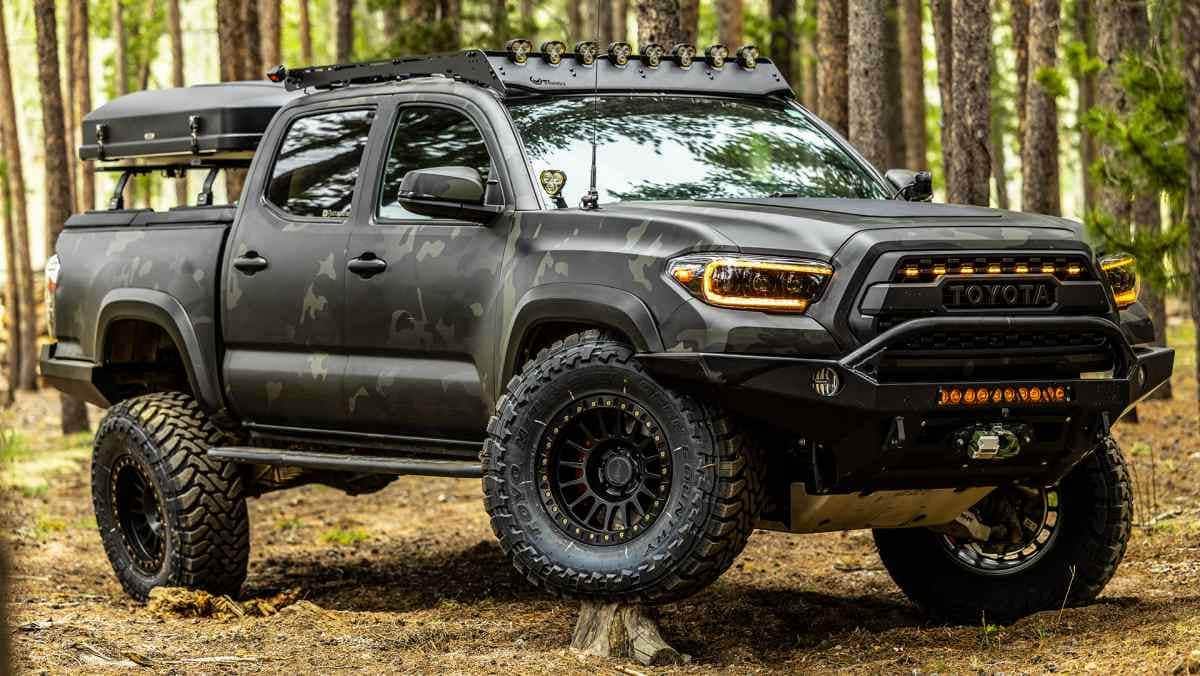 Last but not least, we have a Tacoma overland vehicle that is made for the guy or gal who just wants a capable rig they can also use as their daily driver. It's got some pricey upgrades, but not nearly as many as the Atigun build.
This 3rd gen Tacoma overland build by Last Line of Defense is purpose-driven and meticulously thought-out. The base is a 2016 Toyota Tacoma TRD Off Road A/T Short Bed with the Tech Package, custom wrapped to look even more badass.
Parts & modifications include:
ARMOR / BUMPERS
CBI Tacoma T3 Aluminum Front Bumper with mid loop
CBI Tacoma High Clearance Rear Bumper
CBI Flat sliders with kickout and top plate
CBI Full Aluminum Overland Skids (with exhaust reroute)
LIGHTING
SUSPENSION
WHEELS/TIRES/BRAKES
Slee Tacoma ARB compressor Bracket
RACKS / STORAGE
RECOVERY
PERFORMANCE MODS
MISCELLANEOUS
Front TRD Pro style upgraded Grille
3M Multicam Black Wrap installed by https://frontrangedents.com/ and material from https://imagecraft.mysimplestore.com/t/multicam-black
Video Walkaround
Want more Tacoma & overlanding guides?
Here at Adventures On The Rock, we love all things Tacoma and overlanding. If you're itching for more inspiration, check out these other guides & articles: