If you're looking for a do-it-all pair of travel pants that also look great, you've probably seen the TEREN Lightweight Traveler Pants.
I got myself a pair of these lightweight, "do-it-all" adventure pants after meeting Nick Rader, the co-founder of TEREN, at an Overland Expo.
Then I put them to the test on a week-long jungle adventure in Guatemala while hiking ancient Mayan pyramids and traversing the jungle.
Are these pants worth the money? Do they really do everything they say they do? Let's see.
Table of Contents (Click to Expand)
TLDR; Are TEREN Traveler Pants Worth It?
If you just want a straight-up answer—yea, these pants are awesome. I highly recommend them. Go buy them on the TEREN website right now.
They're everything they claim to be: High-quality, breathable, lightweight travel pants that dry quickly, feel great to wear, and look good. They make excellent hiking pants, lightweight traveler pants for plane rides, and even look great for a night out. What more do you want?
Ok, ok—if you want the full review, keep reading. They do have a few minor drawbacks.
About the TEREN Lightweight Traveler Pants
Let's quickly cover what the pants are made out of and the features they are known for:
Material
The Traveler Pants are 88% Nylon and 12% Spandex. I can attest to the fact that they are soft and comfortable and haven't shrunk in the wash. Granted, they do recommend you wash in cold water and hang dry. They dry very quickly, though!
Features
Let me quickly cover the features of these pants:
Hidden zipper pockets: There are two hidden pockets with zippers lined behind the regular pockets that make you a harder target for pickpockets.
Moisture wicking: These pants wick the moisture off your body, keeping you smelling fresh for longer. Yay!
Water-resistant & spill-resistant: They come with a water-resistant coating that repels water and makes it less likely to stain if you spill something.
Anti-microbial: TEREN includes an additive in the pants that fights bacteria, which prevents odor and lets you wear longer and wash less. Washing less means a longer pant life and less water usage, which is good for the environment. Yay!
Insect repellent: The pants are finished with No Fly Zone Insect Repellent Technology, which repels ticks and mosquitos. Pretty cool feature—I actually didn't have any issues with bugs even in the middle of the jungle!
Magnet fastener: They decided to use a magnet instead of a traditional button to hold the pants up. The magnet is strong and works great. Plus, you can use it to hang the pants up to dry.
Sun protection: The pants are lined with MCS and UV protection, providing 50+ SPF to protect you from the sun. Again, it worked great for me in the jungle—I didn't burn at all!
Lightweight & packable: Probably the biggest feature of these pants is the fact that they are super lightweight (coming in at just 11 ounces for the 30/30 size) and pack down incredibly small. I could easily fit 10 pairs of these in my backpack if I wanted to.
Quick drying: I can attest to TEREN's claim that these pants are quick drying. They would dry within 20 minutes of washing them when hung out in decent weather.
Here's an image from the TEREN website showing all the features visually: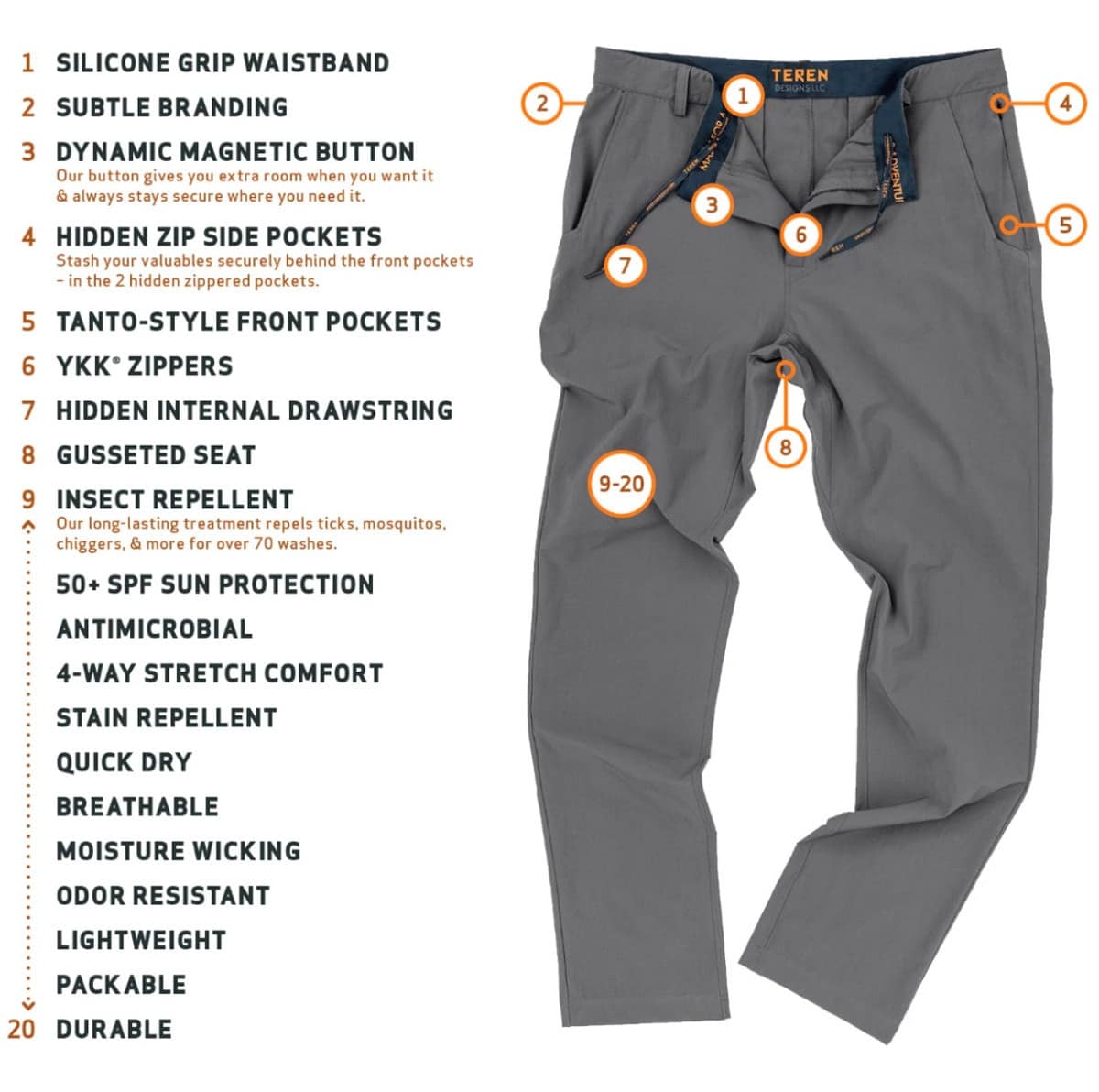 The TEREN Philosophy
TEREN was founded by Nick Rader and Chris Loizeaux in 2018 after they got back from a week-long fly fishing & motorcycle adventure/photoshoot for RoadRUNNER Motorcycle Touring & Travel Magazine.
They started the company because they were tired of looking ridiculous in cargo pants with too many zippers and pockets after they were done on the trail. They found the cargo pocket to be in an awkward location and the zip-off pants to look stupid and be difficult to actually use.
Instead, they wanted a simple, high-quality pair of pants that performed well on the trail and still looked good in town after a hike. Thus, the TEREN lightweight traveler pants were born.
After the pants were a huge hit, they continued to innovate, creating the Daily Driver pants, traveler tee, and other apparel to up your travel game. Their goal is to create functional clothing that performs on both mountain peaks and in nice restaurants.
They even take this a step further by offering everything you need to travel with just one bag. Pretty cool!
Drawbacks of the TEREN Travel Pants
While I love these pants, they do have a few issues I'd like to address.
Namely, they are almost too good at moisture-wicking. If you're a heavy sweater like me, it will show. By the end of the Jungle hike, it looked like I went swimming.
Maybe that could be averted by purchasing a darker pair of pants. I'm not sure. But it wasn't my favorite thing. That said, I have this issue with all pants made of similar materials. This isn't specific to TEREN.
The other issue I had with them was the sizing. I'm a short dude (5'5"), and the shortest in-seam they had was 30. I like a 28 or 29, personally. But the 30 still worked, and I could always get them hemmed if it really bothered me.
Other than that, I really have no complaints about these pants. They've served me well so far!
Frequently Asked Questions
Where are TEREN designs made?
TEREN's pants are made in China. Some of their more technical tops are made in Vietnam.
What are Traveler Pants?
Traveler pants are pants designed to be easily packable, lightweight, and comfortable for traveling. Ideally, they should be breathable, durable, and easy to wear for long stretches on a plane or in a car. They also typically have built-in security features like hidden pockets.
Final Thoughts
Have TEREN Designs made the best pants for traveling?
I haven't tried all the travel pants out there, so I can't say for sure. But I've tried a lot of them, and in my opinion, TEREN makes some of the best men's pants you can find.
They kept me cool in the hot weather of the Guatemalan jungle, they're super comfy for hiking or even walking the city streets, and they've quickly become my favorite pants. They've got my seal of approval, and I'll be getting a second pair for sure (probably more).