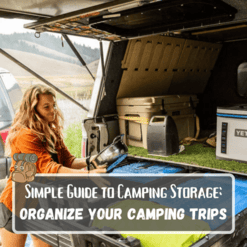 If you've ever been camping, you know how quickly your best attempts at tetris organization turn into a whirlwind mess. You have to move stuff around to get to anything and, if you're like me, you end up forgetting where you put that damn flashlight.
I was fed up with it, so I did a ton of organization trial and error. And, after traveling thousands of miles in my overlanding Tacoma rig, I've finally figured out how to master camping storage.
In this guide, I share my field-tested tips on camping organization so you can keep your camping trips fun and organized without all the hassle.
5 Steps to Organize Your Camping Gear
When it comes down to organizing your camping gear, it's important to realize that everyone going on a camping trip will have a different list based on their personal needs.
While this post is mainly dedicated to camping storage, I wanted to share how I personally pack for camping trips!
There are five main steps that I follow before every camping trip:
Assess what you have
Sort your camping gear into categories
Measure your vehicle space
Buy & label camping storage boxes
Have a place for everything and put stuff back
Let's briefly dive into each of these steps:
1. Assess What You Have
Before you start your camping trip, you'll need to figure out what items you have! We're talking all the essentials, whether that's bike helmets, life jackets, a sleeping bag, hiking poles, or even water toys!
Once you've figured out what type of camping gear you have, you're ready to move on to the next step:
2. Sort Your Camping Gear into Categories
This one seems like a no-brainer, but sorting your camping gear into categories will help you significantly on your camping trip. For example, you don't want to pull out duct tape when you're reaching for toilet paper!
We recommend sorting your gear into four categories:
Personal items
Kitchen items
Shelter and sleeping items
Food items
By doing this, you'll be able to stay organized and won't have to wonder where your camping gear is! Let's briefly talk about what should go into these categories.
1. Personal Items
For personal items, you'll want to add things like:
Clothing
Toiletries
Camp games
Books and journals
These items can easily be packed into storage bags to save space! (add more here)
Pro Tip: You can even find water resistant storage bags, such as the one shown below:
REI Co-op Pack-Away Adjustable Cube
 Zippered mesh top allows you to see what's inside and provides ventilation—but it's fine enough to resist splashes and light rain
 Two adjustable hook-and-loop dividers allow you to customize the interior and create compartments for your gear
 Durable, single-layer construction makes for easy cleaning
Recommended
2. Kitchen Gear
Next up is your camp kitchen gear! This includes (but isn't limited to):
A camp stove
A water jug
A cooler
Collapsible pots and pans
Having a place to put all of my camp kitchen gear is a huge help (as I don't want my pots and pans falling out of a camping bin while driving). I use the Chuck Box to store my kitchen gear, but we'll talk more about that later!
3. Shelter and Sleeping Gear
I consider shelter and sleeping gear as everything I need to keep warm while on a camping trip (as well as things that will help me stay comfortable). This includes:
Sleeping bags
Blankets
A tent
Pillows
While you may not need a tent while car camping, I think it's still a good idea to bring one!
4. Food
As I'm sure you know, planning out your camping meals (as well as snacks) is a great way to ensure a stress-free camping trip.
You could keep dry food items (like granola bars and hot dog buns) in grocery store bags, put your favorite spices in tic tac containers, and keep water bottles and other essentials in a cooler!
3. Measure Your Vehicle Space
Depending on the type of vehicle you drive, you may have more (or less) space than others. You might be able to fit more storage bins in the back of your car but that can come with its own set of problems (if you overload your car with storage bins, where will you put your tent or camp chairs?).
Properly measuring the space within your vehicle is a must before going on a camping trip. Are you going with one other person or are you going with your family? If you're going with just one other person and you're able to put down the seats in the back, you'll automatically have more space and more storage options.
If you're going with your family (or you have more people coming that require the backseats), you automatically have less room. Once you figure out how much space you'll need, you can start filling your vehicle and get ready for your trip!
4. Buy & Label Camping Storage Boxes
Having multiple storage boxes while camping is a good way to keep your camping gear safe both in and out of the car.
One thing I recommend, however, is to label each storage box. This makes organization and storage much easier (as you won't have to rummage through each box to find that one thing you're looking for).
The labels don't have to be extravagant, either. "Gear storage" or "Kitchen essentials" works perfectly!
5. Have a Place for Everything—And Put Stuff Back
If you follow all of these camping storage ideas, there's not a doubt in my mind that you'll have a safe place for everything (as well as plenty of storage space when you put your camp gear back).
To sum it up, if all of your camp gear has a place to go when you're done using it, you avoid clutter and will have fewer items floating around in your camping vehicle! It doesn't take much to stay organized while car camping – just a bit of thought!
Related Reading: Helpful Truck Bed Storage Ideas & Accessories
Camping Organization by Space
So, where do you put your camping gear? How can you easily keep things organized while on a car camping trip?
Here are some awesome car camping organization ideas for you:
Camping Storage Ideas for the Kitchen
When storing your camping food, you have to think of three main things:
Dishes and utensils
Dry food
Chilled food
If you ask me, a chuck box is the perfect place to store all of your kitchen camping essentials. It's essentially your own grab and go kitchen!
With a chuck box, you're able to carry spices, utensils, cooking oil, spare fuel, pots, pans etc. Your chuck box will vary based on your preferences and requirements for an ideal camp cooking setup!
Apart from having a chuck box, grabbing a decent size cooler for your chilled camping food is a great idea too. If you have enough room, I recommend the Coleman Xtreme Portable Cooler – but if you're running low on space, the RTIC Insulated Backpack Cooler is another great option (and it's able to be used on hikes).
Coleman Xtreme Portable Cooler
Insulated lid and extra wall insulation keep ice up to 5 days in temperatures as high as 90°F

Holds up to 100 Cans

Closed lid supports up to 250 lbs
Recommended
RTIC Portable Backpack Cooler
The RTIC backpack cooler is a hands-free insulated cooler bag that straps comfortably to your back, leaving both arms free for what your adventure calls for
Built with premium insulation, the insulated backpack cooler will keep your items cold for days
Not to mention it's a floating cooler, it floats, so your drinks and snacks can go wherever you go – 100% waterproof
Recommended
Camping Storage Ideas for Bulky Items
When you're dealing with bulky items (such as tents, blow up mattresses, camp chairs, hiking boots, lanterns, sleeping bags, etc) it isn't practical or easy to keep them in a storage box.
Most of these bulky items will come with their own dedicated storage bag (or compression sacks) which makes it easy to stack these items in a large, open storage while car camping! You can also stack these items on top of each other while on the move.
Camping Storage Ideas for Clothing
If you ask me, duffle bags are one of the best ways I've found to organize my clothing while camping. If you're camping with multiple people, I recommend that everyone has their own duffle bag. You can purchase different colored duffles to tell them apart, too!
In your own bag, I recommend using smaller mesh bags inside for different clothes. One could contain socks and underwear while the other contains your swimsuit, etc. If you're with family, you can keep certain clothing items together (instead of having multiple mesh bags in each duffle).
If you're planning on camping in the cooler months, I highly recommend using compression sacks to help save space as well as having a dedicated camping bin for these items.
When it comes to dirty clothes, you can use a compression sack, a large mesh bag, or even plastic bags. Simply place it in a safe location until you're able to wash your laundry!
Camping Storage Ideas for Toiletry Items
I highly recommend keeping your personal hygiene items in a toiletry bag or in an overnight case. You're able to hang these items while showering at public shower facilities and can easily store them in your vehicle when you don't need them!
If you plan on going on a longer camping trip, I recommend purchasing an extra toiletry bag filled with things like hair dryers and razors. You don't need to pack these items in your main toiletry bag, as it would be annoying to dig around them when looking for your toothbrush every day!
When it comes to toilet paper, you'll need to store it in something to keep it clean (and dry). You can use plastic bags or even an old bread bag! I also recommend keeping a bar of soap in panty hose – it might sound odd, but it does the trick!
Best Storage Boxes for Your Gear
When looking for the best camping gear storage box, you'll want to get a high-quality container that allows you to stow your gear and supplies safely and neatly! Not only will they secure everything while you're out on the road, they'll be helpful while you're camping as well.
Make sure you purchase a camping storage box that is not only durable, but waterproof as well (as we all know, the weather can change in the blink of an eye and sometimes, you don't have enough time to grab your storage box when it's outside in the rain).
The best off-road storage box will be strong, long-lasting, water-resistant, and able to handle quite a bit of abuse over rough terrain. I personally recommend spending more on a quality storage bin that you won't need to replace or repair within a few months of camping!
How to Stay Organized At Camp
Whether you're car camping or not, you'll need to keep your camping organization hacks working for you!
It's not hard to do, but here are a few tips I recommend you follow:
Take note of all of your camping items when you get to your destination. Make a note in your phone (or use a piece of paper and pencil) and jot down the things you take out of your camping bins – otherwise, you may forget them when you pack back up!
Utilize a hanging shoe rack while at camp. Having a hanging organizer is a lifesaver while camping. Not only can you hang dirty or wet clothes from it, you're able to hang mesh bags filled with sunscreen, hand sanitizer, bug spray, and more from it.
Do a gear audit after each camping trip. Ever notice that there are a few storage bins you never really touch while camping? Or, better yet, are there some items that you never take out of bins while on a car camping trip? I recommend performing a gear audit after each camping trip to remove clutter. There's no point in keeping those trekking poles if you don't use them, right?
By following those three tips, you'll be able to keep your camping spot (and car) more organized. A hassle free camping trip sounds good to me!
Final Thoughts
I hope this guide on camping gear storage helped you in more ways than one! There are so many ways to stay organized while on the road, I'd love to hear how you store your camping bins and other gear while on the road!
Leave a comment down below or, if you have a question for me, feel free to drop it down below and I'd be happy to answer!
In the meantime, here are some other guides to help you become the coolest camper in the lot: