A portable camp chair with canopy ensures you will always have a place to relax and escape the sun, and Adventures on the Rocks can show you where to find one.
Whether you're setting out on an overlanding adventure or off to watch a ballgame, you want to be comfortable.
So how do you choose the right camping chair?
In a rush? The best chair is the Best Choice Products Oversized Gravity Chair. Read on to find out why!
5 Best Camp Chairs with a Canopy or Shade
Selecting the correct camping chair with canopy entails more than looking at the price tag—our experts weigh up the capacity, durability, style, and portability to find the best overall choice below. Whether you're looking for the best beach chairs with canopies or a sports chair, you'll find one here.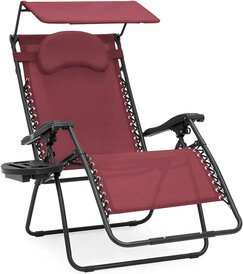 If you need a reliable camp chair with canopy, the Zero Gravity Reclining Lounge Patio Chair could be an excellent choice. It is a comfortable chair that reclines enough to achieve an almost horizontal position that raises your legs above your heart. It is a great way to aid blood circulation and a good excuse to recover for an hour or two after a long walk.
At 21 pounds, we recommend leaving the Zero Gravity camp chair with canopy at your campsite if you do not want to cut your hike short with added effort. However, you'll find that it's the best folding chair with canopy available when you get back to camp. The snappy blue color brightens up any poolside or campsite, and it comes fully assembled, so you can leave the instructions at home.
The materials on this chair are water-resistant and durable, easily shrugging off splashes from the pool and the odd downpour. Keep the unit in top shape by storing it in a sheltered area, and it will last beautifully. You should also adhere to the maximum weight limit of 250 pounds for the best experience.
This chair is considered by many to be the best canopy chair for sports. So if you're looking for the best sports chair with canopy, look no further!
Pros
Wide seat with a weight capacity of up to 250 pounds
Full range of motion and reclining
Weather-resistant mesh
Detachable cup holder
Works as a beach chair with sunshade
Cons
Heavy
Uncomfortable footrest bar
The ALPHA CAMP chair with canopy initially offered a set of two, but these are now available separately. The model takes the title of Best Camping Chair with Shade since the canopy has a sun protection factor of 50+ for ultimate shielding. It provides a good patch of shade and ample protection on those hot, sunny days, and the material is waterproof against the rain.
The powder-coated stainless-steel frame supports up to 350 pounds, so the chair is an excellent option for campers of all sizes. The construction quality is good with the reinforced joints, and there's no need to worry about it collapsing from under you while you're enjoying the sunset.
This ALPHA CAMP model weighs only 14 pounds, and the convenient carrying case makes it easy to transport. The relatively compact design slides into the trunk for a concert or sporting event, and it is quick to set up.
The manufacturer also provides a one-year warranty in case of defects.
Pros
Durable stainless-steel frame
Powder-coating ensures no paint chipping
Waterproof canopy with SPF of 50+
14 pounds
Cons
Tricky to fit the chair into the snug-fitting carrying bag
Does not recline
The Sport-Brella Recliner breaks the mold—it comes with an adjustable umbrella providing you with 360° SPF50+ protection from the sun at any angle. Move the canopy with the sun for maximum comfort, and enjoy the comfortable, wide seat and full footrest.
Sport-Brella could have stopped there and taken the title of the most innovative camp chair with canopy, but the designers wanted more. They started by making the chair reclinable. You can sit, lie back a little, or take a proper nap if you like, and in as much or as little shade as feels good in the moment.
Your drink will stay cold while you are napping with the insulated pocket to keep a beer frosty for hours. The storage pocket even has a built-in bottle opener in case you forget to pack one. You can store up to four drinks in your chair using the bags and cup holder.
Pros
Three reclining positions
360° removable umbrella and footrest
Wide seat for additional comfort
UPF 50+ sun-rated
Cons
Poor ventilation
Little to no back support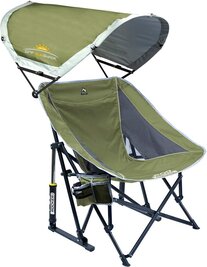 Not many people ask for a "rocking" camp chair with canopy, but here it is. If you're planning a lot of time in the seat, it makes sense to add a rocking function. The first sensation when you drop into the sling-style seat is a caress, and the rocker function only enhances that after a long day.
The comfortable seat is exceptionally wide, and there is plenty of space to relax. The mesh panels on the side and back ensure consistent airflow, so you won't feel hot or sweaty as you rock away while the mercury rises. The seat supports up to 250 pounds and weighs just 13.2 pounds, folding neatly into the wide-mouthed bag for easy storage.
Pros
Built-in rocking function
Best-looking folding canopy chair with attached sunshade
Waterproof canopy with a protection factor of 50+
Excellent ventilation with mesh side panels
Best lawn chairs for sports
Cons
The canopy joint requires careful handling
No lower-back support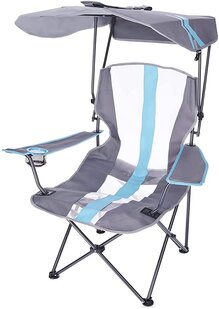 The SwimWays Kelsyus provides the ultimate sun and rain protection, and this camp chair with canopy even includes a handy bug guard. The full-length netting drapes over the entire chair to keep all insects outside. The manufacturer's emphasized amazing protective properties with an extensive canopy, waterproofing, and 50+ SPF.
Surprisingly, this innovative chair is also affordable, and it won't cost you much in terms of additional weight either. Everything weighs 11 pounds, far less than any other model on the Adventures on the Rocks Top Five list.
A large mesh panel runs along the seat and back, ensuring excellent ventilation and reducing the carry weight. You may use it with or without the bug guard, and it folds away quickly for easy storage.
Pros
Powder-coated steel frame carries up to 250 pounds
Full mesh bug guard
Comfortable footrest
Well-designed canopy
Great value
Cons
Sometimes difficult to manipulate the top
The bug guard affects the view
Should these models all make it onto our Must-Have Overlanding Gear (And Fun Toys) list? Let us know in the comments.
Choosing the Correct Camping Chair for Your Needs
There is a range of factors to consider before choosing a specific camp chair with canopy, and a good investment will consider style, portability, and capacity as the basics:
Style
Classic: The standard design is a different back and seat, with four legs. These models may not have backrests and do not recline. It's easy to push yourself up from the standard position.
Scoop: A hammock is probably the closest comparison, and these chairs can be comfortable if you don't have back problems. It is more difficult to climb out of this swinging camp chair with canopy if you have mobility issues.
Three-Legged: It may come with a back, but not much else. They are lightweight and best for short stints.
Rockers: It may be worth looking at a rocker if you'll spend a lot of time sitting down on your adventures. However, these chairs tend to be pricier and heavier than the standard options.
Low: At a lower height to the ground, the person sitting on it needs to be reasonably mobile to get up and down easily. They're ideal for uneven terrain with a lower center of gravity.
Our recommendation is to center your choice on utility—consider how easy it will be for you to get in and out of the chair before making a decision.
Related Reading: The 9 Best Free Standing Hammock Sets in 2022
Portability and Weight
Every camp chair with canopy is portable, and most fold up for easy storage. The extent of that portability depends on how much it weighs, though. If you're hiking, a seat weighing 25 pounds would be inconvenient, and you will need to factor the item's weight into your packing.
Weight Capacity
How much weight can the seat hold? Will it be suitable for you? What about your friends and family who will use it on the trip or around the pool?
Work out what the seat will have to bear when loaded up with you, your tablet, drinks, and snacks for the best decision.
Conclusion
Which camp chair with canopy suits your travel and lifestyle best? Our article gives you an excellent place to start. The Best Choice Products Oversized Zero Gravity Chair took top honors this time, thanks to its reliability, style, and good looks. It's one of the best beach chairs.
Looking for more camping gear? Check out our list of the best tent fans to keep you cool on those hot summer days/nights!