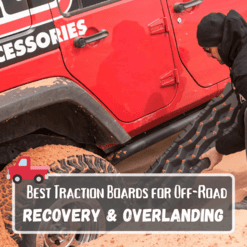 Traction boards, traction mats, or recovery boards are an essential tool in every off-roaders kit.
These handy devices give you the ability to dig yourself out of dirt or sand and give your tires something to grip on so your vehicle can drive out of a ditch. They've saved me on more than one occasion!
But what's the best traction board or mat for you? Read on to find out.
What is the difference between traction mats and traction boards?
Traction mats and traction boards may serve the same purpose, but they're much different from each other!
Image Credit: ARB USA
Most traction boards are used by people who go off-roading frequently and need a longer base to get traction in various conditions. Most boards are able to provide a solid base needed for good traction in loose terrain.
Image Credit: Musthane
A traction mat, on the other hand, is far more compact and lightweight. They're great for light SUVs and cars, and perform well on firmer trails.
Related Reading: How to Start Overlanding: Easy Adventure Travel for Beginners
6 Best Traction Boards & Mats
Without further ado, here are the best traction mats (and traction boards) on the market today!
1. X BULL Recovery Traction Tracks
If you're looking for a set of durable, easy-to-use, rigid traction mats, the X-BULL Recovery Traction Tracks are the ones for you!
These traction tracks are made of a reinforced, UV-balanced plastic and are the perfect extraction device to use in mud, sand, and clear snow. Because these don't fold, they're not as portable as you may like them to be – but this is the only downside to these traction tracks!
If you require additional traction, make sure you order two of these traction boards (as only two come in a pack). That way, you can put a traction board under all of your wheels.
X BULL Recovery Traction Tracks
Size: 109cm x 31cm x 6cm – 43 x 13 x 5.1 inches
Material: Reinforced, UV Stabilized Strong Nylon, 10-ton Capacity
Raised tracks help prevent vehicle tires from spinning
Recommended
2. Smittybilt Element Traction Boards
These Smittybilt Element Traction Boards are designed to offer you maximum traction in all terrains (as well as the worst conditions, such as deep snow).
We love how the Smittybilt traction boards are able to support up to 7,700 pounds. Not only that, but they're made from heavy-duty nylon reinforced plastic construction. The sloped entry helps to make vehicle recovery that much easier and there are carrying handles on each board.
Note: There isn't a warranty on these traction boards, so make sure you tread lightly!
Smittybilt Element Traction Boards
High traction surfaces to get you out of the mud, snow, sand or any type of loose terrain
Each ramp can support up to 7,700 lbs
Heavy-duty nylon reinforced plastic construction
Recommended
3. Portable Tire Traction Mats
A quick word of caution – these traction mats aren't great for serious off-roading, but they're great for cars and SUVs stuck in light mud, sand, and snow.
The simplistic design and price point are what turns us onto these portable tire traction mats. With a dense array of cleats on top and an array of angled "hooks" on the bottom, you'll be able to get your vehicle unstuck in just a few seconds.
Portable Tire Traction Mats
Provides emergency traction for your tires in snow, ice, mud and sand
Comes with 2 reusable polypropylene solid and virtually indestructible traction mats
Each only 2.5 pounds and 36 inches long, allowing easy storage in your trunk or under your seat
Recommended
4. TRED Pro Traction Boards
If you're looking for a highly-engineered, all-in-one vehicle recovery device to get you out of mud, sand, dirt, and snow, look no further than the TRED Pro Traction Boards.
These recovery boards are crafted to get you out of the toughest terrain on the planet! Thanks to the design, you're able to ditch the shovel and dig around and under your tires with the traction board itself. These are pretty expensive traction boards, but they're well worth the money.
TRED Pro Traction Boards
Patented grip profile for ultimate traction
Fits existing TRED 800/1100 mounting brackets
Design and materials are optimized for use across a variety of terrains and seasons
Recommended
5. MAXSA Escaper Buddy Traction Mats
If you love off-roading in the snow, the MAXSA Escaper Buddy Traction Mats will quickly become your new best friend. With a unique design and the raised, high-traction track surface, spinning wheels will be a thing of the past!
Beneath the traction mat you'll see an awesome, shark tooth design that grips into the ground as well as a star-shaped structure that helps to stabilize the tracks in place. These are some of the highest rated recovery boards on the market today (and it's easy to see why).
MAXSA Escaper Buddy Traction Mats
2 pack, each traction mat is 48 inches long and 14.5 inches wide
Ideal for off-road use to help spinning tires get traction in the elements
Lightweight, durable, high-impact polypropylene plastic construction make these built to last
Recommended
6. BUNKER INDUST Offroad Traction Boards
The BUNKER INDUST Offroad Traction Boards are all about durability (as well as versatility). Thanks to the nylon construction, they're lightweight and resistant to breaking.
They're crafted with a built-in jack base in the center which allows you to lift your vehicle in case of emergency in harsh conditions, too! These are some of the best recovery boards you can get on the market today – vehicle recovery has truthfully never been easier!
BUNKER INDUST Offroad Traction Boards
Designed with unique jack base in the center of the recovery traction boards
The cross-shaped teeth, well positioned to bite the tyres to prevent vehicle from slipping back
Can withstand weight of up to 10 tons
Recommended
How to use a traction board or mat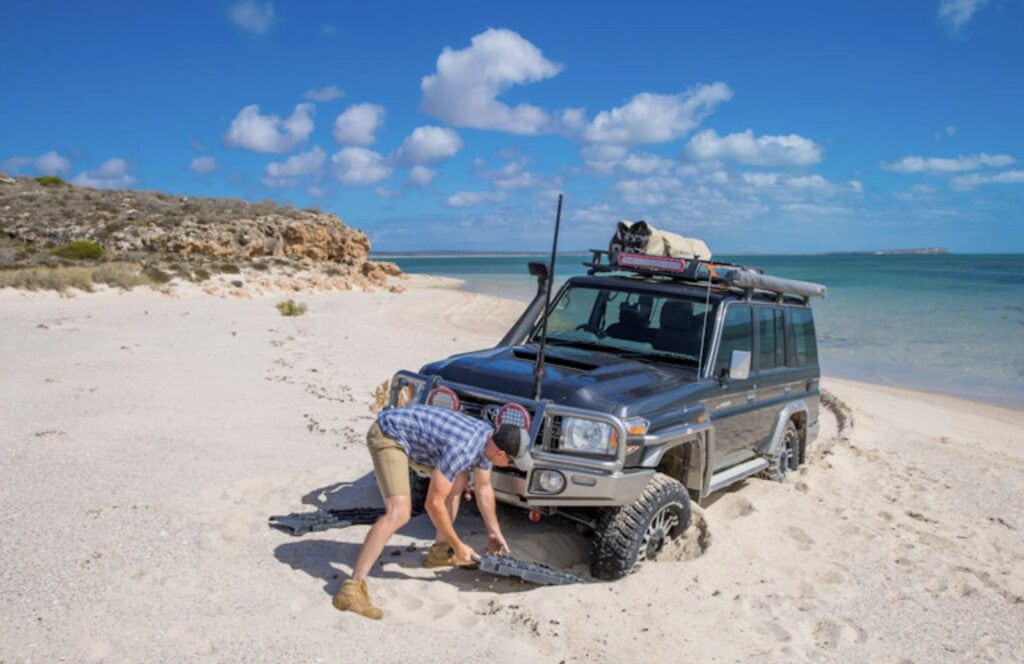 While off-roading, you may find that getting stuck is easier to do than you thought! If you ever find yourself stuck in the mud, sand, or snow, here's a foolproof way on how to get out by using traction boards (or traction mats):
Dig in front and underneath each tire (as best as you can) as well as digging away the mud, sand, or snow that's touching the frame or undercarriage of your vehicle. Traction boards can be used as a shovel as well as to create traction.
Drop your traction boards or mats in front of each tire and lower your tire pressure to 15-20 PSI if you haven't already. This will allow your tire to expand onto the board.
Slowly touch the gas pedal (making sure that you don't spin your tires) and roll the wheels on the boards. Rinse and repeat until you're on a hard-packed surface!
Here's a great video you can watch to see this process in action:
What to do if you get stuck
Let's say your vehicle gets stuck in the mud, sand, dirt, or snow. While this can be a scary situation, we have a few tips to get your vehicle out safely in no time!
Tip #1 – Assess the situation. The worst thing you can do in this situation is get panicked and try to accelerate your way out. Try to stay calm and get out of the vehicle to check on the situation. From there, create a strategy to attempt to get unstuck. How bad is the situation? How deep are your wheels buried? Once you figure out those two things, you'll be able to better determine your course of action. If you have passengers in your car, make sure that they get out in order to reduce the amount of weight (as they could be sinking your vehicle deeper into the mud or snow).
Tip #2 – Try the "rocking method". If you're not incredibly stuck, you can attempt to move your car back and forth in order to gain momentum. Make sure you're in the lowest gear for automatic transmissions (or in the second or third gear for manual transmissions). Accelerate slightly forwards and then, when your car is in reverse, move slightly backwards. Make sure to not spin your wheels while doing this. Keep doing this until hopefully, you feel your car starting to gain the momentum it needs to get unstuck.
Tip #3 – Attempt to winch it out. Winch recovery may be one of the best ways to help you while off-roading (especially if you're in the middle of nowhere with no help readily available). Here's a step by step video on how to winch yourself out:
Above everything else, please ensure you're being safe. If you're unable to remove your vehicle by yourself, be sure to call roadside assistance (or, if you've got some friends off-roading with you, try to enlist them to come help).
Other tips for off-roading & overlanding
By now, you know that traction boards are incredibly important when overlanding – but there are a few other tips we'd love to share with you!
Tip #1 – Air down your tires. In order to give your tires maximum grip and help absorb shocks, you'll need to adjust your tire pressure for the terrain. While figuring out what tire pressure works best for your vehicle may take a bit of time, here are a few numbers we tend to stick with:
When you're on dirt, you want to be around 25 PSI.
When you're on technical trails, you should be at 15 PSI.
When you're on pavement, you want to be around 35 PSI.
Remember to check your tire pressure before airing down and to bring an air compressor while off-roading (and never exceed your tires' suggested pressure).
Tip #2 – Take an Off-Road Course or Lesson. Sometimes, YouTube videos just don't cut it. If you're feeling nervous about going off-roading by yourself, sign up for an off-road lesson or course! You'll not only become more comfortable with off-roading, but you'll expand your off-road capabilities. There are also courses you can find on how to off-road with an ATV or motorcycle.
Tip #3 – Know when to turn back. This tip is crucial for all off-roaders, but especially for beginners. You need to be able to recognize the limits of your skills and know when to turn back when the going gets rough. Whether you turn back due to fatigue, weather, fuel level, or the amount of food you have, it's better to be safe than sorry!
Related Reading: 5 Best Off-Road Gas Cans for Overlanding and Wheeling
We hope this article on traction boards has been helpful! Let us know if you have a traction mat you use while off-roading in the comments below.
Looking for more overlanding articles? We've got you covered: