One of the essential pieces of kit for every off-roader, whether beginner or seasoned, is an off-road gas can.
These handy storage containers ensure that you don't run out of fuel on your adventures and serve as safe storage solutions for flammable fuels.
Not all gas cans are equal. Some are made of plastic, while others are made of metal.
While metal cans are heavier and more expensive, they are specifically made for long-term fuel storage.
Cans also come in many sizes and types, and they are color-coded for all sorts of overlanding fuel requirements, from gasoline and diesel to cooking oil and kerosene storage.
In addition to providing storage, many of the best off-road gas cans have convenience and safety features, such as auto-closing lids and built-in safety valves on the spouts.
Below, we'll look at the best gas cans for overlanding and trail-riding. We examine the top fuel cans currently available and the factors you'll need to consider before settling on the best off-road gas can for you.
Related Reading: Best Snatch Blocks to Utilize Your Winch
Top 5 Off-Road Gas Cans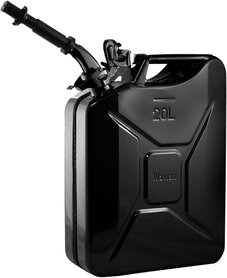 The Wavian USA JC0020BVS is our top pick not only for the best fuel can but also for the best metal gas can. This solid and durable European jerry can is both EPA- and CARB-compliant and has a 5.3-gallon capacity. This capacity, along with its portable dimensions, makes it ideal for small- to medium-sized vehicles or emergency fuel storage.
Wavian fuel cans also have a leak proof bayonet closure consisting of 0.9-mm of cold rolled high-grade steel and an inner and outer anti-corrosive coating. Its bayonet-style quick-release nozzle makes it super-easy and quick to fuel. Additionally, its flexible spout with adapter enhances vehicle compatibility, especially for smaller vehicles that have small filler receivers that don't fit standard spouts.
Pros
Solid, with a fume-proof construction
Robust, sturdy, and durable
Easily stackable for convenient storage and transportation
Cons
Cost
EPA-compliant nozzles, but not high-quality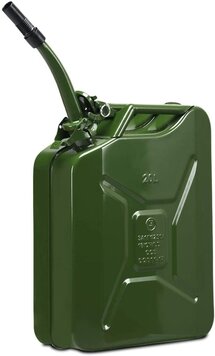 The 5-gallon Goplus Jerry Fuel Can has a unique, sturdy construction consisting of military-grade cold rolled steel and tight, neat seams. It's an excellent 20l gas can.
The can features self-locking lids and a nozzle with a bayonet-style locking functionality that ensures no leakage while you're on the road for a nice, smooth pouring spout.
Other safety and convenience features include a flexible pouring spout and anti-corrosive and anti-explosion materials.
Pros
Lightweight and compact for easy storage
Fully anti-corrosive and anti-explosive for long-term fuel storage
High-quality and durable
Cons
The bulky weld section can make it hard to use.
The can does not fit the jerry can holder.
Related Reading: The 7 Best Toyota Tacoma Camper Truck Setups in 2022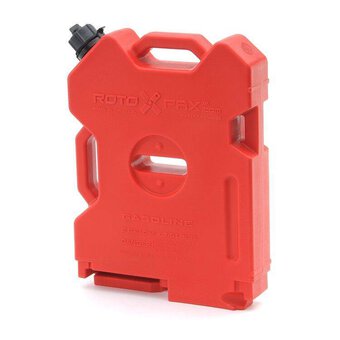 This 2-gallon plastic gas can is compact and lightweight yet incredibly durable. It weighs only 4.2 pounds and measures 19 x 14 x 4 inches, which makes it one of the easiest gas cans to transport and store—an excellent choice for aggressive off-roading and trail-riding.
Because the RotopaX RX is constructed with a formulated plastic barrier and three-layer Roto molding, it fully complies with Environmental Protection Agency (EPA) and California Air Resources Board (CARB) regulations, ensuring no dangerous fume or fuel leakage and spills.
It's also highly versatile, installing easily on any machine, such as a motorcycle or quad. It's one of the best atv gas cans as well.
With the RotopaX RX, you can also add more containers to an existing kit for oil or water storage.
Pros
Good value for money
Suitable for emergencies, bikes, and smaller vehicles
Portable and easy to store
Cons
It tends to bloat up with sudden changes in elevation.
The safety valve on the spout can be challenging to operate.
The AAIWA Gas Can 8 Gallon storage container stands out as one of the best plastic gas cans on the market. This can is made of high-density polythene-type plastic that's anti-corrosive, impact resistant, and anti-UV. This AAIWA gas can features a flexible pouring spout with a filter hose that makes fueling a breeze.
This can also has a durable and leak-proof design, three handles, and an amazing capacity. Choose this gas can if you're searching for a durable but lightweight fuel can for your next off-roading trip.
Pros
Large fuel capacity
Leak-proof, non-corrosive construction
Easy-to-use release valve
Cons
Cost
Two locks that are not keyed alike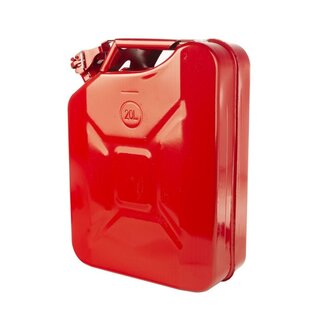 Rugged Ridge jerry cans are among the best cans for long-term fuel storage on those extended off-road trips. The Rugged Ridge 5-gallon metal cans come with a quality red or green gloss finish, and their reliable, sturdy construction makes them ideal for safe, long-term fuel storage and transport.
The stamped steel construction adds to this can's reliability and durability, while the three-bar handle makes it incredibly easy to carry. Also, the hinged fuel cap with locking pin and safety latch adds to the safety features. The metal spout, unfortunately, is not flexible, which could make fueling a little more challenging. You'll need to purchase a flexible metal spout at an extra cost to make fueling easier.
This gas can meets all U.S. Department of Transportation (DOT) regulations for safe transport of fuel in an approved can carrier.
Pros
Quality, vintage-style construction
Excellent safety features
Five-year limited warranty
Cons
No flexible metal spout
Not CARB compliant (not suitable for use in California)
Why Buy a Portable Fuel Can?
A portable fuel can holds small amounts of liquid fuel, typically from one quart to five gallons. These cans are color-coded according to the type of fuel they hold. For instance, red gas cans store gasoline and other flammable liquids, yellow cans store diesel, blue cans store kerosene, and green cans store oil.
Portable fuel cans are lifesavers on off-roading and trail-riding adventures. They ensure that you always have fuel for your trip and provide a safe, portable storage solution for a flammable substance that can be challenging to handle.
Related Reading: Best 37-Inch Tires for Overlanding & Off-Roading
What to Look for in a Jerry Can
Jerry cans have an interesting history stemming back to World War II. These sturdy German-designed fuel cans were first used in 1937 and were famous for transporting fuel reliably and safely during the war.
When the Allied Forces came across these gas cans, they were impressed at how much sturdier and better the construction was and dubbed them "jerry" cans (the word "jerry" was slang for "German" among U.S. and British troops).
Jerry cans come in all shapes and sizes to suit the needs of every overlander. Traditionally, these fuel storage containers were only available in metal construction, but lately plastic containers have been coming onto the market.
Price is a major determining factor in the quality of jerry can you'll get. However, choosing the best jerry can does not depend on price alone. Your jerry can must be vapor-tight and not vent and build up pressure when storing fuel for long-term usage. If it does, it is likely counterfeit and can be dangerous to you and your vehicle.
Below, we'll look at some of the top factors to consider when picking out a jerry can for your overlanding trip:
Construction Quality
The old adage stands true: you get what you pay for!
While metal cans generally last longer than plastic cans due to the durability and reliability of the material, you can find high-quality plastic cans. Whether you prefer metal or plastic, choose a can that will ensure the safe short-term and long-term storage of your fuel.
Related Reading: Best Off-Road Storage Boxes For Your Overlanding Gear
Size and Capacity
When choosing your jerry can, consider the size and capacity of the gas can. Getting a small 1–2-gallon jerry can as opposed to a larger 4-gallon one is pointless if you have a truck or SUV, as the capacity of the vehicle's fuel tank will far outweigh that of the jerry can. This reduced capacity means that you'll have to fuel more regularly or buy more gas cans for your trip.
Ease of Use
When searching for a gas can, look for convenience and safety features, such as the following:
Automatic closure features (e.g., auto-closing nozzles)
Child-proof and locking functionality
Flexible pouring spouts
Leak-proof and permeation-resistant construction
Stackability
These features make a gas can much easier to use and ensure that you comply with the current EPA, CARB, and DOT regulations on portable fuel containers.
Conclusion
No overlanding trip would be complete without a gas can. Gas cans prevent the inconvenience of running out of gas in the middle of nowhere and give you peace of mind on all your trips.
When compiling our list of the best off-road gas cans, we chose the above-mentioned cans for their reliability, durability, affordability, and ease of use. When making your choice, the best gas storage container for you should suit your needs for the types of trips you tend to take. 
Going on an overlanding trip soon? Check out our ultimate guide to must-have overlanding gear for your upcoming trip.