The Toyota Tacoma truck is well-known for its off-road capability, longevity, and reliability.
They're one of the best overland vehicles you can buy. It's no wonder there are tons of manufacturers that build Tacoma campers!
But, which Toyota Tacoma campers are best?
In this article, we'll go over the 7 best Toyota Tacoma campers, so you can start truck camping today!
Let's dive in!
Table of Contents (Click to Expand)
What Exactly is a Toyota Tacoma Camper?
To put it simply, Tacoma campers are pop up campers that fit in the space above the cab and over the truck bed in order to create a shelter.
These truck campers are able to sleep up to four people, have a decent amount of storage space, and some even come with awesome additions like a moon roof, two burner stove, dual pane windows, and more!
Most Tacoma campers have soft shells that are made from regular tent canvas. Some feature a hard top that folds down onto itself (sort of like a camper shell). They're an essential Tacoma mod to improve the look and utility of your truck!
What Type of Campers Can Go on a Tacoma Truck?
There are various campers that are able to go onto a Tacoma (ranging from soft and hard-top ones that latch above a truck topper). All you really have to do is find one that's designed for a Tacoma!
As long as you do your homework and figure out what your truck bed dimensions are (as well as its weight capabilities), you'll be able to find plenty of campers for the Toyota Tacoma, such as the following 7 Tacoma campers on our list today.
While a truck bed camper is probably the most comfortable option, you could also make a great shelter out of a Tacoma truck bed cap, or a rooftop tent.
Related Reading: The Best Truck Bed Tents to Camp Off The Ground
7 Badass Toyota Tacoma Truck Bed Campers
Without further ado, let's dive right into the best truck campers on the market today!
1. Kimbo 6
If you're looking for one of the best truck campers on this list, allow us to introduce you to the Kimbo 6!
The Kimbo 6 is a very versatile truck camper that features an optional Goal Zero inverter for all of your power needs (as well as a propane fireplace, a beautiful kitchen area, and plenty of storage space).
Related: Jackery Explorer 300 Solar Power Station Review
This Tacoma camper was built by people who truly understand what it means to live outdoors. Not only will this truck camper fit perfectly on your Toyota Tacoma truck, you're able to get solar panels on it and a four-season camping entry that will drain water and dirt from the top of your truck topper.
The founder of the Kimbo, Mark King, built it as a trial for something he could live out of. He took inspiration from a nuclear submarine, the USS Alabama, in this build. Being an inventor and engineer, as well as a student of feng shui, the Kimbo is a beautiful small home.
Pros of the Kimbo 6:
The inner walls are a dense brushed fabric, which adds another layer of insulation value for warmth
The Kimbo camper is set up for solar, which allows off-grid camping comfort
The Kimbo camper has plenty of standing room (and a sleeping capacity of two people)
Cons of the Kimbo 6:
Lack of holding tanks for wastewater
Most of the storage is hanging open-wire bins
All in all, the Kimbo 6 is a great truck camper that should be on all Tacoma trucks! I may be ordering one for my Toyota Tacoma overland build, as it seems like the best choice for creating a mobile work and living space to travel full-time.
Related Reading: The 7 Best Rooftop Tents for a Toyota Tacoma
2. Scout Yoho 6.0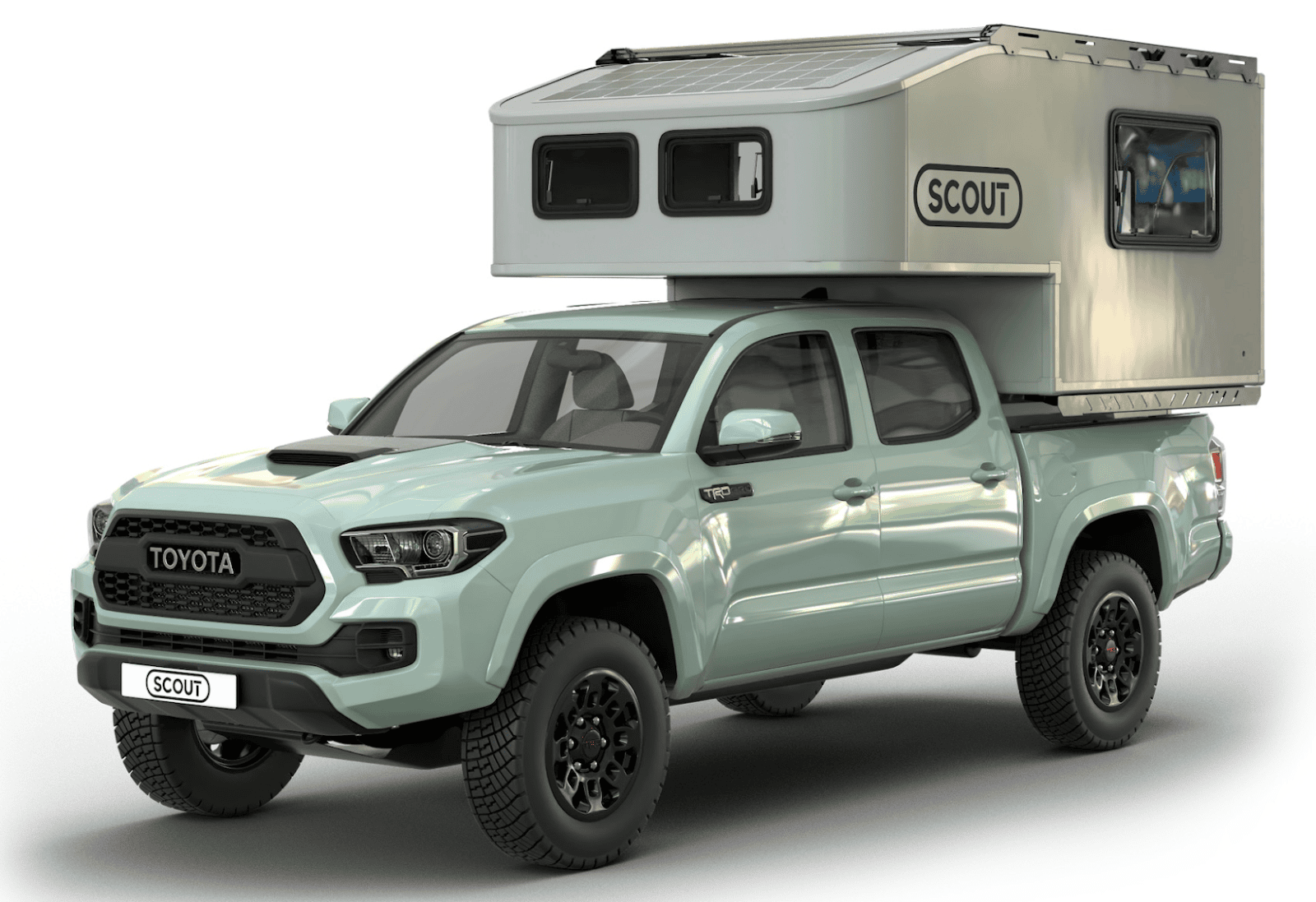 The YOHO 6.0 has everything you need in a truck camper to venture off the beaten path. Think of the YOHO as a backpack for your truck camper. Inside, it has everything you need for overlanding adventures as well as the portability to take these features outside, too!
The YOHO 6 comes with off-grid essentials including (but not limited to) solar power, a portable power station, LED lights, and so much more!
You can also choose from optional add-ons to enhance your off-grid experience too, such as a 260 degree awning, a portable fridge/freezer, and even an optional rooftop tent for guests.
Plus, the Scout is one of the only campers for the Toyota Tacoma that comes with Full Composite Substrate Construction—meaning it's all one piece and is less prone to leaks like typical camper materials.
Pros of the YOHO 6:
Thanks to its small size and low base weight, you're able to access more terrain
The YOHO 6 is highly durable, safe, and constructed for 4-season travel
This is one of the only truck campers that sleep 4 people comfortably
Cons of the YOHO 6:
Compared to other truck campers, this is a more expensive model
There isn't much space for a wet bath in this truck camper
3. Overland Explorer Vehicles Camp-M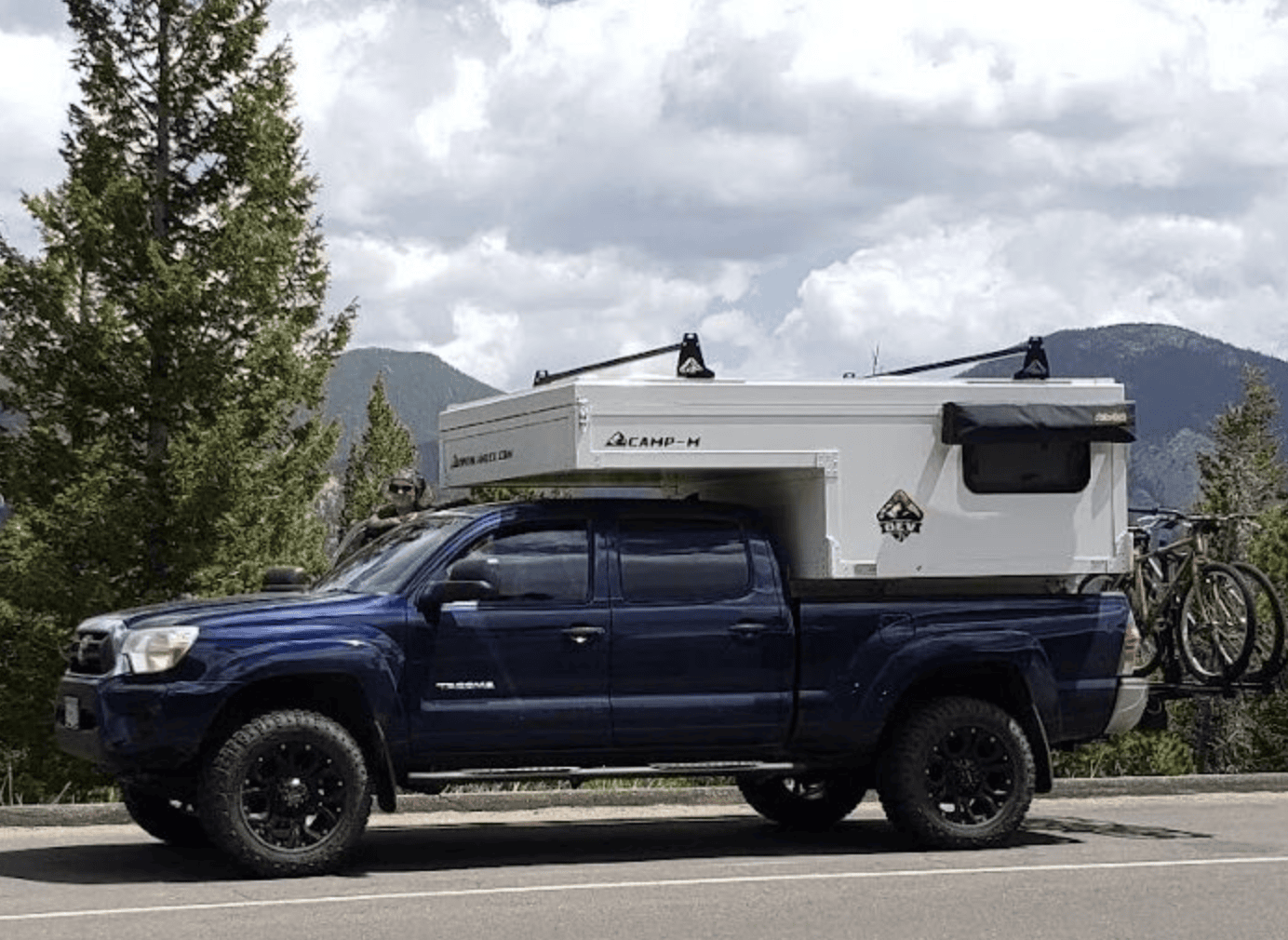 While pop-up campers are pretty rare in the overlanding world, this Canada-based overland company has made one of the best truck campers on the market today.
The Camp-M comes with a chest-style fridge tray, an aluminum propane cabinet with a 10lb bottle, a 20 gallon freshwater tank, and more!
Check out the video below to compare the Camp-X and the Camp-M models:
Pros of the Camp-M:
Sleeps up to 3 people
Spec'd for factory style mid-size trucks
You're able to add more to the build if you want
Cons of the Camp-M:
Very expensive for what it is
Cooktop not included
4. AT Overland Summit
Price – Base price starts at $12,000
Get it Here – AT Overland
We're sure you've heard of AT Overland in the past—this company is well-known in the overlanding world simply because they make some of the best truck campers on the market.
The AT Overland Summit is no different—it's a great truck camper that fits perfectly in your truck bed. The Summit truck topper features a spacious cargo area and has a moonroof over the bed so you can fall asleep watching the stars.
You're also able to place bikes, kayaks, and more toys onto the built-in rails on the top of this camper, so you don't have to install your own roof rack on your Tacoma.
Pros of the AT Overland Summit:
Built-in wiring raceways for a clean 12V set up
Incredibly easy to both deploy and stow
It's a premium truck camper and the quality craftsmanship is evident
Cons of the AT Overland Summit:
Reduced gas mileage due to increased drag
Some people have noticed that there's a fair amount of flex in the cab-over portion on their short bed Tacoma (which caused the topper to lift slightly in the back while wheeling)
5. Four Wheel Camper Project M Topper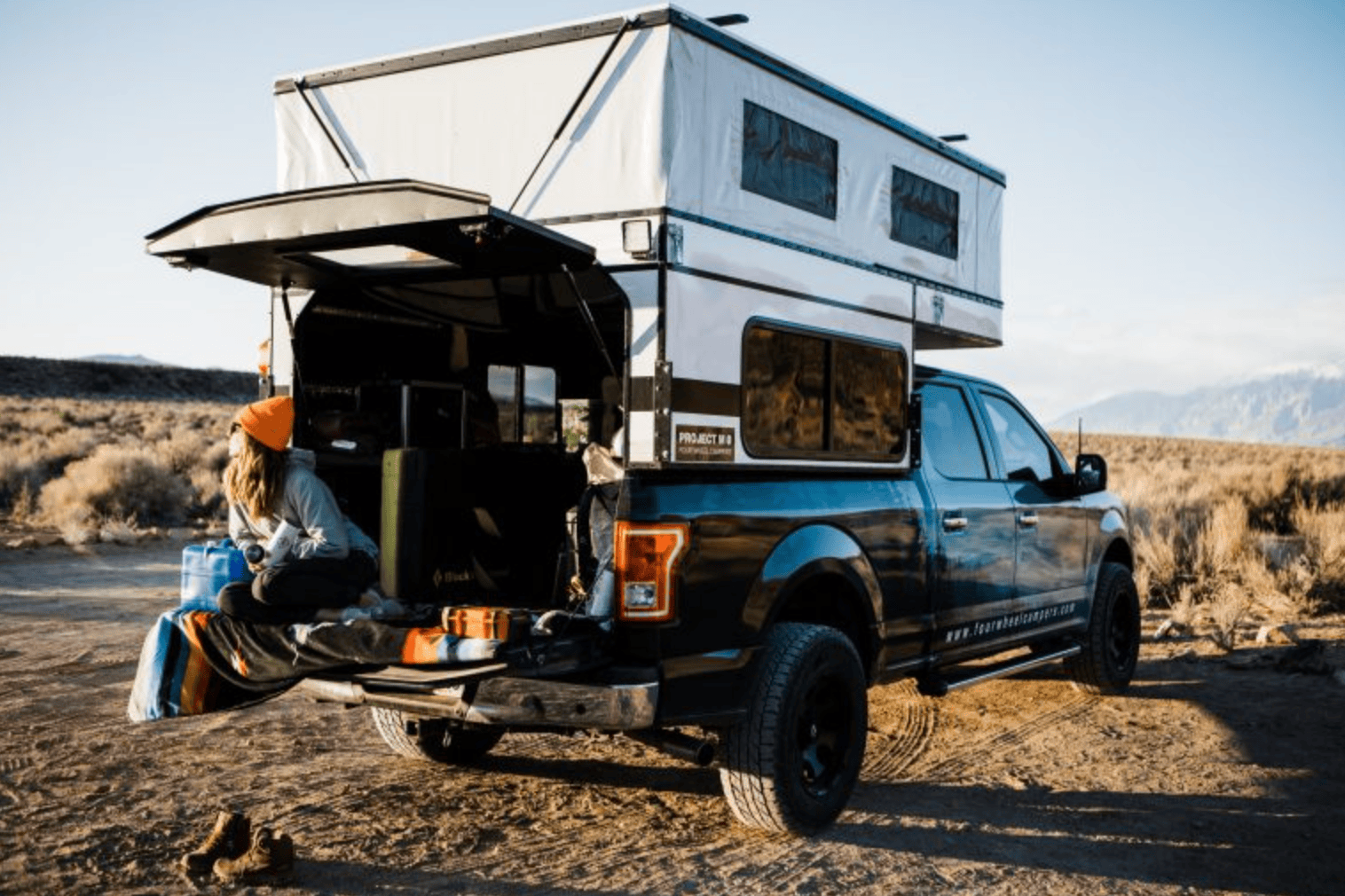 We're not sure how Four Wheel Campers did it, but they created one of the best truck campers on the market today.
Weighing 375-475 pounds, the Project M custom camper fits on nearly every Toyota Tacoma with ease. Take a look at the video below to understand how this truck camper fits on your truck:
The Four Wheel Campers Project M model is empty inside, but it comes with insulated side walls, a solid front window, and so much more. It's one of the most customizable campers for the Toyota Tacoma! With all the interior headroom you have, you're able to put a four person dinette inside or add a wet bath (if you choose to do so).
Pros to the Project M Topper:
These Four Wheel pop up campers can fit various trucks, including the Toyota Tacoma, Ford Ranger, Chevy Colorado, and more
Uses the same tough welded aluminum frame construction as the rest of the company's slide-in truck campers
4 interior LED lights installed, and pre-wiring for roof vent fans, rear flood lights & solar reflective shade on the roof
Cons to the Project M Topper:
Depending on what you add, this truck camper can get pretty expensive and, because this truck camper is empty when you purchase it, you really can't avoid spending extra money on the internal details
6. Phoenix Mini-Max
If you're looking for a truck camper that has an elegant design (as well as tons of features), look no further than the Phoenix Mini-Max! Thanks to its compact size and aerodynamic cabover, this is the stealthiest pop-up truck camper on the market today!
This is one of the only truck campers that comes equipped with a built-in wet bath. There's a gray water tank located under the subfloor, and the bathroom is just as comfortable as one that you'd find in a larger camper!
This truck camper is truly one of the best on the market today. From its high-quality components to the 100-watt solar panel, you're sure to love this all season truck camper!
Pros of the Phoenix Mini-Max:
Can be ordered to fit a customer's truck bed size and payload requirements
All electric, push button roof lift mechanism standard
Lift-up under bed storage is huge
Cons of the Phoenix Mini-Max:
Extensive standard feature set and high-end materials add considerable weight
12-volt, USB and 110-volt outlets are limited throughout unit
Low entry door may take time to get used to
7. Alu-Cab Canopy Camper
This Toyota Tacoma truck camper is versatile, is able to maximize living space, and was made for off-roaders, by off-roaders.
Thanks to its rugged aluminum construction, you're able to go anywhere you want with style and strength. This truck camper has a dual-layer canvas tent that's able to keep you dry against all of mother nature's elements. It also comes with roof rails that you're able to mount all kinds of external gear you may need, from storage boxes to extra fuel cans.
Pros of the Alu-Cab Canopy Camper:
Proprietary extrusions are used throughout the construction for a drill-free fitment
Tried and tested dual-layer canvas tent
Side-access canopy doors
Cons of the Alu-Cab Canopy Camper:
The ladder comes at a fixed length and feels cheaply put together
Some have complained about how the tent mounts onto your truck camper (and go as far to say it has an overall "lazy and dated" feeling)
Pre-Built Toyota Tacoma Camper Trucks
Looking for something already-built rather than something to add to your current setup? There are two really awesome (albeit really expensive) options:
Tacozilla
The Toyota Tacozilla is a concept vehicle that was unveiled at the SEMA show in Las Vegas in 2021. However, Toyota has no plans to make it available to the public… yet.
The Tacozilla is a Toyota Tacoma camper that was built in tribute to the Toyota Hilux Chinook camper, which was a rig popular in the late 70s.
The Tacozilla combines both modern and vintage vibes, and it's able to sit on a Tacoma TRD off-road platform with a manual transmission.
TruckHouse
The closest thing to a Tacozilla that's currently for sale is the BCT TruckHouse, which is built with marine, aerospace, and top of the line off-road components to become the ultimate adventure rig.
This vehicle starts at $350,000, which makes it the most expensive truck camper on our list today by a long shot. Take a look at the interior of the TruckHouse:
The TruckHouse chassis has been heavily upgraded to support the heavy payload over the Toyota Tacoma. The fabricated 9-inch rear axle is designed for the rig's application, while the leaf pack and shocks are custom tuned.
Every BCT TruckHouse also comes standard with a boxed and gusseted frame, 13″ 4-piston drilled and slotted rear disc brakes, and the axles are re-geared to either 4.88 or 5.29 (depending on tire size).
Trust me—if I had the money, I would own one of these things. They are so sick! And they look great using the Toyota Tacoma.
Frequently Asked Questions
Have some questions about Toyota Tacoma camper trucks that weren't answered above? We've got you covered.
Do truck campers have toilets?

There are tons of truck campers that include toilets. Some models on our list include a built-in wet bath (as well as dry bathrooms). Other Toyota Tacoma truck campers have stow-away toilets instead.
What is a truck camper's center of gravity and why is it important?

Every camper (whether it's for a Toyota Tacoma truck or not) has a center of gravity where its total weight is centered.

On most campers, this center of gravity is marked with a visible sticker. Make sure the center of gravity is in front of your truck's rear axle or your truck's steering (and handling) may be impaired!
Where can I find my truck's payload rating?

You can find the payload rating on the driver's side door pillar placard as well as in the glovebox on a payload certification form.

You're also able to determine the payload by subtracting the curb weight of the truck from the GVWR.
Can a half-ton pickup haul a truck camper?

There are some truck campers that can be hauled by half-ton trucks. However, most half-ton trucks have a payload of around 1,600 pounds.

You'll most likely be limited to what you're able to get because of this, however most trucks are able to be fitted with custom improvements to help them carry heavier loads.
We hope this article helped you pick out the best truck camper for your Toyota Tacoma! Leave us a comment down below with your favorite from our list.
Looking for more Toyota Tacoma articles? We've got you covered: