Are you wanting to hit the trails more this year, but tired of thin camping mattresses and fussing with tedious tent poles?
If you've been craving a more luxurious and comfortable outdoor experience in your Tacoma, you've probably looked into a few different options like adding a spacious truck bed cap, pulling a trailer, or maybe even upgrading your tent situation.
I absolutely loved my iKamper roof top tent, but after a 6-month expedition, I knew I needed something with more of the comforts of home to make extensive and frequent travel more sustainable for me.
Truthfully, truck campers are a great option because it requires little setup and can have some of the same comforts of home to help you stay on the trails longer. There's nothing quite like being able to cook a meal without setting up a camp kitchen, or go to the bathroom without needing to dig a hole or set up a privacy tent.
These things aren't a big deal, but after a while they can feel cumbersome. Regardless of your reasoning, here is a comprehensive list of our favorite Toyota Tacoma short bed campers to get you inspired and excited to hit the trails in style!
| Product Image | Product Name | Primary Button |
| --- | --- | --- |
| | | |
| | | |
| | | |
Table of Contents (Click to Expand)
What To Consider When Shopping For Truck Campers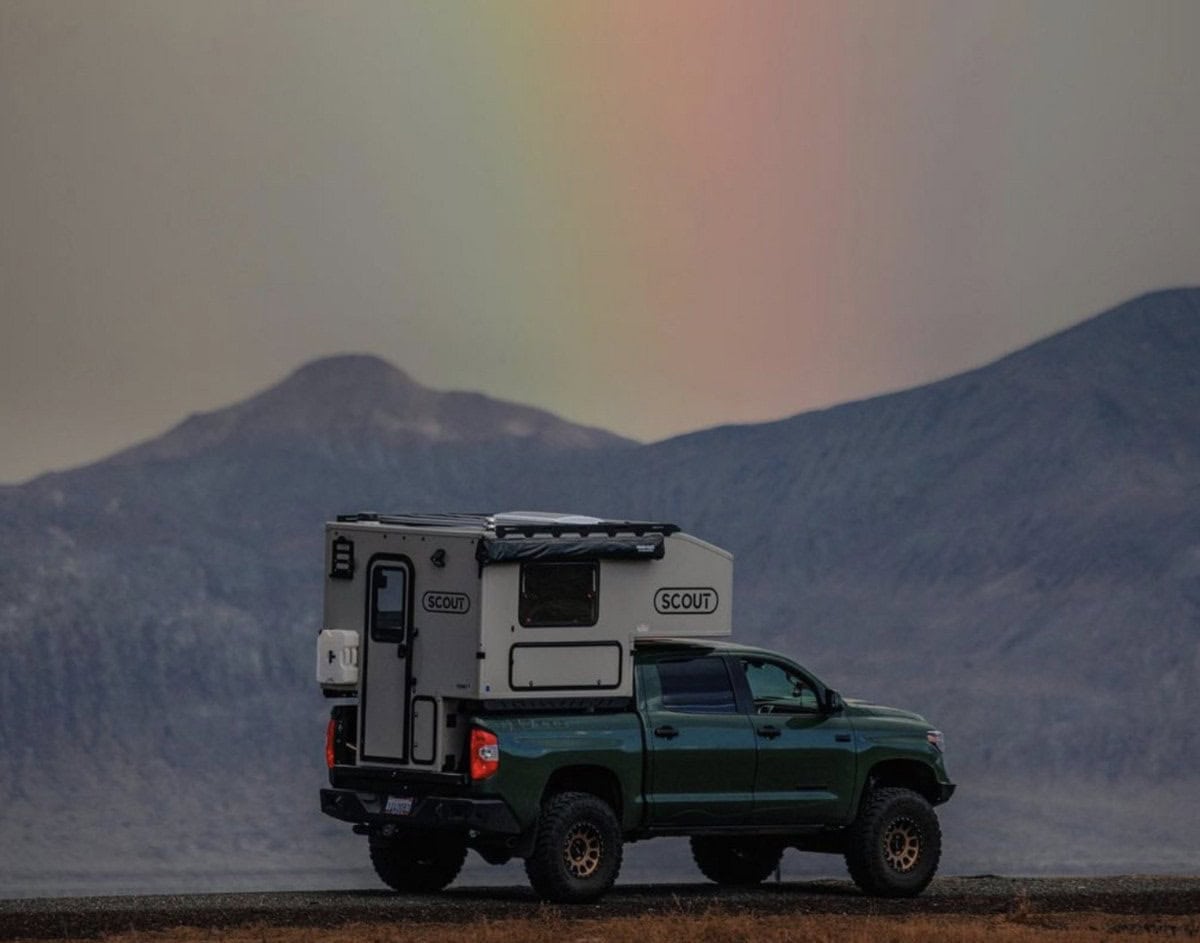 Photo Courtesy of @ScoutCampers on Instagram
Here are some of the key features and specs you should consider when you're shopping for a truck camper:
Slide-in Versus Pop-up Campers
Both slide-in and pop-up campers have their pros and cons. Neither is "better" than the other, and the choice should be made based on what is most important to you.
First, slide-in campers are great because they require little to no setup between uses. This means you can go hit the trails, drive to camp, or even just pull off the side of the road and use your camper without needing to do an extensive setup or tear down process.
For weekend trips and the occasional excursion, setting up or putting away a camper isn't that big of a deal. However, we know from experience just how cumbersome it can become setting up and taking down camp multiple times a day.
That being said—slide-in campers will most likely affect your gas mileage much more than a pop up, and they could make hitting off-road trails trickier.
Pop-up campers require more setup than a slide-in, but they also have a lower profile while you're driving. This helps preserve gas mileage and keeps your center of gravity lower, which is better for off roading.
However, another downside of pop-up campers is that you'll have less insulation than a traditional slide-in because of the soft walls. This can make heating and cooling a bit trickier in the hot and cold months.
Interior Height
Being short like me has its perks when shopping for campers because worrying about interior height isn't much of a concern. But if you or the people you're traveling with are taller, you may want to take into consideration the interior height of your camper.
A good rule of thumb is to have at least a couple of inches above your head in standing height. So if you're 6'0", look for an interior height of 6'2". Also double check the dimensions of the sleeping area to ensure you can get a good night's rest without feeling squished up against the wall.
Amenities
Obviously the more bells and whistles you decide to include, the more expensive your truck bed camper will be.
It's a good idea to make a list of the things you can and can't live without, such as hot water, heating and cooling, a flushing toilet vs a composting toilet, a camp shower, etc.
Consider how much water capacity you need as well. If your camper includes a shower, for instance, you'll need much more water than those who don't have a shower. For just drinking water and light dishes you should plan on having about 2 gallons of water per person, per day.
But bear in mind that this is still being quite frugal with your water consumption. More water storage means more weight, but running out of water is not something you want to worry about while in the backcountry.
Camper Weight
Toyota Tacomas are quite capable vehicles for so many different things, but just like any vehicle, it has its limitations. Your stock suspension system and leaf springs will likely need to be upgraded regardless of how much your camper weighs, but you need to do some careful calculations to figure out exactly what to upgrade to.
This means considering how much water you'll have (one gallon of water is 8.34 pounds), plus considering how many people will be sleeping in your camper, whether you're hauling any other heavy equipment like bikes or kayaks, etc..
It's wise to try to keep your camper weight as low as possible to help extend the life of your Tacomas engine and suspension system. Check out our guide to Tacoma leaf spring upgrades to learn more.
Power Options
There are a a lot of options for powering your rig. Which you choose depends on your budget, power needs, and comfort level in installing things like solar panels and electrical.
Use a power calculator like asobolife to help you decide what size battery you need and how much power you'll require.
You'll also need to decide how to charge your batteries. Ideally, you'll have multiple methods of charging your batteries up (such as solar, a DC/DC charge controller to use your vehicle's alternator, and the ability to plug into shore power or a generator), as it can be difficult to only rely on one source all of the time.
Personally, I have a LiTime 300 amp hour LiFep04 battery and 400 watts of solar on my rig. This is plenty for me, but I'm not running any major appliances other than a refrigerator and a Starlink.
I also use and love the Jackery Portable Power Stations. I've been using my Jackery Explorer 300 for years now and it's never let me down.
I do recommend that you have a backup source of power other than solar if that's the route you decide to go. I've gotten stuck in cloudy weather with no power many times, and it's easy to run out when you're not getting sun.
But beware that finding a campsite that allows you to plug into shore power can be costly, and if you're camping near other people they won't be keen on listening to your generator roar for hours every day.
Check out my full guide to installing a solar setup here.
The 5 Best Short Bed Campers For the Toyota Tacoma
Here are our top picks for truck bed campers for the 5-foot bed Toyota Tacoma:
1. Four Wheel Camper Swift
What I love the most about the Swift Four Wheel Camper is just how versatile and customizable it is. You can choose between several high-quality aluminum panel colors, whether you want to upgrade your shore power setup to also be solar compatible, as well as options to add an outdoor shower, lighting packages, and other design choices.
This camper is also quite light considering all of the features it offers, It comes standard with a 20 gallon fresh water tank, refrigerator, stove, and full-sized sleeping platform that pulls out to a queen-sized bed.
The Swift camper is an ideal choice for those who want all of the bells and whistles in their Tacoma short bed camper in a relatively light and compact package.
Four wheel campers also have other models that are compatible with long bed Tacomas as well as other full-sized truck models like the Toyota Tundra.
For a full walk through of this camper you can check out this video below:
2. GoFastCampers Platform Camper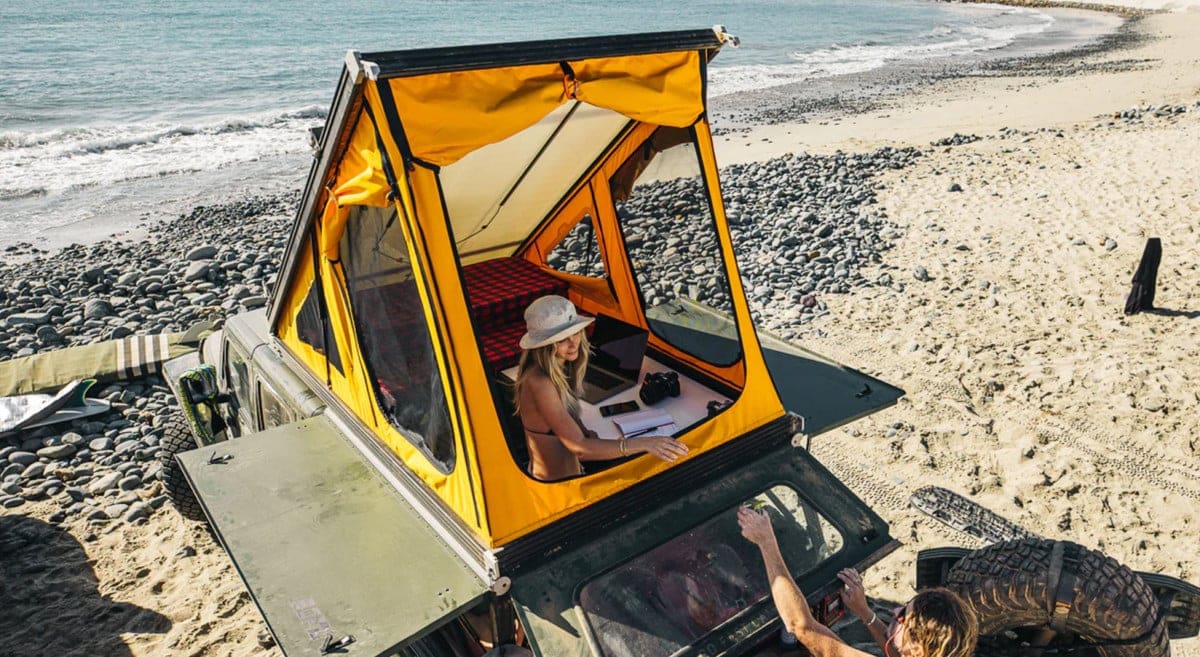 If you're looking for the ultimate off-road compatible design, the Go Fast Camper Platform is an impressively versatile and streamlined design that helps ensure maximum performance off-road.
The Go Fast Camper was my top choice when I was shopping around for campers for my 2018 Toyota Tacoma. This is because it's extremely lightweight, allowing better off-road performance, and has lots of usable storage space..
It was also one of the most attractive campers—in my opinion!
I love that this camper can be used as a regular bed cap that allows access to all sides of your truck bed, but when you pop the roof up, the platforms can be shifted around to create standing room for working or cooking.
While I love the flexibility and versatility of this design, it will require a more comprehensive set-up process than some of the others on this list. It's worth noting that you'll still have to find a way to carry along freshwater, cooking supplies, a fridge, a toilet set-up, etc.
Overall, it's a no-frills, minimalist utilitarian camper.
Here is a video for the full breakdown of specs and a walkaround tour:
3. Scout Yoho Slide-in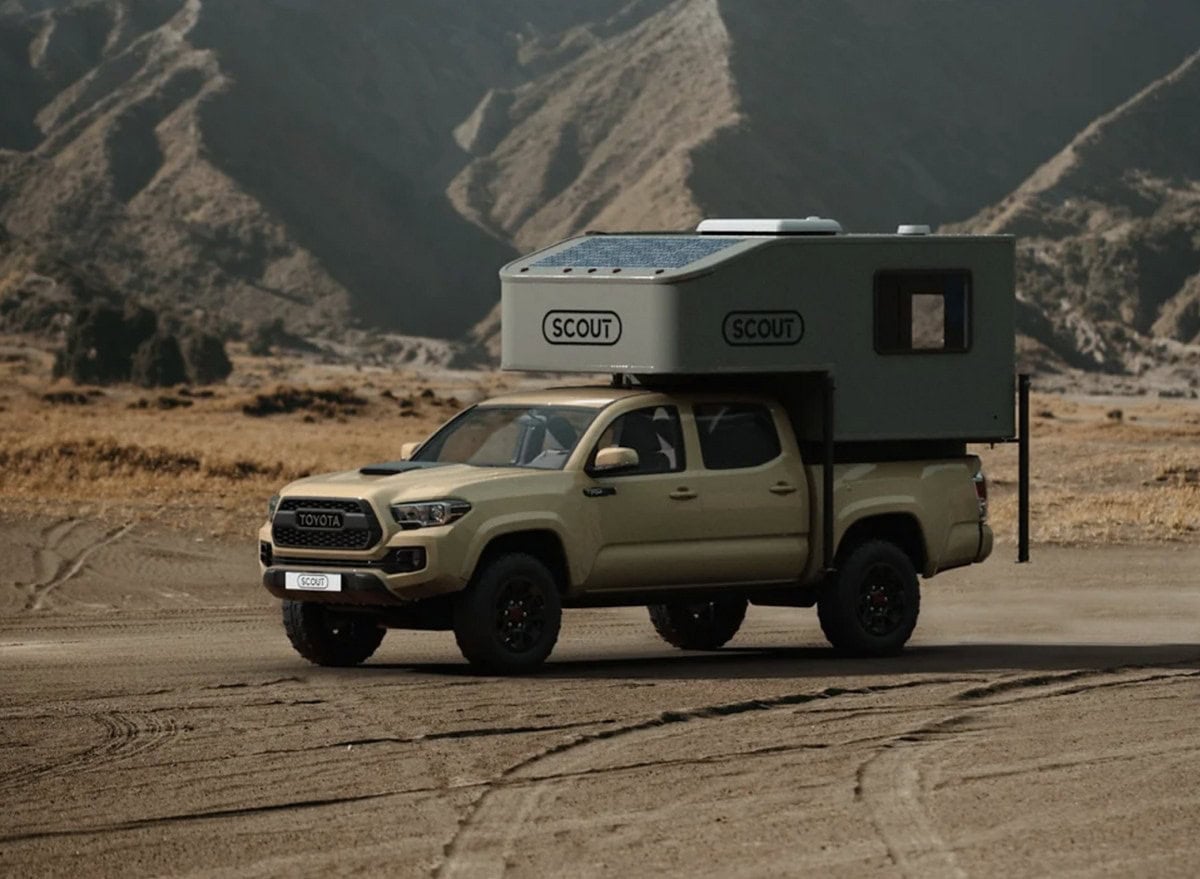 If you're looking for a stylish slide-in camper for your Taco that is ready for off-grid adventure travel right off the lot, you'll love the Scout Yoho Camper
It's crafted from a fully aluminum exoskeleton to keep it light weight and weather-proof. It's also fully insulated and can be used for camping in all four seasons.
This camper is also equipped with solar and a 2000-watt solar power station to run your lights, appliances, and charge all of your devices with ease. You can also choose to include features like a 270 degree awning, Dometic cooktop and a 45 liter fridge and freezer combo.
While this isn't the lightest or cheapest option, the Scout Yoho camper is the best option for those who want to go explore off-grid and have all of the supplies and ammenities they need on-hand and ready to go. Plus they make designs for full-sized trucks and the long bed Tacoma as well.
For the full walk-through and break down of specs, check out the video below:
4. Alu-Cab Canopy Camper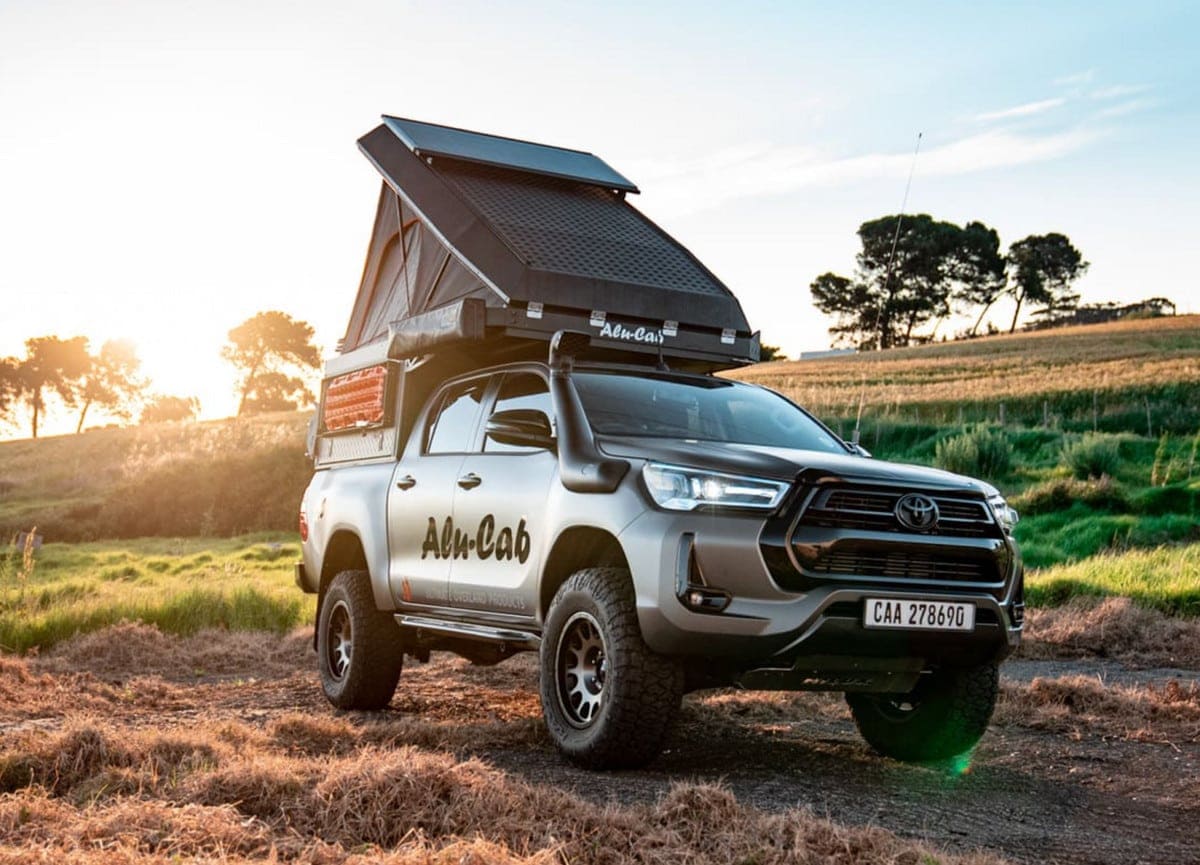 The Alu-Cab Canopy Camper is a fantastic option for those who want the aerodynamics of a pop-up camper with the comforts and ease of a slide-in.
Our favorite detail of this camper is the mounting kit which converts most midsize truck drop-down tailgates into a full size camper door. This makes it much easier to get in since you won't have to crawl over a tailgate. The door design also offers plenty of storage space on the back to organize your gear and supplies.
The Canopy Camper also comes pre-wired so you can easily add your own solar panel and battery system for off-grid adventures.
Lastly, we love how many accessories the manufacturers have designed to perfectly fit your camper. They have roof racks, water tanks, drawer systems, storage bags, and even showers. This means that not only are customizations endless, but upgrading is easy and effortless.
Check out the full tour below:
5. BundutecUSA BunduCamp
The BunduCamp truck camper is an impressive design that comes fully loaded with plenty of bells and whistles. The outside is equipped with a pop-up outdoor shower, L-shaped passenger side awning, shore power inputs, plenty of locking exterior storage, a maxxair fan, and more.
The back door is full-sized to make it easier to get in and out, and also features easy access to your cassette toilet holding tank. This means you won't need to worry about unnecessary smells or spills inside your camper.
The inside is equipped with an overhead mounted TV that can easily run off of the integrated AGM batteries, or off of shore power at a campground.
This camper is designed for four-season use and each of the windows are double insulated to keep you temperature controlled. It also has a built-in furnace for the extra cold nights.
Overall, this camper is ideal for those who crave the comforts of home while in the great outdoors, or for those who take extended trips and need the everyday luxuries of living in a home.
Check out the full tour below:
Frequently Asked Questions
Here are some commonly asked questions about Toyota Tacoma truck campers:
What size camper fits on a Toyota Tacoma?
Tacoma's come in both a short bed and long bed option. The short bed is 5 feet and the long bed is 6 feet. Choose a camper that is compatible with a midsize truck of your bed length.
How long is a Tacoma short bed?
The short bed is 5 feet long.
Can I still tow with a truck camper?
Yes, but you should be mindful that this will put extra strain on your suspension, engine, and transmission. Be sure to check out our guide to the Toyota Tacoma's towing capacity, and stay on the lighter end if you plan on adding excessive weight to your bed as well.
Will I need to upgrade my suspension to accommodate a truck bed camper?
Yes, you will most likely need to upgrade your suspension and leaf springs to accommodate a fully-loaded truck camper on your Toyota Tacoma. You should also check the weight capacity of your tires to ensure you stay safe on the road.
Can I use a truck bed camper as a standalone unit without the truck attached?
For some models—yes. Many truck campers come with legs that can help you level your camper as well as place it securely on the ground while it's not in use.
Final Thoughts
If you've been dreaming of turning your Toyota Tacoma into the camper of your dreams then we hope you've found plenty of inspiration to finally bite the bullet.
If you're not certain a truck bed camper is the right choice for you, we also have a round-up of some of our favorite Toyota Tacoma camper truck setups as well to give you more options and inspiration.