Are you considering buying the iKamper Skycamp hard shell roof top tent?
I have owned and used my iKamper Skycamp mini for over a year now, taking it on trips from Washington to Montana, down to Arizona and even into Baja Mexico—and almost everywhere in-between.
In that time I've camped in both freezing cold and stupid hot climates, wind storms, and in the pouring rain. It's been attached to my trusty Toyota Tacoma overlanding rig since I installed it back in May of 2021.
Needless to say, I beat the crap out of this thing! And today, I'm going to share my thoughts and experiences with this trusty rooftop tent in this iKamper review. Let's dive in!
Table of Contents (Click to Expand)
iKamper Review: An In-Depth Look at this Hard Shell Roof Top Tent
Let's look at everything individually:
Space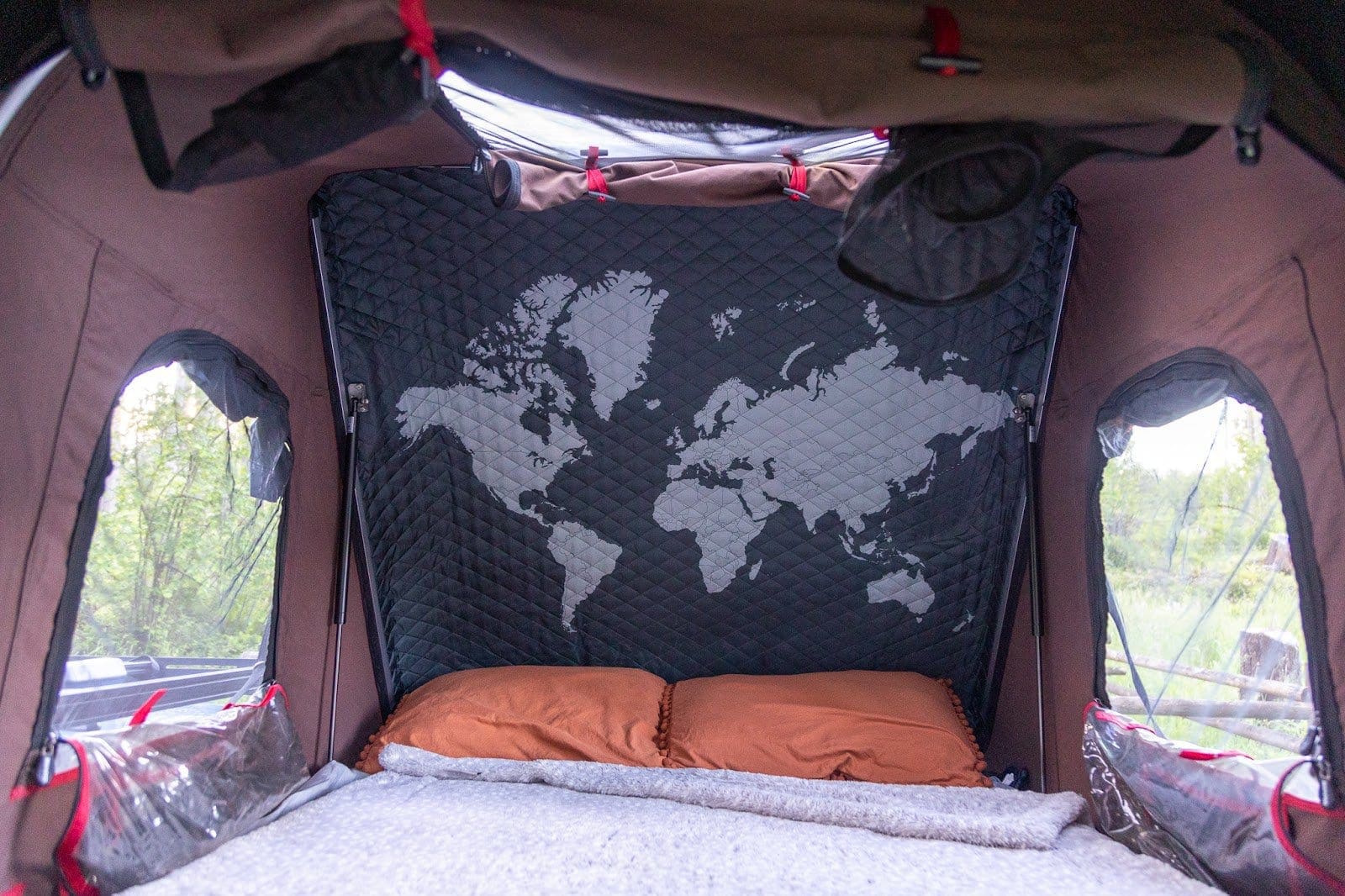 First things first; this is quite the spacious tent. I have the iKamper Skycamp Mini, which is 83" x 51" when opened up. There's plenty of room for two people to sleep comfortably; maybe three if you're desperate or the third person is a kid.
Note that I'm 5'6 and the person who slept in the tent with me is 5'4, so we're not exactly tall. That said, we had PLENTY of foot space—I'm sure it would comfortably fit someone up to 6'6.
The bigger iKamper Skycamp is 83" x 77", which should be enough room for up to 4 people to sleep just fine. That one was a bit too big to install on my Tacoma, so I didn't opt for it. But they are both made out of the exact same material, so this review applies to both.
Related Reading: Are Rooftop Tents Worth It? In-Depth Look After 1 Year
Comfort
Let me be real with you—you're staying in a tent, not a Ritz Carlton. The mattress pads that come with an iKamper are 1.8" high-density polyfoam (1.6" in the mini). The newer Skycamp 3.0 comes with an even better 2.5″ thick insulated polyfoam.
For a tent, it's SUPER comfortable.
That said, if I stay in it for more than a few nights in a row, I definitely feel a little crampy. Granted, I have a tempurpedic at home, so I'm a bit of a mattress snob.
It's easily the most comfortable tent I've ever slept in, aside from the one time I had a giant air mattress in a 14-person tent (that was pretty cool; three couples stayed in it and we each had our room, WITH our own air mattresses!).
If you're really worried about comfort, one thing you can do is get a thicker mattress pad or get one of these inflatable mattress pads. There's plenty of space in the tent, even when it's shut, to fit a little bit thicker pad or un-inflatted mattress pads.
Overall, I'm happy with how comfortable it is.
Durability & Weatherproofing
The iKamper Skycamp is made of breathable 300gsm poly-cotton canvas. It's rated for 4-season use, so you can sleep comfortably from 30 degrees all the way up to 100. Or at least, you won't freeze or die of heat (a good sleeping bag and tent fan help a lot).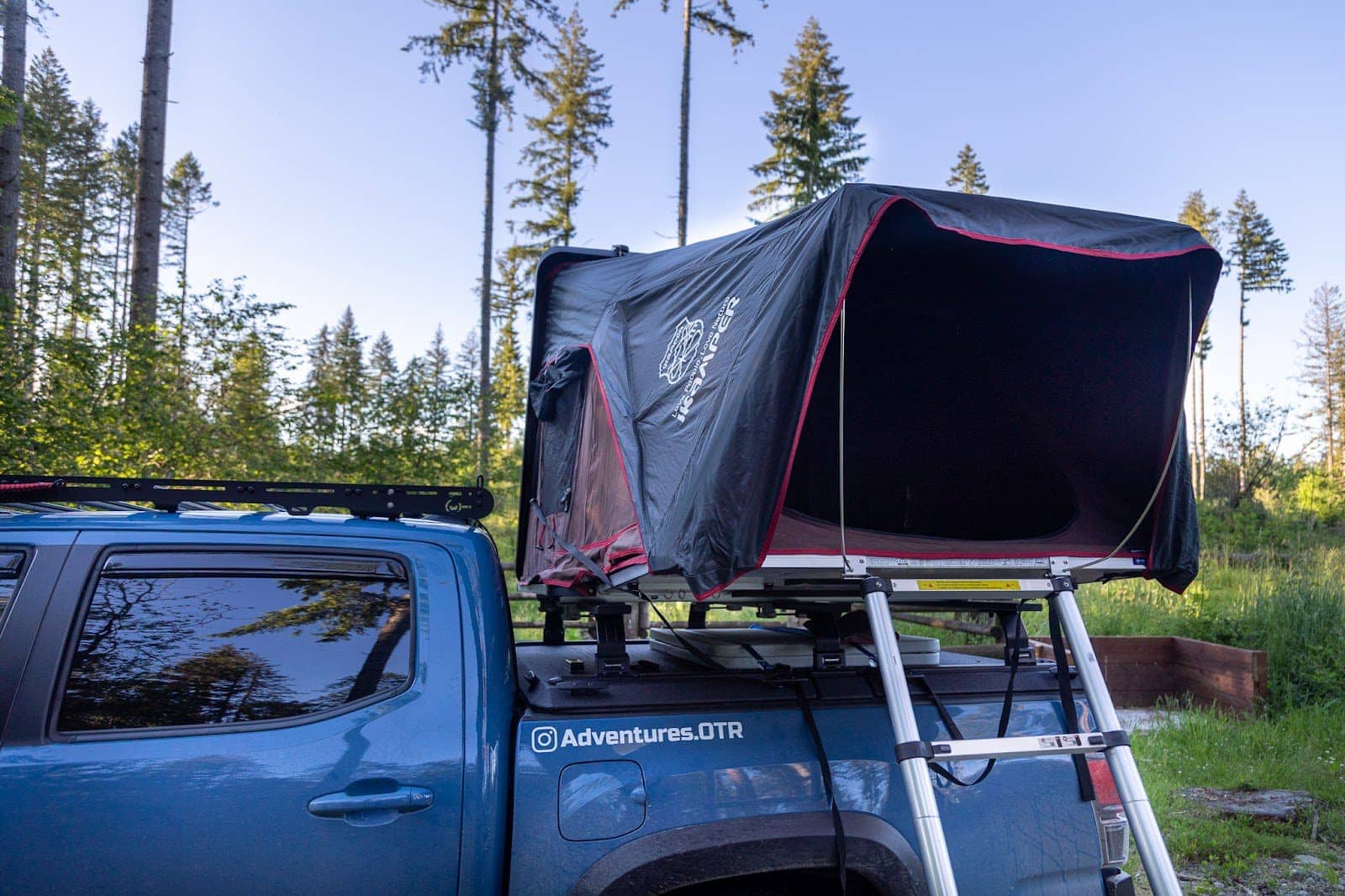 The thick canvas is also weather-tested in up to 40 mph winds. I can attest to this! I spent two nights in stupid-strong winds; one on a cliffside above Farmington Canyon in Utah and one in Joshua Tree National Park.
I'll be honest; both nights I didn't sleep much. However, the tent held strong! The first night in the wind I suffered a minor rip on the stitch that held the straps used to close the tent, which was a super easy fix. I probably could have easily avoided it if I tied the strap down.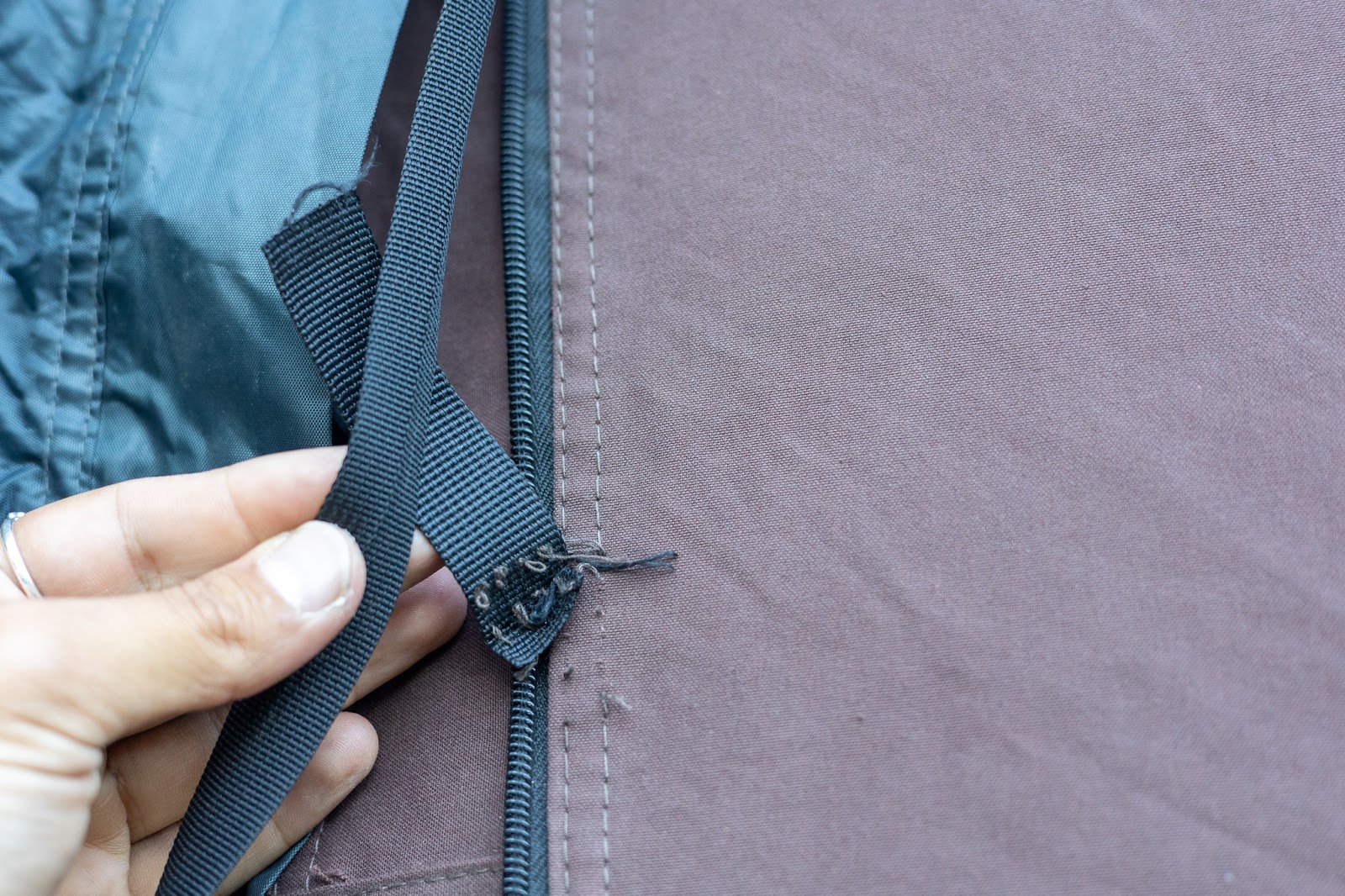 The second night, zero damage.
To give you some context, in Joshua Tree, we stayed with some friends in a $360 lightweight backpacking tent. Their tent was destroyed—the poles snapped and the fabric ripped before we called it for the night and drove elsewhere. The iKamper, though? Not a single thing was damaged.
So yeah—this is a strong ass tent.
Ease of Use
This is probably the single biggest pro of an iKamper, and the main reason I chose mine. You can literally set up or tear down this tent in under 60 seconds. You can probably even do it in under 30 seconds, once you're used to it.
You wouldn't believe the amount of times I've rolled into camp after dark, tired as hell from a long drive, and was in bed half-asleep within two minutes of putting my truck in park.
All you have to do is unlock the two latches, push the tent up, and let the pistons do the rest of the work to open it. Then, pull down the ladder, click it into position, climb up, and toss in the two tent poles to hold up the front area. Finally, pull the second mattress pad onto the now-opened platform and climb inside!
The tear-down is just as easy. Do everything in reverse, with one minor extra step of pulling the straps to hold the material inside the hard shell as it closes.
Here's a video of me setting up and taking down my iKamper Skycamp 2.0 mini:
Price
Let's be real; the one major con of the iKamper is it's price. It is a premium tent and you're going to pay more for that. It is one of, if not the, most expensive rooftop tent options on the market.
That said, if you're looking for top-tier quality that you can trust in the harshest of weather conditions, you can't go wrong with the iKamper. If you want the best-of-the-best, this is it.
Installation
Installing the tent on my Front Runner rack system was pretty easy, though it did require two people. The tent is lightweight; just X lbs. However, it's awkward to lift by yourself.
To install it, I simply used the iKamper mounting brackets 2.0 and a socket. It probably took a total of 15 minutes to do. You can also install it on a roof rack. In fact, it works on my roof racks since it has two different mounting brackets based on your needs.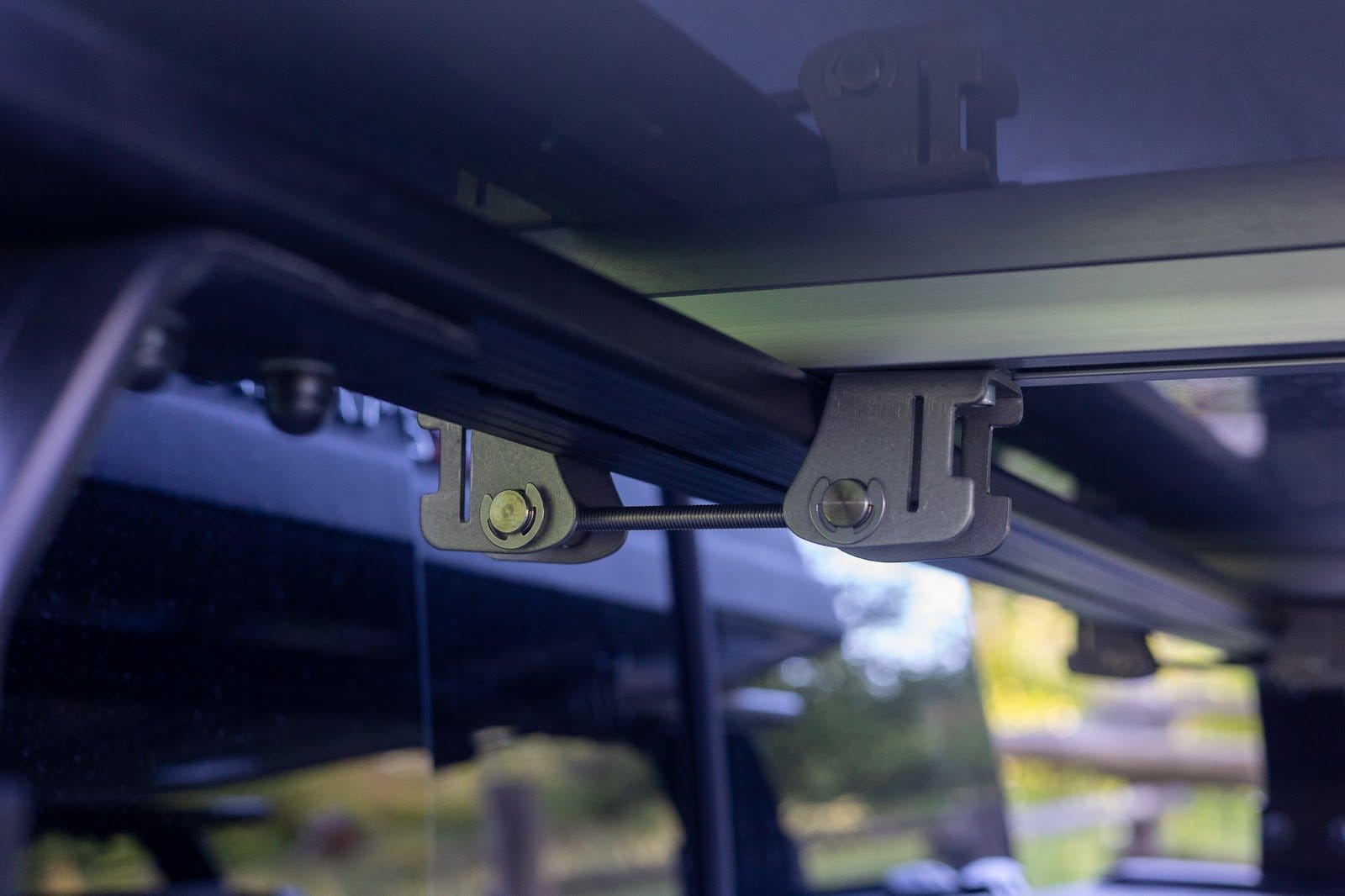 Because it is a bit heavy for one person to lift and you need a tool to install the mounting brackets, that's also a good theft deterrent. However, if you live in or travel to sketchy areas, iKamper does make bracket locks to all but guarantee you won't suffer a theft.
Related Reading: The 9 Best Overlanding Roof Racks
Aesthetics
Another major plus to the iKamper Skycamp 2.0 and 3.0 is its looks. The sleek black (or white) hard shell looks great on any vehicle. The mesh tent inside is iconic. And the world map on the back wall is a great touch, too.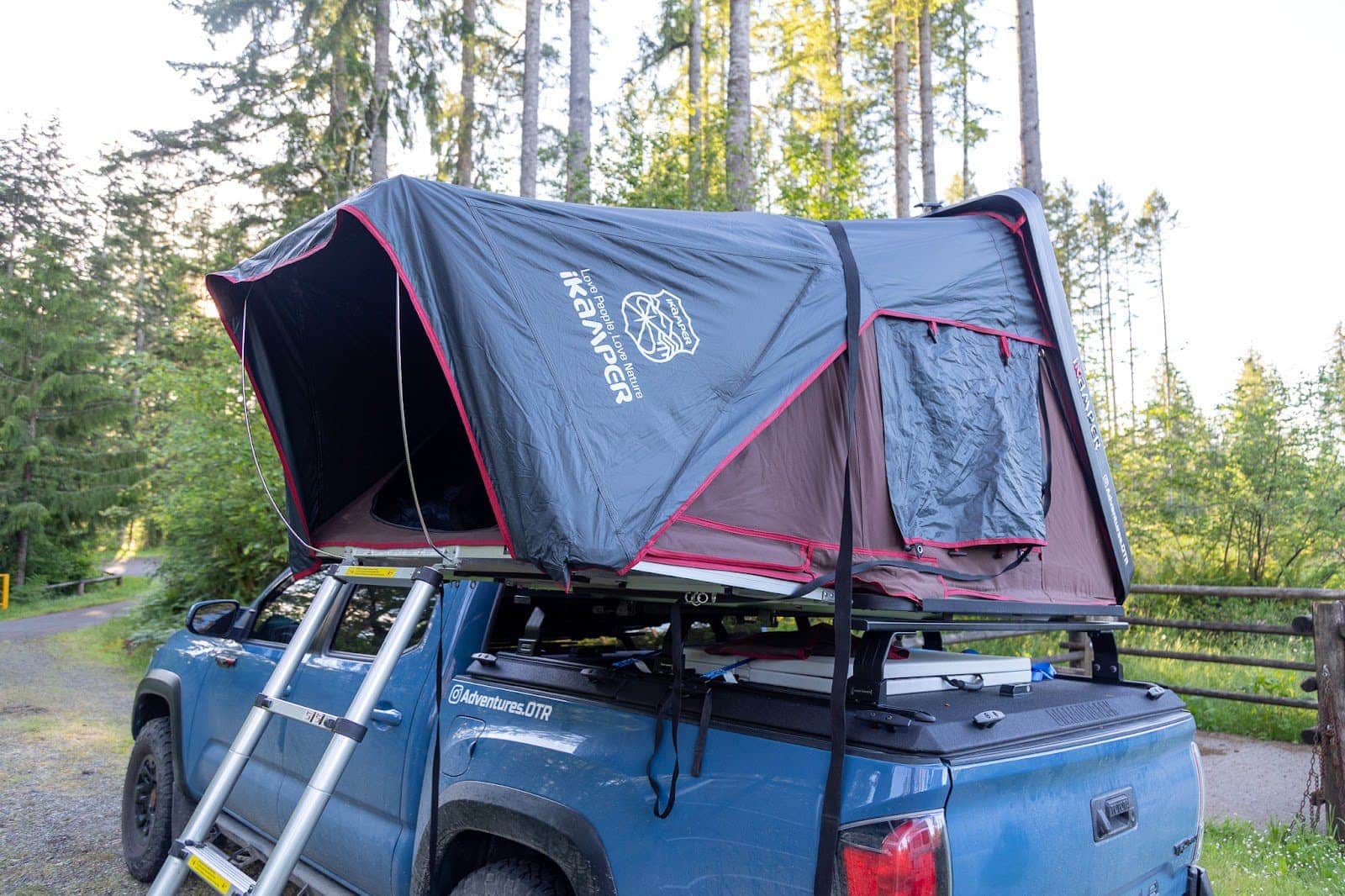 If you like red (it goes great with my red TRDpro badge on my truck), you'll probably like the look of this tent. Of course, this is all personal taste and opinion.
The canopy windows allow for excellent ventilation, great views, and plenty of indoor light. Compared with most rooftop tents, it doesn't have as many windows due to the hard shell roof. However, there are plenty of windows in my opinion. It doesn't feel cramped or too dark inside.
Optional Extras
iKamper also makes some extras, including:
I have their Annex room and I honestly haven't used it much. It's a bit bulky to store and haul around, and it's quite a bit more difficult to set up than the tent itself.
Usually when I camp, I don't stay in one spot for very long. If I did, I'm sure I'd use the annex a lot more. But again, the reason I bought the iKamper was to be able to put it up and take it down quickly, and the annex detracted from that for me.
I don't have their shoe rack, but I wish I did. I always end up either leaving my shoes on the ground or putting them in the tent, neither of which is ideal. I hate getting dirt inside the tent, and I don't like the idea of slipping a shoe on with a spider in it. So far that hasn't happened (fingers crossed it stays that way).
As for the rest of their add-ons; they look pretty cool but I haven't used them personally, so I can't vouch for them.
Overall Value: The Bottom Line
Overall, I am VERY happy with my iKamper purchase.
Yes, it is an expensive premium product. But for me, it has been worth every penny and more. It kept me safe and dry in some crazy weather conditions, and barely shows any signs of wear and tear after a full year of heavy use.
If you're looking for a solid hard shell rooftop tent that will hold up for a long time and is very easy to set up, look no further than the iKamper Skycamp.
Finally, here's a little footage of my trip to Baja Mexico in the tent!
If you have any questions or thoughts on anything I've covered (or forgot to mention), drop a comment below! I read and respond to every single one.
Read Next: