We reviewed the 3 best 14-person tents so you can skip the trial and error and get exactly what you need!
If you're in a rush, we believe the best tent is the Ozark Trail Base Camp 14-Person Cabin Tent. Click the link to buy it now.
But if you want more options or want to know why that one is the best, keep reading!
The 3 Best 14 Person Tents
With large windows that let in abundant natural light, ample headroom, and a tan and blue color scheme, this 14-person Ozark Trail Base Camp Tent feels more like a camping castle.
When the rain fly is not attached, each of the four rooms has a mesh ceiling perfect for gazing at the starry night. However, if rain is in the forecast during your camping adventure, the attachable rain fly covers the ceiling, protecting you and your belongings from the elements.
Putting up tents of this size is often difficult, but the design of this model allows for an easy, one-person setup. This is a rare feature for 14-person tents and one of the best attributes this model offers. It has a high stability rating for a free-standing model, with eight heavy-duty stakes to keep it in place.
This feature makes this 14-person tent ideal for long-duration camping, as you can move it around easily once constructed.
Ideally, this tent best suits six people. This allows three people to sleep in each room, leaving the center or living room open for gatherings while also leaving the entryway open for dirty shoes, equipment, and clothes. There is also adequate storage in this area, including a cable port, hooks for lanterns, mesh pockets, and a can holder.
Pros:
400 ft² ground area
78'' ceilings provide ample headroom
Spacious, three-bedroom tent with a central community room
Large windows and mesh siding are perfect for warm weather
Easy, one-person setup
Entryway area offers extra storage space
Cons:
Rain fly does not extend over the windows, so angled rain may enter the tent
Squeezing more than six people in may be too crowded for comfort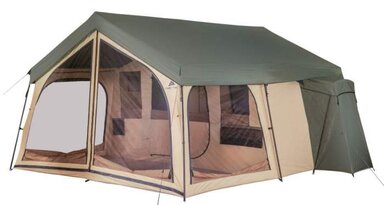 If you are looking for a "cabin in the woods" feel for your 14-person camping tent, then look no further. This Ozark Trail model offers beautiful brown and green colors, zippered windows and doors, and a classic center-peaked roof, making it an excellent choice for your family's next camping getaway.
In addition to closet space for folded and hanging clothes, this tent also has multiple storage pockets throughout each of the two rooms for small personal belongings. A roomy screened porch area welcomes visitors into the tent and is the perfect place to relax in the evenings, protected from pesky bugs.
The fully sealed rainfly keeps you and your family dry during the unfortunate rainy days, though the rain fly does not fully cover the windows. Guy lines give this tent extra security and stability, which is essential for structures this size.
Pros:
189 ft² ground area
174" L x 156" W x 84" H
Large screened porch area
Closet storage space with full shelving units
Ideal for two- or three-season camping
Both a front door and a back exit
Durable, sealed rainfly keeps rain out
Color-coded poles and ring and pole system for easy setup
Cons:
Rainfly does not fully cover windows, so heavy rain may get into the tent
Only two rooms
Related Reading: The 5 Best Tent Fans to Keep You Sleeping Cool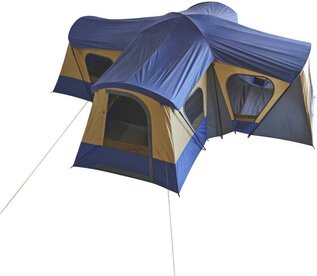 This cross-shaped, 14-person tent offers four large, private rooms that each fit a queen size air mattress. This feature allows for maximum comfort for the whole family as you enjoy your nights under the stars. The center common area provides space for group gatherings and storage.
This camping castle offers 12 large, screened windows. The mesh roof provides excellent airflow throughout the tent and is perfect stargazing.
If you find yourself under stormy skies, this tent provides a rain fly covering the roof.
Though it has sealed seams, we recommend avoiding usage during heavy rainfall. This tent also does not hold in heat very well, so it a perfect choice for two-season during the warmer months.
Though this tent boasts the name "cabin," it has normal tent construction. Supported by eight durable stakes and a firm framework of steel poles, this tent does not blow away in the wind.
Pros:
400 ft² ground area and 78" ceilings
Large, 4-bedroom tent with a roomy interior
Perfect for two-season camping in warmer months
20-minute, one-person setup
Cons:
Not ideal for heavy rainfall
Doesn't retain heat very well, so it is not ideal for winter camping
For more information on camping gear and essentials check out our article: The Best Hiking & Camping Gear
FAQs
What Size Group Should Use a 14-Person Tent?

To ensure maximum comfortability, brands recommend an occupancy of six to ten people for these tents. This allows for enough space for all people, equipment, and personal belongings.
How Big is a 14-Person Tent?

The length of these 14-person tents usually ranges from 170" to 200", but the width can vary greatly based on design, ranging from 100" to 200". For height, always choose tents with a six-foot ceiling or higher.
How Much Does a 14-Person Tent Cost?

The cost of the 14-person tents varies greatly based on size, material, design, and brand. Due to this, the price range can be from $100 to $1,000 for the higher-end models.
How Do You Set Up a 14-Person Tent?

While you may think that these tents are difficult to set up due to their large size, that is not the case. Color- and shock-coded poles make it easy to know where they go, and some tents even boast a one-person setup!
What is the Biggest Camping Tent?

The Ozark Trail Base Camp 14-Person Cabin Tent and Fortunershop Family Cabin 14 Person Tent both offer the largest size, with 400 ft² ground areas and 78" ceilings.
Related Reading: What is a Tent Footprint? Do You Need One?
Conclusion
Finding a tent large enough to fit your group of 14 people can be a challenge. But choosing a perfect 14-person tent for your family camping adventures doesn't have to be a journey into the unknown. This list has provided three outstanding options that offer you and your family maximum space and comfort on your next outdoor excursion.
When shopping for your tent, keep in mind the number of camping mattresses you need to fit into the tent, the weather you will be camping in, how tall members of your party are, and what kinds of storage options you need. 
Don't hesitate, invest in a 14-person camping tent today, and start exploring the great outdoors!