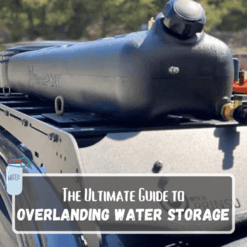 One of the most critical components to any overlanding adventure is figuring out how to prepare for any emergency or unexpected road bump.
Carrying proper amounts of food and especially water could make or break your trip, and could ultimately save your life. It's important to have all the best mods and accessories to ensure your adventures go smoothly.
Here is everything you need to know about overlanding water storage and purification to ensure you never have to go without.
How Much Water Do You Need for Overlanding?
When deciding how much water you need for your overlanding adventures, it is important to consider all of the practical uses for water. You are probably going to need quite a bit more than just basic drinking water.
You will need water for personal hygiene things such as brushing your teeth, showering, washing dishes, cooking, making coffee, etc. Figure out exactly what you will need water for, and be sure to account for that when you're planning your water storage solutions. Don't forget to pack extra just in case you need it for first aid purposes.
It is recommended that each person drinks about half a gallon of water per day, although while you are out adventuring you may need to double that amount or more depending on your activity level.
If you are embarking on a multi-day overlanding trip, you will probably want to bring enough water to shower. If you're still in the market for your overlanding shower setup, we have outlined all of the best camp shower setups on the market. Most of these options offer a great shower for under a gallon per person.
Next, you'll want to carefully analyze your camping meals you have prepared. If you're cooking a pasta dish for instance, that will require much more water than a simple stir fry. Don't forget to budget water for coffee, tea, and hot chocolate as well.
Lastly, you'll want to be sure you're bringing enough water to wash your dishes while you're in the backcountry. There are tons of amazing camping sinks on the market to ensure you are getting the most out of your water storage for dishes.
To be safe, it is recommended that you bring 2-3 gallons of water per person for every day of your adventure.
Overlanding Water Storage Options
There are plenty of different options for how to store your water while you're on your overlanding adventure. One of the most popular option are water Jerry cans, but there are plenty of other great water storage solutions as well. Some key things to keep in mind is that you want your storage solution to be food grade, BPA-free, durable, and easy access.
Some of the best water tank options are:
Water Cans
Water cans and plastic containers are popular choices for camping because they're affordable, can be purchased in almost every camp store, and have easy pouring and easy filling designs.
1. The Lifesaver Jerry Can + Water Purifier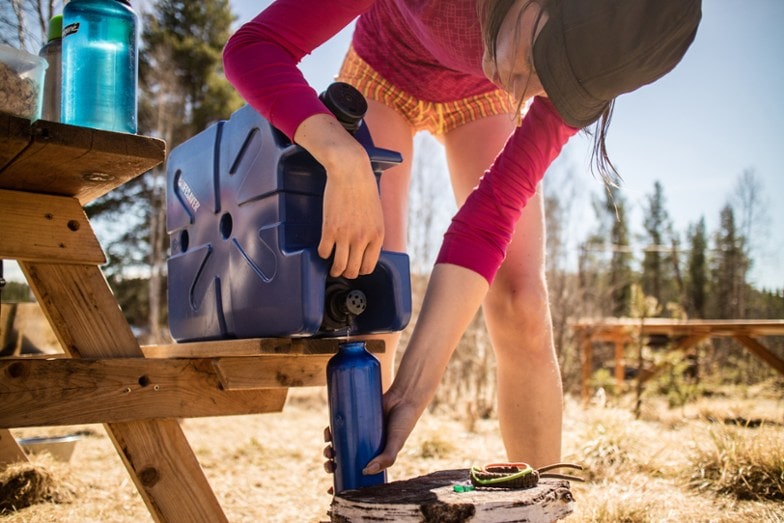 Photo credit: REI
This 4.9 gallon (18.5 liter) water jug purifies your water as you pour it which makes keeping an ample supply of potable water easy.
Just add your water straight from your source and use the pressurized pump to quickly filter your water. The filter boasts the ability to remove chlorine, 99.99 percent of viruses, and 99.9999% of bacteria, cysts, and parasites.
This water jug also has a shower attachment that is sold separately.
2. Aquatainer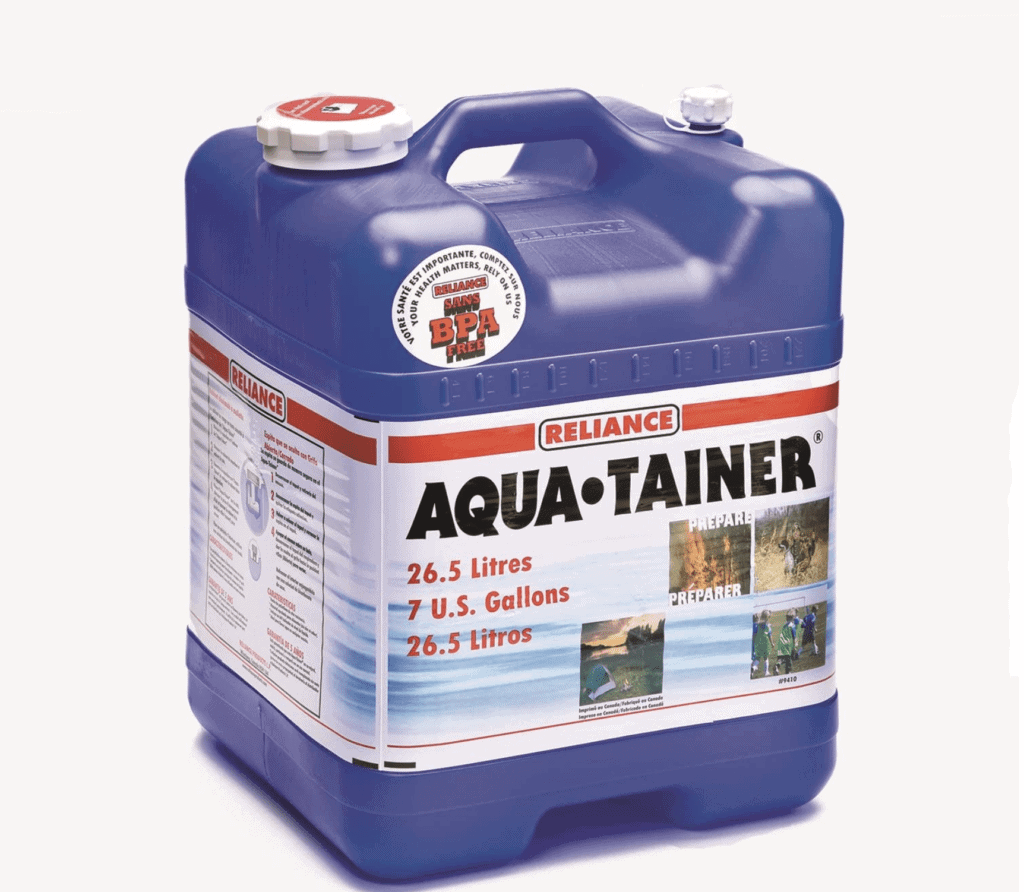 Aquatainers are popular for camping because they hold seven gallons (26.5 liters) of water, and they're made of BPA free polyethylene. They come in an easy to carry container and have an easy pour spout to help you stay hydrated.
2. BILLET4X4 Scepter Polyethylene Can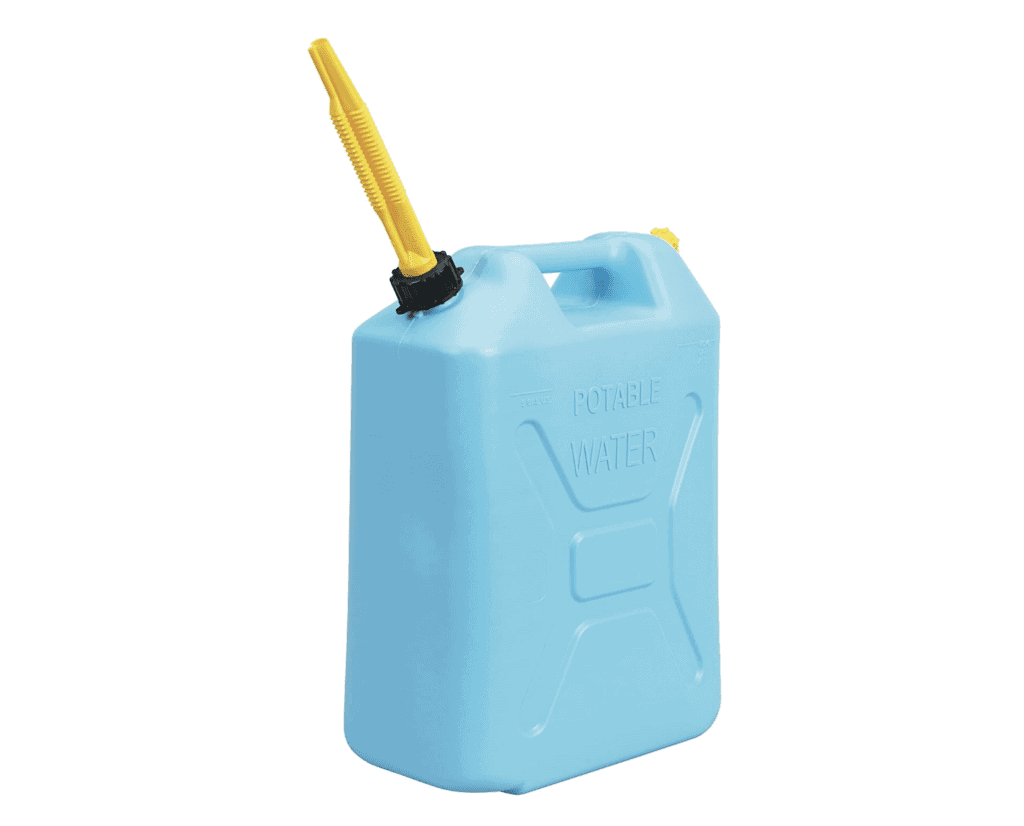 This 5 gallon food grade polyethylene water container has a slim design which helps you save space and packs away easily in your rig. This water container is fitted with a sight line to help you monitor your water supply closely.
4. RotopaX Water Pack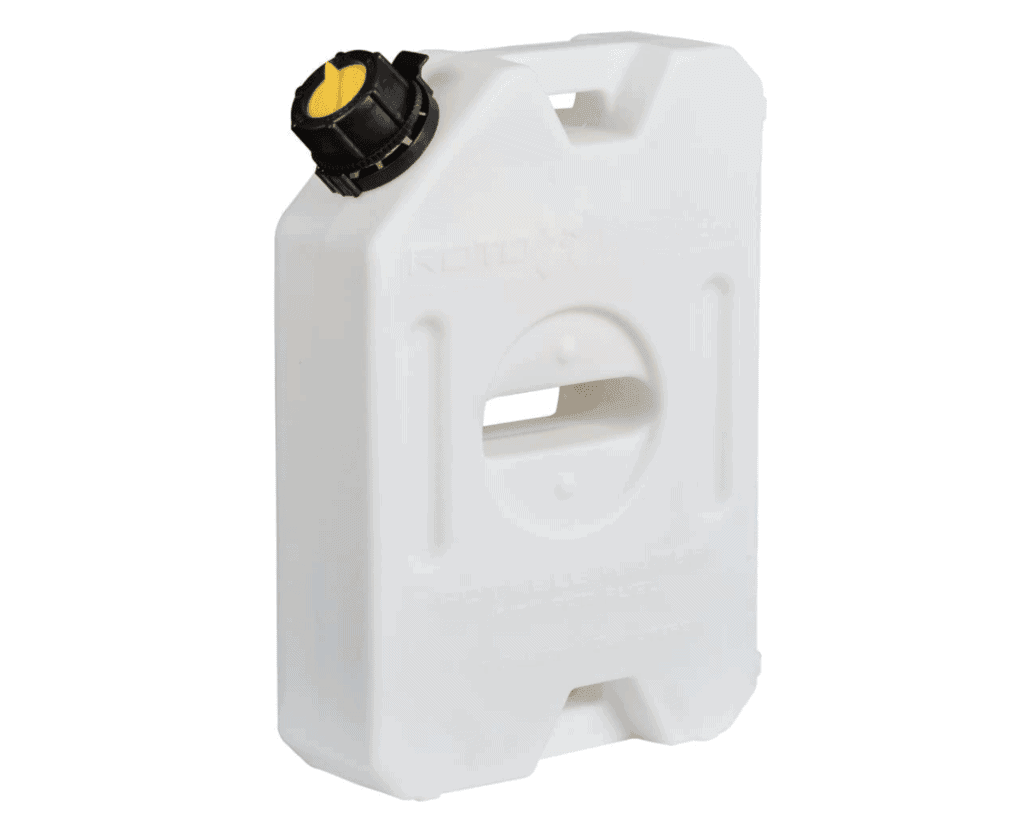 This RotopaX water jug is incredibly slim and easy to carry along on any adventure. It comes in three sizes—1 gallon, 1.6 gallons, and 2 gallons.
These water jugs are designed to be easily mounted to any flat surface. There is mounting hardware available that is specifically designed for these containers. They are also meant to be mixed and matched with other RotopaX products.
Each container is designed with food grade thick plastic to ensure your water is always safe to drink. RotopaX also makes some of the best gas storage containers on the market.
Collapsible Water Containers
Collapsible water containers are a great option if you're looking to save on space for your next adventure. Once you are finished with your water jug, it easily collapses and packs away small.
5. Water Storage Cube
This water storage cube comes in 1.3, 2.6, and 5.3 gallon options. Every cube is made from food grade polyethylene and is BPA free. They pack down small when they're not in use making them a fantastic option for those who wish to save on space.
6. TIFMI Collapsible Water Container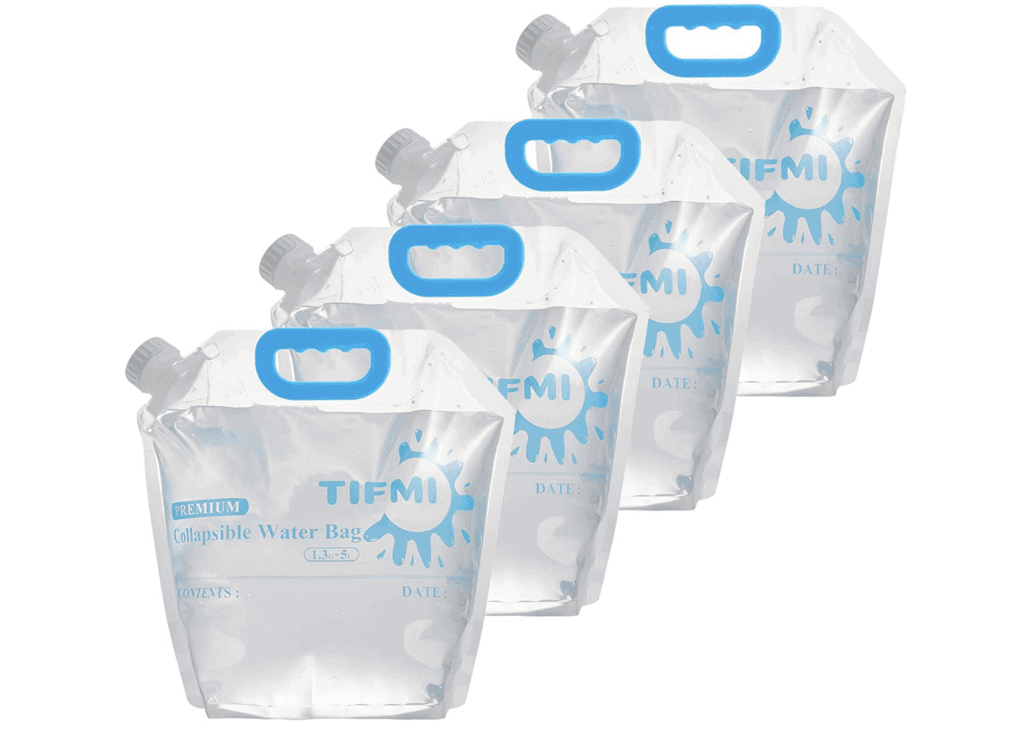 Keeping extra water containers in your camping gear is never a bad idea. These TIFMI collapsible water bags make it incredibly easy to save on weight and space while ensuring you have adequate water storage.
Large Water Tanks
A great option for overlanders who plan on embarking on several multi-day excursions. These are more permanent solutions that will ultimately make your overlanding adventures easier and make carrying water more efficient.
7. Front Runner Outfitters Pro Water Tank with Strap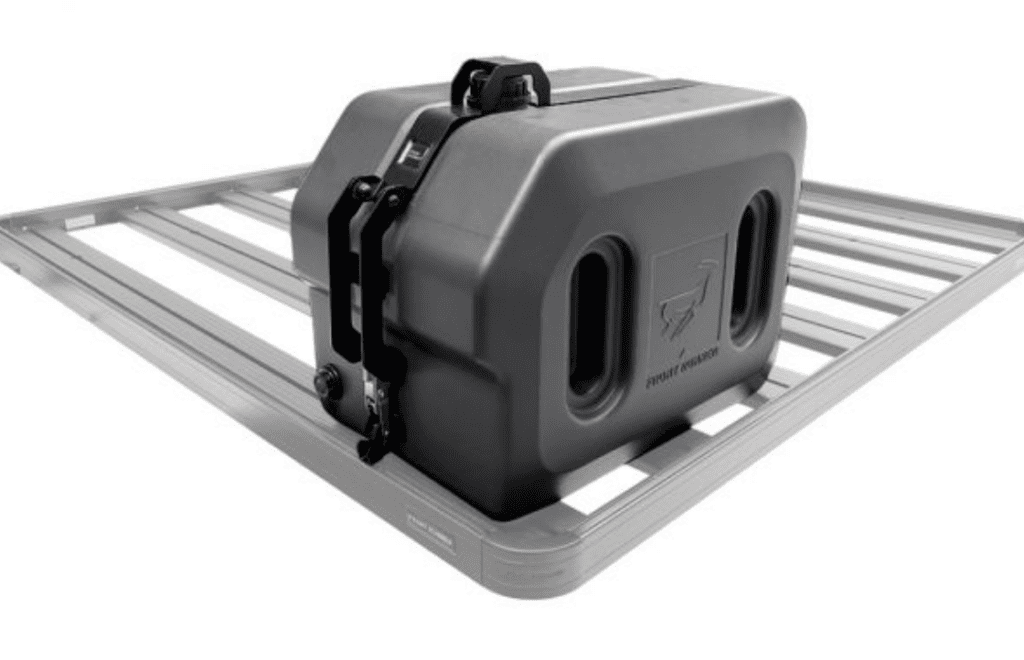 This Front Runner Outfitters Pro Water Tank holds 11.1 gallons (42 liters) and is an easy way to carry water without taking up precious storage space. It comes with a strap to easily mount it to the roof rack of your vehicle and is easily removable to use at ground level.
There are other accessories available through Front Runner Outfitters website such as a rack accessory lock and a pro water tank tap.
Related Reading: The Best Overlanding Roof Racks Reviewed & Compared
8. Yakima Road Shower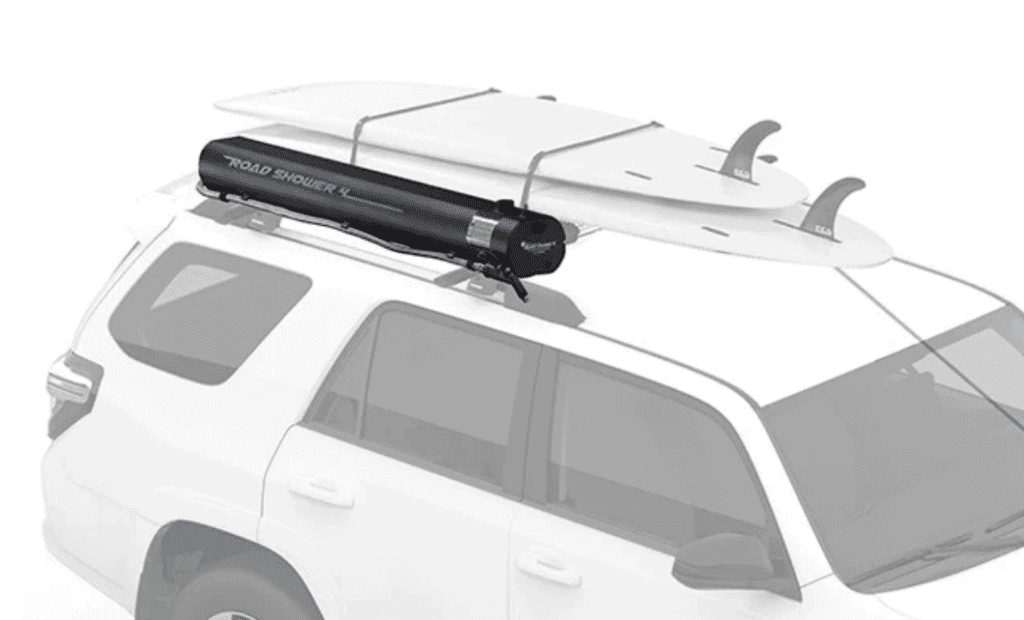 Photo Credit: Yakima.com
The Yakima Road Shower is an incredibly popular overlanding water storage accessory because of its versatility and convenience. Not only is it great for staying clean on the road, but it is great for storing potable drinking water as well.
This shower comes in three different sizes— 4, 7 and 10 gallons. Among the many benefits of this shower, it is also equipped to fit most roof rack styles and the mounting hardware is made of stainless steel to ensure your water doesn't vibrate loose.
The Yakima Road shower also uses high quality brass pipe fittings and has a sure seal gasket to prevent leakage.
Where to Fill Up Your Water
Finding a safe place to fill up your overlanding water can be a bit of a challenge to some adventurers. Ensuring your drinking water is safe is imperative. Apps such as iOverlander, Freeroam, and The Dyrt are fantastic resources for not just finding safe overnight camping, but also finding showers, road closure information, and drinking water.
We wrote a whole guide on the best overlanding apps to make your trip planning a breeze.
If you're on a long trip, you'll almost surely need to fill up your water jugs at some point. Look for water specifically marked as potable. If no potable water is available, you may consider using a water purification method.
Water Purification Options
Some other important gear to consider is water purification methods. If you'd like to save on space and use water straight from a natural water source— you're going to have to purify it somehow.
You can purify water through three main methods: chemicals, boiling, and purifiers. It is always recommended you try to obtain water from a running water source, but even still, there are millions of bacteria that our eyes can't see.
Some great options for purifying your water on your adventures are:
1. Survivor Filter Pro Water Purification System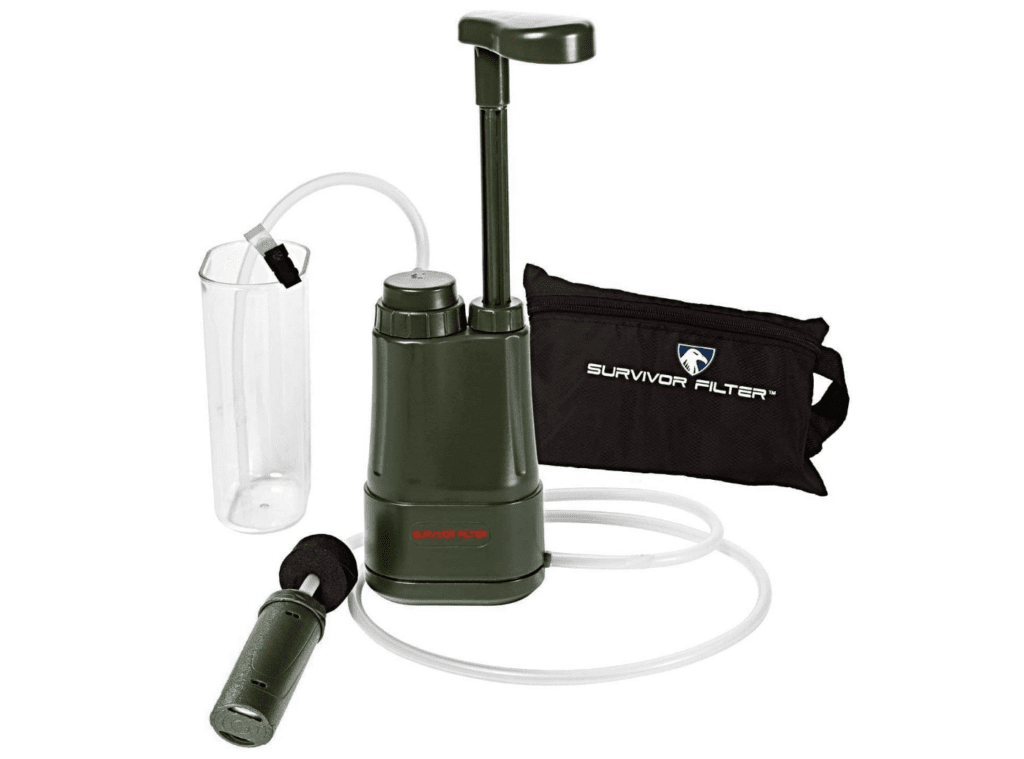 This survivor filter water purifier works by pumping water quickly through a filter to remove any bacteria and viruses that can get you sick. This is an incredibly quick and easy method to purify water in the backcountry.
2. Lifestraw
The Lifestraw has been through rigorous testing and it is easy to see why it is a favorite water filtration system. It boasts being able to not only remove harmful and dangerous bacteria but also remove micro-plastics.
3. Potable Aqua Water Purification Tabs
These Potable Aqua tablets are incredibly easy and safe to use. Just drop 2 tablets per liter of questionable water, and wait 30 minutes before drinking to ensure all of the bacteria and viruses are cleared out.
4. Ef-Chlor Water Purification Tablets
Similar to the Potable Aqua tablets– the Ef-Chlor tablets can be easily used to treat water in the event of an emergency. Just drop in 1 tablet per gallon of water and wait 30 minutes before drinking. These tablets are fantastic to use in the event of an emergency, but not recommended for daily use.
Other Tips & Tricks
Being adequately prepared for your adventures is a mandatory part of keeping your trips fun and safe. If you're just dipping your toes into the world of overlanding, we break down everything you need to know in the beginners guide to overlanding.
There is plenty of other gear you can consider adding to your vehicle to ensure a comfortable and exciting adventure such as a roof top tent, a great camping mattress, and even a chuck box!
Just remember to pack for the worst case scenario and always have a plan in the event of an emergency or severe weather.
Related Reading: