If you're a devout coffee drinker, you know just how important a good cup of coffee can be on the road.
Everything seems to be harder when you're traveling, so starting your day off right is essential!
Below we will walk you through all of our favorite options for making the best tasting espresso while camping or overlanding.
The Best Manual Portable Espresso Machines
These espresso makers make brewing coffee easy. All you need is a way to boil water, and you're ready to enjoy some of the best tasting coffee on your truck camping, overlanding, or hiking adventures.
1. Aeropress
The Aeropress is an incredibly easy way to make high quality coffee from anywhere. As long as you have a way of boiling water, you can enjoy a decadent cup of espresso.
The Aeropress comes in two different sizes, the Original and the smaller Go size.
Just place your paper filter in the bottom, add your grounds, pour your water in and press the espresso into your mug. The Aeropress coffee maker does have a metal reusable filter, but the reviews are not all positive.
The aeropress does best when your coffee grounds are about the size of table salt.
2. Bialetti Moka Pot
The Bialetti Moka Pot brews genuine Italian espresso shots quickly and efficiently. This type of stainless steel espresso maker dates back to 1933 and was invented by Alfonso Bialetti.
The Moka Pot is incredibly easy to use. Just unscrew the bottom container from the top portion and fill the pot with water to the specified mark. Next, fill the metal filter to the top with your finely ground coffee beans— without tamping.
Then you just assemble the top and bottom pieces back together and boil over an open flame until all of the liquid transfers to the top compartment.
The Moka Pot brings coffee lovers a delicious cup of genuine Italian style espresso in just a few short minutes
3. WACACO MiniPresso
The WACACO MiniPresso is another fully manual espresso maker. As long as you have access to boiling water, you can enjoy authentic espresso from anywhere.
The WACACO boasts being incredibly lightweight and easy to use. Just add your finely ground coffee beans, tamp, and manually pump your espresso.
Just like the Aeropress, the WACACO is fantastic for making a single cup of coffee, but isn't ideal for a crowd or group.
4. Nanopresso
The Nanopresso operates very similarly to the WACACO MiniPresso. It doesn't require charging or batteries, and is fully manual.
The Nanopresso also requires a very fine grind and a hard tamping to create delicious espresso every single time.
This coffee maker does come in several different colors as well, which is a nice addition. It is a little more expensive than some of the other competitors on this list, but also boasts the highest PSI. This means you're guaranteed to have the best tasting coffee.
5. STARESSO Portable Espresso Machine
The Staresso Portable Espresso maker is a coffee maker that works by adding hot water and ground coffee.
Once you tamp your ground coffee, you're ready to start hand pumping your coffee. This camping espresso maker boasts its ability to brew instant coffee while keeping a thick layer of creamy crema on top.
This particular camping coffee maker does come with a glass cup on the bottom. While this may be wonderful for some, glass can be difficult to travel with.
Overall, the Staresso Portable Espresso Machine is a wonderful choice for portable coffee makers.
6. Kopipresso Espresso Press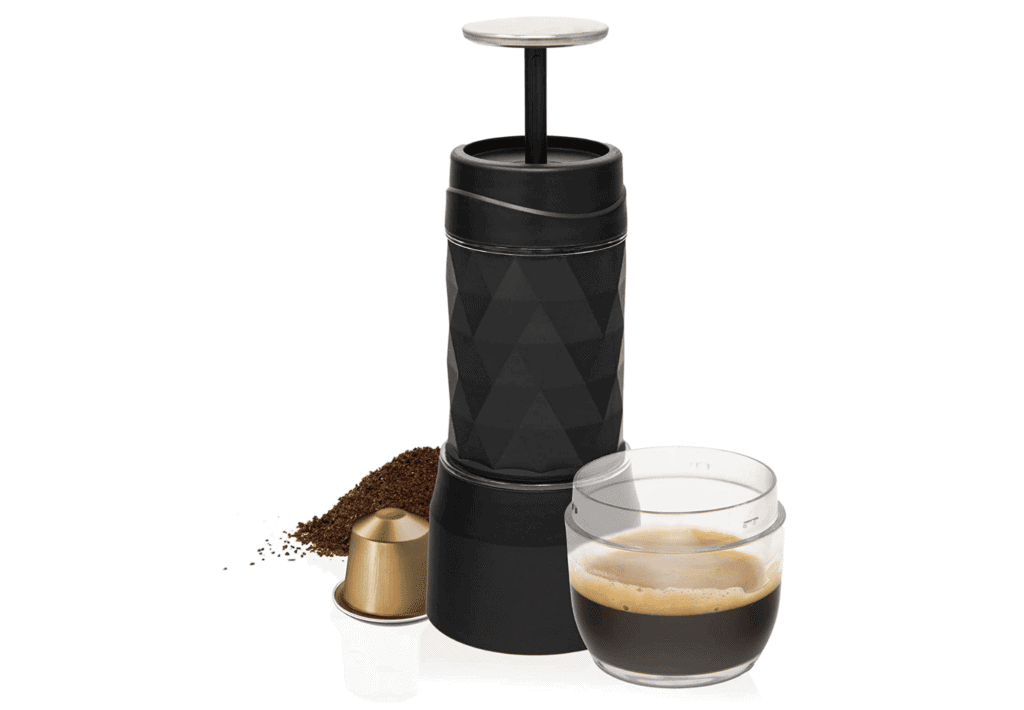 This Kopipresso espresso maker is completely manual and therefore perfect for bringing along on any camping or hiking trips. This coffee maker is also compatible with either your own ground coffee, or NP capsules.
The coffee maker works by adding your ground coffee and hot water, and pressing down on the lever on the top of the machine to manually
7. OXO Pour Over
A classic pour over coffee is always a favorite brewing method for coffee drinkers. It is one of the most simple methods to make amazing coffee and will always be one of the best camping coffee makers.
To brew your coffee with the OXO pour over, just fill the brew basket with your coffee grounds and place it over your camping mug. Take your boiling water and pour it evenly and slowly over your coffee grounds and wait until all the water drips through the grounds and into your mug.
In just a few minutes you'll be enjoying a tasty brew!
The Best Battery Operated Portable Espresso Machines
These portable coffee makers are a must-have addition to your overlanding gear collection. They're rechargeable and make delicious coffee easy for car camping, backpacking, overlanding or any other outdoor adventure.
8. Outin Portable Mini Espresso Machine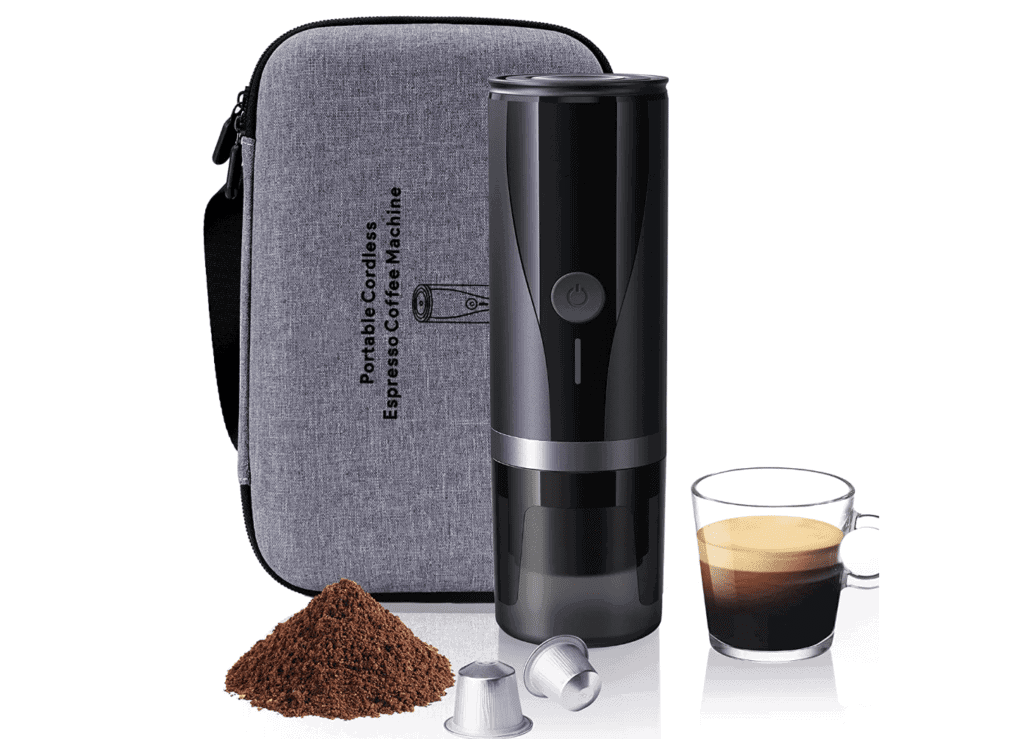 The Outin is a rechargeable battery operated espresso machine. This coffee maker does not require hot water. Inside the machine it has its own heating element and can brew coffee with one click of a button.
This coffee maker uses either ground espresso beans or Nespresso coffee pods.
From start to finish, this espresso maker takes about 5 minutes. This includes the water boiling process.
Again, this method is wonderful for making a single brew. This would not be an ideal method for a large group.
This portable espresso maker comes with a compact and hard covered carrying bag, a cleaning cloth and all the accessories needed to up your camp espresso game.
9. Cera+ Portable Coffee Maker
The Cera+ Portable Coffee Maker boasts being the lightest and most compact rechargeable portable espresso maker on the market. This coffee maker uses a ceramic heating element. The brewing process only takes as little as 3-4 minutes.
In one charge this portable espresso maker can brew 4-5 cups with cold water, and 100+ if the water is preheated.
One thing that the Cera+ does puts it ahead of other camping coffee makers is that it can brew hot coffee from hot water, hot coffee from cold water, or cold brew from cold water. It is incredibly versatile.
10. IMONS Portable Espresso Maker
The Imons electric portable espresso maker recharges in just 2.5 hours and can make a cup of brewed coffee in 8-12 minutes.
This camping coffee maker does require Nespresso or L'OR capsules. As of now you can't use your own espresso beans.
Once you're ready to brew your espresso, you just press a button and the machine takes care of the rest. This is an incredibly easy and well thought out camping coffee maker for your adventures.