A snatch block is one of the best accessories to make a winch more effective. A good snatch box has a high weight rating, a strong winch line material, and supports various cable sizes.
That said, there is a wide selection of snatch blocks available on the market. So, how do you choose the best one?
This article explores some of the best snatch blocks for off-roading and overlanding to purchase in 2021.
We will also share some of the critical things to consider in choosing the best snatch block for your needs.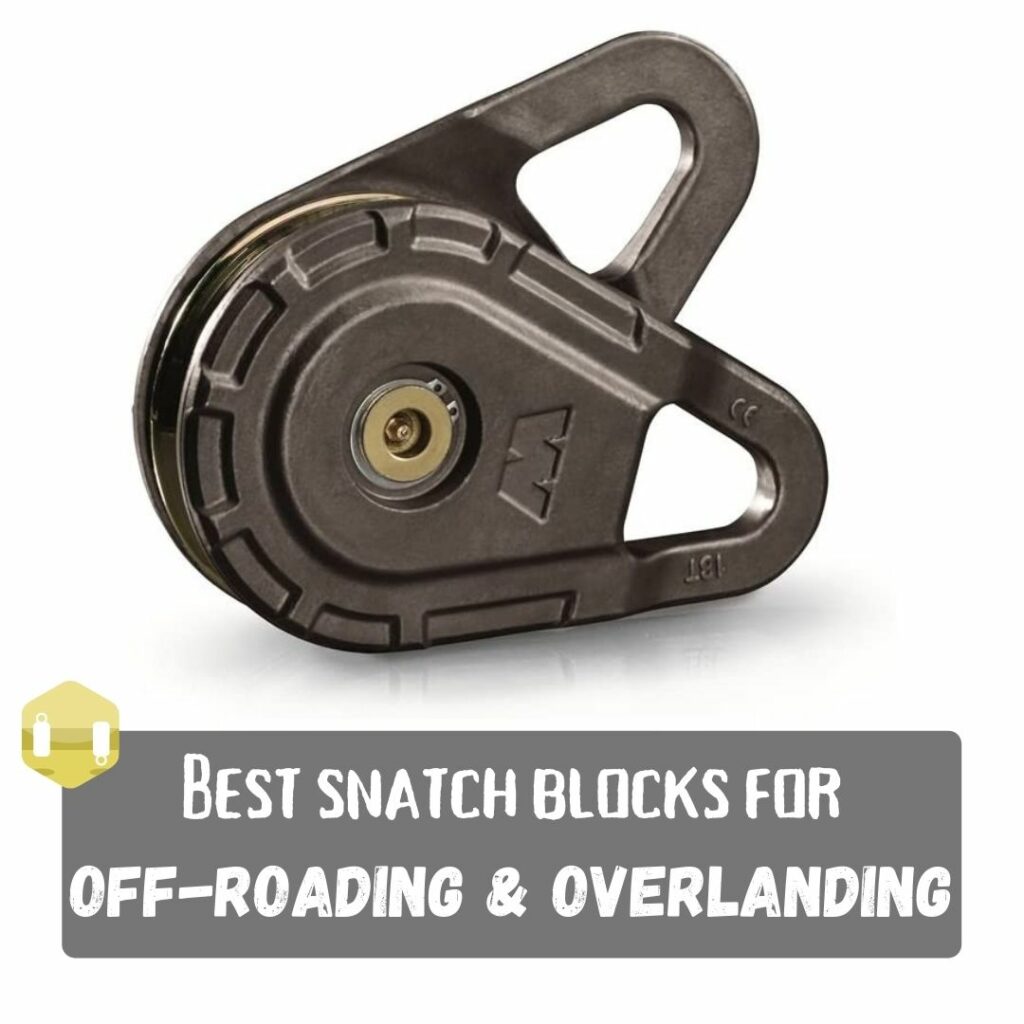 Best Snatch Blocks
If you are on the market for the best snatch block for off-roading and overlanding, consider the following three options: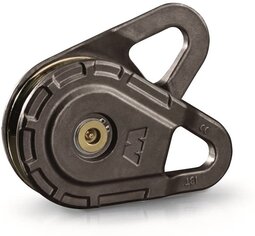 For more than seven decades, Warn has consistently produced some of the best off-road gear, and their 18000-pound rated Epic Snatch Block is no exception. This snatch block boasts forged steel construction with powder coating to prevent corrosion. It is ideal for 8,000- to 10,000-pound rated winches commonly found on overlanding and 4-wheeling rigs.
Pros:
Heavy-duty rugged design with a wide range of size and capacity options
Wide pulley groove, making it ideal for both synthetic and metal winch lines
E-coat powder coated, making it corrosion resistant
Impact and wear-resistant
Cons:
Quite pricier than competitors
Not manufactured in the USA
If you are looking for a reliable snatch block for a larger off-road vehicle and winch, you can't go wrong with the 25000-pound rated Mega Snatch Block from GearAmerica. It is ideal for 12,000-pound to 16,500-pound rated winches found on ¾ ton and full-ton trucks. GearAmerica donates 10% of its proceeds to St. Jude Children's Research Hospital when you purchase one of these snatch blocks.
Pros:
Smart and elegant outlook
Ideal for off-road and heavy-duty tasks
Offers accurate navigation
Effective in easing the strain on the winch
Cons:
Not manufactured in the USA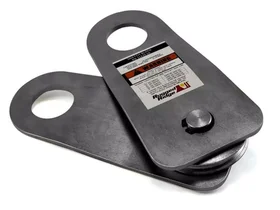 If you are more into functionality than size and elegance, the 20,000-pound rated Rugged Ridge Snatch Block would be an excellent choice. This snatch block is ideal for winches rated up to about 10,000 pounds. You can use it for winch cables up to ⅜ inches in diameter.
Pros:
Cheaper than most of its competitors
Rugged and robust construction
Cons:
Why Do I Need a Snatch Block?
Snatch blocks serve two primary purposes:
They boost a winch's pulling force when rescuing a stuck vehicle.
They redirect a winch's force in a recovery situation where it is challenging to pull on a stuck vehicle directly.
That means a snatch block is a must-have tool if you have a winch and is a cost-effective way to extend your winch's capabilities. Like with winch pulley blocks, you'll also need to invest in several shackles and a tree saver strap for connecting the snatch block with anchors and other vehicles.
If your looking to build or purchase an amazing overlanding rig for yourself make sure you check out our article on the 11 Best Overlanding Vehicles for Off-Road Adventures.
Now that you know why you need a snatch block, let's explore the factors to ensure you purchase the right one.
How to Choose a Snatch Block
A snatch block is an excellent investment if it serves its purpose effectively. For a snatch block to function efficiently, it should have features that make it useful and reliable. Here are some of the critical elements to consider to ensure you choose the best snatch block for your needs:
Winch Pull Rating
A good rule of the thumb is never to purchase a snatch block rated less than double the amount of your winch's pull rating. You should make sure the rating of your preferred snatch block and everything securing it to its anchor is at least twice your winch's rating. That means, if your winch has a rating of 10,000 pounds, then you should go for at least a 20,000-pound rated snatch block.
Winch Cable Diameter
Another important factor to consider when choosing a snatch block or pulley block for a winch is the winch cable diameter. Ensure the diameter of your preferred snatch block's sheaves is not less than eight times the winch cable diameter. Be sure the sheave-groove diameter (the pulley groove width) is not less than 10% greater than the winch cable diameter. Avoid using a sheave with a V-shaped groove, as they usually pinch the cable and damage it as a result.
Winch Line Material
The material of your snatch block is another critical consideration. You'll be pulling astounding amounts of weight, so you need something that can effortlessly pull it off without succumbing to pressure or heat. Synthetic rope winch lines are usually thicker than metal cables and hence more durable. Avoid using any plastic materials.
It is also essential to choose a user-friendly snatch block. A complicated snatch block can make the emergency unusually longer. With an easy-to-use snatch block, you'll have an easier time getting out of tricky situations.
Snatch Block Accessories
Several other pieces of equipment go hand in hand with snatch blocks and winches in off-road vehicle recoveries. They include the following:
Recovery Shackles
Recovery shackles allow you to connect your snatch block, winch, and recovery strap to your vehicle. Traditional shackles have a horseshoe shape and feature a pin that locks them shut. Recovery shackles made with incredibly strong synthetic rope are becoming increasingly popular today.
Winch Dampers
A winch cable damper is a safety device that minimizes the effects of a winch cable that accidentally snaps under load. It helps to subdue and soften the energy of the broken cable that could otherwise fly through the air and injure someone or damage something. You drape the damper over the winch cable, allowing gravity to pull the cable to the ground in the event of a snap.
Gloves
Winch gloves are a must-have every time you work with snatch blocks, pulley blocks for winch, winch cables, or any other off-road recovery gear. These gloves will protect your hand from injuries. It is also always comfortable and ergonomic to wear gloves while operating winches.
Tree Saver Straps
You use tree saver straps to anchor to a tree, boulder, or any other sturdy object during recovery. The most important function of these devices is to protect the trees from damage when using them as an anchor. Additionally, they protect your winch cable from damage. It's not a good idea to wrap your winch line directly around a tree or any other anchor as it will damage the line. 
Kinetic Ropes
A kinetic rope can help you use tension to pull out a heavy vehicle with a less powerful tow vehicle. It uses the kinetic tension to pull and release the stuck vehicle.
Conclusion
There you have it: the best snatch blocks for off-roading and overlanding you can purchase today!
Snatch blocks are a must-have if your off-road vehicle comes with a winch. They will make you more self-reliant and come in handy when you are stuck. That's why you should choose a reliable snatch block that suits your needs by considering factors such as your winch pull rating, winch cable diameter, and winch line material.
If you don't have the time to go looking for the best snatch block for your needs, just pick any of the three snatch blocks we've reviewed above, and you won't regret it.
For more information on some of the gear we recommend for off-roading and overlanding, check out our guide to Must-Have Overlanding Gear (And Fun Toys) before your next off-road adventure.