So you heard of this thing called overlanding and now you're intrigued.
Understandably so—adventures to beautiful hidden lakes and vast desert vistas are pretty interesting!
But what is overlanding? How much does it cost to get into? Where can you go? How do you get started?
We answer all of these questions and more in this guide to overlanding 101. Let's dive in!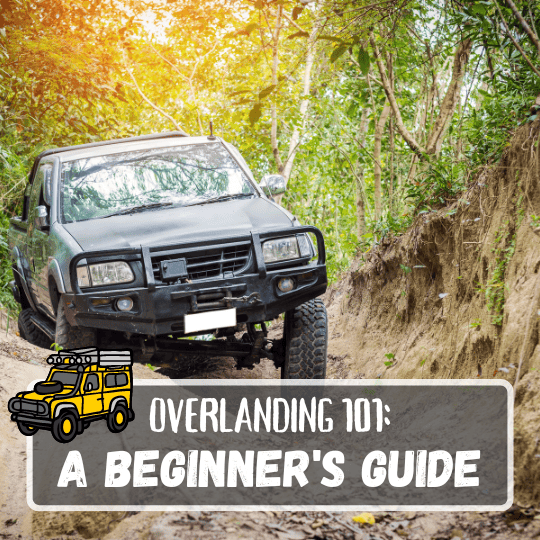 What is Overlanding?
Overlanding is vehicle-based, self-reliant travel to remote destinations.
It's all about going off the beaten path to explore cool and interesting places. Whether you do that in a fancy $300,000 Earthroamer or a $5,000 used truck doesn't matter.
Some people prefer overlanding via motorcycles, such as Itchy Boots who is traveling the world (most recently, the Sahara desert!) by motorcycle:
As for me, I've traveled in my Toyota Tacoma with a rooftop tent to places like Baja, Mexico:
Where you go and how you get there is up to you—as long as you go, that's all that matters!
Overlanding Terminology
Some common terms you'll hear in the world of overland include:
Car Camping: Traveling in a car to a camp site. Simple!
Truck Camping: Just like it sounds; camping in your truck! This could be a camper shell, rooftop tent, truck bed tent, truck bed cap, or even a ground tent next to your truck (or on a DIY overland trailer).
Back Country Adventure / 4×4 Touring: An off-road adventure to a remote destination in a motorcycle or 4WD vehicle.
Vehicle-Dependent Expedition: An organized journey with a defined purpose, often geographic or scientific in nature.
Expedition Vehicle: A four-wheel drive vehicle (often referred to as a "rig") prepared for self-reliant travel over long distances, through unpredictable weather and over variable terrain.
What is the Best Vehicle for Overlanding?
The best vehicle for overlanding is anything with four-wheel drive and high clearance, such as a lifted jeep, pickup, or SUV. The Tacoma pictured above is my rig – click here to see my full build list!
The most popular four wheel drive vehicles for overlanding are (in no particular order):
Toyota Tacoma
Jeep Gladiator/Rubicon/Mojave
Chevy Colorado ZR2
Ford F-150 Raptor
Jeep Wrangler Unlimited Rubicon
Land Rover Defender 110
Ram 2500 Power Wagon
Toyota 4Runner
Toyota Land Cruiser
Ford F-Series Super Duty Tremor
That said, you can go overlanding in pretty much any vehicle. Even if you just have a small sedan or crossover, there are plenty of easy trails with amazing scenery you can go camping at! No need to spend $50,000+ on a new vehicle to overland with… start where you are and see if you like it first!
I highly recommend you take your current vehicle on a weekend trip to some semi-remote destinations and get a feel for overlanding first. If you like it, there are cheap overland vehicle options to go on a budget!
Related Reading: Everything You Need to Know About Lifting Your Toyota Tacoma
Why is Overlanding So Popular?
Overlanding has been gaining popularity in recent years for many reasons… the recent world-wide shutdowns due to the pandemic have pushed people into more outdoor recreational travel, such as camping and overlanding.
Beyond that, overland travel captured the hearts of many who want to explore new places and cultures, go camping, and enjoy the great outdoors. Some love fishing and hunting, others do it for the off-roading, and others still just love building out their rig, modifying their vehicle to their specific taste and personality. The customization options of overlanding are near endless!
Overlanding has begun spanning international boundaries. I've been overlanding in Mexico and it was one of the most fun trips I've ever been on!
Where Can You Go Overlanding?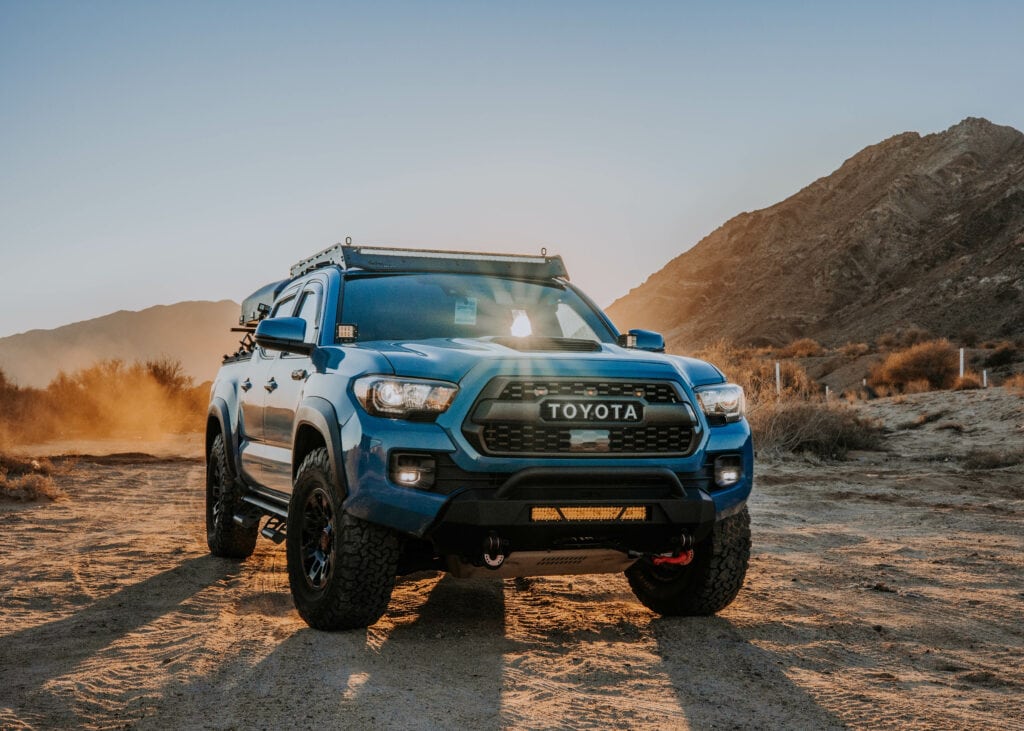 Whether you're just looking to take a weekend trip or you want to travel for extended lengths of time to remote destinations, there are TONS of options for your overland journey.
The most popular places to go off-roading and overlanding are on off-road trails in National Parks and other public lands. The Bureau of Land Management (BLM) has options for all kinds of long distance travel, ranging from a paved road to gravel to barely a road at all that requires a lot of skill to navigate.
The cool thing about overlanding is that you can start with any skill level! No matter how prepared you are, there are off-road options for you.
For your first trip overlanding, I would recommend sticking to paved roads and maybe gravel roads that you know your vehicle can handle. You can find options using apps like iOverlander, OnX Offroad, and FreeRoam.
There's a huge overlanding community of highly skilled people on Facebook and at events like the Overland Expo that you should absolutely tap in to. You'll find that most of us are extremely friendly and willing to help!
What Gear Do You Need to Go Overlanding?
Again, the only overlanding gear you really need is a place to sleep and food and water. You definitely don't need a fancy camp kitchen or expensive gear—although it is nice to have!
As you begin to get more experiences and find routes in remote locations without cell service for an extended period, it's a good idea to expand your overlanding gear to include essential gear like:
First aid kit
Recovery gear
Cell signal booster and/or satellite phone
For more information, check out our guide to essential overlanding gear.
How to Start Overlanding
Ready to hit the trails? Read our beginner's guide to get started overlanding next.
Just grab a tent and some basic camping gear, look up local trails on the OnX Maps app or All Trails, and go plan your trip. You're now an overlander!
Read Next: