Overlanders take their vehicles (typically a jeep, SUV or pickup truck) over long distances to go camping in cool spots out in the mountains, deserts, and forests of the world.
The appeal of overlanding differs from person to person. For me, overlanding means freedom, time spent in nature, and bonding with friends and family. It's a passion for camping, hiking, and being outdoors.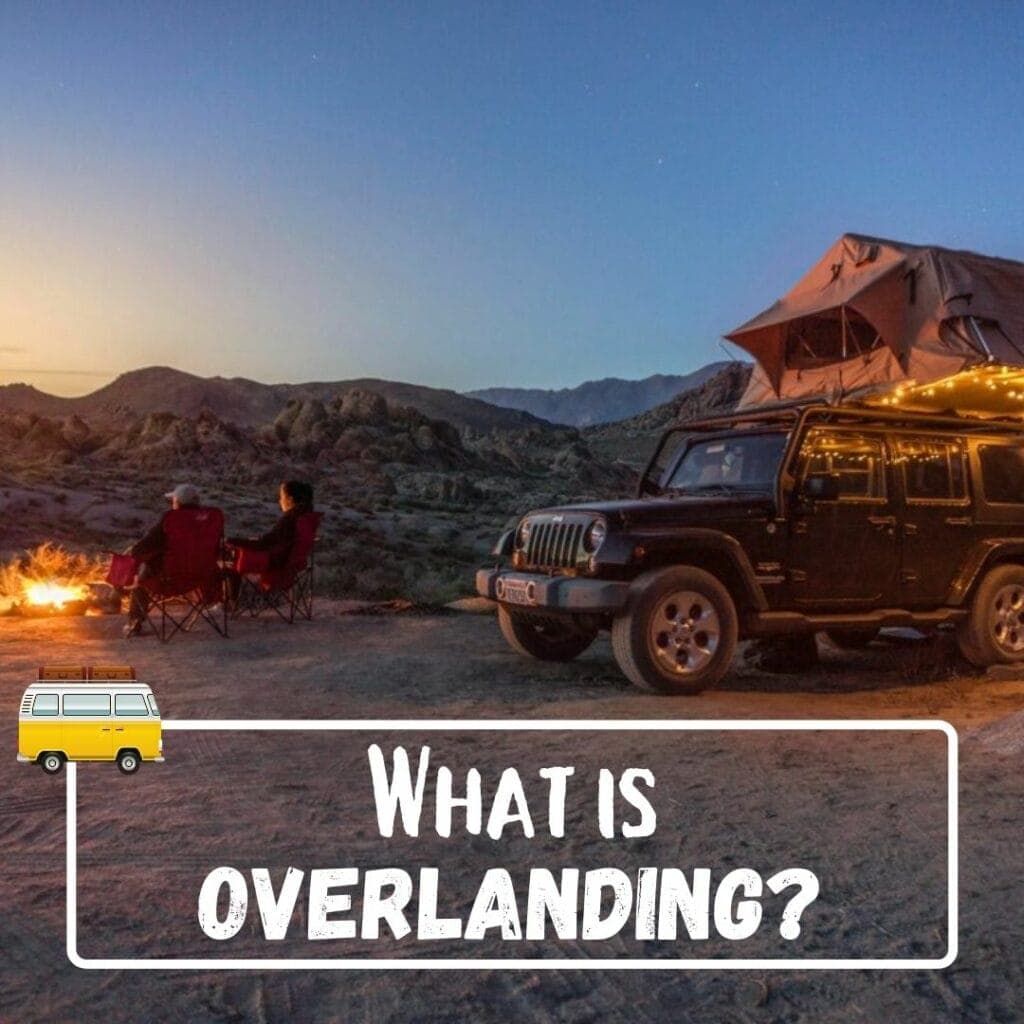 The best thing about overland travel? Anyone can do it. Whether you have a tiny car or a decked out four wheel drive rig, there are trails you can hit and camp spots you can stay at! And plenty of resources to learn everything you need to know.
It evolved from wheelin' and a love of backcountry camping, and became the trend you see today taking the world by storm!
Intrigued? Read on to learn more.
Overlanding Terminology
Some common terms you'll hear in the world of overland include:
Car Camping: Traveling in a car to a camp site. Simple!
Truck Camping: Just like it sounds; camping in your truck! This could be a campershell, rooftop tent, truck bed tent, or even a ground tent next to your truck.
Back Country Adventure / 4×4 Touring: An off-road adventure to a remote destination in a motorcycle or 4WD vehicle.
Vehicle-Dependent Expedition: An organized journey with a defined purpose, often geographic or scientific in nature.
Expedition Vehicle: A four-wheel drive vehicle (often referred to as a "rig") prepared for self-reliant travel over long distances, through unpredictable weather and over variable terrain.
What is the Best Vehicle for Overlanding?
The best vehicle for overlanding is anything with four-wheel drive and high clearance, such as a lifted jeep, pickup, or SUV. The Tacoma pictured above is my rig – click here to see my full build list!
The most popular vehicles for overlanding are (in no particular order):
Toyota Tacoma
Jeep Gladiator/Rubicon/Mojave
Chevy Colorado ZR2
Ford F-150 Raptor
Jeep Wrangler Unlimited Rubicon
Land Rover Defender 110
Ram 2500 Power Wagon
Toyota 4Runner
Toyota Land Cruiser
Ford F-Series Super Duty Tremor
That said, you can go overlanding in pretty much any vehicle. Even if you just have a small sedan or crossover, there are plenty of easy trails with amazing scenery you can go camping at! No need to spend $50,000+ on a new vehicle to overland with… start where you are and see if you like it first!
Why is Overlanding So Popular?
Overlanding has been gaining popularity in recent years for many reasons… the recent world-wide shutdowns due to the pandemic have pushed people into more outdoor recreational travel, such as RVing and overlanding.
Beyond that, overland travel captured the hearts of many who want to explore new places and cultures, go camping, and enjoy the great outdoors. Some love fishing and hunting, others do it for the off-roading, and others still just love building out their rig, modifying their vehicle to their specific taste and personality. The customization options of overlanding are near endless!
How to Start Overland Travel
Think you're ready to overland? This self-reliant adventure travel is available to anyone who wants to do it, and you don't need to go out and buy a new vehicle to do it!
Just grab a tent and some basic camping gear, look up local trails on the OnX Maps app or All Trails, and go plan your trip. You're now an overlander!
Read Next: Must-Have Overlanding Gear to Get Started