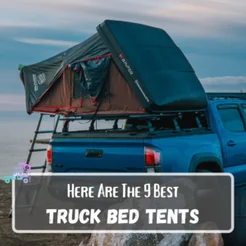 Interested in getting a tent for your truck but aren't sure which one to buy?
My team and I have been using truck tents (and ground tents) for years now in our Toyota Tacoma Overland build (and past builds) and have tried lots of different tents.
Between our research online and our personal experience using the tents, here is what we believe are the best truck tents available right now! Let's dive in.
Table of Contents (Click to Expand)
Rooftop Tents vs Truck Bed Tents
Before we share the best truck tent, we have to look at the types of tents available. When choosing a tent for your pickup truck, there are two options:
Truck Bed Tents
Rooftop Tents
Truck bed tents, as the name implies, are erected in your truck bed. This means they take up the entire bed and don't leave much room for storage space. However, these types of tents are also much cheaper than their roof top tent counterparts.
Rooftop tents, on the other hand, go above your bed or above your truck's roof. They require a roof rack setup and tent to be much more expensive than simple truck bed tents. That said, they are often higher quality and more convenient than bed tents, so you need to decide what's best for you.
Related Reading: What is Overlanding? The Complete Guide
What Makes a Good Tent?
When deciding which are the best tents to camp in your truck bed, we look at several things, including:
Tent fabric and build quality
Durability
Ease of use
Comfort
Style / looks
There are so many options for truck camping setups. Having said that, let's look at the best tents available right now!
3 Best Truck Bed Tents
First, let's take a look at truck bed tents. Again, these are much more affordable, but come at the cost of storage space in your bed, as well as being a bit more difficult and time-consuming to set up.
1. FOFANA Truck Bed Tent
Height When Open: 6-Foot Standing Height
Coming in with six feet of standing height, large storage pockets, and plenty of tall windows for ventilation and views, the FOFANA truck bed tent is the best bed tent on this list.
Pros
Sets up to a full standing height for most people
Very easy setup compared to others on the market
Large interior storage pockets
Fairly durable and decent for cold weather
Cons
Some of the plastic buckles are weak and break easily
The rain cover is not quite long enough to stop rain
Somewhat weak stitching seams
2. Guide Gear Full Size Truck Tent
Height When Open: 5.33-Foot Peak Height (64″)
This truck tent deploys in minutes, has 8 tie-down straps to securely lock in place while in truck beds, and has two mesh windows (one of the features we love so much).
Pros
Built with strong aluminum poles and sturdy construction which ensures you'll have this for the long run
Bathtub floor protects you from leaks and debris, keeping the inside of the tent clean and dry
Tent poles and 8 tie downs make for a quick set-up
Cons
Some reviewers said the sizing is off (not suitable for an 8″ truck bed)
Some people have had issues with the rain guard not keeping water out of the tent
Might not be the best option if there are strong winds
3. Quictent Waterproof Truck Tent
Height When Open: 5.25-Foot Peak Height (63″)
The Quictent truck tent is waterproof, has a removable awning, is easy to install (we're talking less than 5 minutes easy), and can accommodate up to two people! It also has a lantern hook, rear access window, and storage bags inside.
Pros
The 47"(L) x 47″(W) extra large awning can be used for shade or rain
100% waterproof rainfly provides the ultimate weather protection for camping in extreme weather
PU 2000mm fully sealed floor keeps the room clean and dry
Cons
Instructions aren't the best
Some people have complained that the stitching isn't the best
Roof Top Tents: Hard Shell vs Soft Shell Top Tents
If you're more interested in getting a roof top tent, you have two options: hard shell and soft shell.
A hard shell tent, as the name implies, has a hard shell on the outside. This comes with it's own benefits, such as being much quicker to set up, better in inclement weather, and longer-lasting because the cover shields the material from rain, hail, wind, and whatever else you might experience. However, they are much more expensive and slightly heavier than a soft shell.
A soft shell tent has a soft cover that you have to remove and store in order to set up the tent. They take longer to set up because they set up like a traditional tent, rather than having pistons that pop the tent open. The benefit, though, is that these tents can be thousands of dollars cheaper than their hard shell counterparts.
Which you get depends on your personal preference. Consider the looks, weight, and price and decide what's right for you!
Related Reading: Are Rooftop Tents Worth It?
3 Best Hard Shell Tents
If you decided on a hard shell tent (our current favorite), here are the three best on the market right now in our experience!
1. iKamper Skycamp
Price: $2,999-$3,999 (depending on which style you buy)
Weight: 125 lbs – 160 lbs
Height When Open: 48"
Floor area: 83" x 51" / 29.4 sq. ft. – 83" x 77" / 44.3 sq ft
Sleeping capacity: 2 – 4 People
The iKamper Skycamp series rooftop tents are our favorite tents. They look great, last a long time, are super easy to set up, and are extremely comfortable! Check out our Instagram page to see this tent in action.
We've also written a full review of our iKamper Skycamp mini here.
Pros
Very lightweight for a hard shell tent
Extremely easy to set up and take down (takes less than 30 seconds)
Comes with a comfortable mattress
Decent weather-proofing and stays fairly warm
Lots of accessories available to expand your tent, make it warmer, and more
Cons
Expensive
Underneath mattress attracts condensation (but this can be fixed with a simple mod)
Some of the logo stickers came off right after we bought it
2. Roofnest Condor XL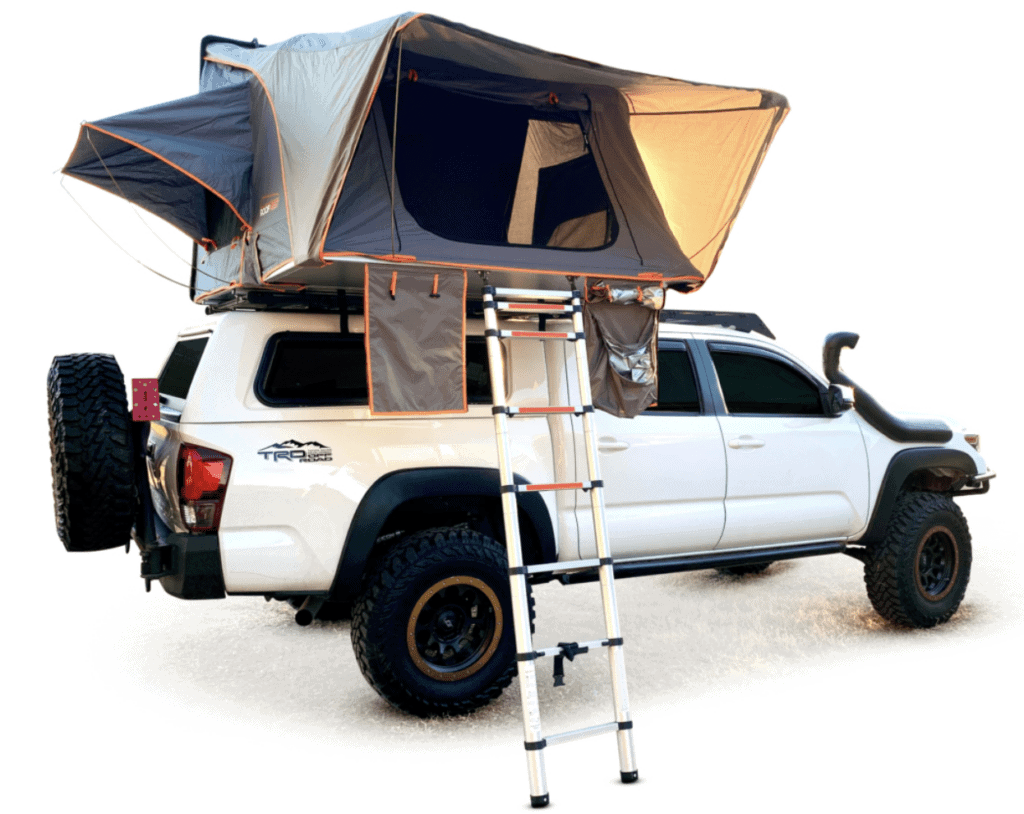 Price: $3,495.00
Weight: 160 lbs
Height When Open: 74″ by 93″
Floor area: 93″L x 74″W
Sleeping capacity: 3 – 4 People
The Roofnest Condor XL is known to be one of the most compact truck tent when closed (which is perfect for smaller vehicles or truck bed racks). Sleeping bags aren't needed with this truck tent, it has a built in foam mattress and a spacious interior that fits up to 4 people comfortably.
Pros
Roomy interior
Has a skyview window
Pops up in under a minute
Built-in 6 cm foam mattress
Cons
Expensive compared to soft shell tents
Overkill for solo camping
Challenging to install
3. Roofnest Falcon
Price: $3,795.00
Weight: 140 lbs
Height When Open: 60″
Floor area: 88″L x 48″W
Sleeping capacity: 2 People
With the Roofnest Falcon, truck camping has never looked cooler! With 60″ of headroom and a three inch thick waterproof pad to sleep on, it's easy to see why this truck tent is so popular!
Pros
Easy installation on all vehicles
Super durable and waterproof
Sleek, aerodynamic design
Accessory channels on 4 sides for attaching awnings, recovery gear, etc
Now featuring integrated LED lighting
Cons
Expensive
Only sleeps 2 people
Some reviews state that it takes two adults to secure the metal clamps in place (difficult to set up alone)
3 Best Soft Shell Tents
Still want a rooftop tent but prefer to save a few bucks? Soft shell tents are probably the perfect pick for you. Here are our top 3 soft shells:
1. Vagabond Rooftop Tent by ROAM
Price: $2,199.00 – $2,399.00
Weight: 130 lbs
Height When Open: 52"
Floor area: 56" x 96"
Sleeping capacity: 2 – 3 People
The Vagabond Rooftop Tent is a great option for couples and families of 3. It makes truck camping a breeze, can be installed on a roof rack, includes a telescoping ladder, and is pretty lightweight compared to some other models!
Pros
3" high-density foam mattress
Dual sunroof
Skylight windows in rainfly
7.5' telescopic ladder
Cons
Noisier when there's heavy wind
Taller footprint on top of your car
Expensive
2. Smittybilt Overlander
Weight: 48 lbs
Height When Open: 51″
Floor area: 95″ x 56″
Sleeping capacity: 2 – 3 People
The Smittybilt Overlander truck tent is quite possibly the lightest truck tent out there. With a sunroof mesh window, telescopic ladder, interior LED strips, and so much more – this tent is perfect for a camping trip!
Pros
600D heavy-duty waterproof top and rain fly
Easy to set up and take down
All-season use
The cheapest rooftop tent on our list!
Cons
Some people had complaints about the ladder breaking after a few uses
People have had problems with Smittybilt's customer service
Some have said that the stitching wasn't good (tears easily)
3. Thule Tepui Explorer Kukenam 3
Price: $1,999.95
Weight: 130 lbs
Height When Open: 52″
Floor area: 56″ x 96″
Sleeping capacity: 3 People
If you're looking for a convenient tent for your pickup truck, the Thule Tepui Explorer Kukenam 3 is a perfect option! This comes with a comfortable high density 2 1/2″ foam mattress with a cotton cover and sets up in no time!
Pros
Includes a stock 8ft-6in telescoping ladder
Universal fit
Durable canopy
Cons
No entrance awning
No added accessories
Frequently Asked Questions
Here are some common questions we get about our truck tent:
Are truck bed tents worth it?

If you're looking to save money and not get a rooftop tent, then yes!

But if you have the budget and are more interested in getting a roof top tent, we recommend that simply because they're much more comfortable. However, truck tents can be used on their own or as an add-on to your roof top tent.
Are truck bed tents easy to set up? How long does it usually take?

It's pretty easy to set up, but it does take some practice. The hardest part is putting on the rain fly that goes over top of your tent, since you have to tie bungee cords around your truck bed.
How do truck bed tents work?

The tent attaches to the side of your truck bed with straps and then poles pop up to hold the tent open. It's very easy to use, even if you've never set up a tent before!
How can I make my truck bed tent more comfortable?

There are a few things you can do to make your truck bed tent more comfortable. One is to put an air mattress or sleeping pad inside the tent. Another is to use a foam pad under your sleeping bag for extra insulation and comfort. You can also buy cots that fit in the truck bed, which makes them even more like a regular tent!
Can a truck bed tent be used on the ground?

Yes! It's not advisable to do this often because it makes the tent harder to clean, but if you're in a pinch then it works great.
Final Thoughts
A truck tent is one of the best ways to start overlanding and adventuring without spending a fortune on overlanding gear. We hope this guide helped you pick the perfect truck bed tent for you!
If you're not quite set on adding a rooftop tent, there are always other awesome options like a truck bed camper or a truck bed cap. Both can make great shelters from the elements as well. If you rock a smaller truck, check out our guide to the best short-bed campers for the Toyota Tacoma, these options are great for all 5 foot beds.
Want to learn more about truck bed camping? Check out some of our other guides: