Rooftop tents are becoming increasingly popular. It's easy to see why—they make any overlanding rig look badass and get you off the ground during your off-road adventures.
But are rooftop tents worth it? Afterall, they are much more expensive than even the fanciest of ground tents. What do you get for that extra money?
I've been using rooftop tents for over a year now, including trips into Mexico and all across the US. Here are the pros and cons I've found after all this time.
Table of Contents (Click to Expand)
Pros of Having a Rooftop Tent
Throughout my travels these are all the things I love about having my rooftop tent.
1. They're more comfortable than a ground tent
Rooftop tents come with a comfortable mattress inside. This means that you don't have to worry about inflating a sleeping pad in the dark, and you don't have to stress about your sleeping pad shifting around from under you.
This thick pad also means you'll generally stay warmer on a cold night as well. Even though you're up in the air the mattress is thick enough to insulate the bottom of the tent.
2. They come with a built-in mattress
As stated before, having a built-in mattress really makes the experience of sleeping in a tent much more comfortable. Plus, there is no additional set up required like there is with blow up mattresses and sleeping pads.
With most rooftop tents you can choose the thickness of your mattress to customize your sleeping experience as well.
Related Reading: These Are The Best Camping Mattresses
3. They're typically higher-quality than ground tents
Last year there was a group of us camping in Joshua Tree National park. There was a really intense windstorm that swept through the park and at about 2am the very nice quality backpacking tent some of our friends were using got completely destroyed by the wind.
The fiberglass poles snapped in half and the rain fly got ripped apart. The rooftop tent suffered no damages and the backpacking tent had irreparable damages to it.
With most ground tents they're either very light weight for backpacking or they are huge and take up a lot of space. Either way, the quality of the canvas material and the thickness of the poles in rooftop tents are undeniably higher quality.
Related Reading: The Best Truck Tents for Camping Off-Grid
4. You sleep off the ground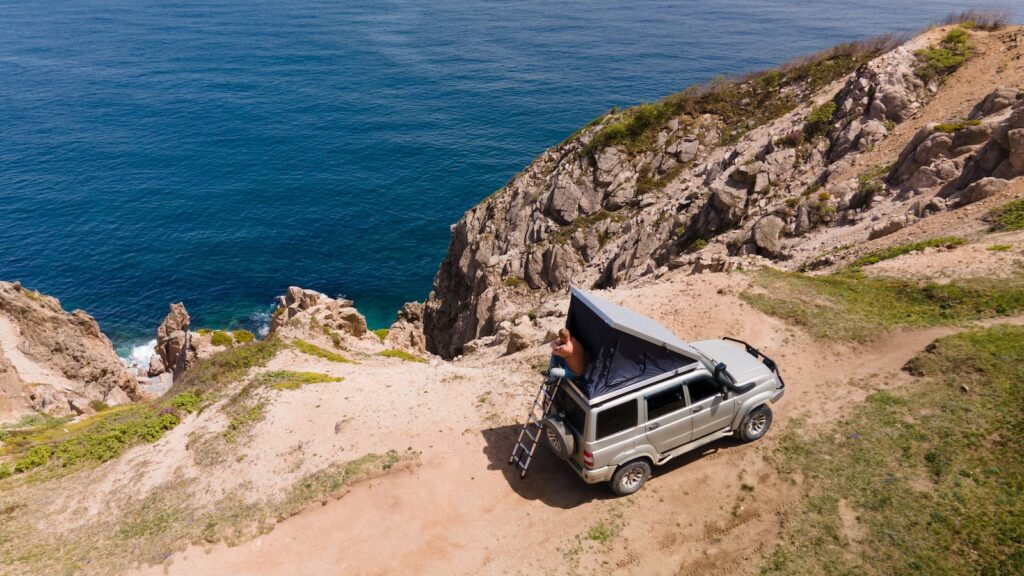 Sleeping up off the ground has so many advantages. For one, finding level ground really isn't that big of a deal when we're rooftop tent camping. Leveling out the truck is quick and easy to do with leveling blocks, meaning the options on where to camp are dramatically increased.
In the event of a rainstorm you also don't have to worry about waking up in a puddle of water that pooled in the dirt like you would in a traditional tent. Unless you have a tear in your tent you are guaranteed to stay dry while you're up in your roof top tent.
Depending on where you are in the world sleeping off the ground can be a big relief if you live somewhere with creepy crawlies or poisonous snakes. You don't have to live in the Australian outback or African bush to appreciate being off the ground.
Related Reading: What is a Rooftop Tent & How Does It Work?
5. They look cool
There is nothing wrong with making a purchase based on vanity (although there are plenty of other practical reasons to opt for a rooftop tent.) The rooftop tent on the back of the Tacoma is an easy conversation starter for many strangers we meet on the road.
6. They are easy to set up
The extra cost of a rooftop tent can easily be worth it for those who camp a lot. Ground tents can be a reasonably intensive process to set up, and even trickier to put away properly. This can be obnoxious if you're already exhausted from activities during your camping trip.
A rooftop tent requires much less time and care to set up and take down because of the pop up system. This will be a very welcomed feature for anyone who does any extensive camping.
Rooftop Tent Cons
There are a few disadvantages to roof top tents. Here is the low down on everything I don't love about them.
1. Rooftop tents are expensive
Rooftop tents require a much more sizable investment than regular tents. Not only do you have to purchase the tent itself, but you also have to have a roof rack. A roof rack can easily run you a few hundred dollars or more on top of your already pricey tent.
Related Reading: Hard Shell vs Soft Shell Rooftop Tents: Which is Best?
2. You need a vehicle and a roof rack to install them
Not every vehicle is able to support the weight of a rooftop tent and not all crossbars and roof racks are going to work either. Rooftop tents weigh about 100-200 pounds, but they also need to support the weight of potentially multiple people. This can easily be a deal breaker for some.
Figuring out if your setup can even support a roof top tent will take some research. Plus, the added weight may not be compatible with your car's suspension— particularly if you drive a small car!
We have guides to the best rooftop tents for both the Toyota Tacoma and The Jeep Gladiator—so be sure to check those out!
3. You can't carry it with you
Not all adventures are ones you can drive to. If you're keen on doing lots of international travel or flying across the country—you can't just bring the rooftop tent. Roof top tents require some installation and a capable vehicle.
4. They take up roof space
If you plan on adding solar panels or a cargo box to the roof of your rig, installing a rooftop tent will most likely make this a bit trickier.
5. They hurt gas mileage
Fuel is not cheap. Vehicles are designed to be as aerodynamic as possible and rooftop tents can disrupt the flow of air as you're cruising down the freeway. Rooftop tents can drop your fuel economy anywhere between 11-19 percent!
Are Rooftop Tents Worth It?
If you're someone who does a lot of overlanding or weekend road trips, a rooftop tent can truly revolutionize your camping experience. For the added comfort and ease of set up, I would say that a rooftop tent is completely worth it.
Of course this will depend on what vehicle you currently own and whether or not it can handle the weight of a rooftop tent.
Frequently Asked Questions
Here are some commonly asked questions about roof top tents:
Do rooftop tents get hot?
Rooftop tents are typically much thicker than a traditional ground tent, so they're better insulated overall. They do tend to trap in body heat, but they're also equipped with many windows.
Are roof top tents rain proof?
Yes, both the soft shell rooftop tents and hard shell rooftop tents are rain proof. They are built to withstand the elements and keep you dry on stormy nights.
How warm are roof top tents?
Roof top tents do tend to be warmer than traditional ground tents because of their thicker canvas material and thicker mattresses. This makes them much more ideal for cold conditions than a traditional tent.
Are roof top tents easy to steal?
Yes and No. While rooftop tents do come with some specialty nuts and bolts, they can be stolen relatively easily. Luckily they can weigh upwards of 200 pounds, so the weight alone can deter some thieves. If you've spent the cash to buy a rooftop tent, it is worth it to spend a couple extra bucks on some lockable tie down straps.
Final Thoughts
Owning a rooftop tent is a big commitment. They are expensive and may require modding your vehicle, such as by adding a roof rack, in order to install them.
However, at least for me, my rooftop tent is absolutely worth it. I've gone all over the US and Mexico in my rooftop tent and I've loved using it. It's held up through crazy winds and wild storms and kept me warm, dry, and comfortable. I've been able to explore some amazing places thanks to hard shell rooftop tents.
Whether you're someone who prefers comfort and ease of use or someone who wants something to bring on an overlanding adventure, a roof tent may be worth it. But it's ultimately up to you to decide.
Check out these other related articles to learn more about roof tents and overlanding gear: