In the past decade, rooftop tents have grown in popularity in the outdoor community. Originally used for overlanding in harsh environments in Australia and Africa, roof tents have become widely adopted in traditional camping and it's easy to see why.
Roof tents easily attach to your car's roof rack—allowing for extra space inside—and are more durable than your standard ground tent.
We saved you the research and compiled some of the best brands of roof tents on the market in this list.
Table of Contents (Click to Expand)
Top 3 Best Rooftop Tent Brands
The top three brands, when it comes to quality, are:
Location: Kent, Washington
Popular models: Skycamp 3.0, X-Cover 2.0, Skycamp Mini 3.0
What we like: Sleeps more people than other hard shell tents.
What we don't: Accessories sold separately and the tents are much more expensive.
iKamper has been on the market for a decade now and it has become one of the most functional and highly ranked rooftop tent brands in the game. Their tent material is high quality and durable and the price reflects it—an iKamper tent can range from $2,900-$4,200.
These tents don't come with any accessories though, so if you want a boot bag or LED lights for your setup, you'll have to buy them separately.
While most hard shell tents can only comfortably sleep one or two people, iKamper offers a solution to this with their innovative fold-out design that allows space for four people, so they're great for families. The quality, design, and versatility of these tents earns iKamper the top spot on our list.
Related Reading: iKamper Skycamp Rooftop Tent Review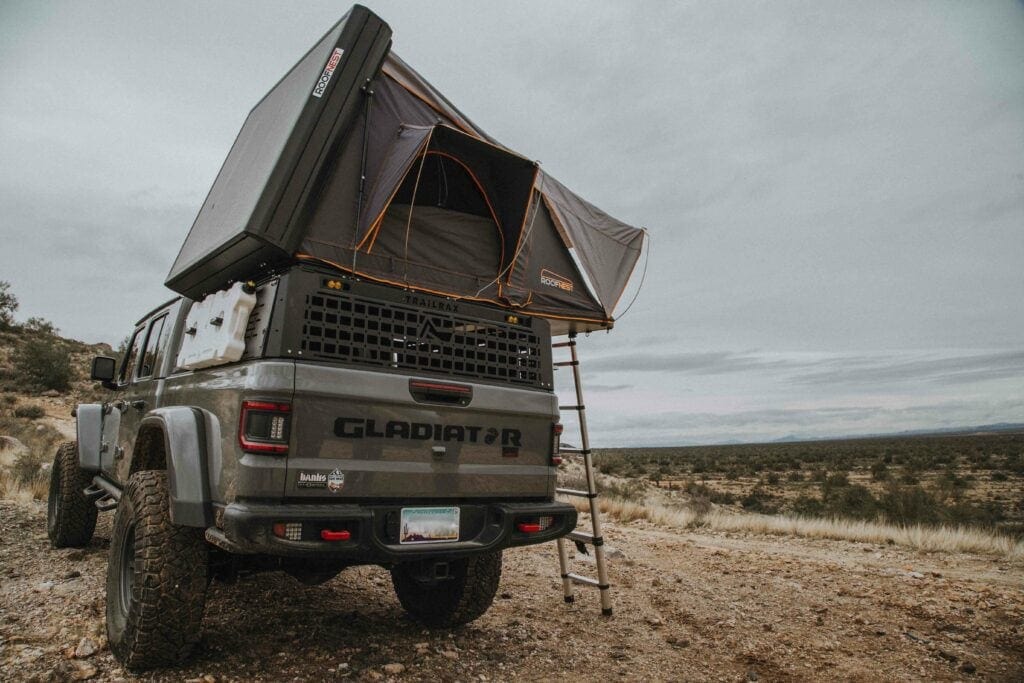 Location: Boulder, Colorado
Popular models: Sparrow EYE, Condor
What we like: Extensive lineup and more affordable than iKamper.
What we don't: Sold exclusively online so you can't try before you buy.
Since 2016, Roofnest has been providing outdoor enthusiasts with affordable, high-quality, roof tents. Their quality is top-notch, but their prices fall below those of comparable brands like iKamper.
Part of the reason they are able to keep costs lower is that they don't sell through third-party distributors. This means they only sell online so you're not able to "try before you buy," but they provide a thorough virtual walk-through video of each model.
Roofnest boasts 11 unique models of hard shell rooftop tents (and one soft shell), each with a 2.25″ mattress and an aluminum ladder.
The Condor series of tents are similar to iKamper's Skycamp model—they fold out to provide sleeping space for more people, but they fold down even smaller than the Skycamp.
Roofnest's Falcon series features a classic clamshell design that has the space and weight capacity for 2 people.
The Sparrow series is the most affordable range of tents from Roofnest, starting at $2800, and they're great for adventurers who want room on top of the tent shell for other gear.
With so many budget-friendly options for rooftop tents made of high-quality material, Roofnest is a brand you should consider if you're ready to enhance your camping setup with a rooftop tent.
Related Reading: iKamper vs Roofnest—Which Rooftop Tent is Best?
Location: Austin, Texas
What we like: Durable material and lots of accessories.
What we don't: Limited variety of models.
ROAM Adventure Co. is a dedicated outdoor gear manufacturer from Austin, Texas that makes rugged gear and accessories such as awnings, cases, and of course, rooftop tents. The brand was founded in 2017, so they're still relatively new to the market.
They currently offer three models of soft shell tents and one hard shell tent so it's definitely a more limited selection than you may find with some of these other brands. What ROAM lacks in variety, however, they make up for with useful accessories for your roof tent. From ladder soft steps to detachable annexes, they've got you covered.
Each of their soft shell tents come with a unique hanging gear hammock, and many come with two boot bags so that you and your gear are off the ground.
Their hard shell tent, The Rambler, boasts a set-up time of less than 60 seconds and 5″ of interior space when closed, so you can leave your sleeping bags ready to go.
The Vagabond XL rooftop tent sleeps 2-3 people and has the option to include an annex room for just $50 more.
The annex isn't the only customizable option ROAM offers—all of their tents come in three different color options, so if style is important to you, these tents are a great option. The list of assets goes on for a while, so keep ROAM Adventure Co. on your radar.
Other Rooftop Tent Manufacturers
There are a LOT of other manufacturers out there. While we didn't add these to our "best of" section, they are all still amazing brands that create high-quality tents. They just aren't the pioneers of tents, in our opinion.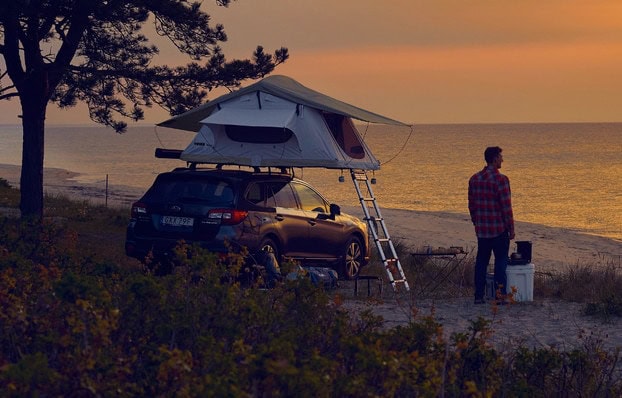 Location: Soquel, California
What we like: Several options at different price points, customizable, and widely available.
What we don't: Limited hard shell options.
Tepui was one of the first rooftop tent brands in the U.S in 2010. Vehicle gear and accessory brand, Thule, acquired Tepui rooftop tents in 2018 but the Tepui quality has remained the same.
Thule Tepui tents are widespread since Thule sells through third party vendors such as REI. They're also reasonably priced for the quality they offer, making them a popular option among outdoor lovers.
Thule offers several models of soft shell tents but there aren't currently any hard shell options from the Tepui line on the site. If you are in the market for a soft shell rooftop tent though, there are tons of great accessories available from Thule.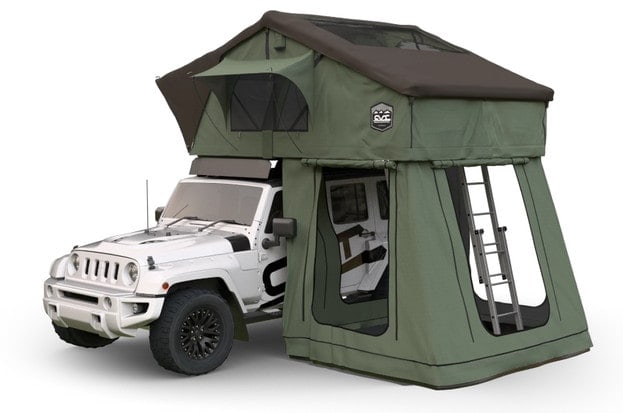 Location: Bend, Oregon
Popular models: The Pioneer Series
What we like: Extensive lineup.
What we don't: Confusing website.
Cascadia Vehicle Tents (CVT) was founded in Bend, Oregon in 2020 and although they're a young brand, they have a lot to offer the rooftop tent market. From super light soft shell tents to fold out hard shells, they have options for many different needs.
Their baseline Pioneer Series features soft shell models ranging from 48″ to the huge 87″ Denali and 3 different models of hard shell rooftop tents.
CVT has showrooms in Bend, Las Vegas, Kaysville, and Chattanooga where potential buyers can get the full effect of the tent before committing to buying. This is a great route to go if you're local to any of those areas since the online ordering and shipping process can be confusing on the website.
Despite the shortcomings of their website, Cascadia Vehicle Tents are a premium brand and worth the investment, especially if you get the chance to visit one of their 4 showrooms.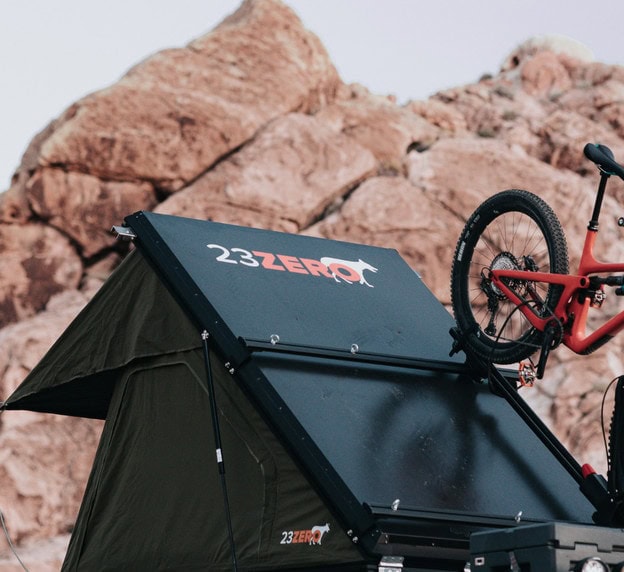 Location: West Valley City, Utah and Clayton South, Victoria, Australia
What we like: Large, durable softshell tents at reasonable prices.
What we don't: Tall packed down size.
Australian-born outdoor company 23Zero carries a ton of rugged outdoor gear, including several innovative rooftop tents. The brand features Light Suppression Technology (LST) in all models of their rooftop tent which boasts the ability to keep the tent 15% cooler and keep sunlight out in the morning.
They also have a different memory foam mattress than most rooftop tents—23Zero's "Rebound Mattress" has a higher latex content that bounces back faster than other tent mattresses and guarantees you a good night's sleep.
Speaking of beds, the Walkabout series from 23Zero comes in 4 different size tents with beds ranging in size from a double bed to a "huge bed" that claims to sleep more than 5 people.
The brand also makes 2 models of hard shell clamshell tents with the optional roof racks for the tent roof so you can carry more gear on your car's roof.
One thing to consider about their soft shell tents is the packed tent size—the Walkabout series clocks in at about 15 inches in height. If vehicle clearance, wind resistance, and gas mileage are important to you, this is something to keep in mind.
Location: Porto, Portugal
What we like: Extremely high quality with unique creature comforts.
What we don't: Some of the most expensive rooftop tents on the market.
The most luxurious brand on this list has to be James Baroud. It's a Portugal-based company, but is distributed in the U.S so you can get your hands on their premium camping gear in the states too.
James Baroud tents are one of the easiest rooftop tents to set up thanks to the hydraulic cylinders that assist in the pop-up models, and the comfort features offered by the brand are a far cry from any traditional tent.
These tents include a solar-powered vent fan, LED lantern, 3-inch high density foam mattress, and a mesh storage panel on the roof. The mesh panels on the 360 degree panoramic windows were tested and proved to be so sturdy, they could be used as a hammock.
James Baroud also offers a generous 5-year warranty, but all of this premium quality will cost you a premium price—the only downside to these superior tents.
Location: Montovan, Italy
Popular models: Maggiolina, Columbus Variant
What we like: Simple, durable, and has been around for decades.
What we don't: Newer brands have surpassed them in quality and function.
Autohome is an Italian company credited with making the first rooftop tent in 1958. They have withstood the test of time with their well-designed, durable rooftop tents and are still a popular brand today.
While their Columbus and Airtop lines of tents feature modern gas struts to assist in setting up, the original Maggiolina uses a good old fashioned hand crank.
With over 32 different models of hardtop tents, variety is definitely a strong suit of the brand however, value is not. Newer brands like iKamper and Roofnest make comparable tents and some even at a lower price.
Autohome tents are highly customizable in width, length, and color so they are still a brand to keep on your radar if simplicity and style are what you're after.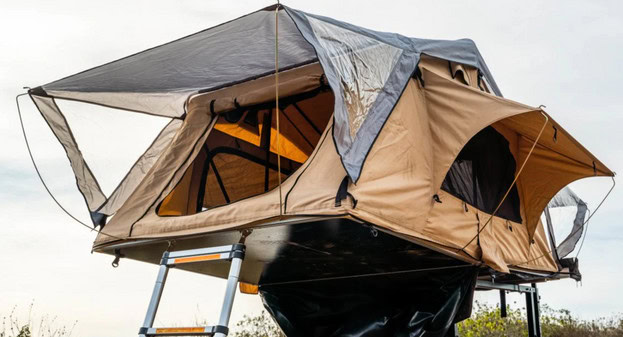 Location: Santa Ana, California
What we like: One stop shop and great for overlanding.
What we don't: Not as sleek as some other brands.
Tuff Stuff is not specifically a tent brand. Like ROAM Adventure Co., they carry tons of other overlanding gear in addition to roof tents. This is good news if you want to get your camping setup all in one place.
Their rooftop tents are perfect for overlanders—they're durable, functional, and come at a lower price point than many brands on this list. If you prioritize value over style, Tuff Stuff should be on your list.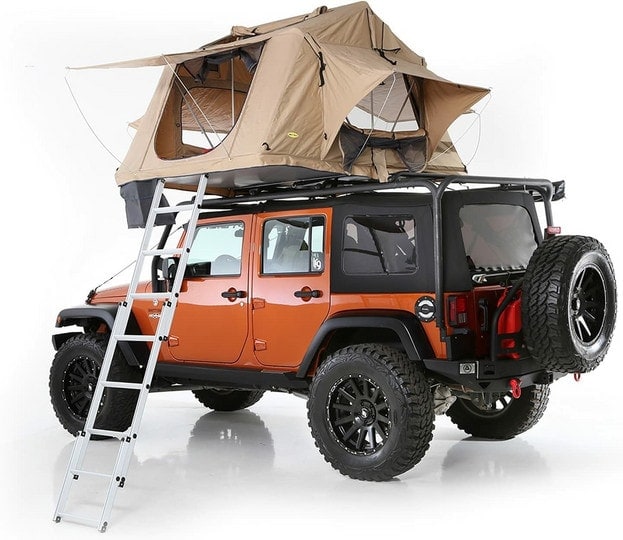 Location: Compton, California
Popular models: Overlander
What we like: Great value and budget friendly
What we don't: Not as aesthetic or high quality.
The Smittybilt Overlander tent might not be as flashy as some of the premium brands here, but they are a great budget-friendly brand. The softshell tent comes with a telescoping ladder, LED light strips, and a 2-year warranty so you get a lot of value for the cost.
Smittybilt should be a contender if you want to give rooftop camping a try without the major investment.
Where to Buy a Rooftop Tent
Many rooftop tents mentioned on this list can be bought directly through the manufacturer online, but some of them are also available at local overland stores.
Thule is one of the few rooftop tent brands sold at REI.
Cascadia Vehicle Tents are available to try before you buy at one of their 4 showrooms, as well as online from their website.
Premium James Baroud tents are available in the U.S through third party distributors in-store and online.
General overland gear stores online such as Overland Junction and Off Road Tents, which carry tents from ROAM and Tuff Stuff, are also a convenient option.
Even Amazon carries some models such as the Smittybilt Overlander.
Which Rooftop Tent is Best?
Which rooftop tent is the best depends on your personal needs and preferences. While we're big fans of our iKamper Skycamp Mini 3.0 because it's ease of use and low-profile look, you may prefer something bigger like the Roofnest Condor XL or something more affordable like the Smittybilt Overlander.
Check out our full guide to the best roof top tents here for more info.
What Rooftop Tent is Made in the USA?
Quite a few, actually! Roofnest, Go Fast Campers, and ROAM Adventure Co. are all USA-made manufacturers of rooftop tents.
Are Rooftop Tents Worth It?
Depending on your wants, needs, and budget, a rooftop tent could be a great upgrade to your wilderness adventures. There are a ton of great brands featured on this list, but the question still remains: are rooftop tents worth it?
For serious overlanders and camping enthusiasts, rooftop tents are a worthwhile investment that will make your trips easier and more fun.
Other Camping & Overlanding Guides
There are a lot of tent manufacturers out there each with their own unique offerings of bells and whistles, we hope this list of the best rooftop tents helps narrow down the search for yours!
Want to know more about roof tents? Check out these other guides: