If you're an outdoorsy person or love camping trips, chances are you've seen someone camping in a tent on the roof of their car.
These are called rooftop tents, and they're pretty cool!
Rooftop tents can be a great investment for those who love to camp, travel, and adventure outdoors. They're convenient, easy to set up, and comfortable.
Could a rooftop tent be a good option for you?
This guide will help you learn everything you need to know about rooftop tents, including what they are, how to install them, which you should buy, and more. Let's dive in!
Table of Contents (Click to Expand)
What Is A Rooftop Tent?
A rooftop tent is an accessory that is fitted to the roof of a vehicle that creates a safe and comfortable shelter for sleeping while camping.
It also keeps the internal storage of the vehicle free and makes car camping easier!
Photo by Alfred Boivin on Unsplash
Why Buy A Rooftop Tent?
Like any investment, you should weigh your options to decide if a rooftop tent is the right choice for you.
While rooftop tents can be cool and convenient, they have both pros and cons.
Pros
Quick setup. Most rooftop tents can be set up and ready to use in less than 6 minutes.
Comfort. Rooftop tents typically have built in mattresses so you can ditch the unreliable air mattress and uncomfortable sleeping pad.
Safety. Since you'll be off the ground, you won't have to worry about snakes, wolves, insects, and other creatures having easy access to you while you sleep.
Weather resistant. Rooftop tents are built with more durable materials than traditional tents, so you can rest assured that rain or snow won't ruin your camping trip.
Mobility. You can take a rooftop tent anywhere you can park your vehicle, making it a better option than a trailer or RV, and rough terrain is not an issue.
Save space in the car. Without having to load up a tent or bedding, you'll have more room to pack gear in your vehicle.
The view. Being above the ground offers you a vantage point for sunsets, sunrise, and stargazing without ever having to leave your tent.
Cons
Cost. The initial cost of a rooftop tent is much more than that of a traditional ground tent, but it may pay itself off in the long run— because of its durability, you likely won't ever have to replace it.
Wind. If it's a particularly windy night, your tent may catch the wind and the rocking could be bothersome.
No standing room. In a traditional tent, you usually have some room to stand or move around but that isn't the case with most roof top tents.
Limited space. Rooftop tents are pretty much limited to the amount of space on a vehicle's roof, so they might not be the best option for large groups or families.
Stationary. If you're the kind of person who likes to set up camp and then take your vehicle to explore, rooftop tents make that impossible. You'll have to break down the tent anytime you want to go somewhere.
Less clearance. With a rooftop tent installed, you'll get slightly less height clearance which could be an issue if you like to keep your vehicle in the garage. Chances are once you get the tent installed you won't want to have to take it off all the time.
Gas mileage. Although slight, you might notice a decrease in your mileage especially in larger cars or trucks.
How Do Rooftop Tents Work?
So now you know what it is, but how does a rooftop tent actually work?
They require some commitment to install. First, you'll need to have an aftermarket roof rack to mount a rooftop tent—factory crossbars or side rails won't be strong enough to handle the load.
Depending on what kind of roof tent you get, set up will be either fold-out or pop-up. Both are faster and easier than setting up a ground tent.
Most softshell rooftop tents fold out in just a few minutes and the process is simple: remove the cover, pull the ladder down to the ground, unfold the tent, set up the rainfly rods and it's ready.
If you decide to go with a hard-shell tent, such as the iKamper Skycamp, setup is even easier and faster. All you have to do is undo the latches, gently push, and the tent will pop-up into place. Then attach the ladder and you're done. Setting up can take as little as 2 minutes.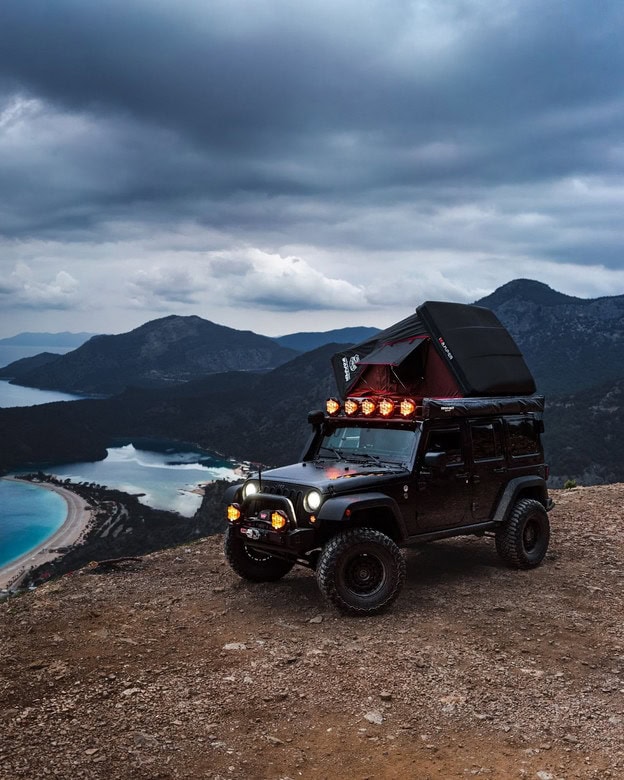 Photo by Thomas Tucker on Unsplash
Can Rooftop Tents Go On Any Vehicle?
Before you jump into buying a roof top tent, you'll want to make sure your car can handle one. This is going to depend on the static and dynamic weight capacity of your vehicle which you can find in your owner's manual. Not every vehicle has the load capacity or correct roof racks to safely support the extra weight of the tent plus the campers inside.
No matter what kind of vehicle you have, it's crucial to make sure your tent is installed and used properly to ensure your safety and to prevent damage to your car.  We have guides to the best rooftop tents for both the Toyota Tacoma and the Jeep Gladiator, so be sure to check those out if you own either vehicle!
Read More: Are Rooftop Tents Bad For Your Car?
Is A Rooftop Tent A Good Idea?
Roof top tents are a great investment for outdoor enthusiasts. They are more durable than traditional ground tents and the benefits may outweigh the downsides for many. They couldn't be easier to set up, they're comfortable, and just more fun than regular tents.
As long as it's installed properly on a vehicle that can handle the extra weight, a rooftop tent can be a great addition to your set up. There are a lot of things to consider first such as your car's maximum weight capacity, your space needs, and which type of roof top tent is best suited for you.
Read More: Are Rooftop Tents Worth It?
What Kind Of Rooftop Tent Should You Buy?
Like we mentioned earlier, there are two kinds of roof tents; soft-shell and hard-shell. Both are good for meeting different needs.
Softshell tents usually have more sleeping space and are less expensive. They also have an optional annex accessory which allows for even more room around the ladder. They're the most common type of rooftop tent. Soft-shell tents are great for families and weekend use and Thule designs several different styles to choose from.
Hard shell rooftop tents are the more expensive option, but they're made of super sturdy material making them great for all kinds of weather, and they open in a matter of seconds so they're always ready to go making them the best option for overlanding trips.
Most roof top tent brands such as iKamper, Roofnest, and Roam offer hard-shell and soft-shell options. Read hard shell vs soft shell rooftop tents for more info.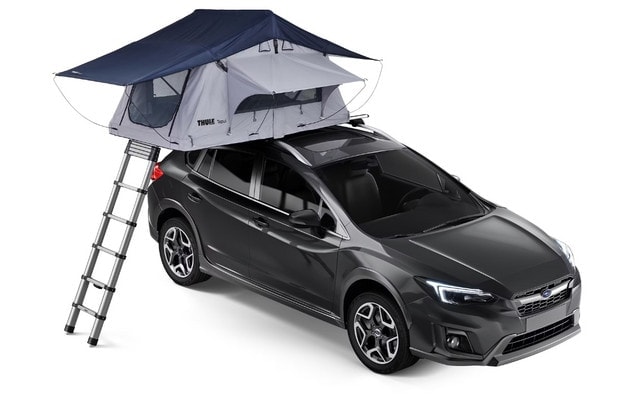 What's The Best Rooftop Tent?
By now you've probably already decided whether or not a rooftop tent is a good option for you, so the step is to figure out the best tent to buy. This question is subjective though, so we've ranked a few of the best rooftop tents that might meet your needs.
If you're looking for a roof top tent to take the whole family out camping, the CVT Denali is the best option because it boasts a lot more space on the inside than other tents. A soft-shell tent that can sleep 4 and includes an annex to give you even more space below the ladder, it will require a larger vehicle to handle the load.
If your outdoor adventures are usually just you and your partner, the Roofnest Sparrow Eye is a great option. It's a hard-shell tent large enough to comfortably sleep 2 that can be set up and taken down in just a few seconds.
This rooftop tent also has gear storage on the top, integrated LED lights, and is suitable even for smaller vehicles—as long as it's installed properly of course.
Finally, if you're in the market for a slightly smaller investment to take the plunge on a rooftop tent, the Smittybilt Overlander is a good option. A soft-shell tent that has room for 1-2 people, this tent doesn't sacrifice quality even at a lower price than most other options.
The Smittybilt Overlander is also incredibly versatile and can attach to most roof racks. It's the best option for anyone looking for a great, budget-friendly, tent to make their outdoor adventures more comfortable.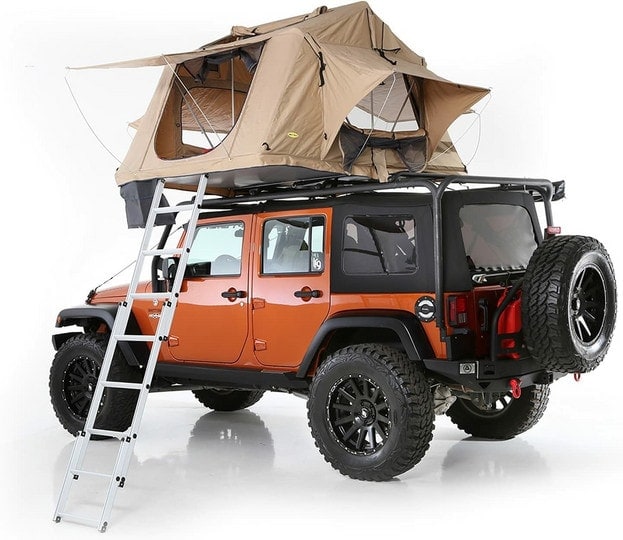 You should have all the information you need to decide if a rooftop tent is a worthwhile investment to add to your camping set up. They are fast and easy to set up, more comfortable than ground tents, and made of high quality material—perfect for the avid camper.
Check out our comparison of the best rooftop tent brands to learn more.
Read next: