Looking to buy a rooftop tent for your Toyota Tacoma?
I love my Tacoma overlanding build and I've tried several rooftop tents.
I've found that, honestly, there is no "best" rooftop tent for your Taco. What's best for me may be completely different from what's best for you. It all depends on your needs and how you plan to use it.
That said, here is a list of the best Tacoma rooftop tents and who each is best for:
Table of Contents (Click to Expand)
Roofnest Condor Roof Tent
With a premium hard shell, solid pricing, and excellent craftsmanship, the Roofnest Condor is top of the line.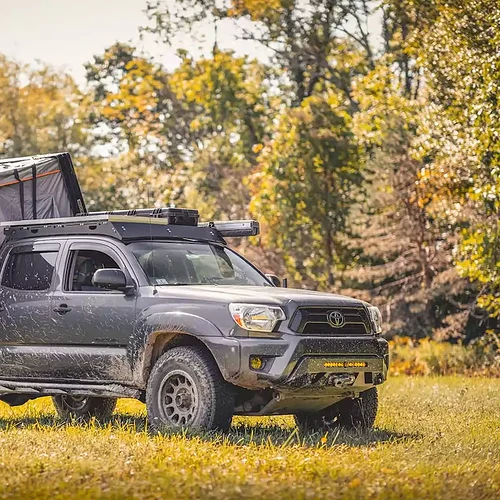 We earn a commission if you make a purchase, at no additional cost to you. We appreciate you!
Considerations for Buying a Tacoma Rooftop Tent
When comparing tents for your truck, consider the following:
1. How many people will be sleeping in the tent?
Some rooftop tents are bigger than others. My iKamper Skycamp Mini is perfect for just me or me and a friend, but it could never fit a family.
2. How much weight can you put on your roof rack?
The weight limit of your roof rack needs to be considered when making your purchase. Most Tacoma roof racks are perfectly capable of holding 600-1000 pounds or more, but the roof rack itself isn't the only thing you need to consider!
The Toyota Tacoma's cab is technically only rated for ~150 lbs, so while you can put a tent over the cab, it's best to do it over the bed if you're a by-the-books kind of person. Always check weight limit ratings! This will be different for a bed rack, too. A bed rack can handle more weight than a roof rack.
You may even want to upgrade your Tacoma's leaf springs if you plan on getting a heavy tent with a bunch of gear in your bed.
3. Do you care about ease of use? (Hard shell vs soft shell)
Hard shell rooftop tents are typically much easier and faster to set up than a soft shell tent. This is because the hard shell is used as the roof of the tent, rather than only being a soft cover that needs to be removed.
Most hard shell tents have pistons that are used to open the tent. Soft shells, on the other hand, are set up similar to a regular ground tent. So do you need something that can set up in less than a minute, or are you OK with the old-fashioned tent setup process?
4. What is your budget?
Finally, budget is a huge consideration when buying a rooftop tent. Prices range from around $1,200 all the way up to $4,000 or more for the most sophisticated models.
Related Reading: Are Rooftop Tents Worth It? In-Depth Look After 1 Year
7 Best Rooftop Tents for a Toyota Tacoma
So, which Tacoma camping tent is the best? Here's what I've found:
This ultra compact Roofnest Condor XL truly packs a giant punch. Between its large sleeping area, hard top exterior, and ease of setup—this would be an ideal choice for almost any need. This tent is small enough to fit on more compact vehicles, and boasts being able to seat up to three people.
This rooftop tent also is compatible with an entire line of accessories to help you get even more out of your purchase. This includes an awning and annex that have been designed to specifically allow for the installation of a solar panel.
This tent truly is a great choice for almost every need.
Pros: large sleeping area, hardshell, fits on small vehicles.
Cons: expensive, rainfly is tedious to set up, large for solo travelers.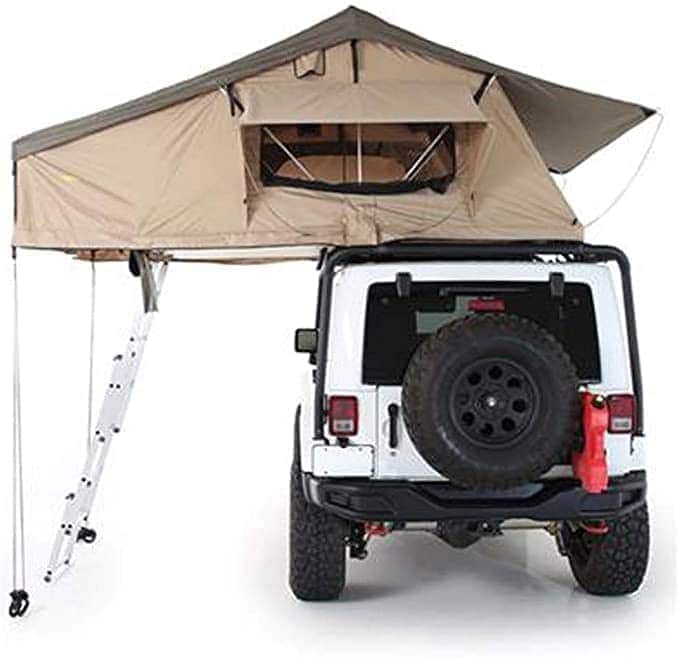 The Smittybilt Gen 2 Overlander Tent XL is large enough to fit up to four people comfortably. It is also pre-equipped with LED strips to create a welcoming and bright space at night.
This roof top tent also fits a king sized mattress, a telescopic aluminum ladder, and no-see-um mosquito screens on all of the windows and doors. Another great feature of this tent is that all of the bedding and accessories easily pack up inside of the tent during clean up. This frees up space inside the vehicle for additional storage.
This tent is a soft shell roof top tent, which is great for keeping it lightweight. The rainfly is coated in polyurethane to keep it waterproof regardless of the lack of a hard top cover.
Pros: Large, easy to set up, stores bedding and accessories.
Cons: Soft shells require more set-up and take-down time, safety warning for California residents.
3. Best for Couples or Solo Travelers: CVT St. Helens
The CVT St. Helens rooftop tent boasts a quick set-up of less than a minute. The hard shell roof simply unlatches and pops straight up to create a rectangular living space to accommodate up to two people.
This option is unique from other roof top tents in that it provides the same level of head room around the entire space. This makes it ideal for hanging out and playing a card game if the weather turns sour.
The fabric of this tent is completely waterproof and protected by a lightweight fiberglass shell. The 280G Rip-Stop Fabric is proven to be extremely durable and breathable to prevent condensation build-up and damage from the elements.
Pros: Easy to set up, hardshell fiberglass top, even headroom all around.
Cons: Fits only two people.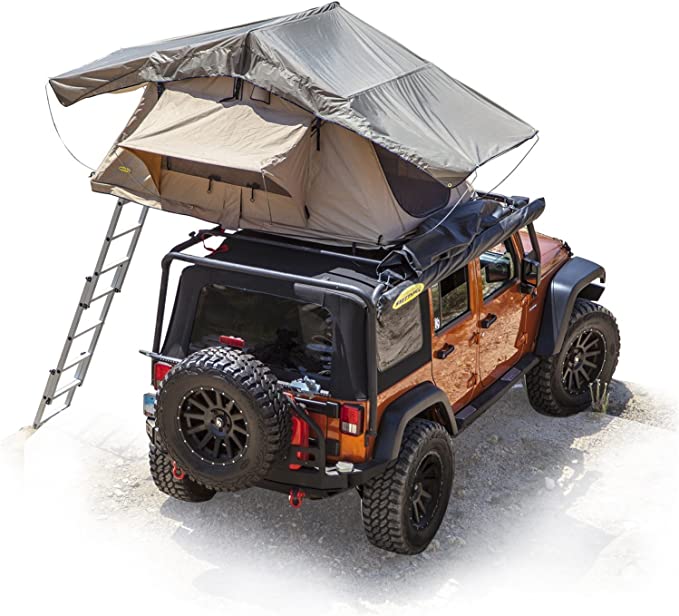 The Smittybilt Overlander tent hands down gives the best bang-for-your-buck option for those who want to sleep comfortably in a spacious tent. This tent can sleep up to four people comfortably while still packing up relatively small.
This tent also has plenty of options for add ons such as their annex room. The annex room can be added around the bottom of the entry way for added privacy and protection from bugs and the elements. The annex boasts being large enough for activities such as changing, cooking, and hanging out.
This tent also comes with built-in LED lights to create a comfortable and vibrant area to hang out before bed.
Pros: Very large, has built in LED lights, has great accessories available for purchase.
Cons: Some find it difficult to install, soft shell is loud during a windstorm, not very aerodynamic.
The Thule x Tepui Explorer Kukenam 3 was expertly crafted to ensure this tent lacks nothing. Despite being a soft-shell tent, this tent provides plenty of support through their high quality support system. It also comes pre-made with an anti-condensation mat under the mattress.
You'll also ever have to worry about losing your headlight or phone again with its plethora of internal bags and storage compartments. Thule makes the soft shell tent look glamorous with its two built in screened panels that provide a full view of the night sky.
Another great thing about this tent is that it comes in three stylish colors: blue, haze gray, and olive green.
Pros: Strong construction, plenty of storage, three color options.
Cons: Hard to install, setup is harder than other options, not as spacious as other three person tents.
The Cascadia Denali tent is the largest option in the Pioneer series of tents made by Cascadia. This tent comes in at 87" and boasts being a fantastic beginner tent because of its easy setup and lack of complicated features.
This rooftop tent has plenty of windows with roll up screens and no-see-um bug covers. It also comes with an aluminum telescopic ladder to make use easy in rough terrain. The mattress in this tent is three inches thick, which is smaller than some of the other options on this list, but still boasts providing a comfortable nights sleep.
Pros: telescopic ladder, plenty of windows, easy to use.
Cons: Lack of features, thinner mattress, reduces MPGs.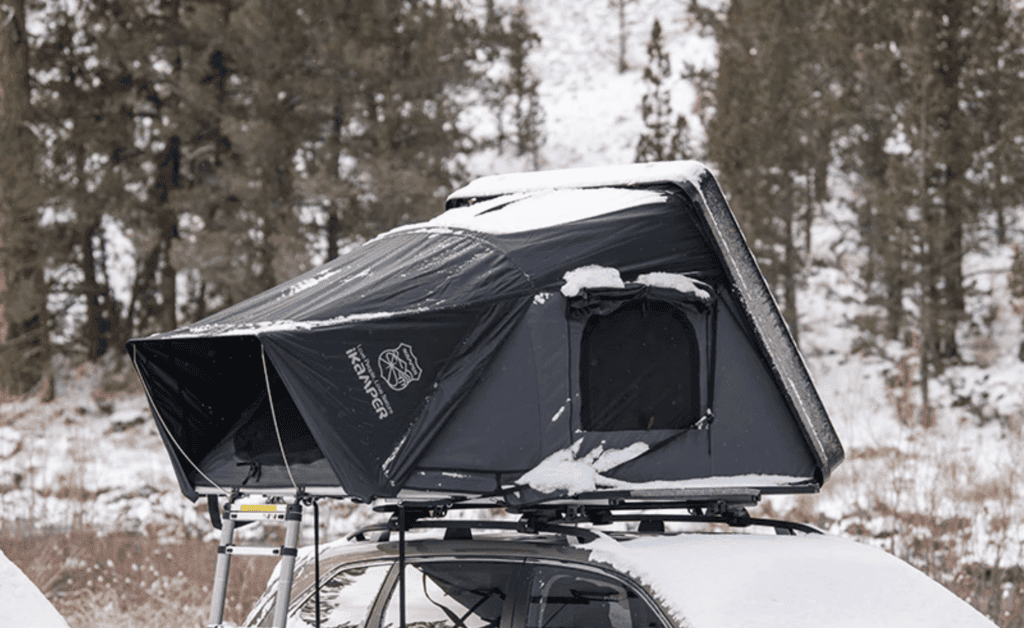 The iKamper Skycamp Mini packs up incredibly small yet boasts a fairly large floor plan with its flip out design. The fold out extension panel nearly doubles the floor space, and has a comfortable mattress that comes in different thicknesses to choose from.
The iKamper boasts easy installation and easy setup. The iKamper Skycamp Mini is durable and lightweight and is designed to preserve your gas mileage with its well crafted aerodynamic premium roof. All the windows have both a no-see-um bug net, a clear waterproof screen, and thick canvas privacy cover that all roll up quickly and easily. This tent does come in a bigger size if you're hoping to fit multiple people in one tent.
However, if you're just wanting a tent for solo trips or couples trips, the iKamper Skycamp Mini is an ideal choice. Read my full review of the iKamper here.
Pros: Easy to install, aerodynamic, hardshell.
Cons: Smaller than others, expensive, no built in LED lights.
Final Thoughts
With so many fantastic roof top tent options on the market, it's important you evaluate what is most important to you in a rooftop tent first and balance this with the weight limits of your vehicle and rack system.
The best rooftop tent is the one that ensures not just a good night's sleep, but also conserves your gas mileage, doesn't hinder your off-roading capabilities, and adds value to your camping experiences. Hopefully soon your Tacoma roof will be filled with a tent!
If you want to see some of the most dreamy Tacoma-related content, check out the Toyota Tacoma Tacozilla. It is currently just a concept vehicle, but is a gorgeous Tacoma camper that was created at the Toyota headquarters.
Also be sure to check out our guide to the best rooftop tents for the Jeep Gladiator.
Other Toyota Tacoma Guides: