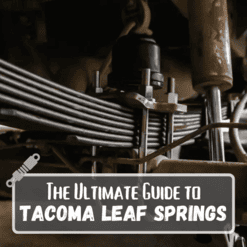 New leaf springs can give your truck a small lift and eliminate sagging and swaying while hauling heavier loads. But it's not as simple as buying a leaf pack and swapping them out.
In today's guide, we share everything you need to know about Tacoma leaf springs, including what they are, why you may (or may not) want to upgrade them, which leaf springs are the best options, and how to install them on each generation Toyota Tacoma.
Let's dive in!
Table of Contents (Click to Expand)
Our Top Pick
Deaver Leaf Springs
The Deaver leaf pack is known to be the all-around best leaf spring kit for the Toyota Tacoma. With outstanding craftsmanship and the highest-quality materials, you can't go wrong.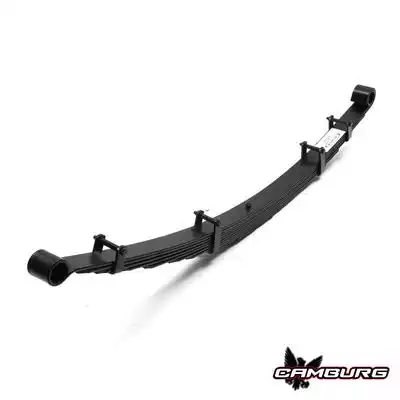 We earn a commission if you make a purchase, at no additional cost to you. We appreciate you!
What Are Leaf Springs?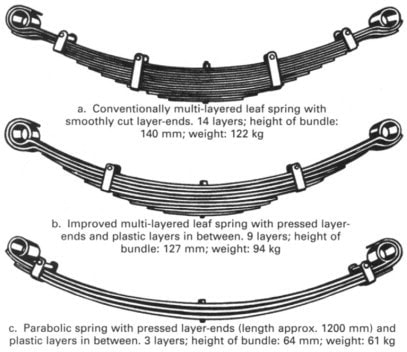 Photo Courtesy of Science Direct
Generally speaking, there are four different kinds of suspension—coil springs, torsion bars, air springs, and leaf springs. All four serve different purposes and have their place depending on your vehicle's intended use.
Your stock Toyota Tacoma should have a double-wishbone coil spring system in the front and leaf springs in the rear. (Although it is rumored that the 2024 Toyota Tacoma will be upgraded to have coil springs in the front and rear).
While coil springs work by expanding and contracting vertically based on load and terrain, leaf springs sit horizontally under or over the axle of your truck and bend and flex as their weight demand changes and terrain shifts.
However, leaf springs are a delicate balancing act. When your leaf springs are properly loaded your shackle will articulate as your leaf spring bends and flexes. Here's a great guide that breaks this all down in greater detail.
When a leaf spring is overloaded there will be no room left for your shackle to articulate and will remain fully flexed. This can lead to excessive wear on your truck's springs, uneven wear on your tires, and frequently bottoming out. You'll also feel every bump as you cruise down the road or navigate uneven terrain.
If you suspect that your truck's leaf springs are overworked, it may be time to upgrade them.
Benefits of Heavy-Duty Leaf Springs
There are some great benefits of upgrading to heavy-duty leaf springs.
First, you'll immediately be able to increase your truck's lift height and tow capacity. You'll no longer need to fret that your truck's rear will sag under excessive load and cause damage (unless you put so much weight that you damage the axles, which is another story!).
This is especially important if you have added heavier mods like rooftop tents, camper shells, bed racks, bumpers, hitches, etc..
Also, upgrading to heavy-duty leaf springs will mean less maintenance overall and will dramatically extend the life of your Tacomas suspension system.
Drawbacks of Heavier Leaf Springs
While the pros may have you ready to bite the bullet on upgrading your suspension—there are some downsides to consider.
Notably, you will immediately feel a shift in your truck's driveability and ride quality. Your handling will feel stiffer and you may notice your acceleration becomes slower and sharp turns will be tougher. Leaf springs will also cost more than your standard setup.
You can read more about how heavy duty leaf springs will affect your ride here.
How to Decide if You Should Upgrade Your Tacoma Leaf Springs
Unless you find yourself frequently overloading your current leaf springs, you may not want to upgrade to heavy-duty springs to preserve your Tacoma's handling and drivability.
There are other great options on the market that don't require completely swapping out your entire leaf spring. We have laid out several options below that could perform much better overall than a heavy duty leaf spring swap.
However, if you have added heavy mods, you tow heavy things, or you are planning to do any of these in the near future—a heavy-duty leaf spring can significantly increase the life of your suspension and tires.
Start by doing a physical check of your leaf springs. While under load they should always remain in a "U" shape or a smile. This is because your shackle should have room to bounce and articulate as your spring moves up and down. Don't be afraid to have a buddy bounce in your bed as you study your springs.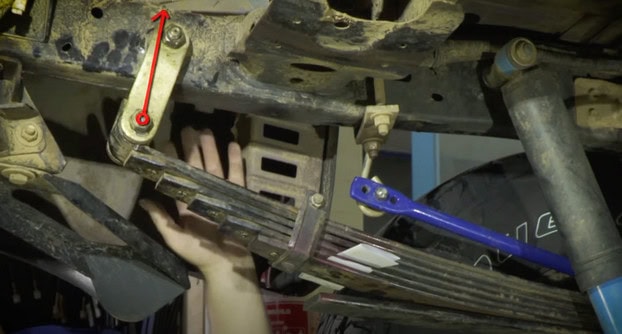 Correctly Loaded Leaf Springs—Photo Courtesy of Fulcrum Suspensions
If your leaf springs are overloaded, you will visually notice two things:
First, your shackle will no longer sit at a diagonal and will instead be almost perpendicular to your truck and the road.
Next, your leaf spring will look almost entirely flat and even worse like an upside down "U" or a frown. See the photo below for an example.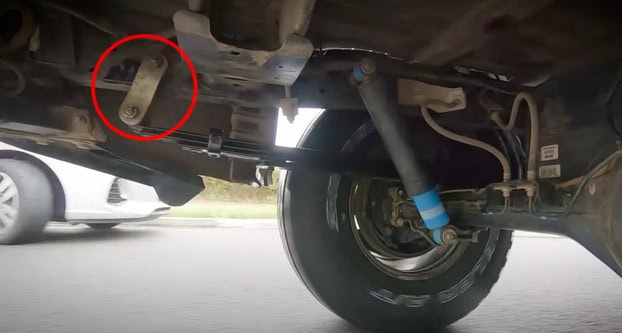 Overloaded Leaf Springs—Photo Courtesy of Fulcrum Suspensions
This can lead to expensive damage down the road, and upgraded springs should be at the top of your to-do list.
Here is a great short video that clearly shows all of this information in action:
Important Note Before You Start Shopping
Before you start digging into leaf spring options, it is imperative that you grab a notebook and a pencil to do some basic calculations. You need to have a pretty good idea of how much weight you are planning on loading onto the rear of your truck.
If you are upgrading because you want to make heavy aftermarket modifications to your Tacoma, we recommend you add up the weight of the products you are considering. If you frequently carry heavy loads, we recommend getting a good idea of approximately how much weight you generally carry.
Note: The payload capacity of a third-gen Toyota Tacoma is between 1,400 and 1,640 lbs depending on the trim level and options—and that's including fuel and passengers. With heavy mods, it can be very easy to hit this amount!
You'll want to ensure you're preserving your ride quality the best you can while also being sure your upgrades will accommodate your needs. It's best to take a few extra minutes beforehand calculating and even going to a weigh station to save you the heartache of having to rebuy and reinstall new leaf springs because you calculated wrong.  
Also, keep in mind that there are things you should know before lifting your Tacoma.
The 5 Best Aftermarket Tacoma Leaf Springs
Now that we have gained some clarity on whether or not a leaf spring upgrade is right for you—here are our top picks for aftermarket Tacoma leaf springs:
1. Top Choice: Deaver Leaf Springs
The Deaver Leaf Springs are hands down our top choice for Toyota Tacoma leaf springs. They perform the best overall and provide the smoothest ride. They are squeak-free and last much longer than some of their competitors.
The reviews hold up as well. The Deaver leaf springs are a favorite in the Toyota Tacoma community. They also offer several different styles and types. You can choose a lift height of anywhere between 1 inch and 5 inches, and in three levels that provide varying degrees of payload support. Their stage 3 option has a whopping 700-1,000 lbs of added capacity.
Here's a list of lifted Tacomas if you want to see what this lift can look like.
2. Best Budget Option: Icon Vehicle Dynamics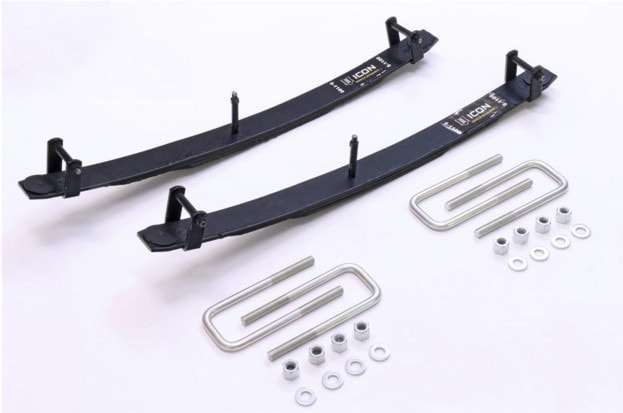 The Icon Vehicle Dynamics leaf spring upgrade is by far the most cost effective option on this list. This kit works by bolting onto your existing leaf springs to give them an extra lift and extra strength. This particular kit provides an additional 1.5 inch lift to your Toyota Tacoma.
Many reviews say that this leaf spring can be added in just a couple hours. The kit comes with all of the nuts and u bolts needed for installation. You will still need some basic tools and a good jack though. The process should be fairly straightforward, but it is recommended you bring your truck into the shop if you aren't comfortable installing them yourself.
3. Most Versatile: Old Man Emu Dakar Leaf Springs
These Dakar leaf springs from Old Man Emu are a great all-around option that can be customized depending on your intended use. These leafs are designed to easily be taken on and off, and also have a heavy emphasis on maintaining your ride quality.
These springs will give your Toyota Tacoma an additional 2 inches of lift. These springs are also diamond cut and built to last significantly longer than your stock Toyota Tacoma leaf springs. Installing these springs are rated to perform best under loads of 300-600 pounds.
4. Best For Uneven Loads: Hellwig 1901 EZ Kit
If you aren't ready to completely swap out your old leaf springs, but want to give them new life—the Hellwig 1901 EX Kit may be the best option for you. These helper leaf springs are made from solid steel and help reduce sagging and distribute your truck load evenly.
One great perk of these leaf springs is that they are designed to maintain ride quality while they're not under load. While these aren't designed to add lift to your vehicle, they are designed to bring them back to factory height by reducing sagging.
These springs work by using "variable rate leaves". This means that as the load increases, the leaves become stronger and stiffer. This also means that if your truck isn't under load, the helper springs won't be fully engaged. This will keep your ride smooth.
This option is ideal for those who regularly need to unevenly load weight in their truck bed, or bounce back and forth between carrying heavy loads and light loads.
5. Best For Off-Roading: All Pro Off Road Leaf Springs
These All Pro Off Road leaf springs are specifically designed for those who wish to bring their fully loaded Tacomas on rugged and unpredictable trails. These springs come in three different options depending on your needs:
All-Pro Standard Leaf Springs—Provide 3 inches of lift, have torque leaf to prevent axle wrap, and are teflon wrapped to prevent friction.
All-Pro Expedition Leaf Springs—Upgraded from the standard leaf springs to carry a consistent 500 pounds. This is the most popular option for overlanders because of their superior off-roading capabilities.
All-Pro Expedition 2.0 Leaf Springs- Designed to carry a consistent 1000 pounds of weight. While this is overkill for some overlanding rigs, it is ideal for heavier setups.
How to Install Leaf Springs On a Toyota Tacoma
This video has plenty of great information on preparing your Tacoma for leaf springs upgrades as well as installing them. This video is specifically installing Deaver leaf springs on a 3rd gen tacoma, but is almost identical to the process of installing on a 2nd gen:
If you are upgrading the suspension on a 1st generation Toyota Tacoma, this video provides great information on upgrading Shocks, coils, and leaf springs.
All of this work can be done at home with the right tools and knowledge, however, bringing your Tacoma into a shop will help ensure the work is done properly if you aren't confident or equipped to do it at home.
More Tacoma Guides & Tips
We hope this guide helps demystify the world of leaf springs and give you the tools necessary to make the right decisions for you and your rig.
For other great Toyota Tacoma information, check out: