Adding a front bumper to your Toyota Tacoma is one of the best ways to protect your vehicle, add functionality, and—let's be honest—make it look awesome.
But is a bumper right for you? And which front bumper should you buy?
This guide will help you answer these questions by comparing the best Tacoma front bumpers on the market.
Let's dive in!
Table of Contents (Click to Expand)
Best Light-Weight Protection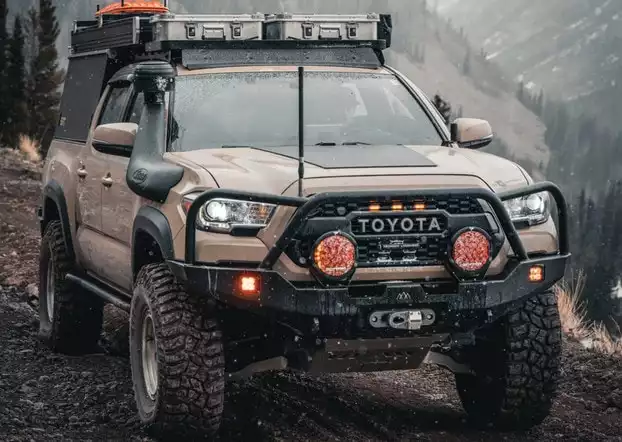 We earn a commission if you make a purchase, at no additional cost to you. We appreciate you!
Benefits of Installing an Aftermarket Bumper
There are so many fantastic benefits of adding an aftermarket bumper. If you are someone who plans to do extensive off-roading or even rock crawling and want to protect your truck—adding a sturdy bumper is a great way to add some additional protection.
The pros of an aftermarket bumper:
Allows you to install a winch
Adds recovery points
Additional protection to your truck
They look great
They can accommodate additional lighting
Alongside the additional practical protection an aftermarket bumper can provide, they also are a great way to elevate the look of your Toyota Tacoma.
Cons of Installing an Aftermarket Bumper
There are a few downsides to consider before you bite the bullet on installing a front bumper on your Tacoma.
The cons of an aftermarket bumper:
They add weight
Reduce your payload capacity
Drops your gas mileage
Some require cutting to install
Professional installation will cost extra
Of course there are smaller bumpers that will only add about 50 pounds to your build, while larger ones could add as much as 150 pounds or more. Luckily, unlike other modifications such as roof racks and rooftop tents, a bumper won't typically affect the aerodynamics of your truck.
Also cutting into the frame of your truck is required for the installation of most aftermarket bumpers—but not all. There are some low profile bumpers that just require bolting if you aren't comfortable making a permanent modification to your truck.
Do You Really Need a Front Bumper?
If you're really wondering if you need a front bumper upgrade, the answer is complicated and quite personal.
Some truck owners may choose to wait until their stock bumper is damaged to upgrade. While this is perfectly acceptable, this can also be risky for someone who likes to bring their truck on off-road or back road adventures as damages can mean costly repairs to your body, frame and even engine.
If you primarily use your Tacoma for hauling items or commuting, a front bumper is a fairly unnecessary upgrade—albeit an undeniably good looking one.
My Tacoma overlanding build has taken me through the rough roads of Baja, traversed the famous Slickrock trail in Moab, and needed to both recover rigs, and be winched out of situations on multiple occasions.
My bumper upgrade was mandatory to make my Tacoma capable for the kind of adventures I wanted to bring it on.
I Have a (1st, 2nd, 3rd) Gen Toyota Tacoma. Will These Front Bumpers Work?
Most of these bumpers are going to be compatible with 2nd and 3rd generation Tacomas. We will outline which generation they are made for in each of the descriptions.
If you are unsure what generation your Tacoma is, here are the year breakdowns:
3rd generation: 2015- present
2nd generation: 2005-2015
1st generation: 1997-2004
Tacoma Front Bumper Style Options
There are several different style options you can choose from when upgrading your Toyota Tacoma bumper. These are:
Plate Bumpers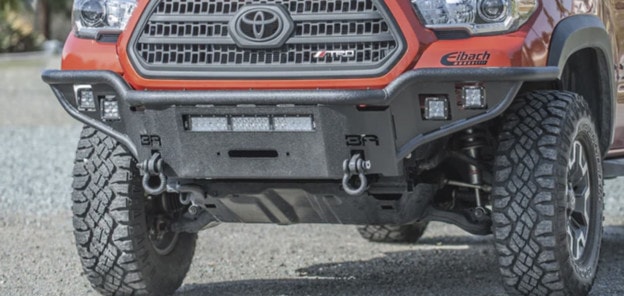 Photo Credit: Body Armor 4×4
Plate bumpers are the strongest options available on the market, but they're also typically the heaviest and the most costly.
Plate bumpers typically tend to increase the clearance of your vehicle, and can provide much needed peace of mind on rough trails. They also provide additional space to accommodate larger tires as well.
Hybrid Bumpers (Tube Bumper)
Photo Credit: ARB USA
Hybrid bumpers (also known as tube bumpers) use both plates and tubes to help cut down on materials, weight and cost of the overall bumper. These can be a great option for those wanting to save weight to preserve gas mileage while still providing a higher clearance capability for off roading and rock crawling.
Like plate bumpers, hybrid bumpers can also create additional space for larger tires.
Low Profile Bumpers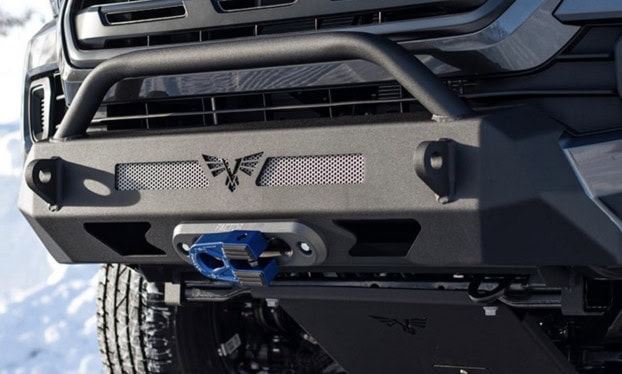 Photo Credit: Victory 4×4
Low profile options are specifically designed to be lightweight and are typically the easiest to install because they don't require the sometimes extensive and tedious cutting necessary for some bumper installation.
Low profile bumpers do not provide any additional clearance or approach angle to your vehicle as they are installed alongside your factory bumper. However, they do typically provide the compatibility needed to install a winch or lightbar, and are the most light-weight option.
The 11 Best Aftermarket Front Bumpers for Your Toyota Tacoma
Here are our top picks for Toyota Tacoma front bumpers:
1. Victory 4×4 Tacoma Front Winch Bumper
Generation: 3rd gen
Price: $849
Style: Low profile
Material: Aluminum
Weight: 63 lbs
Features: Winch mount, 20" lightbar mount, 3/4″ recovery tabs.
This low profile bumper is designed to integrate seamlessly with your factory bumper for easy installation. This bumper allows you the flexibility of installing many standard winches and a light bar. It also is compatible with TRD skid plates and can be made with a bull bar for additional protection.
2. ARB Front Summit Bumper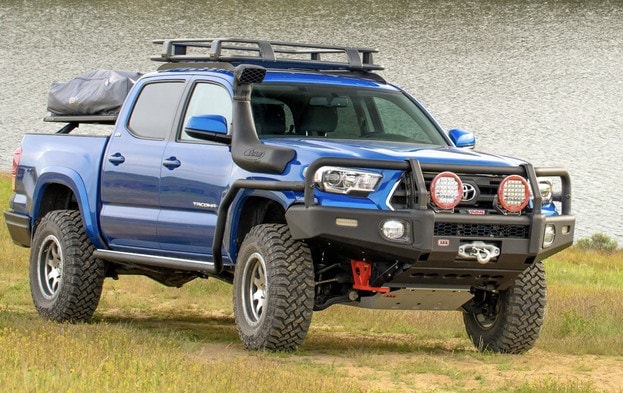 Generation: 2nd and 3rd gen
Price: $1,300 (2nd gen) – $1,990.00 (3rd gen)
Style: Hybrid
Material: Aluminum
Weight: 120 lbs (2nd gen), 140 lbs (3rd gen)
Features: Light bar mount, fog light system, twin high lift jack points, winch fit kit.
ARB has been a leader in crafting high-quality off-roading accessories for years. This hybrid front bumper is for those who truly want to pull out all of the stops and get one of the best front bumpers on the market. This bumper is also compatible with airbag suspension upgrades.
One thing to note about this particular bumper is that it does add a total of 8 inches to the width of your vehicle. However, the amount of recovery points this bumper provides is unmatched, and even provides protection around your wheel wells.
3. CBI Baja Front Bumper
Photo credit: CBI offroad
Generation: 3rd gen
Price: $2,200
Style: Hybrid
Material: Aluminum or Steel
Weight: 190 pounds
Features: Light bar mount, bull bar, winch mount, factory fog light bracket mounts.
This hybrid style bumper allows for the fantastic protection of both your undercarriage and the front portion of your Toyota Tacoma. CBI has upgraded this bumper to increase approach angle and clearance, and also the ability to choose between aluminum or steel.
This is one of the heavier options on this list, but for those who are in the market for steel bumpers—you know you're going to be protected.
4. Body Armor 4×4 Desert Series
Generation: 3rd gen
Price: $984.99
Style: Plate
Material: unspecified metal
Weight: 139 pounds
Features: Winch mount, light bar mount, D-ring mounts.
This bumper is a fantastic option for those looking to upgrade their bumper for under a thousand dollars. This plate style bumper does require cutting and it is recommended you set aside about 6 hours for installation. This bumper will increase both your approach and departure angles and also provides great protection to your undercarriage.
5. Backwoods Adventure Mods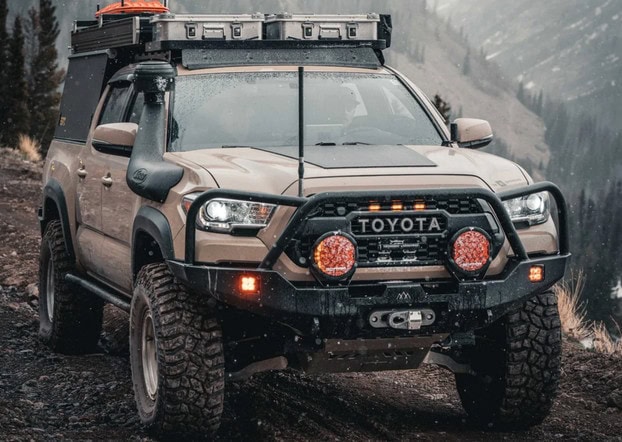 Generation: 3rd gen
Price: $1,999
Style: Hybrid
Material: Steel and aluminum
Weight: 84 pounds
Features: Bull bar, winch mount, fog light mounts.
This bumper boasts Hi-Lite technology, which blends high clearance with their ultra-light design. This bumper has a fully aluminum shell and solid steel bull bar to provide strength where it's needed most, while remaining lightweight.
This bumper comes with a powder coating, but can be ordered as just raw metal upon request. It also requires cutting to install, but does boast a one-man installation. The bull bar provides plenty of recovery points, while also protecting your headlights, grill, and front end.
6. Body Armor 4×4 HiLine Series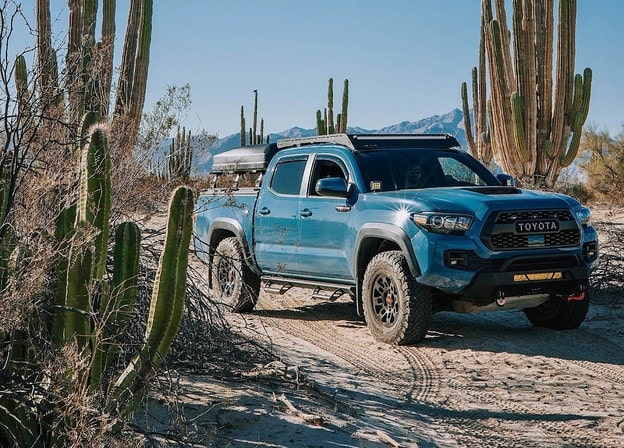 Generation: 3rd
Price: $519.99
Style: Hybrid
Material: Heavy duty steel
Weight: 70 pounds
Features: Plate bumper, winch mount, light bar cutout, bull bar
This bumper is the one I have installed on my 3rd generation Toyota Tacoma. It is a high clearance design that has a winch mount and a light bar cutout. It's designed to accommodate the factory TRD skid plates as well.
The installation of this bumper can be done in a few hours, and does require some cutting to fit. You do have the option to add high clearance side wings when you place your order as well. Overall this is a fantastic low-cost bumper that is packed with features.
I have needed to be recovered and recovered a few friends before, and this bumper has had no issues stepping up to the plate when I needed it. It also provides plenty of much-needed protection on tough off-roading trails like the famous Slick Rock trail in Moab.
7. Cali Raised LED Stealth Bumper
Generation: 3rd gen
Price: $999
Style: Hybrid
Material: Steel
Weight: 77 pounds
Features: Winch compatible, lightbar cutout, bull bar, compatible with Toyota Safety Sense
Cali Raised LED is a company that makes tons of accessories for off-roading vehicles. The brand is so confident in their products that they even offer a 2 year warranty on them. Installation of this bumper is easy and doesn't require cutting unless you have the TRD skid plate.
Most bumpers that come with a light bar cutout accommodate 20 inch light bars, but this one boasts a 32-inch cutout that will almost double your light output. This bumper will increase your vehicle approach, departure angle, and provide a great recovery point.
8. Ironman 4×4 Raid Series Bumper
Generation: 3rd gen
Price: $2,199
Style: Low profile
Material: Steel
Weight: 123 pounds
Features: Light bar mount, winch mount, cube light compatible.
Ironman 4×4 is an Australian company that designs high quality parts built for the rugged outback. This bumper is crafted from a high quality steel and uses a two part design that bolts directly to the frame to give it an unmatched recovery strength.
This low-profile design does require some trimming of the fender flares to accommodate the ultra-wide design. This bumper also can accommodate a 32-inch light bar, 4 cube lights and a 9,500 pound winch.
9. Demello Offroad Baja Hoop Bumper
Generation: 1st, 2nd, and 3rd gen
Price: $1,260-$1,350
Style: Hybrid
Material: Steel
Weight: 115 pounds
Features: Winch mount, optional powder coating, 30 inch light bar cutout, bull bar.
While the linked product above is specifically designed for 3rd generation Toyota Tacomas, this Demello Offroad offers the same version that is compatible with the 2nd and 1st generations at the same price point.
This front bumper offers fantastic features at a very light weight. While this specific model is a steel bumper, they also have similar options available that are made from aluminum if you'd like an even lighter option.
Each of these bumpers comes in raw metal, but can be powder coated for an additional fee. Installation for this bumper is quick and easy, but will require a little bit of cutting to get the right fit. The installation guide breaks down everything you need to know and provides exact cutting measurements to help you install it right.
10. CBI Fabrication Converts Series Bumper
Generation: 3rd gen
Price: 75 pounds
Style: Ultra low profile
Material: Steel
Weight: 75 pounds
Features: integrated D-rings, gusseted winch mount, optional bolt-on grill guard, powder coating available.
There is a reason there are two CBI bumpers that made this list—they are super high quality, lightweight, packed with features, and at very affordable prices. Installation does require some trimming of the body of your Toyota Tacoma, but install can be done quickly with a couple guys and a garage with basic tools.
The optional grill guard adds an additional 20 pounds to the overall weight of the bumper. Another great thing about CBI bumpers is that they make products that are compatible with many different makes and models such as frontrunners, the Tundra truck, and even different models of Jeeps, Subarus, Nissans, Mercedes, and more.
They are truly leaders in off-roading modifications and accessories.
11. Southern Style Off-road Slimline Hybrid Bumper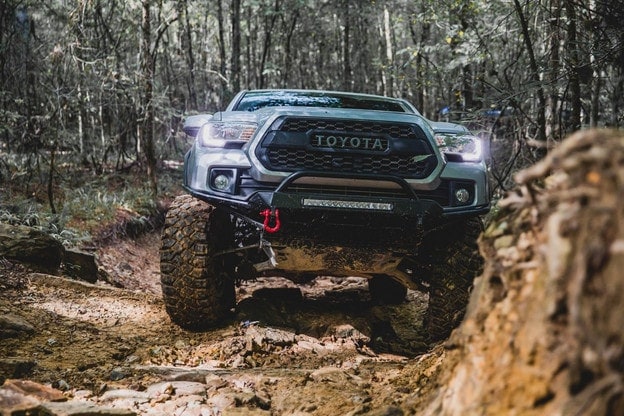 Generation: 3rd gen
Price: $879.20 – $1,039.20
Style: Hybrid
Material: Steel
Weight: 75-85 pounds
Features: Winch mount, optional lightbar cutout, bull bar, optional powder coating
This ultra functional and ultra light bumper is custom made to order and has plenty of design options available to fully customize it for your Toyota Tacoma. Choose between the OEM or universal models, whether or not you'd like to include a bull bar, several different styles and kinds of lightbar cutouts, and how you'd like your bumper finished.
While the customizability and versatility of features is wonderful, this does mean that there is more lead time between the time of your purchase and when you actually receive your order. Their website states that shipping can take 50 to 70 days.
Final Thoughts
The addition of an upgraded front bumper is a fantastic way to pack plenty of amazing features into your Toyota Tacoma or off-roading vehicle. They provide tons of extra protection to your front end in the event of a hit or bump and provide great recovery points if you find yourself stuck.
Not to mention the versatility of adding additional lights, winches and d-rings.
Overall, the added features and capabilities a front bumper provides are absolutely worth the price and the sometimes tedious installation process. This is a necessity for anyone who wishes to bring their Tacoma on any trickier overlanding trails. Next up, be sure to check out our guide to Tacoma Rear Bumpers!
If you're interested in learning more about other Toyota Tacoma specific upgrades—you can check out these other articles too: