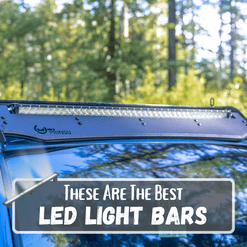 If you want to go off-roading at night, you're going to need some extra lights.
I've tried and tested more than a half-dozen different light bars of varying sizes, powers, and colors on my Toyota Tacoma overlanding build.
From expensive premium lights to cheap eBay lights, I've used them all.
In my experience, the following light bars are the best options for your truck, Jeep, or SUV:
Table of Contents (Click to Expand)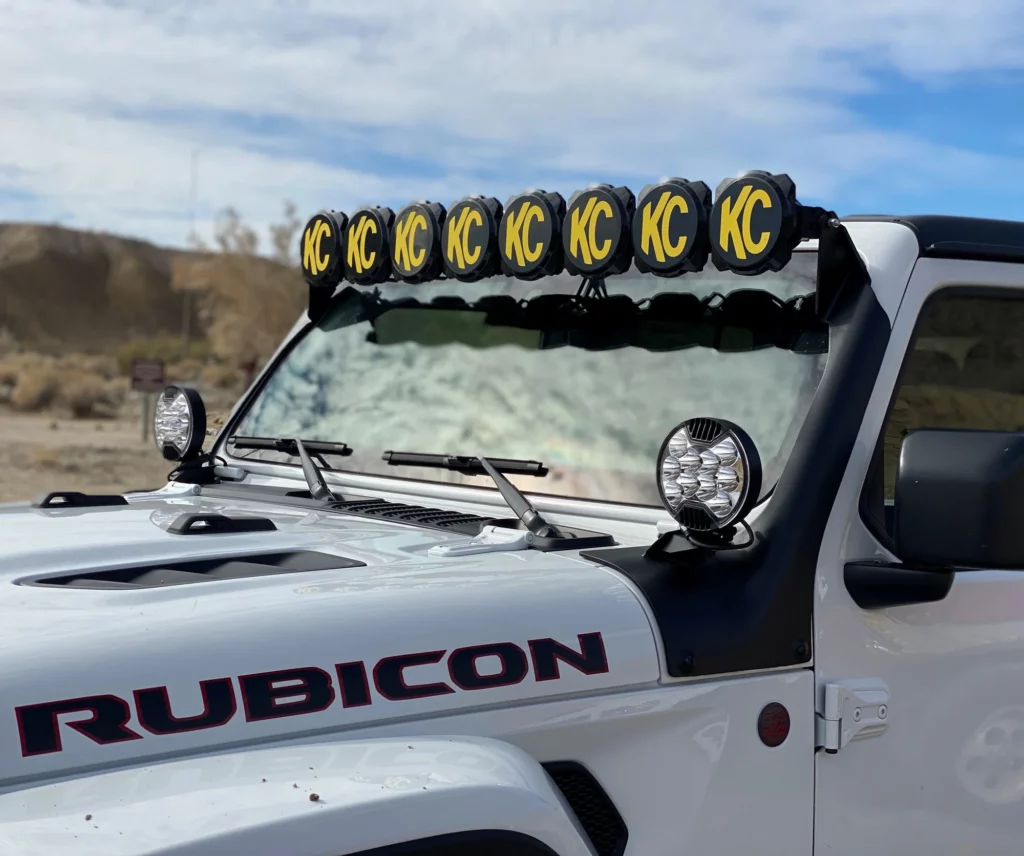 Lumens: 18,400 lm
Candela: 670,000 cd
Wattage: 160W
Beam Pattern: Spot, Driving, and Wide-40
Many consider KC Hilites to be the classic, go-to for off-roading light bars—and for good reason. The Gravity Pro6 light bar is super bright, looks great, and is designed to withstand all of your overland adventures.
The Pro6 is highly customizable; It's linkable, so you can add or subtract as many pods as needed to achieve your desired setup, and it pivots to create custom configurations and beam patterns.
It's just about $2,000 but it comes with a warranty and if you want a classic look with unmatched quality, the KC Hilites Gravity Pro6 is the way to go.
Lumens: 28,000 lm
Candela: Unknown
Wattage: 240W
Beam Pattern: Combination
Cali-Raised is a go-to brand in the overland community for aftermarket truck mods and lighting accessories. They have a wide selection of LEDs including dual and single row light bars, ditch and fog lights, and light bar kits—all at a reasonable price point.
The only downside of these light bars is that the mounting brackets and wiring accessories are sold separately but at their price point, it's not much of a financial burden. They're the best value truck light bar.
This also happens to be the light bar I chose for my overlanding build!
Lumens: 25,200 lm
Candela: Unknown
Wattage: 208W
Beam Pattern: Combination
Baja Designs is another great brand known for having extremely bright LEDs. Waterproof and housed in powder coated aluminum with stainless steel hardware, the XL Linkable LED Light Bar is rugged. It's also equipped with 44° driving beams and 6° spot beams to illuminate a huge scope while you're off-roading after dark.
Throw in a lifetime warranty and this Baja Designs light bar is worth its' large price tag.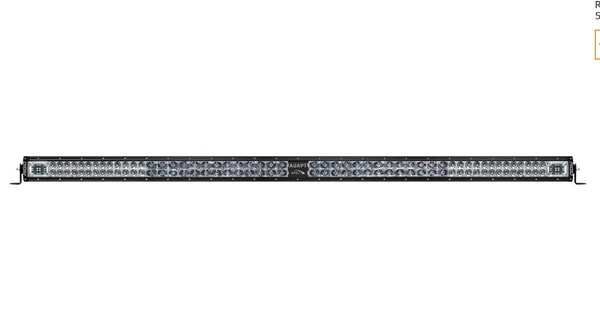 Lumens: 38,869 lm
Candela: 939,827 cd
Wattage: 358W
Beam Pattern: Combination
If you're interested in spending more for a high-tech, high-quality light bar, the Rigid Adapt E Series may be the way to go. Putting out a staggering 38,869 lumens, it's one of the brightest light bars you can buy. This light bar also has three different beam patterns—scene, driving, and spot beams.
Rigid Industries' Active Power Management (APM) monitors how much power your vehicle has available then allocates how much the lights use to avoid draining your battery.
With its hefty price tag, this one is definitely a financial commitment but the quality and features you get from it make it worth its high price.
Lumens: 19,200 lm
Candela: Unknown
Wattage: 240W
Beam Pattern: Spot Beams
A budget-friendly option with great reviews, this Rough Country 50″ LED light bar is affordable, easy to install, and relatively bright. It's made up of spot beams which are great for illuminating a long distance ahead of you.
At this price point, however, you'll have to make some sacrifices on customization and engineering quality—and these budget light bars aren't known to last very long or be as bright as some of the name brand ones on this list.
Frequently Asked Questions
What is the purpose of a light bar on a truck?
The purpose of a light bar on a truck is to illuminate trails while off-roading after dark. And to look cool, of course.
Where is the best place to put a light bar on a truck?
The best and most common place to mount a light bar on a truck is on the front bumper. You can also mount a light bar above the windshield while some other lighting mods, such as ditch lights, can be placed on the lower windshield pillars.
How do I choose a light bar for my truck?
To choose the best light bar for your truck, you have to consider the size, shape, number of rows, beam pattern, and mounting requirements of a light bar. Knowing what features you want from a light bar is the first step in deciding what kind is best for you.
Are LED light bars legal on the road?
While most light bars are legal to install on your truck, every state has different laws regarding light bar usage. You should do your research regarding light bar usage laws in your state through the Department of Motor Vehicles before making a purchase.
Are LED light bars worth it?
A decent quality light bar is a great option to customize your rig and allows for safer off-roading after dark. While there are some cheaper options for light bars that may work well for a while, investing in a higher quality light bar is worth it to be able to overland at night without worrying about damaging your gear.
What's better: a curved or straight light bar?
Straight light bars offer several different beam patterns—spot beam, flood beam, or a combination. Curved light bars typically offer similar beam pattern options, and they offer wider light coverage. If you want to light up a larger area in front of your rig, a curved light bar may be a good option.
Which LED light bar is the brightest?