Are you looking to make your Tacoma more rugged and capable for your off-road adventures?
Adding rock sliders to your rig not only looks great, but also provides optimal protection if you find yourself in a sticky situation.
Below, we compare the best Toyota Tacoma rock sliders and answer some common questions people have about them.
Let's dive in!
Table of Contents (Click to Expand)
What Are Rock Sliders?
Rock sliders are steel or aluminum bars that attach to the sides of your truck or SUV in order to protect your undercarriage and body from damage when landing on rocks or trees off-road.
They're also helpful to:
1. Provide a step-up
When you install rock sliders, you will first need to remove your factory steps if you have them. Some rock slides protrude enough to take the place of the steps.
This can be incredibly helpful if you have a lifted Tacoma as it can help you get in and out much easier.
2. Pivot point on tighter trails
If you find yourself on a tight trail, rock slides provide protection for scrapes and bumps to your body and rocker panels because they protrude. Rock slides are designed to take quite a bit of impact, so you can rest easy knowing your rig is protected.
While taking tight turns, rock slides also help guide you to perform the turn as tight as possible by maintaining contact with the obstacle, allowing you to "slide" off of it.
3. Provide an anchor point for recovery
Rock slides provide excellent anchor points on the sides of your rig. Not all situations can be remedied by using a front or rear anchor point. If you find yourself in a situation where you require an intensive recovery—rock sliders will give you peace of mind knowing your rig is protected and able to be recovered from all sides.
Are Rock Sliders Worth It? Do You Need Them?
For anyone who enjoys taking their rig out overlanding or off-roading—rock sliders are a worthwhile investment.
Sometimes new terrain can be unpredictable, and one mistake could mean very expensive damages. My overlanding Tacoma build has seen some tough trails. I've even almost flipped it before on a berm that should have been simple, but the speed in which it needed to be taken was miscalculated.
I ended up needing to contact the Utah Off-road Recovery Team to assist me in getting my truck safely down without it rolling. I didn't have rock sliders at the time, but it would have been great to have extra anchor points to assist in getting my truck back on flat ground.
The Two Types of Steel Rock Sliders Are Made Out Of
Rock sliders come in two different materials—1020 DOM Steel and 1020 HREW Steel.
But what is the difference?
1. 1020 DOMSteel
DOM stands for Drawn Over Mandrel. This is in reference to the manufacturing process of the steel, and this particular method creates much stronger and more precise craftsmanship than other methods.
The production method of DOM tubing ensures the grain and strength of the steel is consistent all around. The process of making DOM steel also removes mill scale which ensures that the metal is smoother.
2. 1020 HREW Steel
HREW steel (Hot Rolled Electric Resistance Welded) is generally the more economic choice. It is a great option for those who are looking for affordable rock slides, and it is strong enough to withstand quite a lot of wear.
HREW steel is commonly used in plenty of off-roading parts, even roll cages. It is still incredibly strong and a very high-quality option.
What About Aluminum?
Another option you will sometimes see on the market is aluminum rock sliders. Aluminum is generally not the best option for rock sliders because it is a softer metal than steel. However, aluminum rock sliders are much lighter than steel, which can be great for those who do mild off-roading and wish to keep their rig light.
Aluminum is still strong enough to protect your body from damages, but it will dent and gouge easier. It's not recommended for hard-core off-roading where you will be slamming down on rocks often.
Design Options
Not all rock sliders are made the same, and most companies will give you some flexibility in the design components of your order. Some terms to know for a custom fit are:
1. Kickout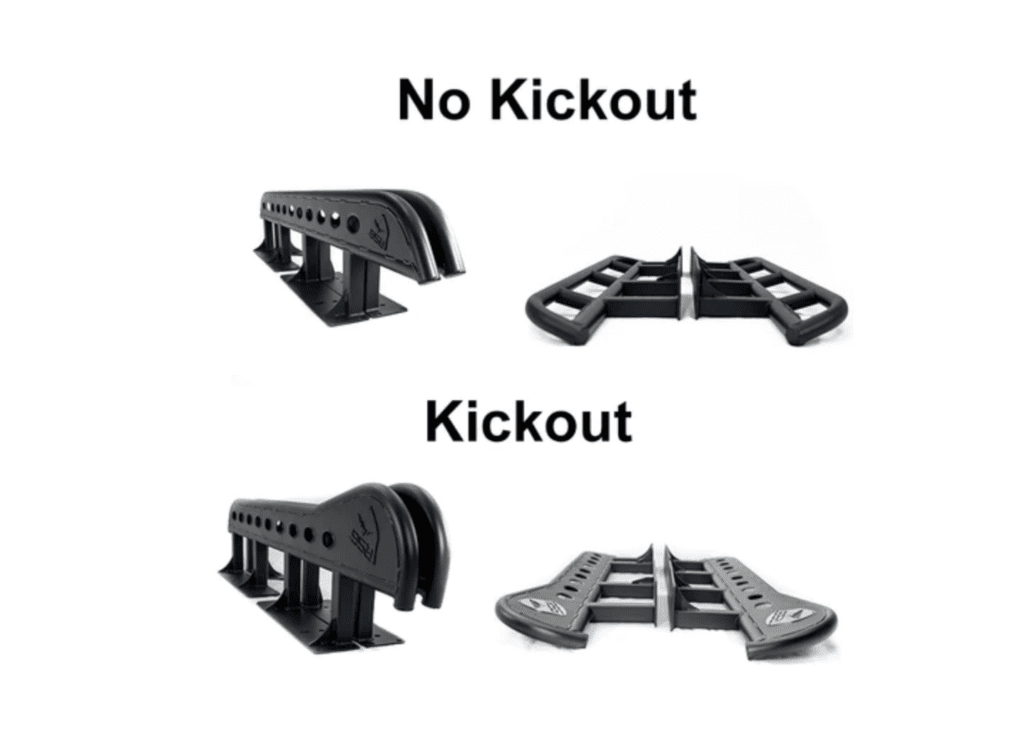 Photo Credit: RSG Metalhouse
A kick out refers to the shape of your rock sliders. Kickouts are wider around the back wheels and stick out farther from the frame.
This provides much more protection than rock sliders without them, because it allows you to "kick out" away from obstacles rather than allowing the obstacle to hit your wheel well after driving forward. While this is an optional design choice, a kickout will provide optimal protection against rough terrain and hits to your body and rocker panel.
2. Fill plates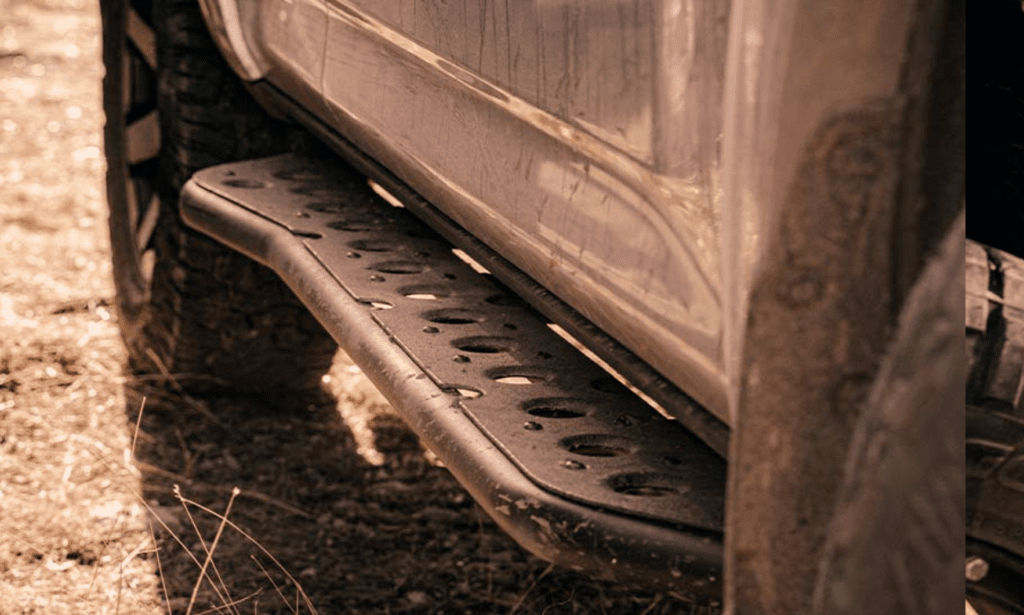 Photo Credit: Cali Raised
Fill plates essentially fill in some of the space between the bars of your rock sliders. There are a couple benefits of this.
First, this provides extra surface area to keep smaller feet from sliding though when stepping up. Having a smaller foot slip through the bars could result in injury or even a broken ankle.
Next, a filler plate creates an additional barrier from mud and rocks damaging or dirtying your vehicle. Of course, getting your vehicle dirty while off-roading is unavoidable, but extra protection is always welcomed.
There are even stories I have heard (though few and far between) of freak accidents where a log got wedged between the bars of a rock slide without a fill plate and not only caused damage, but blocked passengers from getting out.
Of course, this is not a common occurrence, but is something to consider.
3. Slider angle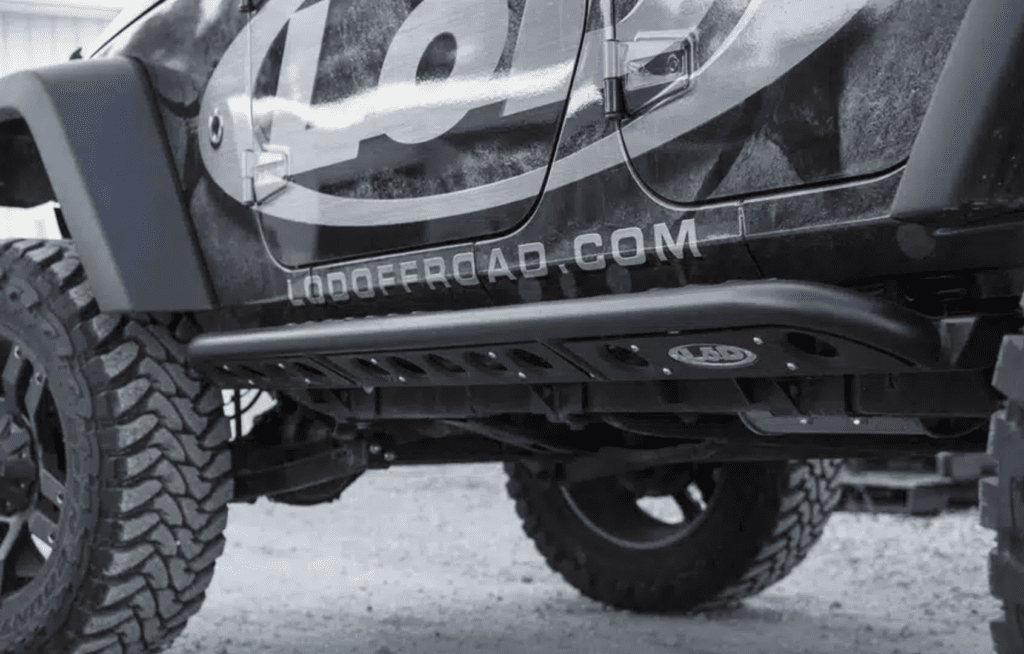 Photo Credit: Runningboard warehouse
Generally speaking, your rock sliders will come between 0 degrees and an upward angle of 25 degrees.
Having flat rock sliders provides a better step, and also sticks out farther from your vehicle to keep your body farther from potential obstacles you may need to pivot around. However, the higher angle will provide better protection higher up on your vehicle.
Many taller people complain that flat rock sliders are annoying when trying to get in and out of the vehicle as they rub on their calves and just get in the way. Others say that higher angles simply look nicer than flat ones.
The angle in which you prefer your rock sliders will be completely personal and will depend on how you intend to use your overlanding rig.
4. Length
You'll find that rock sliders will come in different sizes for the Tacoma, and it is critical you are getting the proper size for your truck. There are two different sizes of rock slides for all three different sizes of the 2nd and 3rd generation Tacomas.
The shorter rock sliders will fit both the double cab short bed (DCSB) or the access cab long bed (ACLB) versions. The longer option fits the double cab long bed (DCLB) Tacomas.
Expect the longer versions to cost a little more as they require more material than the shorter versions.
5. Bolt-On Vs. Weld-On Rock Sliders
Another very important component to consider is how you would like to install your rock sliders. There are two different options—bold-on versus weld-on.
Bolt-on rock sliders require a fairly easy installation and require less of a commitment than welding. Bolted on rock sliders are not quite as protective or sturdy as weld-on, but still adequate for most uses.
If you're not someone who is comfortable welding, it will cost extra to have them professionally welded to your vehicle. This costs anywhere from $80-$150+.
Another thing to consider is that if there are any recalls to the body or frame of your Tacoma, you may not be able to remedy the issue if you've welded on your rock sliders.
Coating & Protecting Your Rock Sliders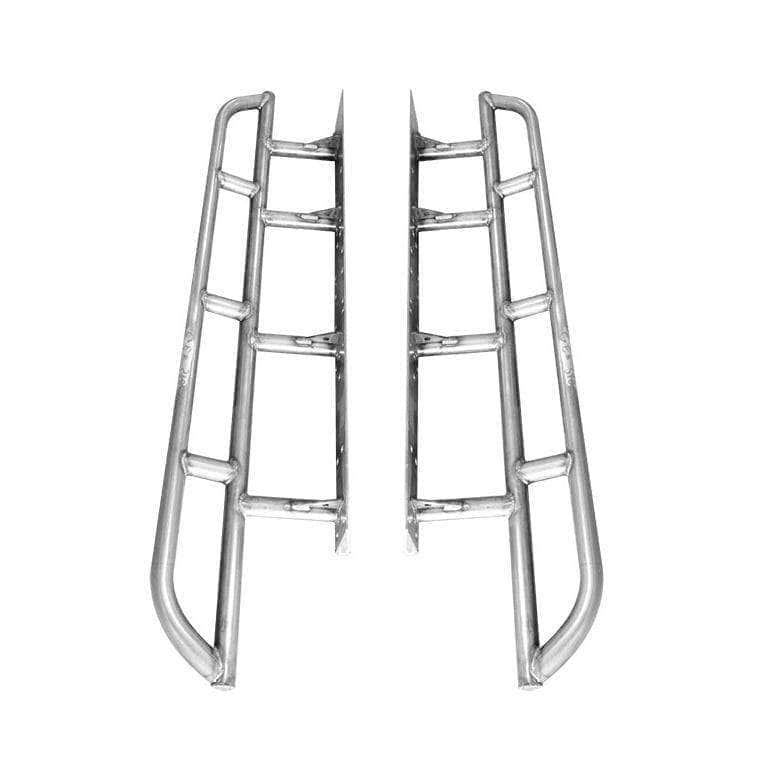 Photo Credit: CBI Off Road
Sliders are built out of bare steel, so many users prefer to protect them from rust by coating them in a protective layer. The most common options are using a truck bed liner, powder coating, or even just black spray paint.
The most sturdy and highest quality option is powder coating. Powder coating can be done professionally, but it also can be done for about $100 at home with a little know how. Choosing a powder coating will ensure your sliders are protected fairly well, though touch ups will be much more difficult than some of the other options.
Touch ups are pretty much inevitable for rock sliders that are taken off-roading even fairly often.
Next, a truck bed liner is another fantastic option. Truck bed liner (like a powder coat) will provide good traction on your sliders which could help prevent slipping on a rainy day. Spray on truck bed liners (such as Rhinoliner, Rustoleum, or LINE-X) are very easy to touch up and look great if applied with care.
It isn't recommended that you use a regular, untextured spray paint from a rattle can as it doesn't look as nice as other options and doesn't provide any traction. For those who aren't a fan of the matte or textured material, spray cans of paint will still provide some protection.
The 7 Best Tacoma Rock Sliders
Here are our top 7 picks for the best rock sliders for your Toyota Tacoma:
1. Cali Raised LED
The Cali Raised LED rock sliders offer so much versatility and flexibility and are overall an ideal choice for Tacoma rock slides. All Cali Raised rock sliders are crafted from DOM tubing and are all bolt-on. There are currently no weld-on options.
Choose between:
Edition- Trail edition or step edition. Trail Edition is set to 25 degrees and the Step Edition is set to 0 degrees.
Kick out- With or without a 2" kickout
Filler plate-no filler plate, a raw filler plate, a powder coated option or a truck bed lined version
Finishings- Raw, powder coated or truck bed lined
Size- Long or short depending on cab size and bed size
Cali raised LED provides both a text installation guide and a video installation guide so you can easily install your rock sliders at home.
2. White Knuckle Off-Road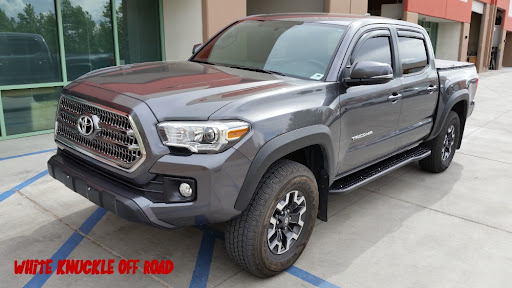 White Knuckle Off-Road stands out from the competition because of just how many vehicles they make rock sliders for. They even make rock slides for 1st generation Toyota Tacomas, which is not common.
Seriously, they have sliders available for just about any truck and off-roading vehicle you'll see on the road.
Another great perk to this brand is that they offer full flexibility and customization on your order. Every pair of rock slides is custom made to order, meaning you get to design every detail of your ideal sliders.
Choose between:
Steel Type– DOM or HREW
Finish– Bare metal or powder coated
Body Lift– factory or 1 inch
Vehicle Type– DCSB or ACSB
Year– 1995-2022
Angle– 0-15 degrees
Top Plates– None, rear dimpled or full dimpled
3. Westcott Designs
Westcott Designs was created by off-roaders who found that the products currently on the market were not up to the standards in which they wanted. They have rock sliders for 2nd and 3rd generation Tacomas along with some of the other Toyota off-road vehicles.
You can choose whether you want a kick out or not, and match your length to the design on your specific truck.
Also choose between:
Material- HREW or DOM
Welding Process- MIG or TIG (TIG is generally stronger, but MIG is easier to learn and therefore less expensive)
Degree of Angle- 0 degrees to 20 degrees
Top Plates– With or without them
Color- Black or Raw
4. 4X Innovations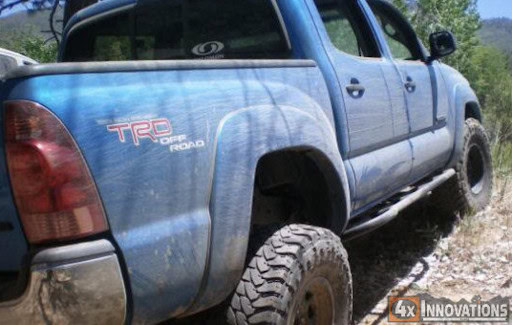 These 4x innovations rock sliders are built for those who want the absolute highest quality rock sliders that will be able to withstand anything you throw at them. This brand stands out because instead of allowing their customers to choose different options, most of the options are fixed.
All of the rock sliders are made from DOM or HREW steel, have a 2 inch kickout, and come with an adjustable angle to give you additional clearance. Their sliders also all come as raw steel to be finished at home during the installation process. You can also choose between whether you want a half or full length step plate or no step plate at all.
Another welcomed feature of their design is that you can choose between whether you want a TRD logo added to the step plate.
One potential downside is that these rock sliders can only be installed by welding them on. While this will ensure they are stronger to support any big hits you throw at them, the installation process is more complicated. They do have a full installation guide you can read through to decide if you are up for the job or if you'll need to hire a professional.
5. C4 Fabrications
C4 Fabrications boast a long history of crafting some of the best Toyota Tacoma accessories on the market. They also proudly state that all of their products are created and sourced in the USA.
While C4 Fabrications does let you decide on a few different options for your rock slides, some features are set, so you can't fully customize them. Kickouts are a standard feature on all of their rock slides because of the extra protection this provides. They also only offer them made from DOM tubing because of its additional strength. While some may find the lack of customization frustrating, the fixed features do ensure top protection and performance while off-roading.
You do get to choose whether you'd prefer to have a step plate added or not. All step plates are mounted at a 0 degree angle (despite the fixed angle of the entire slider) for easier entry into the cab of your vehicle.
These rock sliders are also all bolt-on for easier installation and come with all of the necessary hardware to install with a simple jack stand and basic tools. You can read their installation guide before purchasing to get an idea of install time and what to expect.
Another thing to note about these rock slides is that they do come at a higher price than most of the other options on this list. While you do receive a top quality product, shipping is not included and will cost an additional $199. These rock sliders are also unfinished and will require paint or powder coating at home during installation.
6. CBI Offroad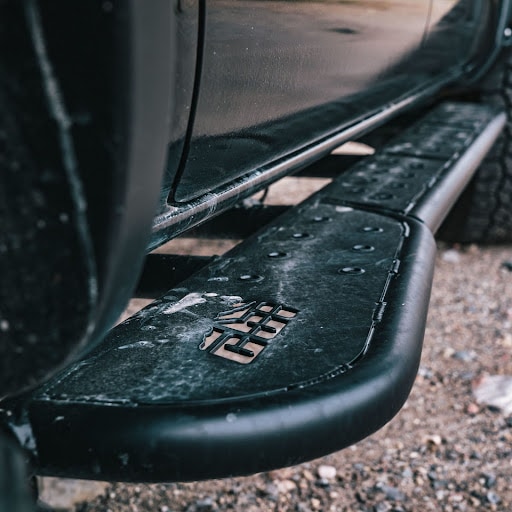 CBI is an incredibly reputable brand with a long history of creating fantastic products and providing excellent customer support.
Their Tacoma rock sliders come in three general styles:
Classic: 0 degree placement, no step plate, no kick outs
Trail: 0 degree angle, no step plate, with a kick out
Overland: 0 degree placement with step plates and a kick out
Regardless of which style you decide is right for you, you will be able to customize some other features.
Customization options:
Size: Double cab long bed, double cab short bed or access cab
Tube Quality-:DOM steel or HREW steel
Finishing: Bare metal or black powder coating
All versions of these rock slides boast the ability to support the weight of the whole truck, and only require 1.5 hours of installation time.
7. TJM Rock Sliders
TJM Rock Sliders were designed and tested in the rugged Australian outback, so you can rest assured knowing these products will nicely traverse any terrain and protect your body from all dings at hits.
One interesting thing to note is that these slides don't come with any options for customization. While this may be frustrating for some, it also means they can keep delivery times low because production is kept simple.
All of their rock slides come with:
A textured powder coat at no additional cost
A large built-in skid plate
Adjustable installation angle
Designated jack points
Twin tube design for additional protection
These rock slides are also all bolt on for an easier and quicker install time. Overall, these rock slides are one of the best bang-for-your-buck options on this list. Plus they offer a 3 year warranty for your peace of mind.
Final Thoughts
Overall, there are so many different features to consider while shopping for your ideal rock sliders. It is important that you consider the kinds of terrain you plan to traverse, and what kind of protection is necessary for you to protect your Tacoma.
We hope this guide helps you make the best decision for you. You might also like some of these other guides on our site: