An awning is one of the best investments we ever made.
We've found ourselves in inclement weather and harsh sunny conditions more times than we can count—and there's nothing worse than being confined to your tent or stuck in the rain with no outdoor space.
But there are a lot of 270 degree awnings out there. How do you know which one to choose? We did the research and tested them out so you don't have to—let's dive in.
Table of Contents (Click to Expand)
What To Look For in a 270 Degree Awning?
Here are the main things you should look for when finding the right awning for you:
Ease of Use
I can't say it enough—when you're camping often or traveling full time, do yourself a favor and make the little things as easy as possible.
You may think that having complicated gear or a poorly organized storage bin won't bug you, but it will. Do yourself a favor and find yourself something with easy-to-use poles, or even no poles at all.
Most awnings will permanently attach to your rig and just need to be unzipped and pulled out.
Durability
If you've been buying outdoor gear for any amount of time at all you probably live by the saying "buy it nice, or buy it twice."
This is especially true for camping, overlanding, or other outdoor recreation gear. Even when you take the best care of your things, they still go through a beating.
Your awning is going to have to be strong enough to protect you from the harsh elements. It needs to be durable!
Ease of Install
While installing an awning shouldn't be a terribly difficult task, be sure that you already have a compatible roof rack system to ensure that the install is as easy as possible.
Also, awnings can be heavy, so consider having an extra set of hands to help you.
Weight
We talk about gear weight a lot in this neck of the woods—but only because it matters so much.
Just like with any vehicle modifications, adding too much weight may require costly suspension upgrades, or worse, in the future.
This is especially true for something like an awning that will add weight to just one side of your rig. Always try to distribute the weight of your gear evenly to ensure the longevity of your vehicle's suspension.
Adjustable Height
There are a few reasons having an awning with an adjustable height is important.
First, for shorter vehicles, you'll want to be able to raise your awning up so you can comfortably stand underneath it.
But even if you have a taller vehicle, you'll probably want to lower one side of the awning when the sun shifts or if it starts raining.
The 7 Best 270 Degree Awnings
Without further ado, here are our 7 favorite 270 degree awnings on the market:
1. OVS Nomadic 270 Degree Awning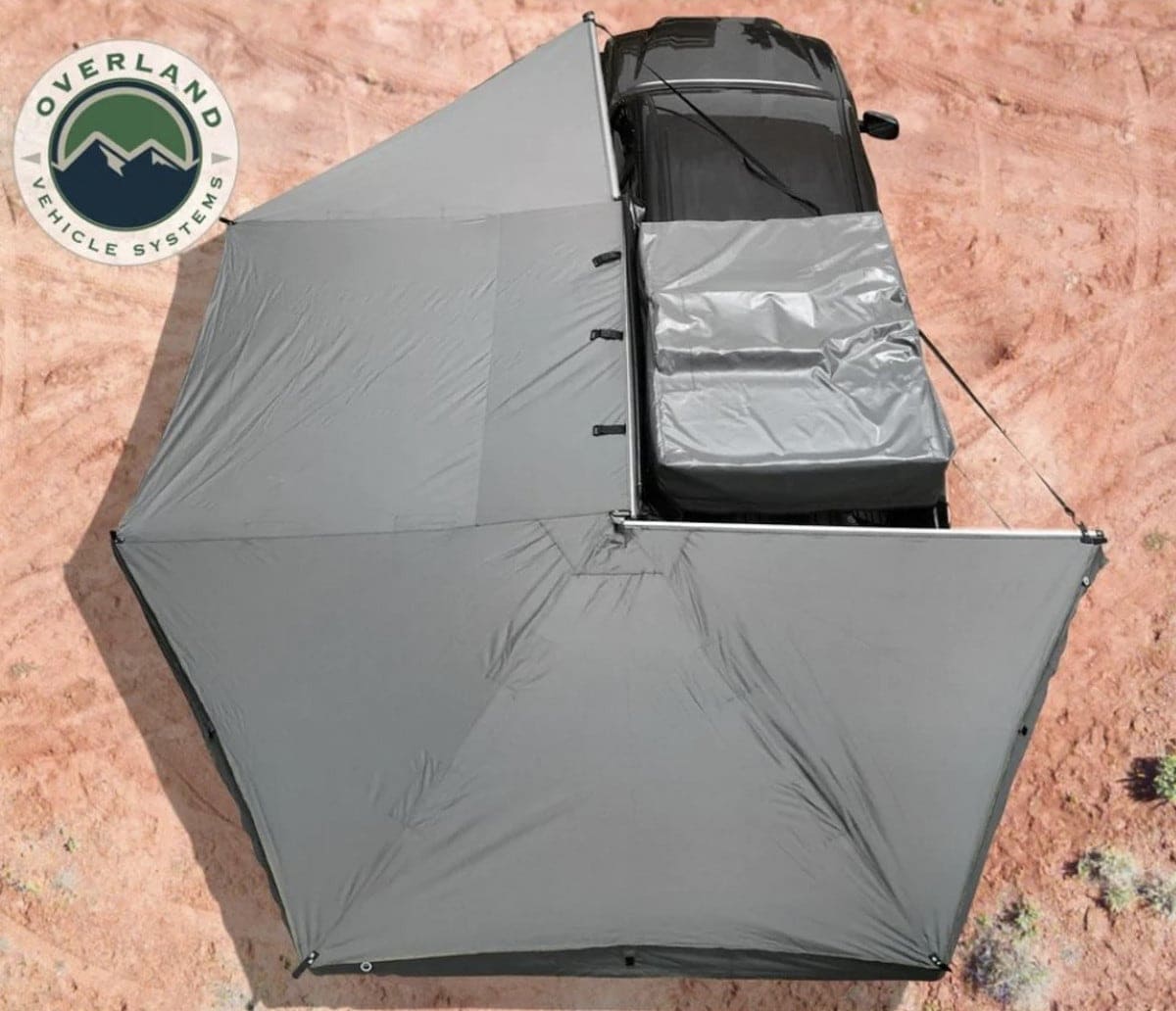 If you're looking for an awning that can withstand all four seasons and any weather you throw its way—the OVS Nomadic 270 Degree Awning should be at the top of your list.
This awning is made from an ultra durable 600D poly cotton ripstop material that boasts the ability to withstand even the worst weather. Plus, it has heat sealed seams to prevent water from seeping through.
The telescoping aluminum poles can raise the awning up to 8.5 feet tall, so even the tallest people will be able to gather comfortably under this awning. Another perk is that this awning can be attached to just about any aftermarket roof rack with its universal mounting system.
The OVS Nomadic awning also has an option to include walls. This is great for adding privacy and a bit more protection from the elements!
Overland Vehicle Systems does warn that if your vehicle has a swinging rear door, you have to order the awning that opens up to the opposite side as this tent will get in the way. It shouldn't be an issue with most rear doors though.
Here is a video to show you exactly how versatile and easy to set up this awning is:
2. Wraptor 6K 270 Degree Awning
If you're looking for the awning that provides the most square footage —you've found it. The Wraptor 6K 270 Degree Awning boasts a roomy 130 square feet of coverage to keep you protected from the elements.
But what we love most about this design awning is that it's actually a free standing design that doesn't require any poles to set up. There are attached poles that can easily come down to give your awning a bit more support if you plan on adding walls, but the heavy duty rafters provide enough support for general use.
You can also choose what side you'd like your awning to be mounted on. This is handy for those who sleep in a rooftop tent so you can have them open up on different sides of your vehicle.
One thing to note about this awning is that you should ensure you have a way to mount it high enough on your vehicle to provide enough headspace. If you're in a shorter truck or Jeep you may want to consider a taller roof rack or truck bed rack.
We do have some guides on different bed racks and roof racks you can check out as well:
3. Eezi-Awn Manta 270 Degree Awning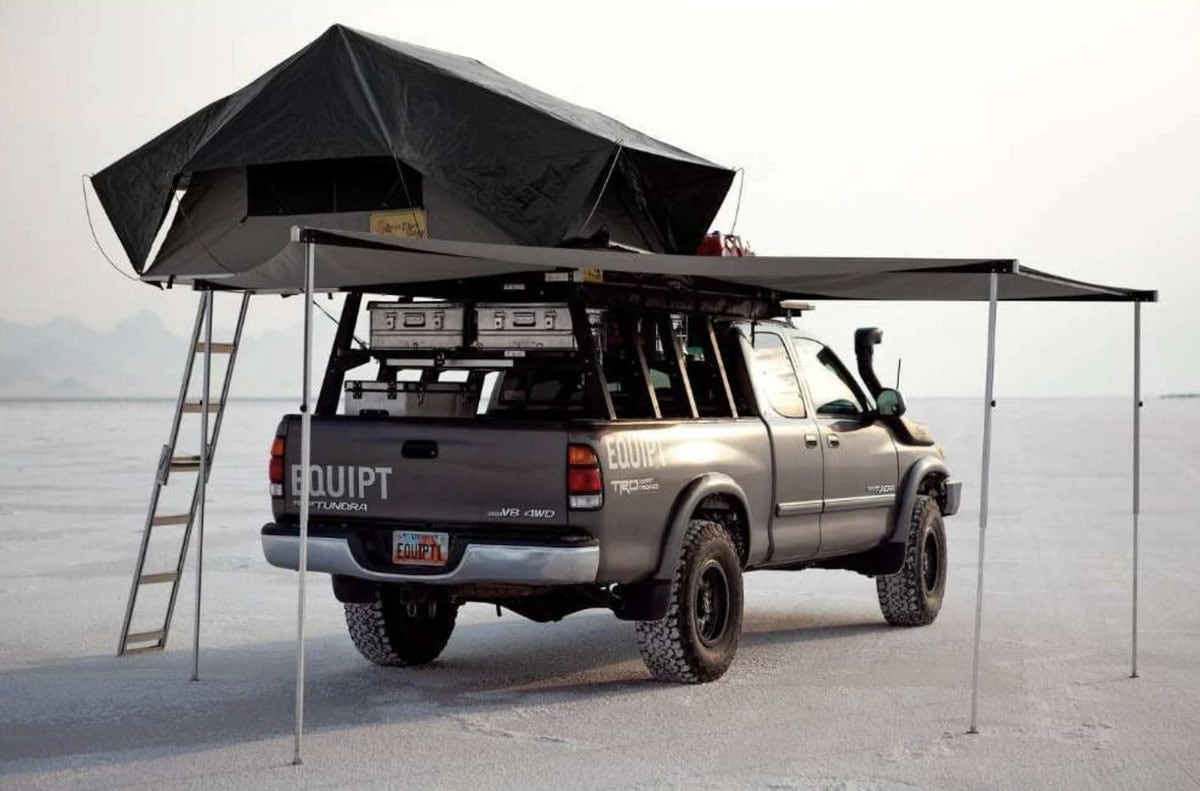 If you're worried about adding too much weight to your rig, the Eezi-Awn Manta 270 Degree Awning is one of the most lightweight options on the market at only 50 pounds.
But don't let its light weight fool you. This awning was tested on the trails in South Africa and is built to withstand bumpy roads and unpredictable conditions.
The set-up process is a bit more hands-on than some of the other awnings on this list, but still boasts the ability to be set up in less than a minute.
This awning provides about 100 square feet of coverage and each of the telescoping legs can extend up to 7.5 feet. You also get the option to decide which side you'd like your awning to open up to.
Regardless, this awning is made from high quality fabric and aluminum parts that can handle just about anything you throw their way.
4. Wraptor 4k 270 Degree Awning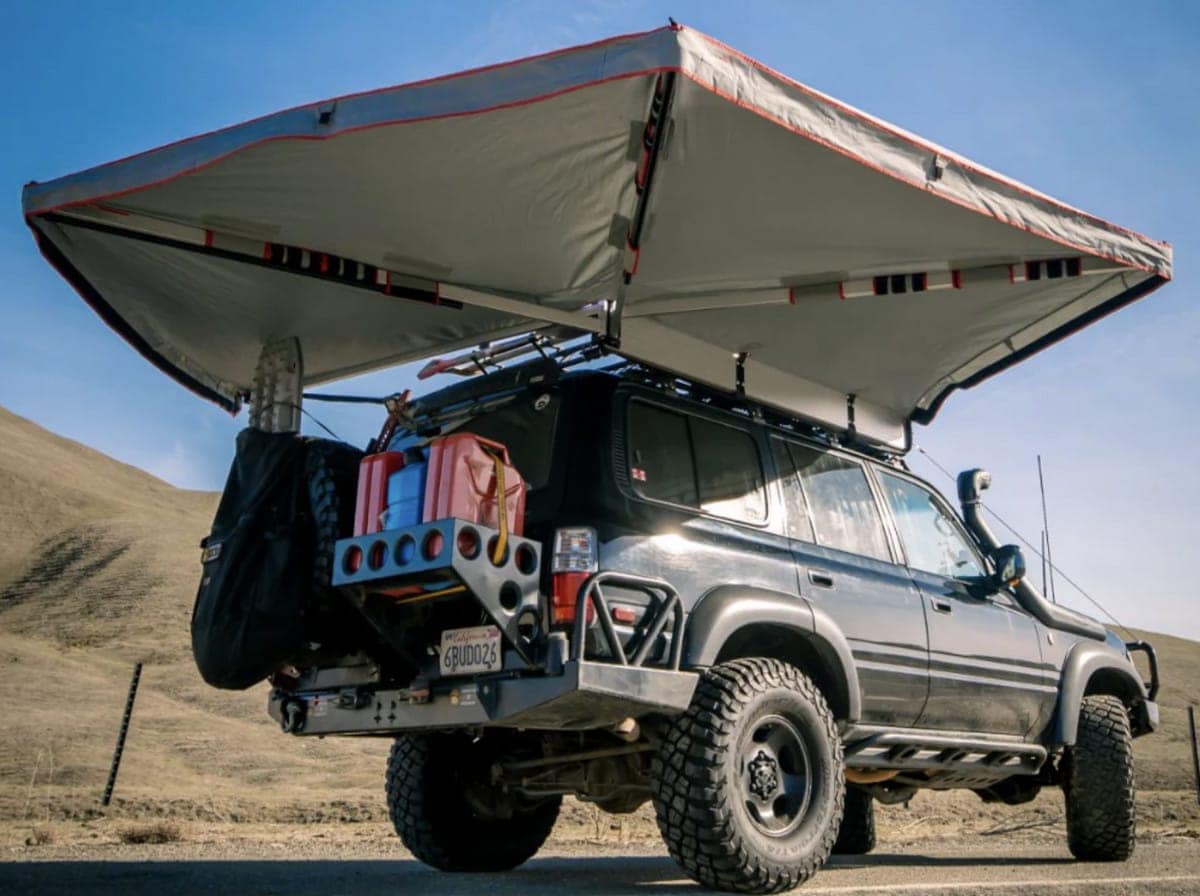 If you are a big fan of the Wraptor 6k, but want something a bit more compact—you'll love the Wraptor 4k!
This awning is 20 pounds lighter than its older sibling, but boasts the same great design. It's also completely free standing and doesn't require any poles or tedious work to set up, so you can maximize the spacious 80 sq ft of coverage this awning provides.
Just take the travel cover off and swing the awning out and it's ready to go!
The mounting brackets can be used with most roof racks and it boasts a fairly easy installation process. You can also choose to have this awning mounted on either the passenger side or the driver side, and you can choose to include walls for additional privacy.
5. iKamper ExoShell 270 Degree Awning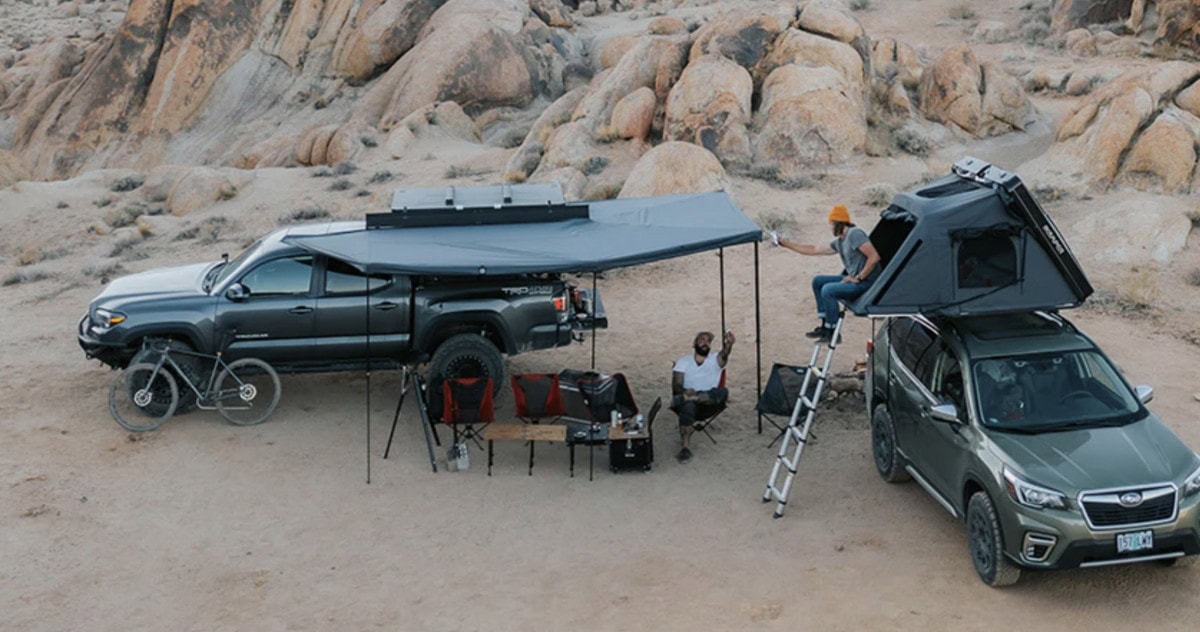 If you've been a reader on this site for a while, you know we're huge fans of the brand iKamper. They make some of the highest-quality rooftop tents—and recently released the iKamper ExoShell 270 degree awning.
This awning has a completely free-standing frame, but also comes with telescoping poles for added durability and versatility. The ripstop polyester fabric is completely seamless so you don't have to worry about water seeping through during a rainstorm. It's also coated with an eco-friendly water repellent.
iKamper does warn that the mounting hardware included isn't universal, so bear in mind that you may need to purchase separate mounting brackets that are compatible with your roof rack.
It does come with all of the other important components to ensure it won't flap around in windy conditions including shock cord, guy lines, and tie downs, however.
Lastly, the ExoShell also boasts an aluminum super durable cover to protect your awning while it's not in use, along with a 1 year warranty to keep you covered if anything happens.
6. GoFSR 270 Awning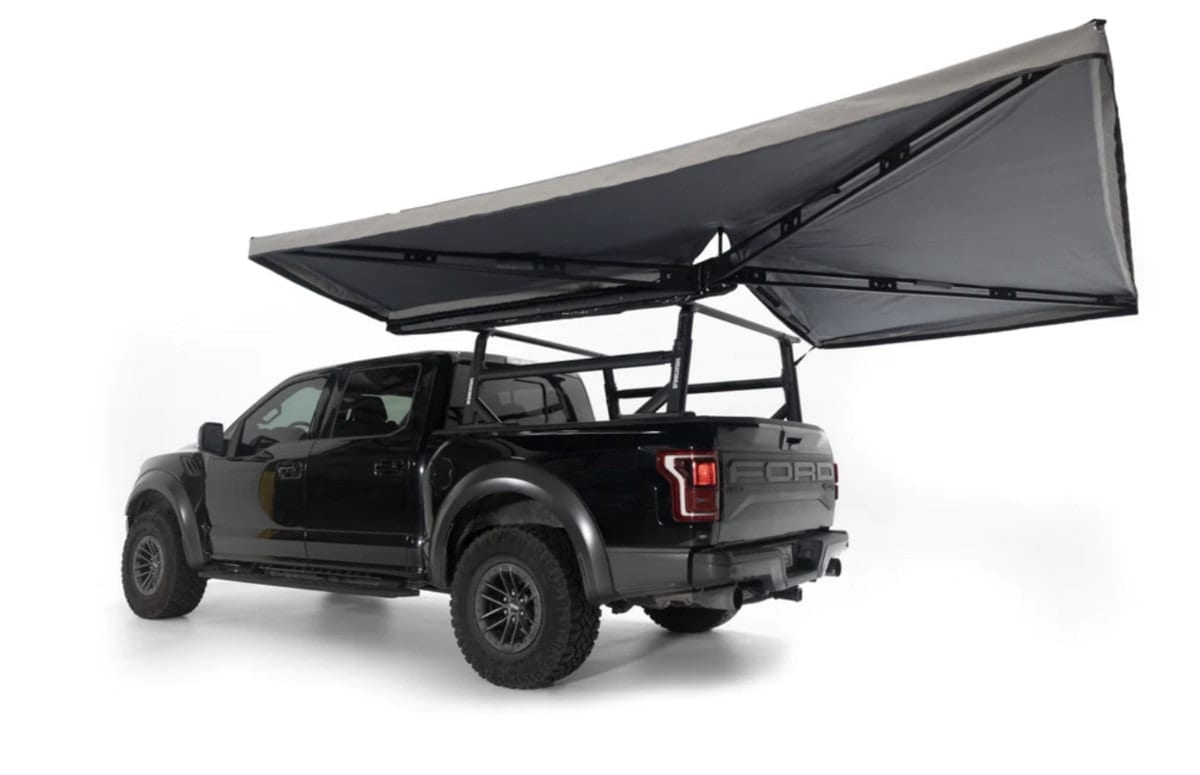 The Freespirit Recreation 270 degree awning is an incredibly impressive, lightweight, and affordable option.
Not only does this awning weigh just 37 pounds, but it also boasts a free-standing frame that doesn't require any poles or guy lines to keep it secure.
This awning also comes with an optional annex room that turns any campsite into the ultimate base camp. All of the fabric is made from 600D Oxford Ripstop fabric that can withstand even the harshest conditions.
While it has a similar design to some of the other awnings on this list, it steals its spot because of its affordability and impressively light weight.
7. Guana Equipment Morpho 270 Awning
For the last option on this list we have the lightest and least expensive awning, the Guana Equipment Morpho 270!
This awning weighs an impressively low 32 pounds, so you don't have to worry about losing gas mileage or struggling during the installation.
It can be set up in just under a minute and is made from an ultra durable 420D ripstop canvas. The Guana Equipment awning is also a whopping 92 inches long, providing an impressive 130 sq ft of coverage.
Overall, if you're looking for a great awning for an affordable price, this one is sure to impress!
Frequently Asked Questions
Here are some common questions about 270 degree awnings:
What is the wind rating for a 270 degree awning?
How much wind your awning can handle will depend on which awning you have. While some awnings can withstand impressive amounts of wind, it's important to always take proper precautions during inclement weather to ensure your awnings don't become damaged.
This means putting down support poles, tying guy ropes, and securing all of the corners down. Or, in severe windstorms, putting the awning away entirely.
How big is a 270 degree awning?
Most 270 degree awnings can cover a footprint of between 80-130 square feet. Most will fit on standard roof racks, but it's always best to check your vehicle dimensions before purchasing an awning.
How do you attach a 270 degree awning to your vehicle?
To attach a 270 degree awning you'll need to first install a roof rack and ensure that you have the proper mounting hardware to secure the awning on. Most awnings come with universal mounting hardware, but that can be purchased separately if it isn't compatible with your rack.
You should also be sure to have another person with you as they can be heavy and bulky to install for the first time.
What is the toughest 270 awning?
While none of these awnings have been tested extensively by third-parties, the OVS Nomadic has raving reviews and has been proven to withstand incredibly high winds and bad weather conditions.
Final Thoughts
Buying an awning transformed my overlanding trips. A bat wing awning gave me the space and cover to hang out outside in inclement weather—from cooking to stretching my legs or just sitting outside.
A 270 degree awning is one of the first overlanding accessories I would buy if I had to start all over again. They're just too nice to have!