The 4Runner is one of the most capable SUVs on the market because of its off-roading abilities, impressively strong engine, and power 4WD system.
If you're looking to maximize your storage to get the most out of your Toyota 4Runner, you'll definitely want to add a roof rack system to it. This will dramatically increase the amount of storage you have available, and make it possible to carry things like a rooftop tent.
Here is our deep dive into everything you should consider when picking out a roof rack for your 4Runner, and a list of all of our favorite racks on the market right now!
Table of Contents (Click to Expand)
What To Look For When Buying a Roof Rack
Here are the most important things you should consider when you're picking out the right roof rack:
Weight of The Rack
While adding a roof rack may not seem like much, different vehicle modifications can add up quickly. This can take a toll on your vehicle's suspension system, gas mileage, and overall performance. It is always best to monitor the weight of your vehicle's upgrades to ensure your vehicle performs optimally for as long as possible.
Material
The most common materials roof racks are made out of are steel and aluminum. Steel is quite heavy, but overall can carry more weight. Aluminum is great for saving on weight and can still hold an impressive load, but is usually much more expensive than steel.
Overall, which material is right for you depends on what you intend to store up there and what your budget is.
How Much The Roof Rack Can Hold
Before you decide on what roof rack you want to buy, it's important to figure out what you plan on carrying. Each rack will be rated to hold a specified amount, and you should follow those guidelines carefully.
Additionally, your 4Runner is rated to hold 300 pounds of dynamic weight and 760 pounds of static weight on it's roof.
Dynamic weight is weight held while your vehicle is in motion, and static weight is weight held while you're parked. So if you're carrying heavy items like kayaks, bikes, or roof top tents, you'll want to ensure that you're not carrying more than 300 pounds.
You should also add up the weight of other things you may be carrying on your roof such as recovery boards and traction boards, tool boxes, and other overlanding gear.
Will You Need a Lightbar Cutout?
Adding a lightbar to your vehicle can come in handy. I've used my light bar countless times while off the beaten path looking for campsites later than I anticipated. They're great for adding light at camp when you're trying to set up at night, too.
If you plan on adding a light bar right away or in the future, you should look for a rack with a lightbar cutout.
Are You Installing it Yourself?
Some roof racks are more difficult to install than others. Be sure to check out the installation guide for your rack beforehand if you plan to install it yourself. We will try to link as many as we can find in our list below.
Of course, you can always contact a professional and have them install it for you if it seems overwhelming, but take into consideration that this will cost extra.
What Generation of 4Runner Are You Shopping For?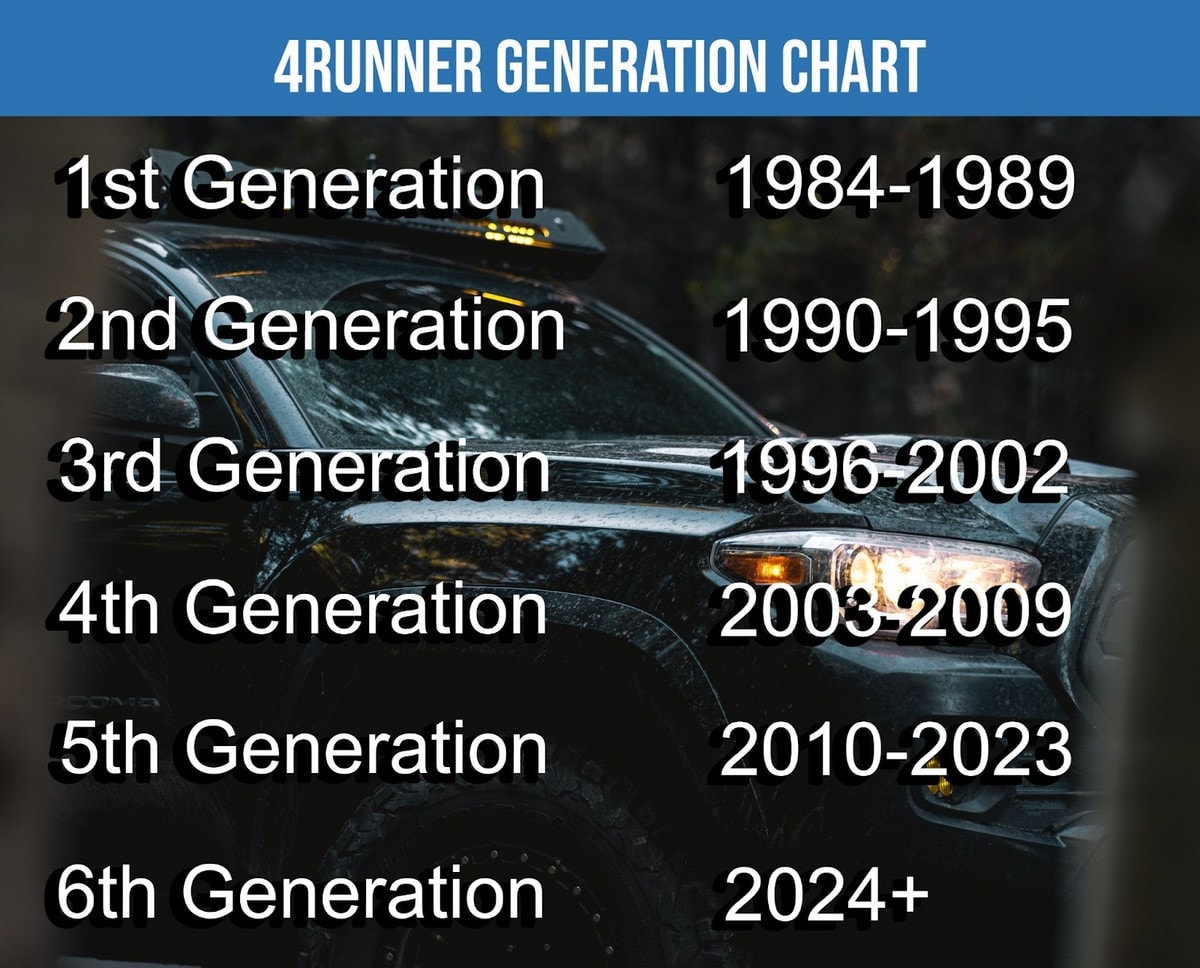 Not all roof racks will work on every generation of 4Runner. We will let you know what generations are compatible with all of the racks we list below. If you're not sure what generation of 4Runner you own, we created a handy guide to make it easy.
The 7 Best Roof Racks For The Toyota 4Runner
Now then, here are our top 7 picks for the best 4Runner roof racks:
1. Front Runner Slimsport Roof Rack
If you're looking for a low-profile rack that won't kill your gas mileage—the Front Runner Slimsport Roof Rack is an amazing choice. You can choose to add an optional wind faring that can host a 40-inch light bar.
This rack features 11 aluminum cross bars that are compatible to hold over 55 different front runner accessories from bike mounts to kayak mounts, storage boxes, etc. Each rack comes powder coated to ensure it won't rust or corrode over time. The low profile rack reduces wind drag and won't make noise while cruising at freeway speeds.
2. Prinsu Roof Rack
If you're nervous about installing your own roof rack because you don't want to drill into your vehicle, the Prinsu Roof Rack is a no-drill system that boasts easy installation. This full-sized rack covers the entirety of your roof, so it can hold tons of different accessories, toys, and gear.
The best part? This rack only weighs 50 pounds, which leaves you with plenty of extra weight to play around with. So you can go ahead and carry a roof top tent or other heavy gear worry-free.
The Prinsu rack comes with 10 ultra-strong aluminum crossbars and laser cut side rails that make it easy to tie down gear and hang accessories. Plus a wind deflector to save your gas mileage and cut down on wind noise.
I put a Prinus rack on my overlanding rig and I couldn't recommend it more. Prinsu racks are some of the best on the market and have an excellent customer service team that is available 24/7 for support. In over a year of use I never had any issues with mine.
3. CALI Raised LED 4
If you're looking for one of the most durable roof racks on the market, the Cali Raised LED Rack boasts the ability to hold over 1000 pounds of static weight.
If you remember earlier, the roof of your 4Runner is only supposed to hold 760 pounds of static weight, meaning your rack will be the last thing holding you back. Another great feature is that there are a few different light bars that are compatible with this rack and they can be added at any time with ease.
The Cali Raised rack is a 100% bolt-on design that doesn't require you to drill into your roof or make any modifications to the body of your vehicle, and there is an easy-to-follow video installation guide to help you ensure you're installing it correctly.
4. KC Hilites Pro6
Chances are you've heard of KC Highlights before. They're a family owned premium lighting manufacturer with a mission to "illuminate life's adventures by creating unique premium products."
While they specialize in off-road lighting, they also make some amazing overlanding roof racks as well. The KC Hilites Pro6 Rack is an ultra-light and ultra-durable rack that comes equipped with a 50″ Gravity LED 8-light Pro6 light bar, eight cross bars, and laser cutouts for strapping gear down.
This rack is specifically designed to only be used on the 5th gen Toyota 4Runner and can be easily mounted to contour your vehicle's roof perfectly to minimize wind drag, keep your vehicle's center of gravity balanced, and maximize cargo space.
5. Sherpa Princeton
The Sherpa Princeton Roof Rack is made from premium airplane grade 6061 aluminum and stainless steel hardware, while only weighing in at 50 pounds. This rack boasts the ability to hold 200 pounds of dynamic weight and 600 pounds of static weight, meaning it should have no issues carrying some of your larger gear items like a rooftop tent, bikes, kayaks, and more.
Note that this is less than your cab can carry, however, so you're not utilizing the full capability of your cab. This is good, however, to avoid getting to that max weight so you don't ever have to worry about it.
It also features plenty of tie down points on every part of the rack, and is completely modular meaning you can arrange all of your gear in endless configurations to suit your needs.
Another great thing about the Sherpa Princeton rack is that it boasts a super easy bolt-free installation that just about anyone can do. You can also choose between a black powder coat or bare processed aluminum. You can also decide whether you'd prefer a full-height faring with no light bar, or a half-height with a single row light bar.
6. Baja Rack FIX AFFILIATE STUFF SILL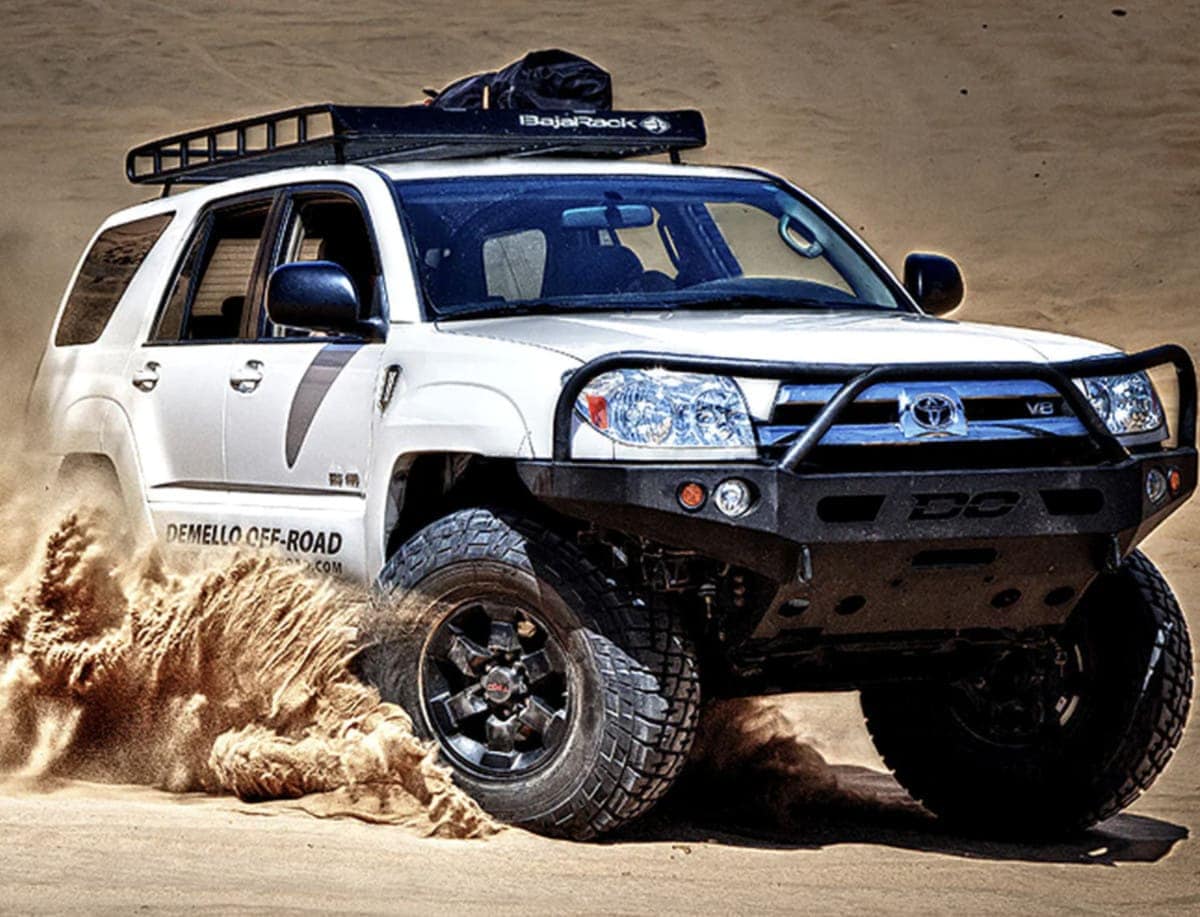 If you're in the market for a sturdy full-length roof rack, the Baja Rack is a versatile and easy-to-install option that we think you'll love.
This rack is made entirely of steel tubing and boasts the ability to carry up to 700 pounds—which is more than enough for almost all big accessories and gear like an awning, roof top tent, kayak, etc. Each rack comes with a black powder coat to protect it from rust and corrosion.
The Baja Rack comes with mounting hardware and brackets and can easily mount with no drilling required.
Overall, if you wanting a roof rack that can carry almost anything, this rack won't disappoint.
7. Go Rhino Ceros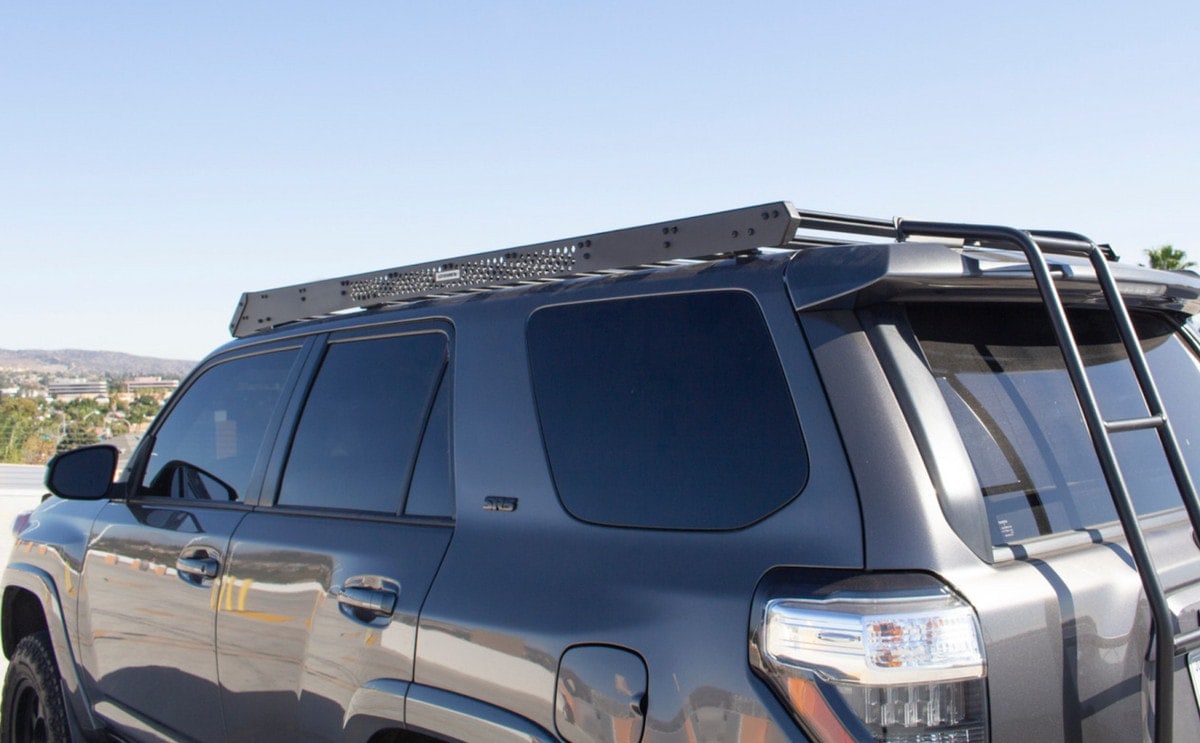 For a super sleek, modular, and budget-friendly option—the Go Rhino Ceros Rack is a full-roof rack that can hold its own compared to some other racks. It's crafted from high-quality materials like aluminum, 4-core crossbars, and cnc cutouts so you can easily mount gear and other accessories.
This rack is compatible with most 6-inch LED single-row light bars, and also has a wind deflector to minimize the added noise. However, this rack is only rated to hold about 150 pounds of static weight, so if you're thinking of adding a rooftop tent or other heavy gear, you'll have to break out he calculator to ensure you're not overloading.
Frequently Asked Questions
Here are some common questions that you may have about roof racks and your Toyota 4Runner:
What are the disadvantages of having a roof rack?
The main disadvantages of having aftermarket roof racks installed on your vehicle are that they add weight and aren't easily removable. While there are plenty of aerodynamic designs on the market, you will most likely lose out on some gas mileage in the long run.
How much weight can a 4Runners roof hold?
The roof of the Toyota 4Runner boasts the ability to hold 300 pounds of dynamic weight, and 760 pounds of static weight. This is far more than most other SUVs on the market.
Should I remove my roof rack when it's not in use?
While there are plenty of roof racks that don't require drilling into your 4Runners roof, removing your rack while it isn't in use can be tedious. It's not necessary that you remove your rack, and it shouldn't cause any damage or harm if it's installed properly.
How hard is it to install a roof rack?
The difficulty of installation varies from rack to rack, but it is recommended that you get familiar with the installation process before you tackle the project yourself. Also be sure to have the help of a friend as they can be difficult to install alone.
Final Thoughts
There are plenty of amazing roof racks on the market for the Toyota 4Runner, and finding one that will fit your individual needs shouldn't be too difficult of a task. We hope you've found the perfect 4Runner roof rack that will suit all of your off-roading and adventure needs.
If you're looking to deck out your 4Runner with all of the coolest gear and accessories, you should also check out our guide to the best 4Runner mods.