If you're a Toyota 4Runner owner, you might be interested in modifications that will improve the rugged good looks, durability, and functionality of your vehicle.
Some of the most common 4Runner mods are specifically designed for overlanding, but look just as good and are just as functional for daily driving. They're also a great way to customize your truck build.
This list includes the best mods for 4th and 5th gen 4Runners—interior, exterior, lighting, and extra accessories we think will look awesome on your vehicle.
Table of Contents (Click to Expand)
Best 4Runner Interior Mods
We'll start from the inside out for this list. These are some Toyota 4Runner mods that improve the style, organization, and quality of your interior.
1. TRD Gear Shift Knob
Get a good grip on your ride —replace your factory shift knob with a TRD gear shift knob. In 5th gen 4Runners, it's easy to install and gives your interior an upgraded feel and look to set it apart from others.
2. Glove Box Organizer
A simple and inexpensive addition to your ride, this glove box organizer is a perfect fit for 5th gen Toyota 4Runners and is a better option than throwing everything in there and hoping you can find what it is you need when you need it.
3. Durable Floor Mats
Keep your rig looking new no matter what year it is with these durable floor mats. These weather proof mats offer maximum protection of your 4Runner's carpet from the elements.
4. Durable Cargo Mat
Don't forget to get the matching cargo mat while you shop for floor mats to protect the cargo space carpet from whatever you're hauling.
5. Center Console Organizer
Another simple addition, this center console organizer will keep your center console from becoming a bottomless pit by creating more room and compartments. It's the small things that make a big difference.
6. MOLLE Storage Panel
If you use your 4Runner for overlanding, these MOLLE rear window storage panels are great for storing gear, look super rugged, and installation is surprisingly easy. There's more than one location in your 4Runner you can install these things, another being the side of the center console, for extra storage.
Best 4Runner Exterior Mods
Moving on to the outside, these are some of the best exterior 4Runner mods that will make people do a double take when they see your rig.
7. Improved Suspension
The most common modification 4Runner owners make to their rigs is improving their suspension—especially if they use their vehicle off-road.
The lift kit you'll need is subjective based on how much weight you have added to your rig, what model of 4Runner you own, and what trails you intend to take your 4Runner on.
You'll want to do some of your own research on this one but the Fox 2.0 Performance Series is a popular option and a good place to start.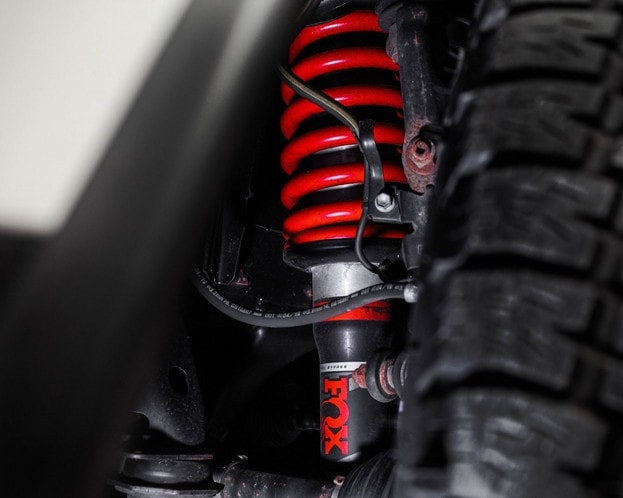 Photo by Joshua Vialdores on Unsplash
8. Mud Tires (or All-Terrain)
While you're doing the suspension installation, you might also want to look into swapping out the factory tires with some mud tires if you plan to make your 4Runner a dedicated off-roading vehicle.
Mud tires can make all the difference when you're off-roading—they perform better over gravel, dirt and of course, mud. The large tread gives you better traction so you're less likely to get stuck. Plus, they look badass.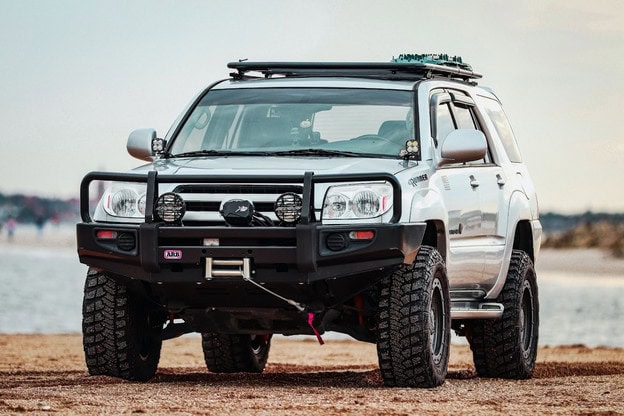 Photo by Lance Asper on Unsplash
There are some downsides to mud tires, however. Cruising down the road, mud tires are much louder and get worse gas mileage. If your 4Runner is your daily driver, consider getting all-terrain tires instead. Shop around your local tire shops for a good deal.
The best tires for Toyota 4Runner are probably either the BFGoodrich All-Terrain T/A KO2 or the Bridgestone Dueler H/L Alenza Plus, but it's going to depend on what you do with the vehicle. Make sure you pick the size that's going to fit your rig before you hit buy!
Check out our guide to the best 37 inch tires here if you plan on going bigger.
9. TRD Pro Grille
Instead of paying more for the whole TRD Pro package from the dealer, swap out your factory grille for a more aggressive looking TRD Pro Grille. Just make sure you get the right fit for your model:
10. Roof Rack
Besides the obvious benefits of a roof rack like extra storage for large gear, they add a cool, aggressive look to your exterior. There are a lot on the market varying in price and quality.
If you want a roof rack specifically for your 4th gen 4Runner, we suggest this one from Prisnu. They also make a great roof rack for 5th gens.
This budget-friendly universal roof rack will also get the job done if you only plan on needing a roof rack sometimes.
Still unsure of what roof rack is right for you? That's okay! We actually compiled all of our favorite 4Runner roof racks and what we love about each of them.
Related Reading: The 9 Best Overland Roof Racks for Off-Road Adventures
11. Hatch Ladder
After installing your roof rack, you'll want a hatch ladder so you can easily store and access your gear.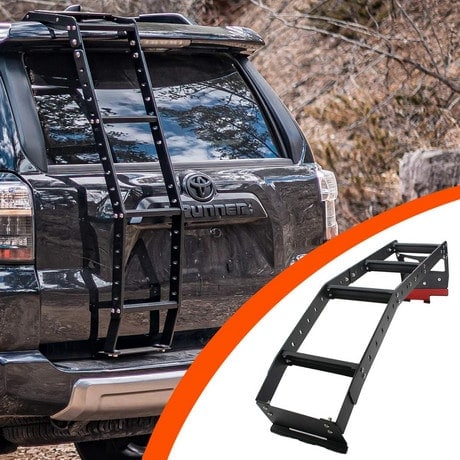 12. Bull Bar
Bull bars are great for protecting your bumper from rocks and brush or other drivers in town. For 4th gen models, check out this bull bar with a skid plate. For 2010 and newer 4Runner models, we suggest this TAC bull bar.
Toyota 4Runner Lighting
Lighting is not only a safety feature—it's also another great way to customize. With Toyota 4Runners, there are a lot of different lighting features you can try out.
Related Reading: 7 Awesome Overland 4Runner Builds to Inspire You
13. Light Bar
Light bars are a great thing to equip an overland vehicle with to make sure you and your rig are safe off-roading after dark. Plus, they look great.
This Cali Raised LED light bar fits all 4Runner models from 2003-2022 and comes in a convenient kit with everything you need to complete the job, which makes installation super easy.
14. Fog Lights
A fairly easy project, you can upgrade the factory halogen bulbs in your 4Runner's fog light housing for these LED fog light bulbs, which will make both regular driving and offroading easier at night.
15. Ditch Lights
Adding ditch lights to the front of your SUV is another way to increase the safety of your night time drives. These Cali Raised LED ditch lights are easy to mount and work with 4th and 5th generation 4Runners.
16. TRD Pro Grille Raptor Lights
Complete your TRD style modification with these TRD Pro Grille Raptor lights. While the aftermarket TRD Grille for some models comes with the Raptor lights included, not all do. They're fairly easy to install, so if you purchase a grille, you may want to purchase the lights at the same time.
17. LED Projection Headlights
While the look and quality of the factory headlights is fine, you can switch them for these LED projection headlights from Cali Raised to make your vehicle stand out, and again—who doesn't want more light for late night adventures?
18. LED Interior Lights
Replacing the factory halogen bulbs for LED interior light bulbs just makes the interior of your vehicle so much brighter at night. You can even choose the color of these bulbs if you feel like getting really customized.
Toyota 4Runner Accessories
These are a few extras that don't necessarily fit into any of the modification categories but are still worth considering purchasing for your 4Runner.
19. Air Compressor
Honestly all vehicles should probably carry an air compressor. It just makes life easier not having to go to the gas station to fill up or air down when necessary.
If you plan on overlanding, a portable air compressor is a necessity. If you want to look into the best air compressors for overlanding, you can read more here.
20. Black Emblems
You want to wear that Toyota logo with pride. Make your emblems look sleek and new with a black overlay kit like this one or do it yourself in an afternoon to make this upgrade basically free.
21. Scosche Phone Mount
One accessory you might not realize you need but that will make a big difference is the Scosche phone mount. It's an inexpensive, universal option for keeping your phone in place using a super strong magnet. You can take your 4Runner off-road and trust that your phone will stay put.
22. Backup Camera
If your Toyota 4Runner didn't come already equipped with one, you should definitely invest in a backup camera like this one.
23. Dashboard Cover
Especially if you have an older model 4Runner, chances are you want to keep it looking as good as it did when it first came out. Getting a dashboard cover like this one protects the dash from sun damage and other wear and tear.
24. Sunshade
Speaking of protecting your interior from sun damage, if you want to protect your upholstery as well as keep your vehicle slightly cooler in the summer, you should grab a windshield sunshade for your 4Runner too.
More Overlanding Mods & Guides
Owning a Toyota 4Runner is the first step, now it's time to make it your own with some custom modifications that add style, utility, and protection to your vehicle. We hope you found some inspiration from this list but if you still want to find more, check out these other guides: