Truck camping is one of my favorite ways to camp.
Thanks to four-wheel drive and higher clearance, you can go almost anywhere. And because the truck has so much storage, you can bring everything you need to stay off-grid.
If you're ready to dive into truck bed camping, then you've come to the right place. I've been doing it for years and I've tried nearly every truck bed camping setup.
Let's dive in!
5 Truck Camping Setup Options
There are four main truck bed camping setup options, but I'll also mention one other option for truck camping you might want to consider.
1. Truck Bed Tent
Probably the simplest setup is grabbing a truck bed tent and sleeping directly in your bed. They are affordable and easy to set up.
However, they lack storage for your truck camping gear, as most of them take up the entire bed.
I'd only recommend a truck bed tent for those looking to test out truck bed camping but aren't sure yet if you'll like it.
2. Rooftop Tent
One of my favorite options is hopping in a rooftop tent! You'll need to install a roof rack and rooftop tents are expensive, so it does require more commitment than a truck bed tent. You may be wondering if rooftop tents are even worth it.
However, you get the added benefit of a built-in mattress and ease of setup. Since they're installed either on the roof or over your bed, you also don't sacrifice as much storage as an in-bed tent.
My personal favorite rooftop tent is the iKamper Skycamp Mini.
If you really want to upgrade your roof rack, why not add a 270 degree awning? In most cases, they're able to sit right next to your rooftop tent!
Related Reading: We Reviewed the Best Rooftop Tents on the Market
3. Truck Cap / Camper Shell
A truck cap or camper shell is another low-cost and easy option for pickup truck camping.
It makes a great spot to throw a mattress in your truck bed that's out of the elements. And it's easy to remove if you want to convert your truck back into a regular pickup bed.
Plus, you can always throw totes on top of the mattress, so it's not too hard on storage space. They allow for plenty of space on top for hauling wood, kayaks, or a toolbox. You could even still install a bike rack on your Tacoma.
The only big issue with a truck cap is that you need to make sure it's waterproof. Most caps aren't sealed perfectly, so you'll need to do some extra work to make it water-tight. We have a guide to the best Toyota Tacoma bed caps, but most of them are compatible with other standard short and long bed trucks.
Related Reading: The 7 Best Toyota Tacoma Camper Truck Setups in 2022
4. Truck Bed Camper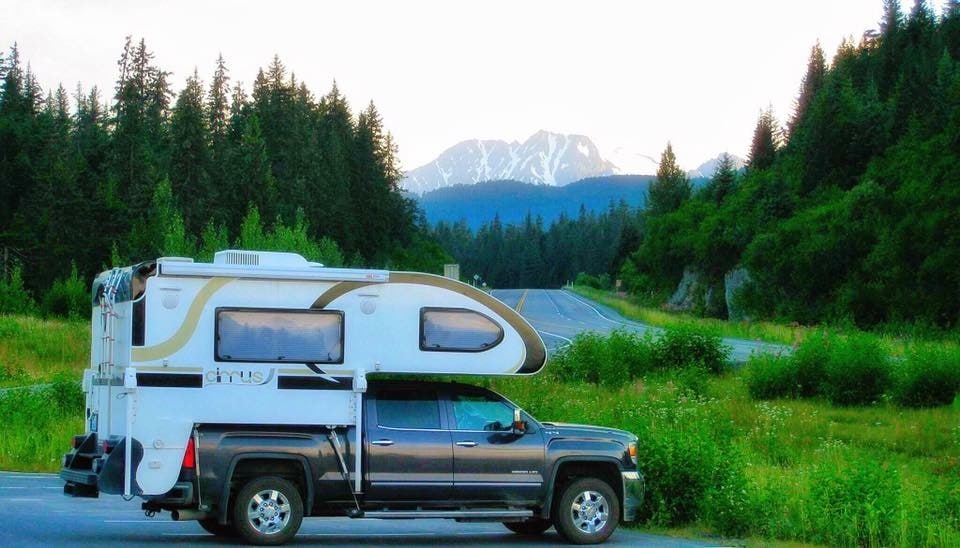 A truck bed camper is a more expensive option for truck camping, but it adds a TON of amenities and comforts that no other truck bed camping setup can do.
For example, a truck camper often comes with a camp sink, water tanks, electricity, storage options, and even a bathroom.
That's not to say you can't have these things without a truck camper, but it does make it easier. However, this option is much more expensive than the other truck bed camping options.
Related: Overlanding Solar Setup Guide: How to Have Power on the Road
5. Pull-Behind Trailer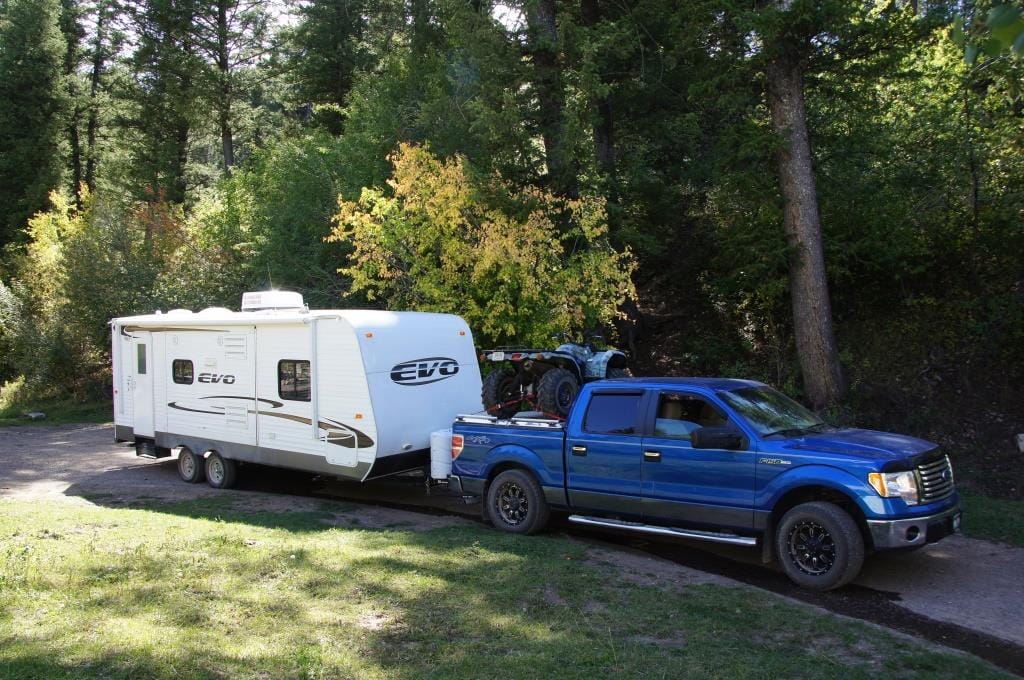 Lastly, while this isn't technically a truck bed camping setup, it is a great way to go camping with your truck. A pull-behind travel trailer does limit where you can go (unless you get an off-road trailer), but you sacrifice off-road ability for more creature comforts.
Again, though, this is a much more expensive option. One of the appeals of truck camping is that it's cheap and easily accessible as long as you have a truck. This adds a layer of complexity and cost that you may not want to get into.
My Favorite Truck Camping Gear
If you're anything like me, you probably love having all the latest high-tech gear. It's a problem!
However, camping storage can quickly become an issue. So while it would be awesome to have that camping washing machine, it's probably best to boil it down to the essentials.
My personal must-have overlanding and camping gear includes:
A sleeping bag & pillows
Water storage containers
A good camping fridge or cooler
A tent fan for hot summer nights
Recovery gear like a shovel and recovery ropes
A gas can for those extended camping trips
Flashlights, pocket knife, and cooking gear (I recommend cast iron)
Camping stove and lighter
These are just the basics. Truck camping can get expensive and cumbersome pretty quick! It's a good idea to have a few storage boxes for gear storage and organization.
Truck Camper Setups to Inspire Your Build
Building out your truck camping rig is super fun, but it can be tough to come up with your own ideas. So to help you with your build, here are a few setups to inspire you!
1. Toyota Tacoma Overlanding Build
My 2018 Toyota Tacoma TRD Pro overland build has an iKamper rooftop tent over a Diamondback cover with a Frontrunner rack system. It has 33" Goodrich KO2 tires and a Prinsu roof rack.
I've taken this everywhere from Montana to Mexico and it's been a dream to travel in! Check out more on my YouTube channel.
Related Reading: Toyota Tacoma TRD Pro vs. TRD Off-Road: Which is Best?
2. Magellan and Greyhound's RAM 1500 Camper Shell Build
If you're more interested in a camper shell, Magellan and Greyhound share their setup in the video above. It's nice to have such a simple setup to get on the road with!
3. Talon Sei's KIMBO Truck Camper
Talon Sei has a KIMBO truck bed camper that's honestly a dream for me and probably what I'll be upgrading to soon!
Truck bed tents are awesome, but they lack some of the finer things in life for someone who's basically living in their truck full-time. That's where the KIMBO comes in.
If you're still wondering what kind of gear and accessories you need for your truck camping adventures, we have a whole guide to our favorite truck camping gear and accessories!
Frequently Asked Questions
Here are a few questions I'm often asked about my truck camping setup:
Is truck camping comfortable?

It certainly can be! A truck camping mattress means it beats sleeping in a ground tent. Plus, having your truck means you get other creature comforts like easy storage and the ability to go off the beaten path.
How can I make my camping truck more comfortable?

It depends on the truck you have. It's always easy to throw a mattress in the bed to make things comfier. Taking a comforter and regular pillows from home can also help.

Having a fan and/or a heater makes things even more comfortable regardless of the temperature outside.
Can you turn a pickup truck into a camper?

Absolutely! As you can see from the options above, there are tons of ways to turn a pickup truck into a camper.
Final Thoughts
Truck bed camping is one of my favorite ways to go off-grid for a camping trip. I still love tent camping, but only if I'm backpacking. Otherwise, you just can't beat having the truck!
If you want to learn more about vehicle-based adventure travel, check out my beginner's guide to overlanding. It shares everything you need to know to get started adventuring off-grid!