While off-roading can be a fun and rewarding experience, traveling off the beaten path involves inherent risks.
Any rough terrain potentially has ditches too deep to traverse or rocks too large to travel over, leaving your overlanding vehicle's tires spinning. While it's a frustrating situation to find yourself in, it's not impossible to overcome as long as you have the right tools.
For example, one of the most valuable pieces of over-landing gear is a recovery shovel to use for digging your tires out of ditches.
This cornerstone of any good recovery kit pairs with shackles, snatch steps, recovery boards, and winches to prepare you for any overlanding situation that may arise.
They have many other uses for the average outdoorsman, but not all shovels are created equal. Every shovel can prove more or less effective depending on what you're using it for.
While it may be challenging to pick out the best overlanding shovel for your needs (especially if you're inexperienced with off-road travel), we have a handy guide to help you choose the best recovery shovel possible.
Top-Rated Off-Road Shovels
Below, we've listed some of the best-rated o0verlanding and wheeling shovels available to purchase. While this isn't an exhaustive list, it'll give you a good idea of what to look for in a quality recovery tool.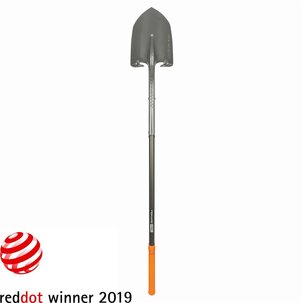 The Fiskars PRO shovel is a heavy-gauge spade with an aluminum handle and a double-bolted connection for enhanced stability while in use. While Fiskars initially made it for gardening, its heavy-duty design and enhanced durability make it an excellent off-roading shovel as well.
The angle of the shaft makes it a perfect choice for prying up large rocks, while the sharpened edge of the spade can cut away even the thickest roots.
Pros
The large step allows stable footing while digging.
Soft grip handles allow for all-day comfort.
Heavy-duty design can handle large loads without breaking.
Fiskars offers a full lifetime warranty after purchase.
Cons
The shovel's paint can start to fade after only a few uses.
Covered in hard-to-remove stickers.
Related Reading: Beginner's Guide to Overlanding
The Bully Tools Round Point Shovel is an American-made tool primarily meant for gardening but built sturdy enough to handle digging vehicles out of ditches.
The sturdy polypropylene handle offers superior strength and durability compared to competing brands. At the same time, the 14-gauge steel can withstand even the harshest recovery jobs.
Pros
Bully Tools gear is 100% made in the USA.
One of the more inexpensive shovels available for purchase.
Fiberglass handle reinforced with wood ensures an extended lifespan.
12-gauge steel blade perfect for heavy-duty recovery.
Cons
The shank isn't welded securely where it meets the shovel blade, making it likely to break at the joint.
Heavier than other shovels.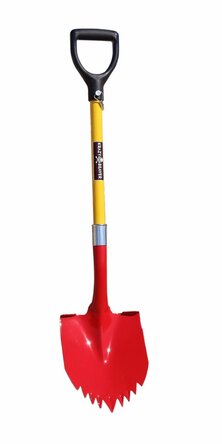 Designed by a former member of the New Mexico search and rescue team, the Krazy Beaver off-road shovel can cut through just about anything. The head is the defining feature—13-gauge steel jagged teeth provide extra piercing and pulling power.
Additionally, the Krazy Beaver shovel has a handle reinforced with fiberglass, ensuring that it can withstand heavy workloads and last for a long time to come.
Pros
The teeth design of the head helps the Krazy Beaver shovel break through rigid materials like rock or ice.
Built with a lightweight fiberglass core for added durability and ease of use.
The handle is removable to allow for easy storage.
Cons
Relatively expensive compared to other shovels.
Large 30" length may make it unsuitable for certain recovery work.

A compact, military-style folding off-road shovel, the Gerber E-Tool Folding Spade is one of the best recovery shovels on the market. Its small size makes it easy to store and transport across long distances. Additionally, flimsy connections and inferior materials aren't a problem with the Gerber E-Tool.
Gerber made the spade head from sturdy carbon steel and powdered it to make it resistant to rust and perfect for digging out small holes and shallow trenches.
Pros
Made from higher quality materials than the competition for enhanced durability and an extended lifespan.
Compact and lightweight design allows for easy transport.
The head's serrated edge increases the E-Tool's versatility, allowing for added digging strength in rough terrain.
Cons
High-quality materials make it slightly more expensive than other folding spades.
Doesn't come with a sheath to protect from the serrated portion of the head.
Shovel Mounting Options
After choosing your shovel, the next thing you have to do is figure out how you'll take it from place to place. While leaving it in the back of your vehicle is an option, a loose shovel on a bumpy road can do a lot of damage to the interior of your car. Your best bet would be to mount it securely on the outside of your vehicle.
You have a couple of options for mounting, depending on the needs of your vehicle:
Quick Fist Clamps are inexpensive holding equipment that you can mount on any of your car's surfaces; however, working with them in freezing temperatures makes fastening to your car tricky.
Alternatively, if your vehicle has a mounted spare tire, you can attach a Rugged Ridge Spare Tire Rack directly to it. Made of rust-resistant steel that's more durable than the rubber Quick First Clamps, this rack can secure your shovel (along with a few other tools) to your tire with velcro straps. Though they are much more expensive than the clamp option, you're paying for the added quality and security the rack can bring to your off-road tools.
Conclusion
If you're someone who enjoys the off-roading overland experience, then you know how important having the proper gear is to stay safe, especially an off-road shovel. For newcomers, you'll find that going with low-quality equipment or no gear at all can quickly escalate a stuck car from a frustrating situation to a terrifying one. Having a shovel on hand can help get you out of a tricky situation, and it is essential to pick the right one.
You'll have many more options than what we've listed above, so for a quick recap:
A shovel with a pointed or serrated tip is better for penetrating harsh surfaces and digging up the earth.
Wood or steel handles are susceptible to the elements without proper care. Fiberglass handles make the best shovels for off-roading.
Each shovel length is suitable for a different recovery job. It's best to have one each for the most versatility, but you'll do best with a compact shovel if that's not an option.
Related Reading: