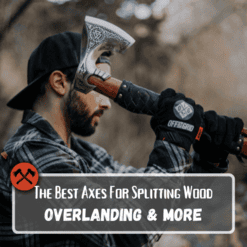 If you're an outdoor enthusiast who loves camping, overlanding, or off-roading, then you know the importance of having the right gear for any situation. An axe is an essential part of any outdoor enthusiast's tool bag.
So whether you're trying to build the best fire for cooking delicious camping meals, or preparing to build a potentially life-saving emergency shelter—having a durable and high-quality axe will always come in handy.
We've found and used some of the best axes for splitting wood on the market to help you decide which one is right for you, so let's dive in!
09/23/2023 09:42 am GMT
Table of Contents (Click to Expand)
What To Look For When Buying an Axe?
Here are the key things to look out for when you're shopping around for the perfect axe:
Axe Head Shape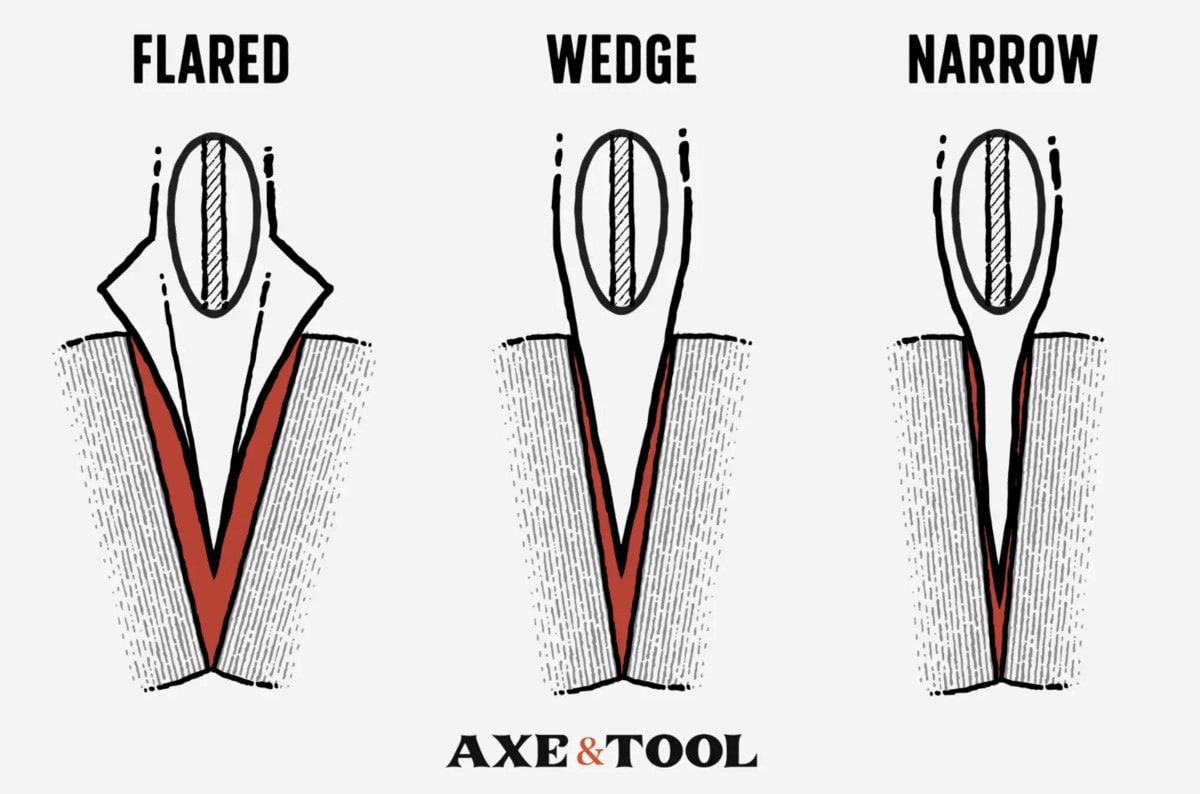 Photo Credit: Axe & Tool
Different shaped axe heads serve different purposes when it comes to how you're splitting wood. The three main shapes are narrow, wide, and flared.
Flared blades are the best choice for splitting larger pieces of wood since they dissipate friction and help pry the log apart. They are not a great choice for chopping, however. This is the most common shape you'll see in a splitting maul and is the best axe shape for wood splitting.
If you're in the market for a great all-purpose axe, a wedge shape will be the best option. This is the type of axe that I carry with me in my overlanding rig, and I can't recommend it enough.
They are great for chopping, splitting, and can even do a decent job at felling. It may take a bit more effort than having a specific axe designed for the job, but wedge shaped heads work best for an all-purpose design.
Narrow blades in general take more effort to split a piece of wood. This is because the blade is prone to getting stuck and also creates a lot of friction. However, they do a great job as a felling axe and are great at creating kindling.
Haft
The haft is the handle of your axe, and you'll most often see it made of either reinforced plastic, metal, or wood. All three materials have their pros and cons, and deciding what one is right for you will come down to personal preference and experience.
Type of Metal
Photo Credit: Bush Craft Info
The best kind of metal to use for axes are 1050 and 1060 carbon steel. These metals are highly durable and won't corrode like other kinds of metals. While it may seem at first like a harder steel would be better for an axe, it is common for harder steel to chip.
You can also find axes made from other materials like cast iron, tool steel, and stainless steel. Stainless steel is another great option because of how tough and resistant to corrosion it is. Cast iron and tool steel are not ideal choices because they rust and corrode easily and are prone to chipping.

Photo Credit: Bush Craft Info
Handle Length
To properly swing an axe with good technique, you'll want to be sure that your axe handle length is correct. One of the easiest ways to decide what length to buy is to place the axe head on the ground with the handle facing upwards. The handle should come up to just below your knuckle on your middle finger.
Of course, you won't always have space for a large axe. If you're looking for a space-saving design for your camping set up, then you can disregard this chart and buy a smaller axe built for portability (and don't worry, we have plenty listed below!)
If you're purchasing an axe online you also won't be able to size it up in person. Awesome Axes has a great chart below to help you decide what handle length is right for you: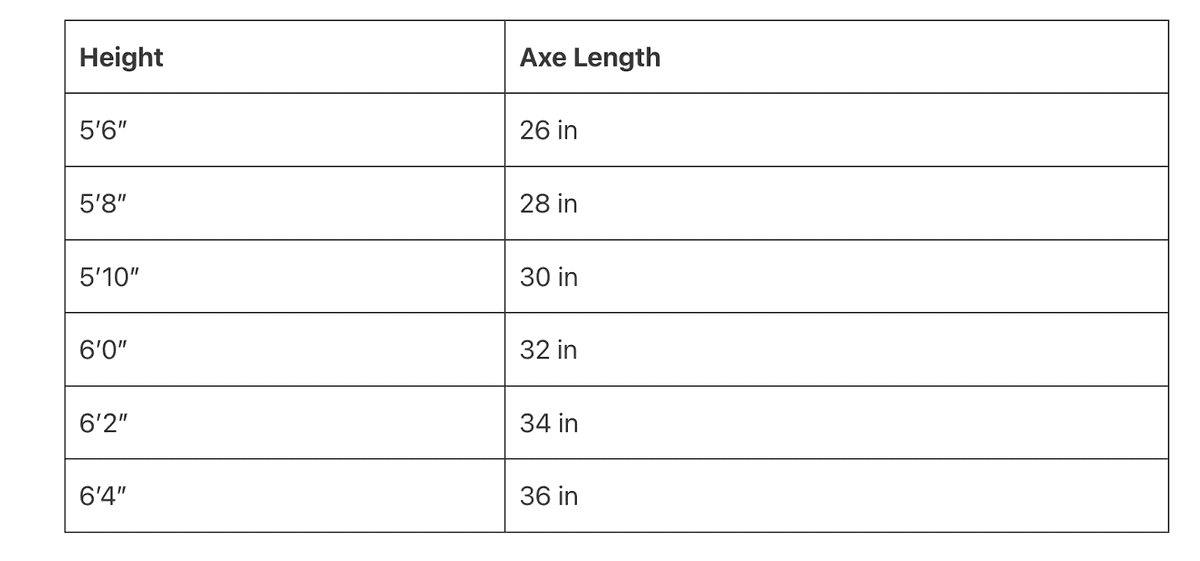 Single Bit vs Double Bit
Double bit axes are awesome for those who are serious about chopping, splitting, and felling wood. This is because each side of the axe can be specifically tailored to perform differently. However, these axes are much more dangerous than single bit axes and take more care to store.
The Best Axes For Overlanders and Outdoor Enthusiasts
Here are the best axes on the market to help you split wood like a pro:
1. Fiskars Super Splitting Axe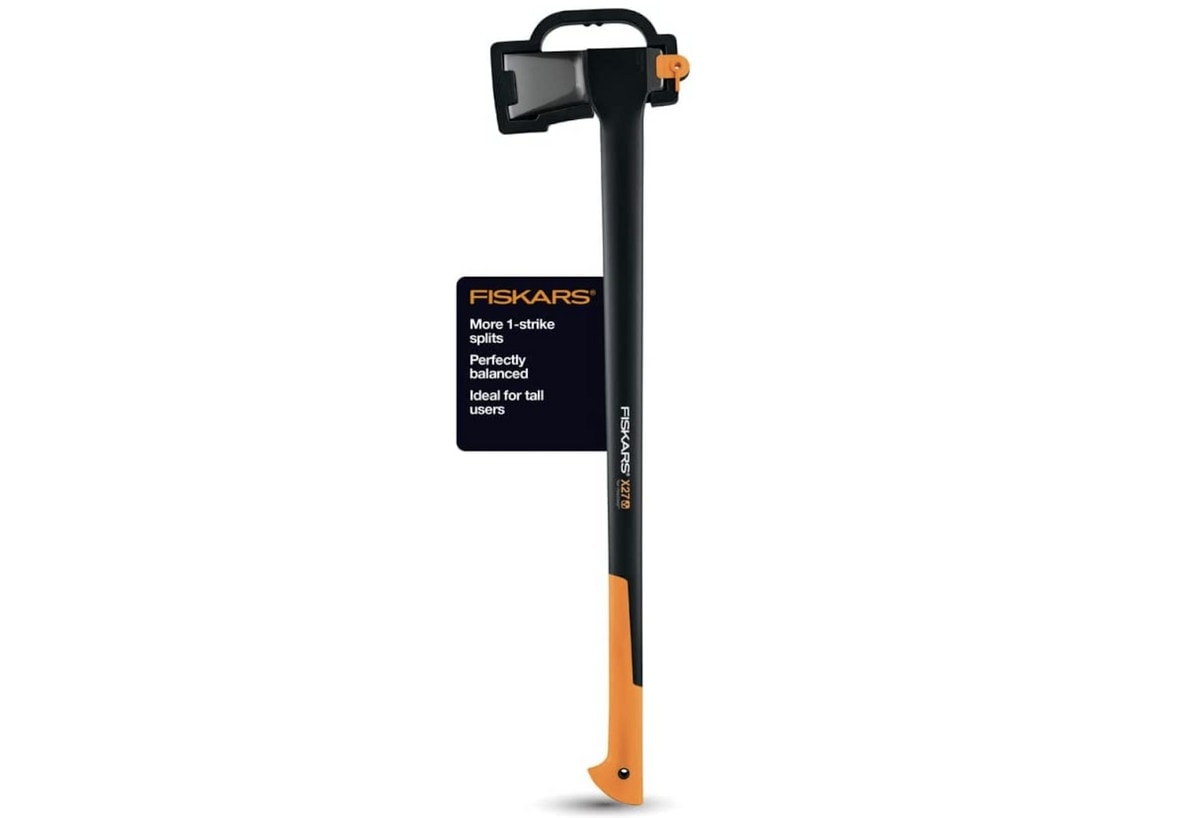 Head: Steel
Handle Length: 36 inches
Haft: FiberComp
The Fiskars Super Splitting Axe is one of the most popular axes on the market and it's easy to see why. It has an extra long 36-inch handle that increases leverage to help you split logs with ease.
The head is made from forged steel and the haft is crafted from a reinforced composite material called FiberComp that is great for absorbing shock. This axe also boasts an ergonomic design that helps keep your hands and arms from tiring out.
Overall, if you're in the market for an affordable axe that won't let you down—the Fiskars Super Splitting Axe is the way to go.
2. Wilfiks Chopping Axe
Head: Forged Carbon Steel
Handle Length: 15 inches
Haft: Fibreglass
If you're short on space and looking for an awesome multi-purpose small axe, the Wilfiks Chopping Axe is an ideal choice. With its short 15-inch design, it tucks away much easier than some of the larger axes on this list, making it the perfect camp axe.
The head of this axe is designed to give you maximum one-strike splits and is also great for chopping. The fibreglass handle is an ergonomic design that helps to keep you from tiring out. The handle also works as a shock absorber to help dissipate some of the impact before it hits your hands.
3. Hults Bruk Agdor 28 Montreal Axe
Head: Swedish Carbon Steel
Handle Length: 28 inches
Haft: US Hickory
If you're on the hunt for a seriously impactful axe that can do almost anything you need, the Hults Bruk Agdor 28 Montreal Axe is a high-quality heavy axe that can tackle it all. This axe features a wide head that is ideal for wood splitting jobs and a long blade that is great for chopping.
Another great feature of this axe is the tempered zone in the head. This basically means a portion of the axe was heated and cooled in order to increase the toughness and durability of that specific part. This also helps keep the blade much sharper between jobs.
Wood axe handles can be awesome because they wear down overtime and become even more comfortable, but this axe omits the use of any lacquer that tends to get sweaty and slippery.
4. CRKT Woods Chogan T-Hawk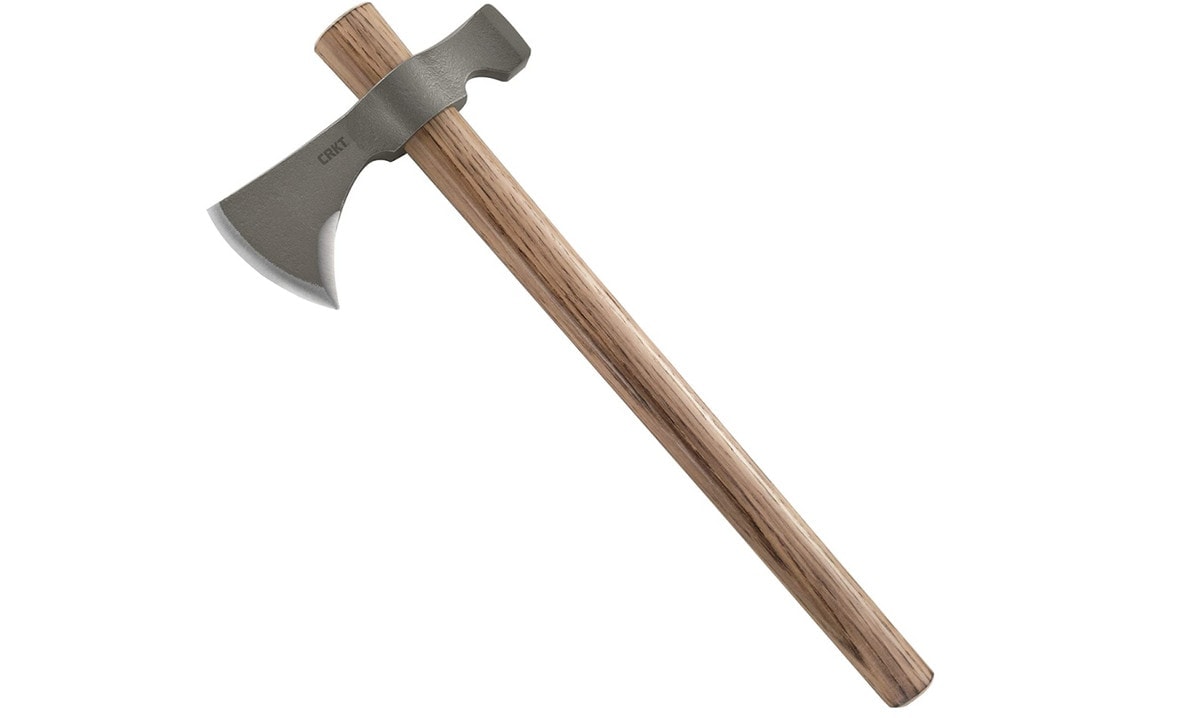 Head: Carbon Steel
Handle Length: 19 inches
Haft: Tennessee Hickory
If you're looking for an axe that can do it all—the CRKT Woods Chogan T-Hawk is one of the best axe designs for chopping, splitting, and even hammering. This axe features a classic tomahawk design that is not only incredibly practical, but also looks great.
The carbon steel head is specifically designed to resist dulling and is uniquely shaped to tackle almost any job you'll come across at a campsite.
The sturdy hickory handle provides a comfortable grip and absorbs shock. This allows for precise and powerful swings.
5. 1844 Helko Werk Germany Traditional Hinterland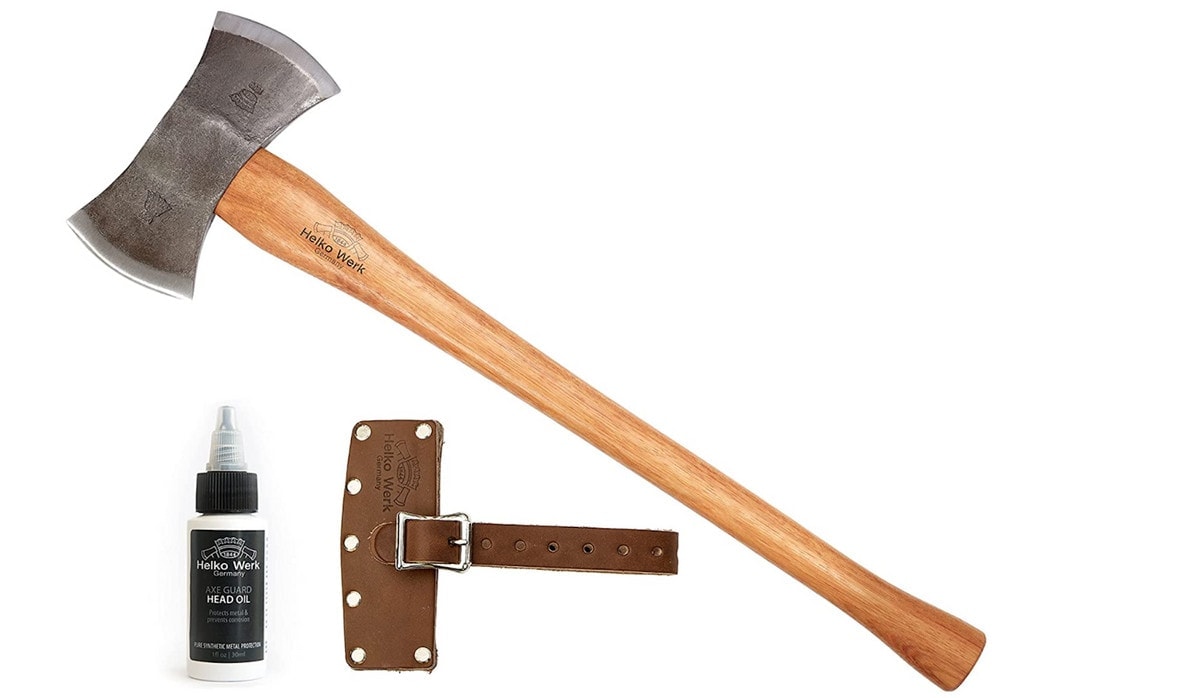 Head: High-Grade Carbon Steel
Handle Length: 27.5 inches
Haft: Grade-A Hickory
If you're a sucker for traditional design, the 1844 Helko Werk Germany Hinterland not only looks great, but reflects the rich history and heritage of traditional axe making.

The double-bit design gives this axe a leg up since it is designed to be incredibly versatile. Whether you're chopping, splitting, or felling trees, this axe can handle the job.
Helko Werk is known for creating some of the most high-quality axes you can buy, and while it has a much higher price tag than some of the others on this list—it'll likely be the last one you'll ever need to purchase.
6. Fiskars Norden N10 Chopping Axe
Head: Forged Carbon Steel
Handle Length: 19 inches
Haft: European Ash Wood
Between the sustainably sourced European Ash wood curved handle and ultra sharp carbon steel head, there's no doubt that the Fiskars Norden N10 Chopping Axe is an absolutely beautiful axe.
This axe is designed to be used with just one hand, and is therefore relatively small and light compared to some of the others on the market.
It's also ideal for those who camp or garden often as it's a fairly multi-purpose design. The weight of the axe is meticulously balanced to ensure that your swings are accurate and as effortless as possible, and the small design is ideal for splitting firewood, making kindling, and shaping wood.
Fiskars axes have an incredibly reputable history and go through a rigorous testing process to ensure that they're the highest quality design, so you know you won't be disappointed.
7. ESTWING Fireside Friend Axe
Head: 1055 Carbon Steel
Handle Length: 14 inches
Haft: Steel
If you're someone who plans a lot of camping trips, you're likely on the hunt for the best camp axe you can buy. The ESTWING Fireside Friend Axe is designed to be the ideal camp axe. It is compact, sharp, durable, and able to handle pretty much any job you'd need on your camping trips.
The blade is designed to be a great splitting maul, but also ideal for making kindling because of its sharp thin blade. The dual-sided design also doubles as a hammer which is great for driving tent stakes into the ground or to help secure awnings and clotheslines. Using a hammer will ensure your stakes last much longer than if you use a rock.
The blade of the ESTWING Fireside Friend Axe is drop forged to ensure that it is free from imperfections, highly durable, and shaped to precision. This is done by placing the metal billet (carbon steel in this case), into a mould to create its intricate shape.
8. Chopper Wooden Axe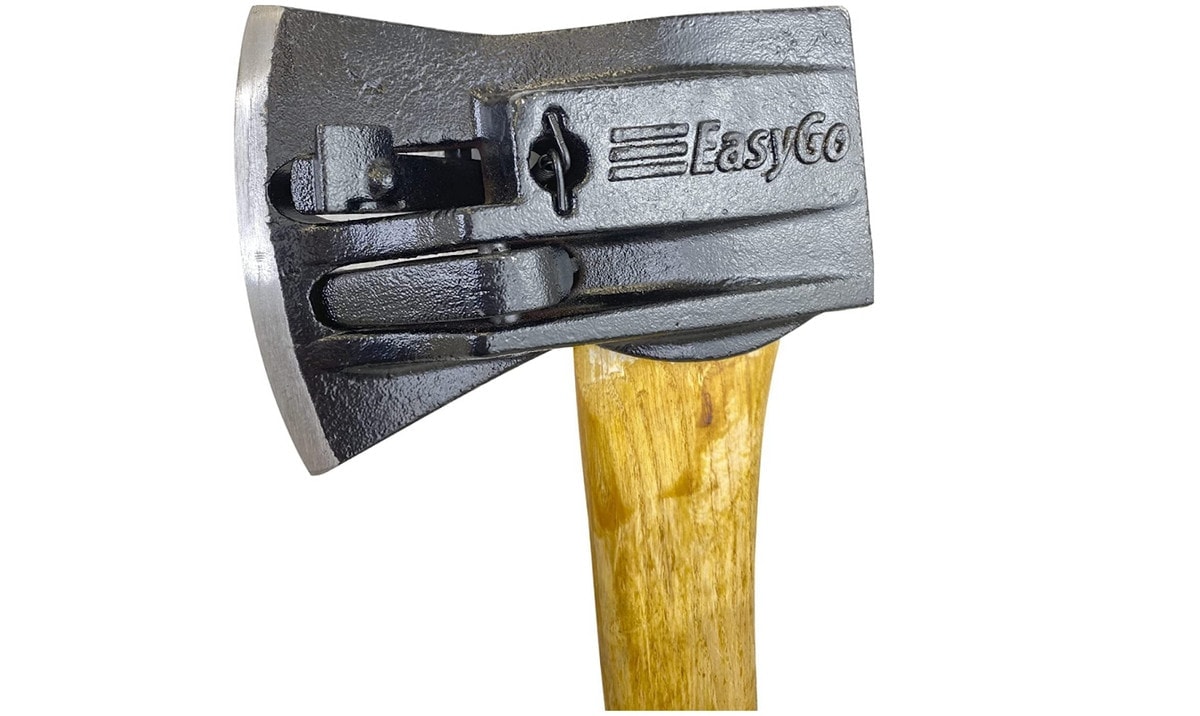 Head: Drop Forged 1055 Carbon Steel
Handle Length: 31 inches
Haft: American Hickory
If your main purpose for purchasing an axe is splitting wood—the Chopper Wooden Axe should be at the top of your list. This is not only due to the durable 1055 drop forged and heat treated carbon steel head, but also because of the uniqueness of the design.
The head is equipped with spring activated levers that work to drive each side of the wood in opposite directions. This maximises your splitting power and allows you to split even larger logs and tough wood with ease.
Another great perk is that the opposing side can also be used as a hammer. The curved hickory handle is designed to be ergonomic and works to keep perfect weight distribution for easy swinging.
9. Gerber Bushcraft Axe
Head: Drop Forged Steel
Handle Length: 15 inches
Haft: Full Tang High-Performance Rubber-Wrapped Steel
The Gerber Bushcraft Axe is an ideal choice for those who enjoy bushcraft and other outdoor activities. The handle is equipped with an overstrike guard which allows you to choke up to the blade for extra power and precision.
The handle features a storage space to house the provided waterproof storage stick inside. It can hold paracord, kindling, a lighter, or other fire starters inside.
The opposite side of the blade acts as a steel hammer, which is ideal for plenty of outdoor activities.
The head is perfectly shaped for splitting, chopping, and making kindling, while the handle is wrapped in textured rubber to prevent slipping.
10. Adler German Axes Classic Scout Hatchet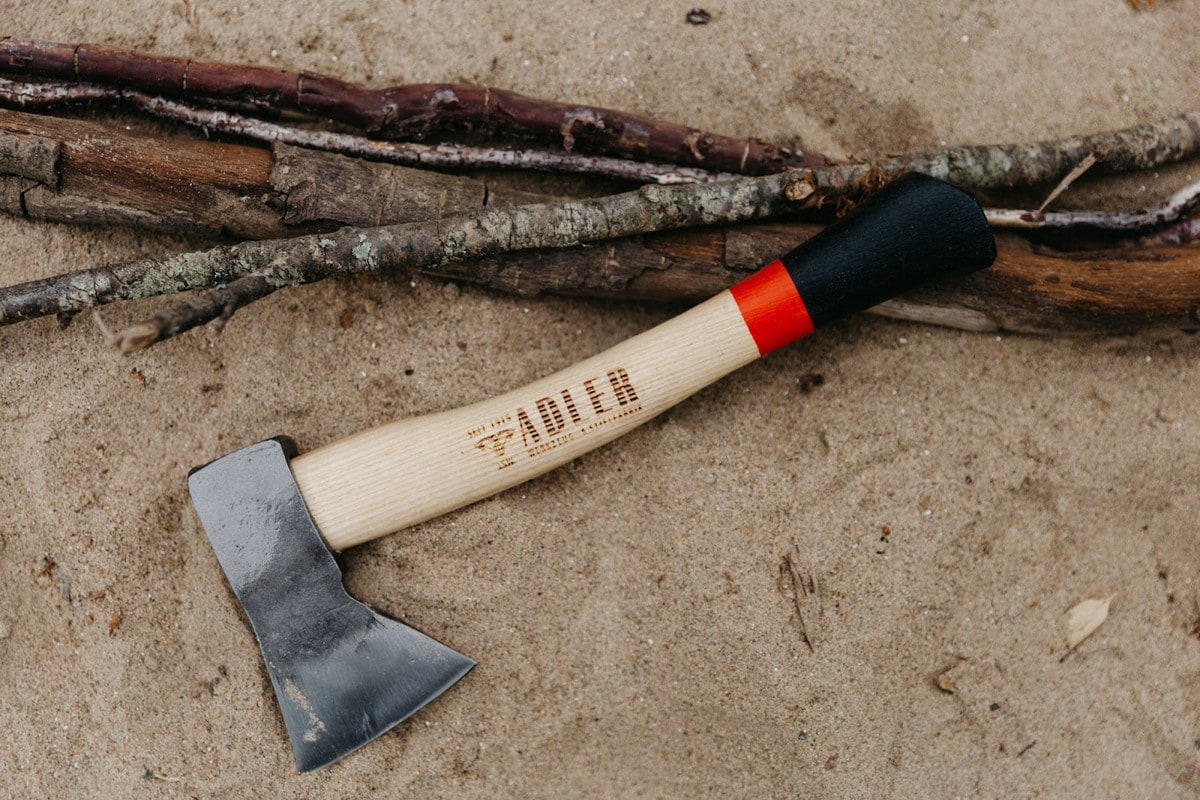 Head: C60 Carbon Steel
Handle Length: 12 inches
Haft: Hickory
Alder axes are regarded as some of the leaders in the axe making industry, and the Classic Scout Hatchet is no exception. The design of the C60 carbon blade is ideal for chopping wood and carving, and the back is designed to be used as a hammer.
The handle is crafted from American hickory wood which is known to be a natural shock absorber and great for helping you chop wood for longer.
If you're someone who can appreciate the heritage and history of traditional axe making—Alder has been making quality axes since 1919 with a heavy emphasis on traditional German axe making techniques.
Frequently Asked Questions
Here are some commonly asked questions about splitting axes:
What kind of axes do loggers use?
It is most common to see loggers using double-bit felling axes. One side is great for felling and the other side is designed for efficient chopping.
Are heavier axes better for splitting wood?
Technically yes, but the heavier the axe the quicker it'll tire you out, which will affect your accuracy. It's best to find an axe with a weight that will be effective without tiring you out too easily.
What is the difference between a chopping axe and a splitting axe?
Chopping axes are typically a wedge shaped design that comes to a narrow and ultra-sharp blade. They are usually lighter and more narrow than splitting axes.
Splitting axes are thicker, wider, and heavier than chopping axes. The aggressive wedge shaped design of splitting axes (also known as splitting mauls and splitting wedges) are great at driving the blade deeper and splitting the wood apart with ease.
Should you sharpen an axe blade?
Yes, it is important to sharpen your axe regularly to keep it performing at its best. The best tools to help keep your axe blades sharp are files, honing stones, or even a specifically made axe sharpening jig.
Final Thoughts
An axe is a must-have piece of overlanding gear and there are a lot of different factors to consider when you're shopping for the best axe for your setup.
So whether you're looking for a stunning traditionally made axe, an axe that can split through a piece of wood like butter, or an easy to tuck away camp-friendly hatchet—we hope this guide has helped you find your perfect axe!