I am a foodie through and through. Normally when I hear "easy", I automatically assume the meal is boring. But I promise you that not a single one of these meals is boring at all.
If you'd like to impress your friends and family with some of the best camping meals they have ever had—all while cooking fast and easily—you've come to the right place.
Just because you're roughing it doesn't mean you have to eat freeze dried foods and shelf-stable snack bars. It's time to level up your next camping trip.
Here is your ultimate list of easy camping meal ideas beyond simple hot dogs and smores!
Easy No-Cook Camping Meals
If you're tent camping, van-lifeing, or truck camping and don't have the means or desire to cook food up—that's no problem! There is plenty of easy camping food you can still make.
Bonus: If you want to make something smaller than a meal, check out our favorite camping snacks!
1. Yogurt Parfait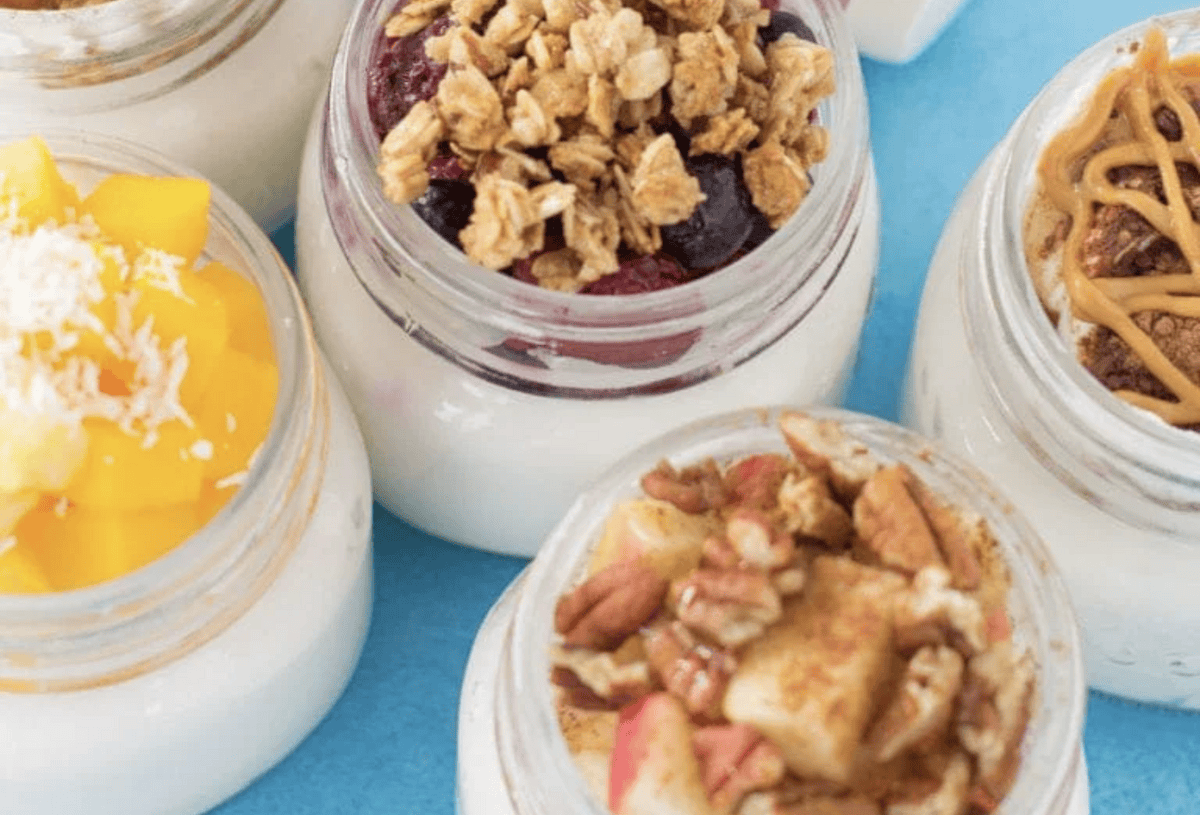 Who doesn't like a parfait? The best part is, they are so quick and easy to make, and customizable to different preferences and dietary restrictions.
Feel free to use whatever berries and fruit you and your guests like. I love using strawberries, kiwis, bananas and blueberries. You can also use regular or greek yogurt as well.
The Clean Eating Couple put together 5 healthy parfait combinations including tropical coconut, peanut butter chocolate, and even an apple pie parfait.
They do recommend buying a high quality yogurt like Fage to ensure you're getting the most nutrients out of your breakfast.
2. Hummus and Veggies
This meal can be as easy as picking up some pre-made hummus and chopping some veggies. There is no shortage of veggie options, so choose whatever ones you prefer. My favorites are red peppers, carrots, snap peas, cucumber, cauliflower and broccoli.
Just chop them up into easy to grab pieces, and serve with your hummus of choice!
3. Charcuterie
What is more impressive than a perfectly concocted charcuterie board? The thing I love the most about them is that they can easily fit any budget, and every single one is unique.
Charcuterie is just a fancy name for "meat and cheese board with other delicious snacks sprinkled in." There are no rules, but there are some tips you can keep in mind to make sure your charcuterie board is perfect.
Happy Camping Mama blessed us with her guide to assembling the perfect camping charcuterie board. Go check it out!
4. 7-layer Dip and Chips
This meal may be a staple during Super Bowl season, but it is ALWAYS a hit no matter what time of year it is. Plus, it's incredibly easy to make.
Ingredients:
Beans
Taco seasoning
Shredded lettuce
Salsa
Guacamole
Cheese
Sour cream
Olives
Tortilla chips
Directions:
Mix your beans and taco seasoning together and use this as the bottom layer of your dip. Next, layer the rest of the ingredients in order starting with lettuce, then salsa, guacamole, cheese, sour cream, and chopped olives. Try to get an even layer across the whole dish and serve with a bowl of your favorite tortilla chips.
Few- to No-Utensil Meals
These camping recipes are perfect if you're a sucker for food roasted over the fire. Food cooked over a fire is just better—you can't convince me otherwise. Plus, campfire food is so much more fun to make!
5. Loaded Baked Potatoes
The best part about this recipe is that you only need tin foil and a fire to make it. This meal works great as a build-your-own loaded baked potato too. Just set the toppings out and your guests can choose whatever toppings they'd like.
Ingredients:
Russet potatoes
Shredded cheddar cheese
Bacon bits
Sour cream
Green onions
Directions:
Wash your potatoes and poke several holes in them with a knife or fork, then wrap them in foil and place on the coals of your campfire. Cooking time will vary depending on the size of your potatoes, but plan on about 25 minutes and rotate half way.
Once your potatoes are cooked carefully remove them from the fire and let them cool slightly before slicing them in half and loading them up!
6. Mexican Street Corn
If you have never had Mexican style street corn (also known as Elote) you have no idea what you're missing.
This grilled corn on the cob is all about the incredible toppings, and the best part— everyone will have a ton of fun making their own!
You do less work and everyone has a great time? That's a win-win!
This Mexican style street corn recipe by Fresh Off The Grid is absolutely mouth watering!
7. Thyme and Apple Grilled Cheese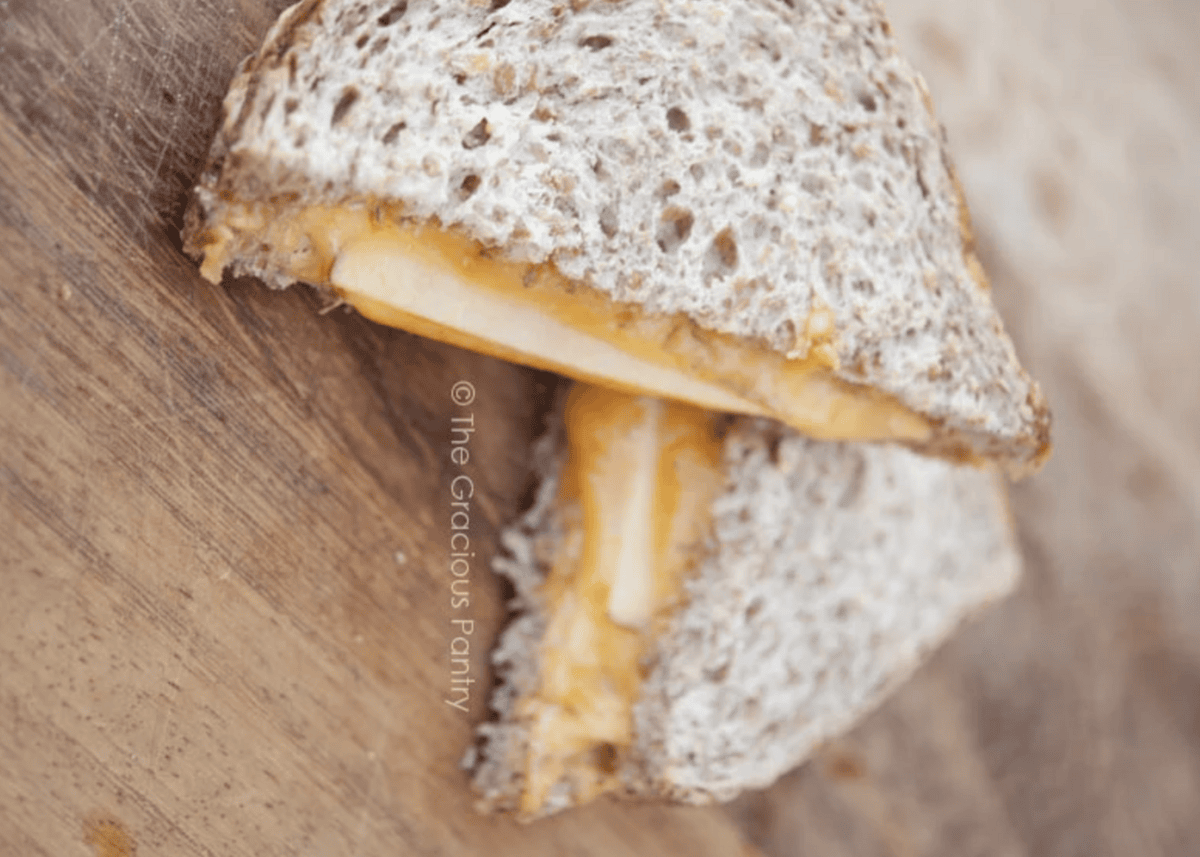 Yes, of course you can make regular ole grilled cheese sandwiches. I always advocate going the extra mile to create a work of art. That is exactly what this grilled cheese is—art. Truly all it requires past cheese and bread is a sprig of thyme and an apple.
The Gracious Pantry creates tons of stellar healthy meals, so be sure to check them out for all of your camping food inspiration.
8. Grilled Gyro Kabobs
Fresh Off The Grid concocted the perfect grilled gyro kabobs with a lemon yogurt sauce. They are seriously easy, and sure to be a showstopper.
If you're cooking for a group, you could once again lay out all the ingredients and have all of your guests build and roast their own kabobs too.
You don't have to include the flat bread or the lemon yogurt sauce, but I highly recommend it!
9. Pineapple BBQ Chicken Skewers
This is just about as easy as recipes get! Another healthy skewer meal that makes almost no mess, and can be thrown together in minutes!
Ingredients:
Chicken thighs
Canned pineapple
Green bell pepper
Barbecue sauce
Directions:
Trim your chicken thighs and cut them into cubes and toss it in a bowl with some barbecue sauce. Chop your bell pepper into a similar size as your chicken and assemble the chicken, peppers, and pineapple on your skewer and place it over the fire. Baste some barbecue sauce on your skewer, turn a couple times, and serve!
10. Mudblood
So there really isn't a specific recipe I recommend for mudblood. Mudblood is more of a ritual than a recipe. Essentially, at the end of your camping trip, grab all of the random leftovers you find and throw them in a cast iron and put it over the fire. You could even toss a few eggs in and call it breakfast!
Some of the best ingredients I like to use are potatoes, onions, bacon, ground beef, jalapenos, tomatoes, carrots, squash, peas, etc. The possibilities are endless and that is truly what makes mudblood magical.
Once you try mudblood for yourself, you'll never have to let your leftovers go to waste again.
Dutch Oven Campfire Meals
The dutch oven is my absolute favorite way of cooking. I love that it makes less of a mess, because camping dishes are especially difficult to clean. Luckily there are some amazing camp sinks on the market now, but still—I'd always prefer less dishes.
11. Buffalo Chicken Nachos
Now you can of course make any kind of nachos you wish, however, I would highly recommend you give these buffalo chicken nachos a try! They are super easy, quick, and a fun spin on a classic. Really, the hardest part is going to be getting the fire going.
Ingredients:
Chicken thighs
Tortilla chips
Cream cheese (greek yogurt for a healthier option)
Franks red hot
Red onion
Green onion
Roma tomatoes
Kidney or black beans
Chopped black olives
Shredded white cheddar cheese
Lime
Directions:
Once your fire is nice and hot, throw your chopped up chicken thighs in the dutch oven on the fire and let them cook. While they're cooking, chop your red onion, green onions, and tomatoes. Next, open your cans of beans and olives and set those aside.
When your chicken is finished cooking remove the chicken from the dutch oven and put it into a bowl with your cream cheese (or greek yogurt), half of your green onions, half of your red onions, the juice from half a lime, and as much Franks Red Hot as you and your guests can handle, and mix well.
Next, you just have to assemble your nachos over the fire! Be absolutely sure you are layering the ingredients well so no chip is left naked and lonely. Layer chips, then your chicken mixture, then beans, cheese and repeat. Let your nachos sit covered in the fire for about 10 minutes— or until all your cheese is melted.
Toss on the remainder of your onions, tomatoes, olives, the rest of the lime and serve!
12. Beef Stew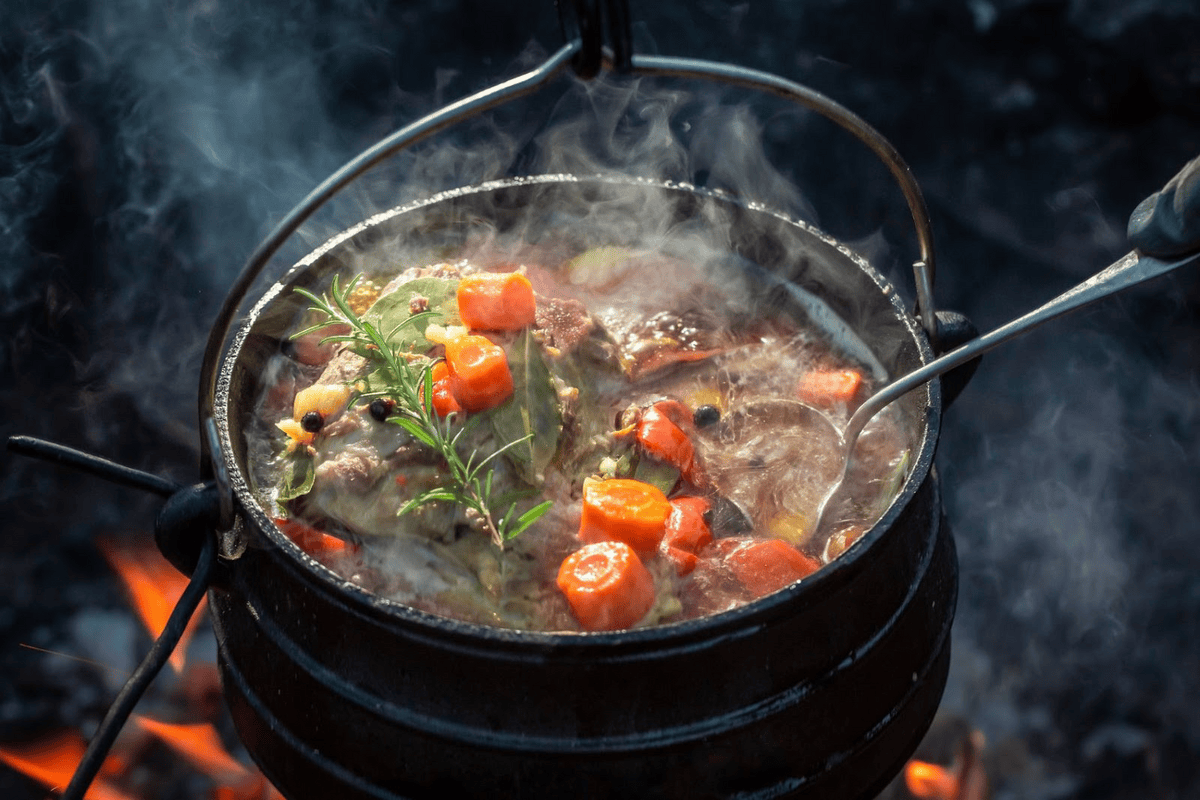 I don't know what it is about a good stew, but they somehow melt all the worries of the world away. Plus they are a one pot meal you can just toss together and forget about. They're healthy, soul warming and tasty. The perfect hearty meal.
Try this beef stew recipe by Much Better Adventures on your next camping trip!
13. Pizza
I know what you're thinking—how on earth do you make a dutch oven pizza? After being on the road for a couple weeks, we had a serious itch for some pizza. I am so happy to announce that not only did this pizza work out, it was absolutely divine. Probably one of the best camping food ideas I've ever had.
Save yourself the disappointment of using one of those premade pizza crusts too. I promise it is incredibly simple to make a fresh pizza crust with a pizza crust starter. I have tried both the Great Value pizza crust starter and the fancier DeLallo one. I think I preferred the taste of the DeLallo starter more, but it did require a bit more effort.
Ingredients:
Pizza crust starter
Tomato sauce
Cheese
Pepperoni
Directions:
Make your pizza crust starter according to the directions on the package. Place your dutch oven on the fire and spread your dough evenly along the bottom. Put the lid on and let the dough begin the cooking process. Once it cooks for a few minutes, top it with tomato sauce, then cheese, then pepperoni. Cover it and let it bake for 5-10 minutes. You will know it is ready when the edges of the crust turn brown and your cheese is melted.
Bonus: If you're a pizza lover like myself, be sure to check out our article on 3 easy, mouthwatering campfire pizzas here!
14. Red Pepper Pasta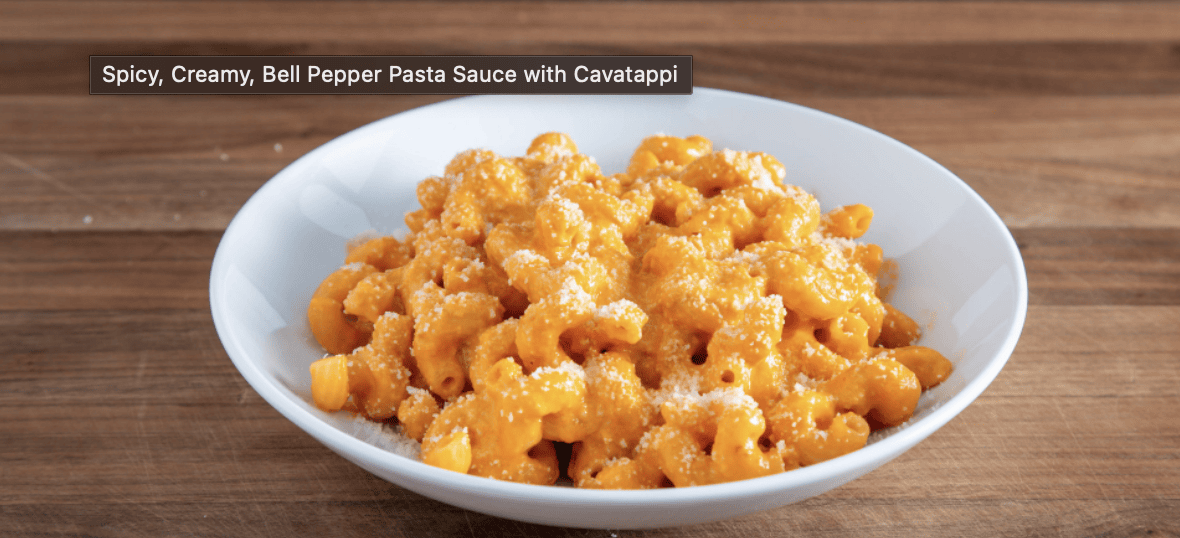 I had never even imagined making a pasta sauce with red peppers until I came across Not Another Cooking Show on YouTube. If you're a die hard foodie like myself, go follow Stephen Cusato. Thank me later.
I have made this red pepper pasta several times now. Both in a regular kitchen and in a dutch oven over the fire. It is incredible both ways!
There were a few little things I had to modify to make it over the fire, but it was pretty simple.
First, roast your red peppers in tin foil straight on the coals and rotate them until they are charred.
Also, you can totally cook your noodles in a pot over your campstove ( I didn't think it out thoroughly before making this at camp and had to), but I would recommend saving yourself the added dishes and just making your pasta in the dutch oven over the fire before starting your sauce. Just place it in a bowl when it is finished and add it back in when you're ready.
The last modification I had to make was that I did not blend up the sauce. You totally could if you feel like it, but I didn't want to clean the extra mess or use our precious solar power. I just sauteed the peppers and onions until they were soft and mashed out the lumps with my spatula.
15. Chicken Enchiladas
With some imagination and ingenuity you can truly make just about anything in a dutch oven. These chicken enchiladas by Camping For Foodies are so easy, and so delicious!
16. Loaded Mac and Cheese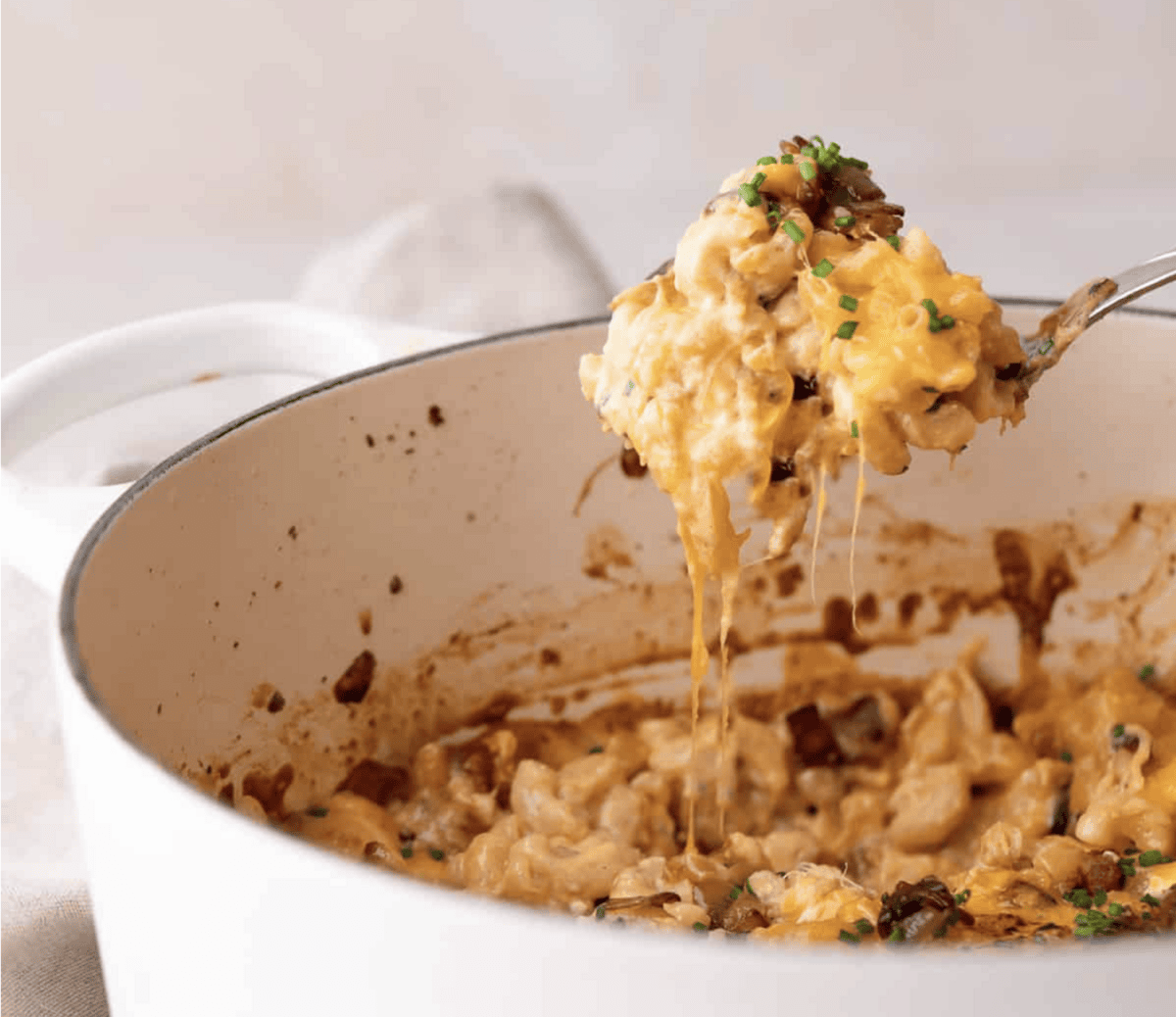 The only thing better than a good bowl of mac and cheese, is a bowl of loaded mac and cheese. It's creamy, crunchy, and so rich. One of the best easy camping meals for any camping trip.
Of course you could keep the recipe extra simple and use boxed Kraft mac and cheese, but cheese sauce is actually super simple to just make fresh— and way more delicious.
Cambrea Bakes does make her mac and cheese in the oven, but it can just as easily be made over a fire.
Camp Stove Meals
You can't always have a fire when you're camping (unless you have a portable fire pit, but sometimes not even then!). Although I do believe that camping recipes are superior when cooked over a fire—there are tons of amazing camping meals you can make on your stove too.
17. Chicken Fajitas
Fajitas are my all time favorite go-to healthy, quick meal to make! They are easy to make for a group too, which is another huge plus.
You can use whatever colored bell peppers you want, but I recommend using yellow, green, and red so it is extra pretty.
Cafe Delites chicken fajita recipe is absolutely top tier. I adore that her chicken marinade has only 5 ingredients.
I've seriously made these on so many camping trips and they never get old! Consider getting a cast iron skillet for the best possible flavor.
18. Breakfast Burritos

Breakfast burritos are one of the best camping meals there is! They are so easy, and always a crowd favorite.
Once Upon a Chef's breakfast burrito recipe is so fantastic. The tomato and avocado salsa adds the perfect touch of freshness alongside the cheese and sausage.
You also don't have to sear the tortilla— but you absolutely should.
19. Pistachio Crusted Salmon
I promise, this recipe sounds so fancy, but it is so easy to make! You will absolutely impress your friends with it too.
Aubrey's Kitchen's pistachio crusted salmon recipe is absolutely superb, and she says it best: "It's just a sexy dish." Sexy and phenomenally delicious.
You could serve it with a salad, on a bed of rice, or even with a side of veggies.
20. Asian Chicken Lettuce Wraps
I have made these lettuce wraps with both chicken and tofu before, and both ways are absolutely divine. If you've never made lettuce wraps before, you'll probably be shocked to learn that these can be made in as little as 30 minutes.
I can vouch that Joy Food Sunshine's asian chicken lettuce wraps are in fact MUCH better than the beloved P.F Chang's version.
If you're a fan of spicy things, I highly recommend topping your lettuce wraps with a nice splash of sriracha.
21. French Dip Sandwiches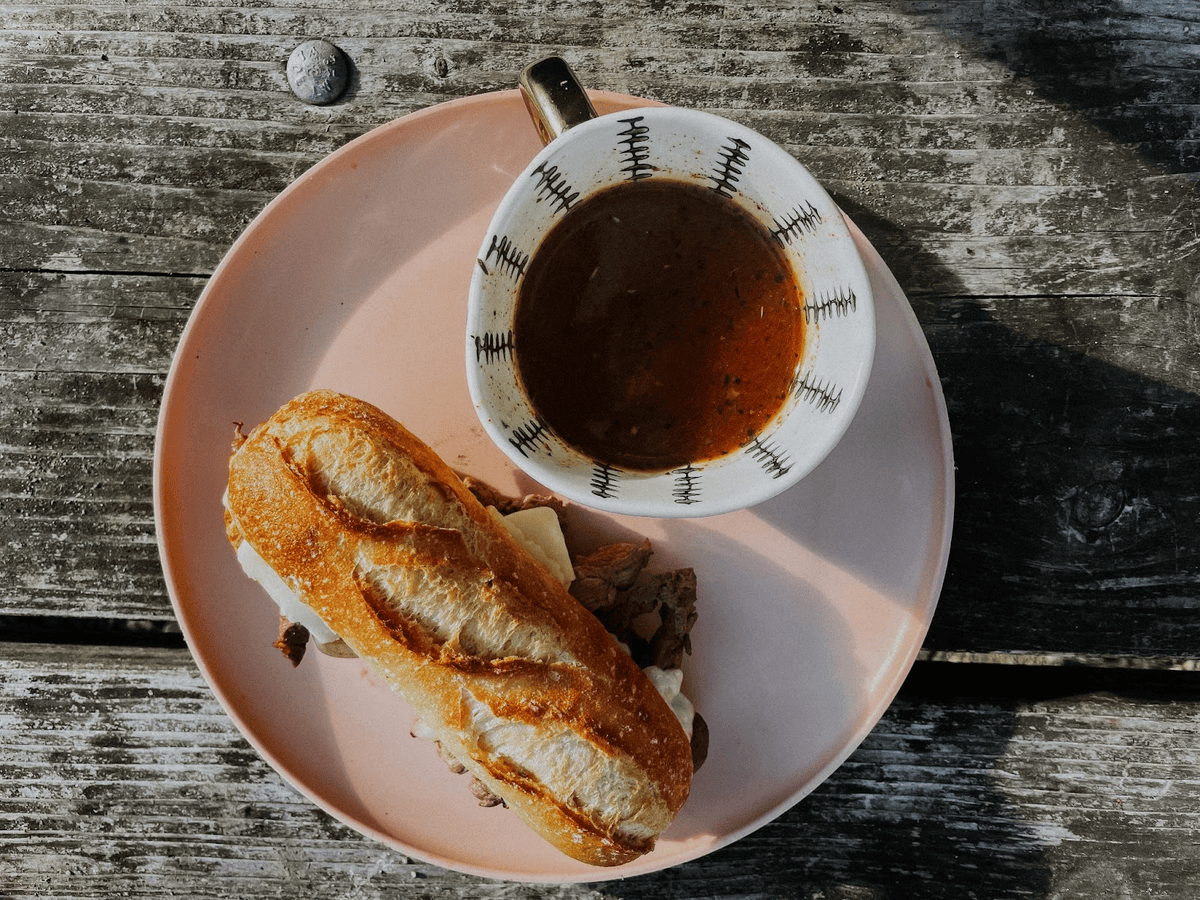 I had no idea until I came across The Modern Proper's French dip sandwich recipe that French dips aren't even French! They apparently come from L.A.?
Whatever their origin, french dip sandwiches are such a treat and only take about 30 minutes to whip up and make for easy camp cooking.
Just be sure you get the proper bread for your french dip sandwiches. Good bread that is able to be dipped without falling apart is crucial.
Final Thoughts on Easy Camping Dinners
A can of baked beans, a hot dog on a stick, and baked campfire potatoes in aluminum foil thrown in the fire are all staple easy camping meals you can cook.
But if you want to get a little more creative with your camping recipes, the hearty dinner ideas on this list are not only satisfying, but also for an easy meal.
We hope you enjoy these recipes during your next camping adventure in the great outdoors! Leave a comment below; what are your favorite easy camping meals?
Looking for even more camping meals? We've got you covered: