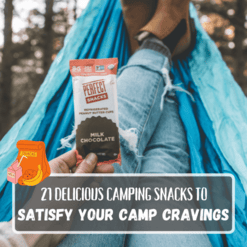 Looking for some tasty grab-and-go camping snacks for your next camping trip?
If so, you're in luck!
Today, we're going to talk about what makes a good camping snack, some great grab-and-go camping snacks, and camping snacks you're able to make before you leave for a camping trip.
Keep in mind that unlike camping meals, these are all single-serve snacks. Make sure you bring enough for you (and the family) while on a camping trip.
Sound good? Let's dive in!
What Makes a Good Camping Snack?
When planning your camping trip, you'll need to think about a few things. Will it be incredibly hot? Are you going to bring a cooler with you? How much room do you have in your backpack for camping snacks?
Once you've answered those questions, you'll need to tackle these next two issues that so many campers run into while at the campsite:
Minimal packaging
Room-temperature storage
While these might not seem like huge issues to you at the moment, when you're on the road (or getting ready to go on a hike), you may realize that you don't have enough room for your snacks because of the packaging!
Let's quickly talk about each of these two issues so you can avoid them.
Minimal Packaging
While a giant bag of pretzels or chips may seem like a great idea to you, it's best to keep the bags smaller. Snack size bags are perfect for keeping camping trips organized (even if they don't have as much food inside of them).
Alternatively, you can pack your snacks into sandwich bags and other containers to save space and bring more with you.
Note: When you bring pre-packaged food into the woods with you, please don't litter! Either place the wrappings into your pocket while you're out, or find a trash bin near you. Always leave no trace.
Room-Temperature Storage
If you plan on bringing a portable cooler with you while you camp, you don't really have to worry about this (at least not for 48 hours).
If, however, you're not bringing a cooler and you want to bring snacks with you that require refrigeration… well, you might not be able to (unless you have a hiking backpack that has a refrigeration pocket, that is).
As long as you're mindful about which snacks you bring, you'll be good to go!
10 Camping Snacks to Make Ahead of Time
These are snacks that require a bit of baking before you leave to go camping (or require a campfire to make). Most of these are non-refrigerated, too!
With that said, they're all pretty quick to make and are perfect for the great outdoors.
1. Granola Bars
While you could purchase granola bars from the store, making them from scratch is one of our favorite things to do. This granola bar recipe from Love & Lemons is one of our favorites to follow. This recipe calls for rolled oats, honey, and whatever nut butters you have on hand (as well as additional add-ins).
This is where we like to make it our own. Adding things like shredded coconut, chocolate chips, mini marshmallows, sunflower seeds, dried cranberries, pumpkin seeds, and more will help you make these chewy bars perfect for you and the whole family!
They're the perfect breakfast snack. Check out our list of camping breakfast ideas for more recipes!
2. Alabama Fire Crackers
If you're looking for a delicious snack to be hooked on, look no further than these Alabama fire crackers from 12 Tomatoes. This recipe takes saltine crackers and turns them into crackers that you can't find in the snack aisle!
This recipe calls for garlic and onion powder, red pepper flakes, olive oil, a ranch seasoning packet, and black pepper (we think that we're going to add some cayenne pepper to ours, too).
3. Blueberry Muffins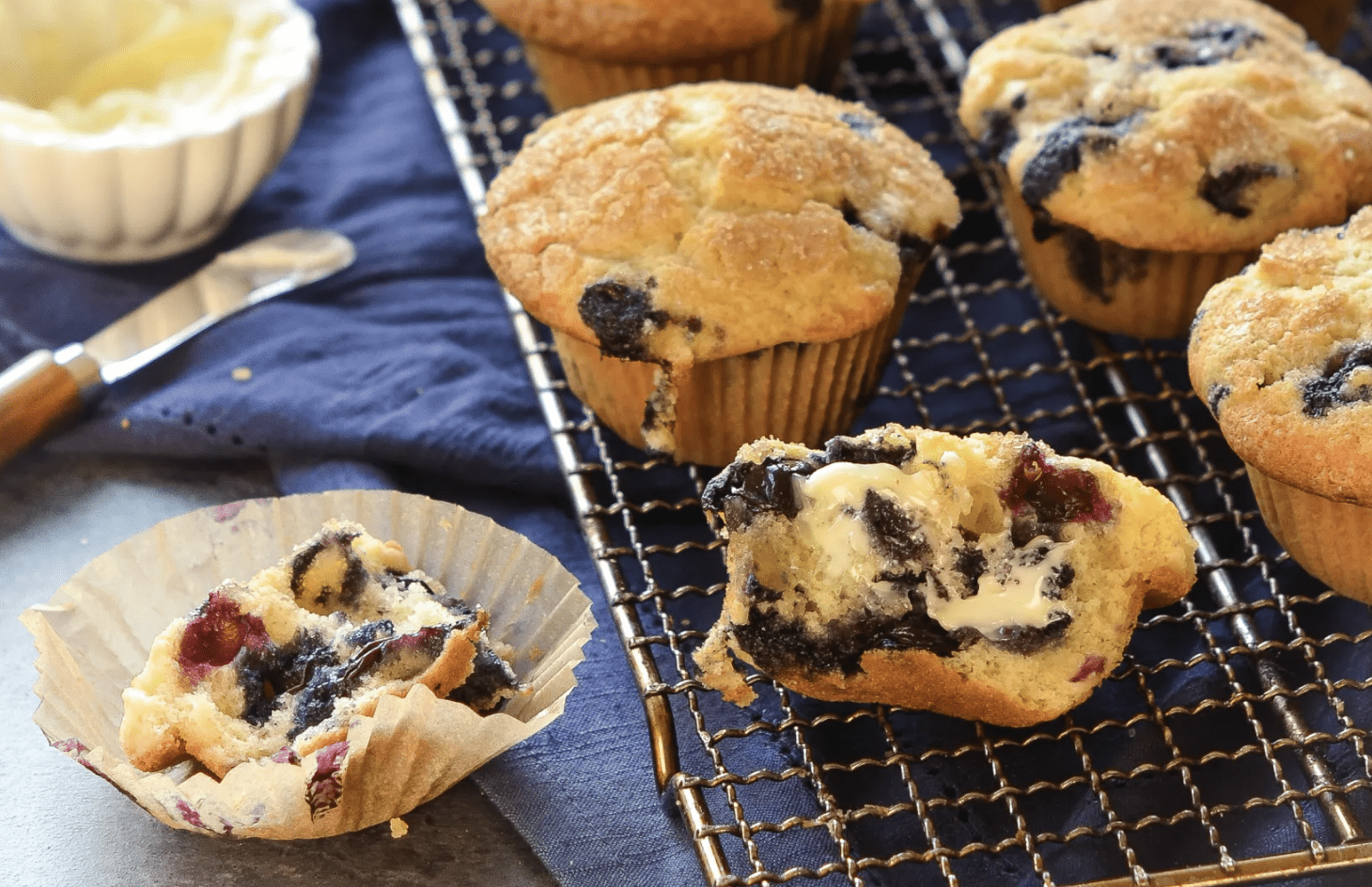 These blueberry muffins from Once Upon a Chef are well worth the wait! There's nothing better than getting to your camping spot and pulling out a delicious muffin (in my mind, that is).
Feel free to leave this recipe as is, but we love adding some brown sugar to the tops of ours when we make them! Made with whole grains and fresh blueberries, this is one of the best camping snacks on our list!
4. Cowboy Cookies
These cowboy cookies by Insanely Good are just that – insanely good! Along with your standard cookie ingredients (like butter, flour, sugar, etc), you add in rolled oats.
We love adding in raisins to ours, but if you're not a huge fan of raisins, simply leave them out! This tasty snack is sure to be one of your new favorites!
5. Homemade Potato Chips
I feel like I can already hear you through the screen… "Why in the world would I make homemade potato chips when I can just buy them from the store?". Well, my friend, this recipe by Bowl of Delicious may change your mind.
Make super thin slices and season well, and you've got one of the best camping snacks out there. These chips are thin, not as oily as store-bought, and last for two to three days.
6. Kale Chips
If potato chips aren't your cup of tea, why not try these delicious kale chips from Minimalist Baker? All you need is kale, olive oil, and any spices of your choosing!
Our go-to blend is typically salt, garlic powder, onion powder, and black pepper (but feel free to personalize these however you'd like). Healthy snacks don't have to be boring!
7. Puppy Chow
Puppy chow (also known as muddy buddies) is one of my favorite childhood snacks. This recipe by Joy Food Sunshine takes puppy chow and makes it into a great camping snack!
All you'll need to make this fun snack is peanut butter, chex cereal, chocolate chips, and powdered sugar. If you're allergic to peanut butter, though, you can use any type of nut butter on hand!
8. Campfire Banana Boats
Our friends over at Fresh Off the Grid make these campfire banana boats look too good. These are a great kid friendly snack and are incredibly easy to make!
With tons of variations on how to make these, there's no question in our mind that these banana boats will be a must-have every camping trip! Chocolate chips, dried fruit, crushed granola bars, peanut butter… the list goes on and on!
9. Yogurt Parfaits
Everyone loves yogurt parfaits, right? They're incredibly simple to make and extremely customizable! This recipe by the Clean Eating Couple has 5 healthy parfait combinations (such as tropical coconut, peanut butter chocolate, and even an apple pie parfait)!
Feel free to use whatever berries and fruit you like, though! We love using strawberries, kiwis, bananas, and blueberries (sometimes, we'll put dried fruits or chocolate chips on top, too).
10. Walking Tacos
This walking taco recipe from Picky Palate is seriously making our mouths water. These quick and easy walking tacos may be your new favorite camping snack!
To make these, grab your favorite bag of store bought chips (like Doritos or Fritos), cook some ground beef (or store bought grilled chicken) in a cast iron, top with veggies, cheese, hot sauce, and enjoy!
11 Grab-and-Go Camping Snacks
We get it, you might not want to spend a few minutes preparing a snack to bring with you camping!
This section is perfect for you—you'll find good camping snacks that require no time at all. Let's dive in.
1. Trail Mix
While you could make trail mix at home, there are plenty of pre-made bags of trail mix you can pick up at the store! This snack mix is filled with healthy fats and is one of our favorite snacks for hungry campers.
Whether you pick this up at Whole Foods, Target, Wal-Mart, or in a gas station, it's easily accessible for your next trip!
2. Dried Fruit
Dried fruit makes a delicious snack when you're out and about! You can get a variety mix (with dried apple slices, pineapple slices, and cranberries) or grab a bag that just has one type of dried fruit.
Dried bananas are one of our favorite things to bring while on a road trip (and you can even make them in an air fryer if you'd like – check out this recipe from Summer Yule if you're interested in that).
3. Goldfish
We're pretty sure that everyone loves goldfish! These cheddar cheese crackers are incredibly addicting and come in small, snack-size bags perfect for camping trips.
Add these to your favorite snack mix (or trail mix) for a savory snack or eat them alone!
4. Fresh Fruit
Fresh fruit is one of those tasty snacks you have to be in the mood for (if you ask me, anyways). For example, you shouldn't purchase a container of fresh strawberries or blueberries unless you're sure you're going to eat them.
Unless you sprinkle some lemon juice on fresh fruit, they could start to get mushy in the heat (and some fruits, like avocado, will turn brown without a bit of lemon juice). Just be cautious if this is your snack of choice!
5. Beef Jerky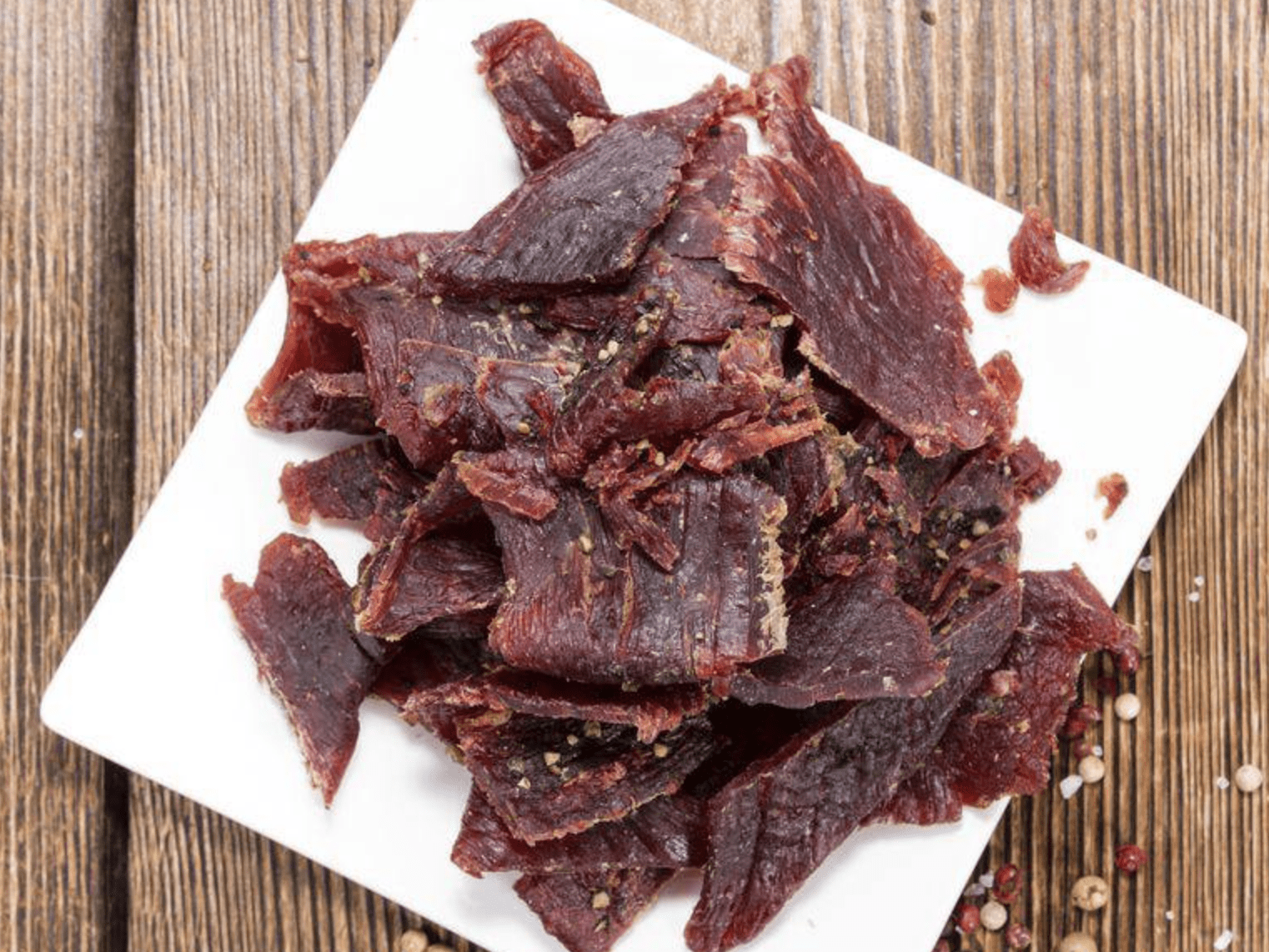 This is such a good snack choice (especially since you can purchase it in nearly every gas station).
While this is a section on grab and go snacks, beef jerky is a snack you could make ahead of time in the oven or a dehydrator. Check out this recipe from Gimme Some Oven if you're interested!
6. Individual Fruit Cups
Individually wrapped fruit cups are different from fresh fruit simply because you're able to leave them out of the fridge (or in the sun) without damaging the fruit!
You can purchase mixed fruit cups or choose from mandarin orange cups and more!
7. Popcorn
As you can see from the image above, there are plenty of individual bags of popcorn flavors to choose from. Our favorite is white cheddar, but while camping? We tend to go for movie theater butter.
8. Cheese Sticks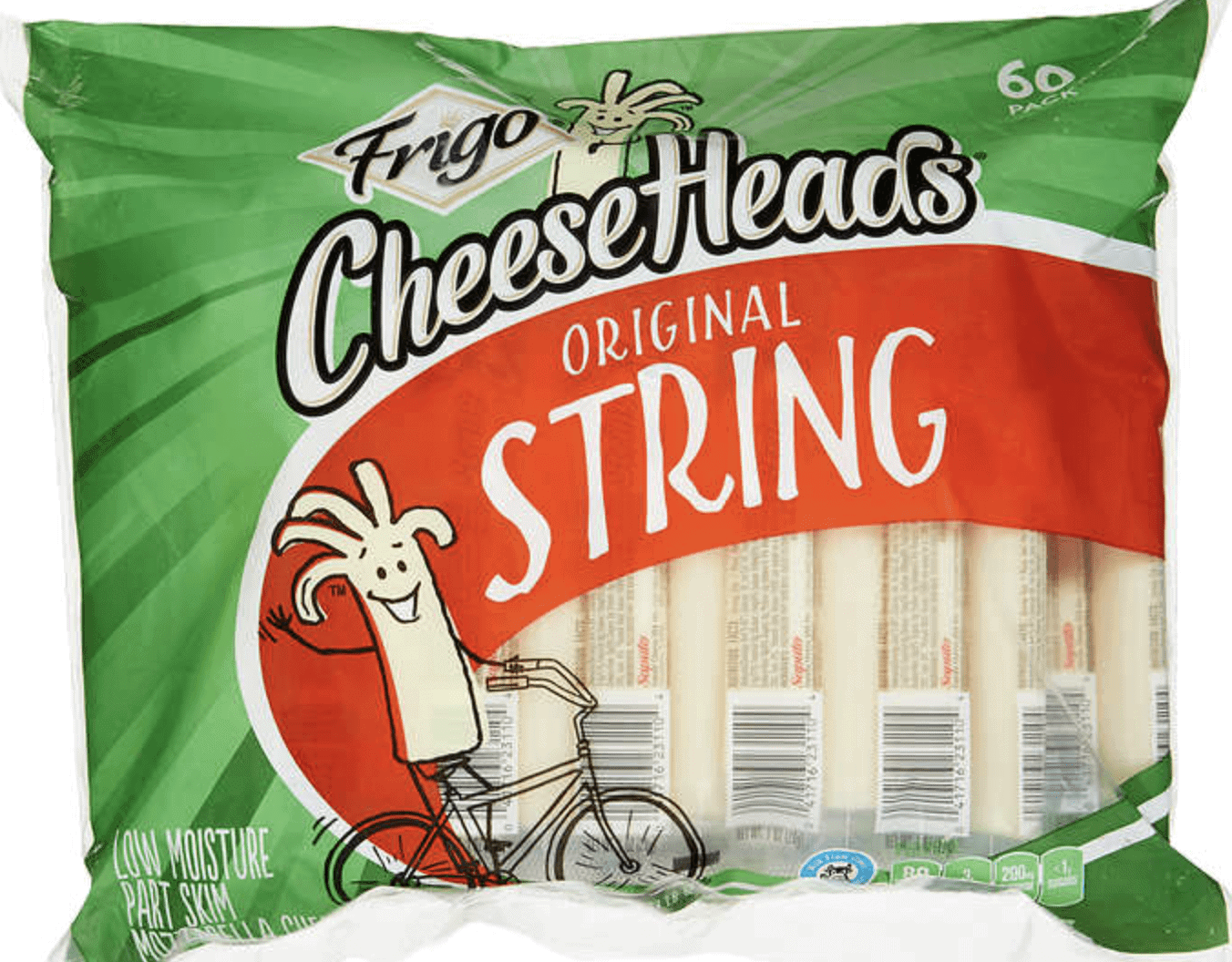 Much like our suggestion with fresh fruit, be careful with how long you leave string cheese out! Typically, these would go in a cooler until you're ready to eat them (if you have a backpack with a cooler attachment, that would be perfect for these).
With that said, these make a great snack when camping!
9. Individual Pudding Cups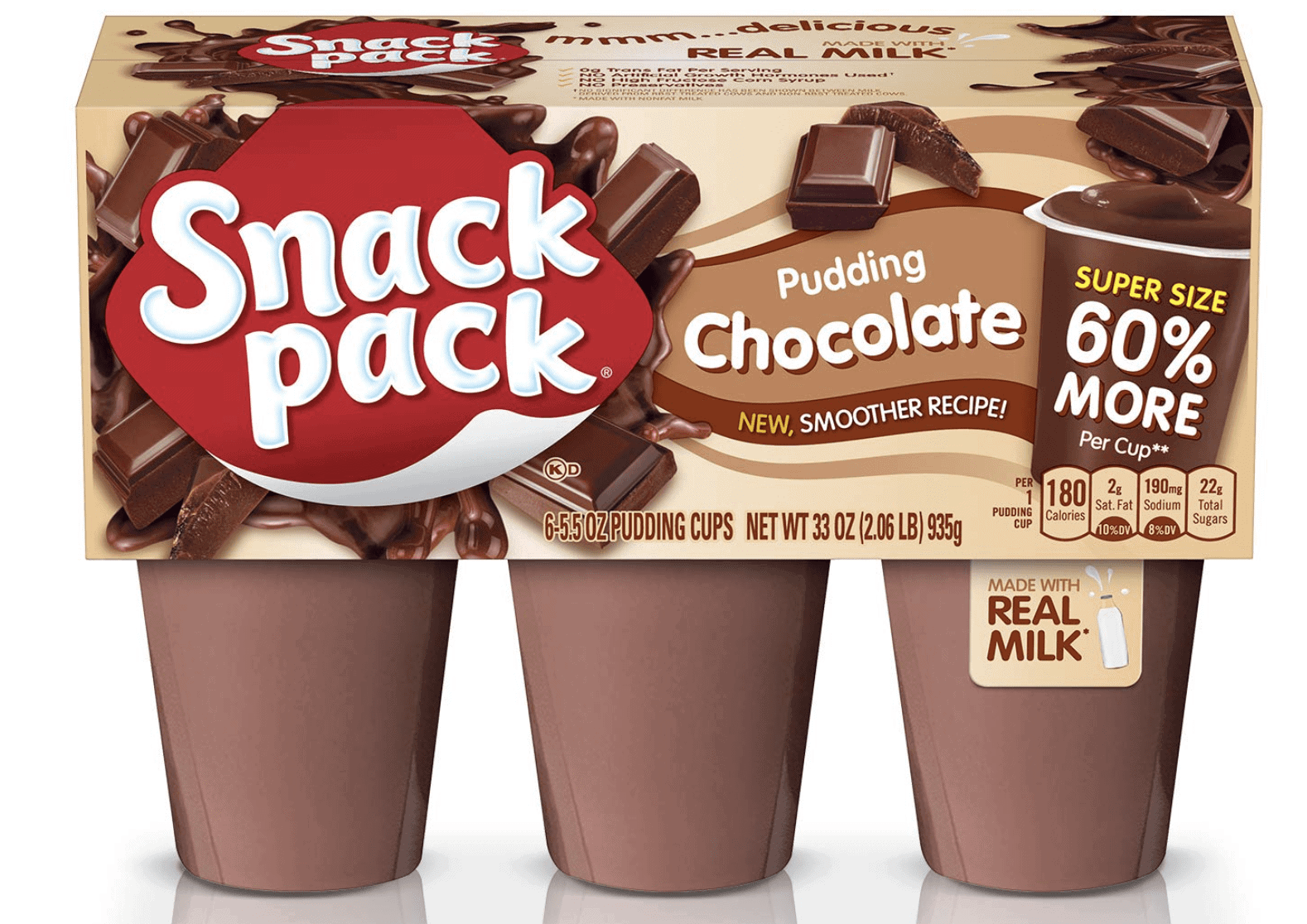 Individual pudding cups are a great snack to bring along with you while camping! There are so many delicious flavors (chocolate being one of our favorites, of course).
These are a great snack for kids and, if they're unable to eat all of the pudding in one sitting, you can cover it in aluminum foil and save it for the next day!
10. Summer Sausage
When paired with some crackers and cheese, summer sausage makes a great camping snack! While you could go all out and make a charcuterie board, that's not the goal here (but if it is, be sure to check out this recipe by Tastes Better from Scratch).
Be sure you remember a knife (unless you want to just bite at the sausage, of course)!
11. Chex Mix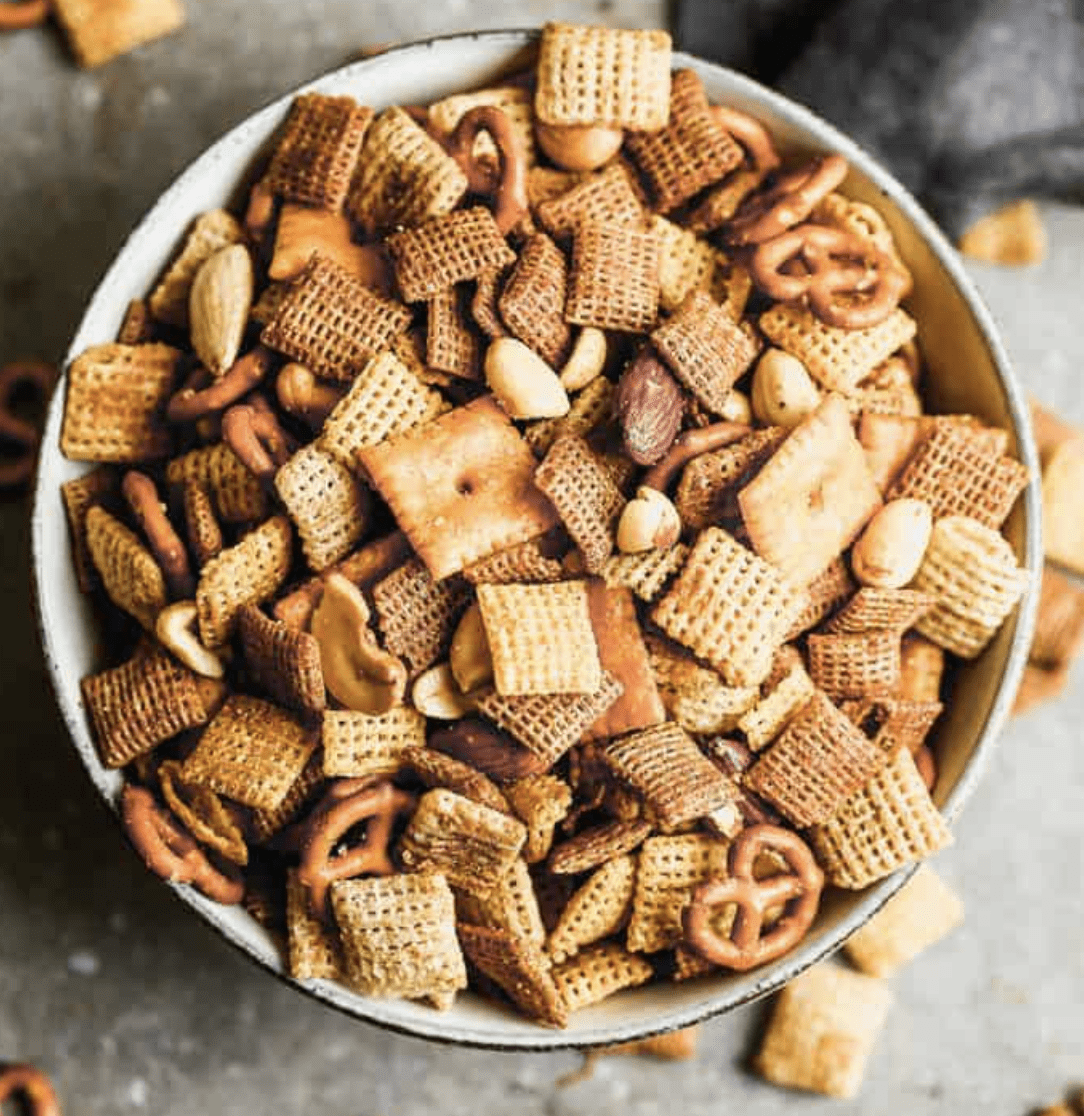 Chex mix is probably one of the best snacks out there. There are so many varieties of chex mix that you really can't go wrong, too!
With pretzel sticks, chex cereal, peanuts, rye chips, and more, this is one of the tastiest camping (and hiking) snacks around!
Final Thoughts
Whew! We're pretty hungry after that one. There are so many easy recipes above that we're excited to make! Whether you choose to make your own snack mix (like homemade granola or trail mix) or you grab something to go, we're sure you have plenty of ideas for your next trip.
What's your favorite snack listed above? If you have any ideas for a camping snack that isn't on our list, be sure to leave a comment down below!
Read Next: