Welcome to 2023, where camping breakfasts have never been easier!
Are you tired of the same old, boring breakfast options when you're out in nature?
Not after reading this post, because we've compiled a list of 21 easy and delicious camping breakfast ideas to help you start your day off right.
Whether you're a fan of classic breakfast foods like pancakes and bacon or prefer something more unique like breakfast pizza, we've got you covered.
Oh, and if you're feeling peckish in between meals, we've got your back with some yummy camping breakfast ideas on what to munch on when you don't have a fridge.
So grab your camping stove and let's get cooking!
Table of Contents (Click to Expand)
What Are the Best Camping Breakfast Ideas?
Camping breakfasts can be a blast with a little creativity and preparation.
To have a fun and stress-free time, choose meals that don't take long to cook, have ingredients that are easy to find, and are easy to clean up.
Here's a simple process to help you choose the best camping breakfast ideas:
Survey the gear you have on hand
Focus on meals that can be prepared beforehand
Go for hearty ingredients that are simple to work with (like potatoes, for example!)
Pick quick and easy cooking options that don't require too much fuss
Keep in mind how easy it is to clean up after the meal
#1 Dutch Oven Baby Pancake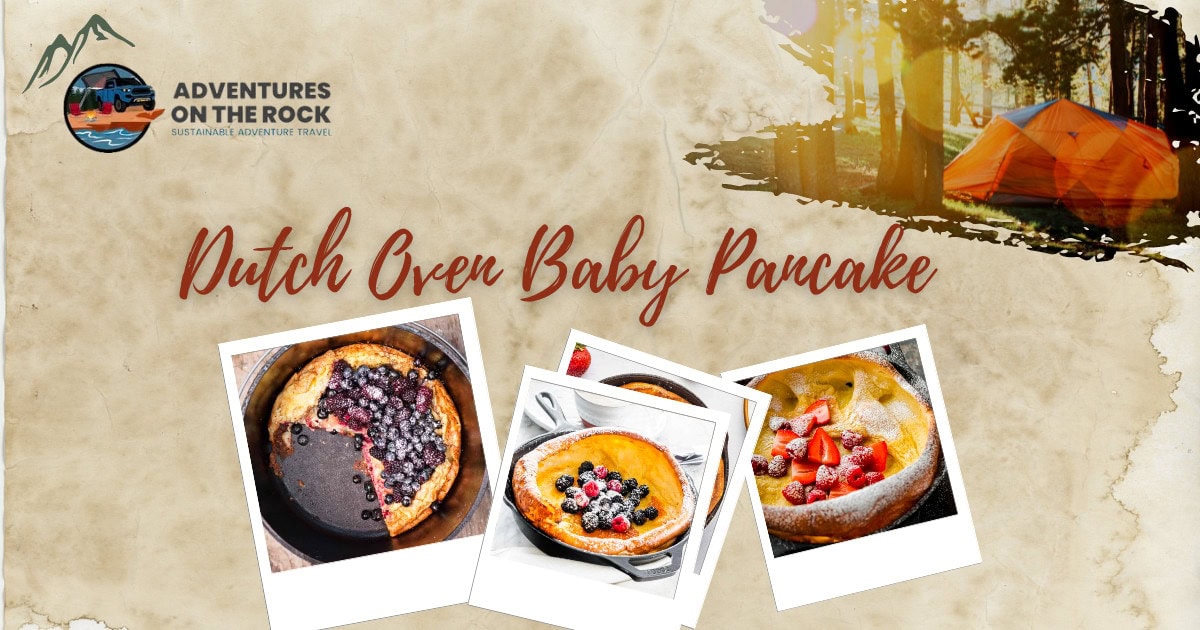 This twist on traditional pancakes is pure magic, with a fluffy center and crispy edges.
Made with eggs, flour, and milk and cooked in a Dutch oven over hot coals, this dish is a crowd-pleaser.
Add a dash of fresh berries or maple syrup for a dazzling taste sensation.
#2 Campfire French Toast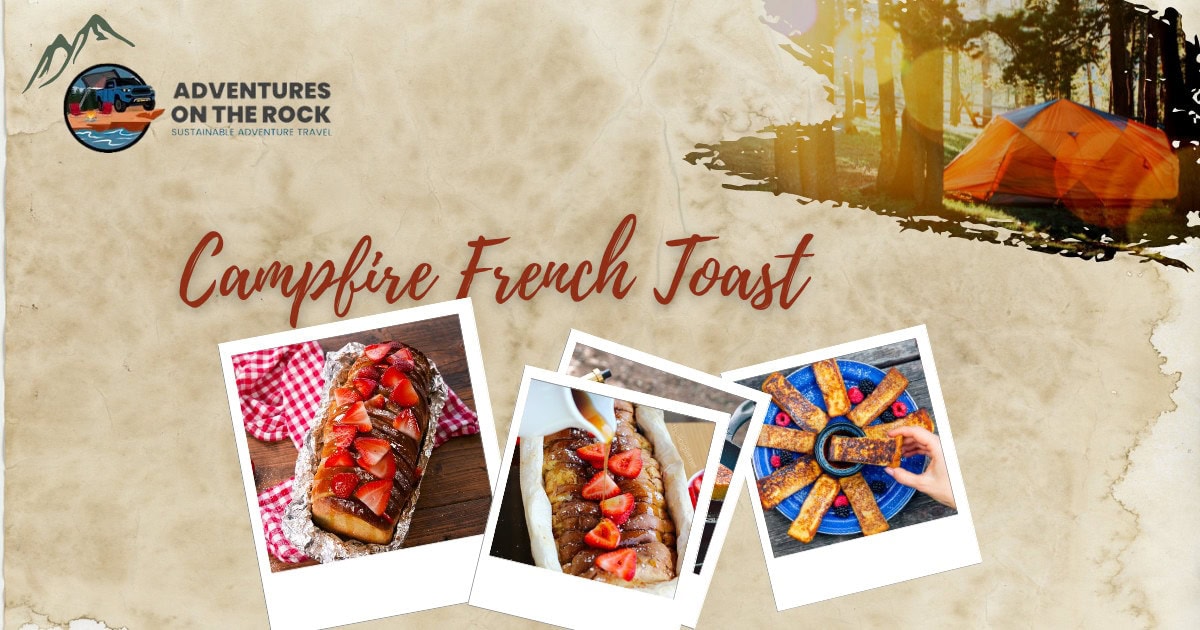 This classic breakfast is perfect for camping because it's quick and easy.
Made over a campfire with thick slices of bread, eggs, milk, and cinnamon, cook until golden brown and add a drizzle of honey or powdered sugar for extra zing.
#3 Campfire Cinnamon Rolls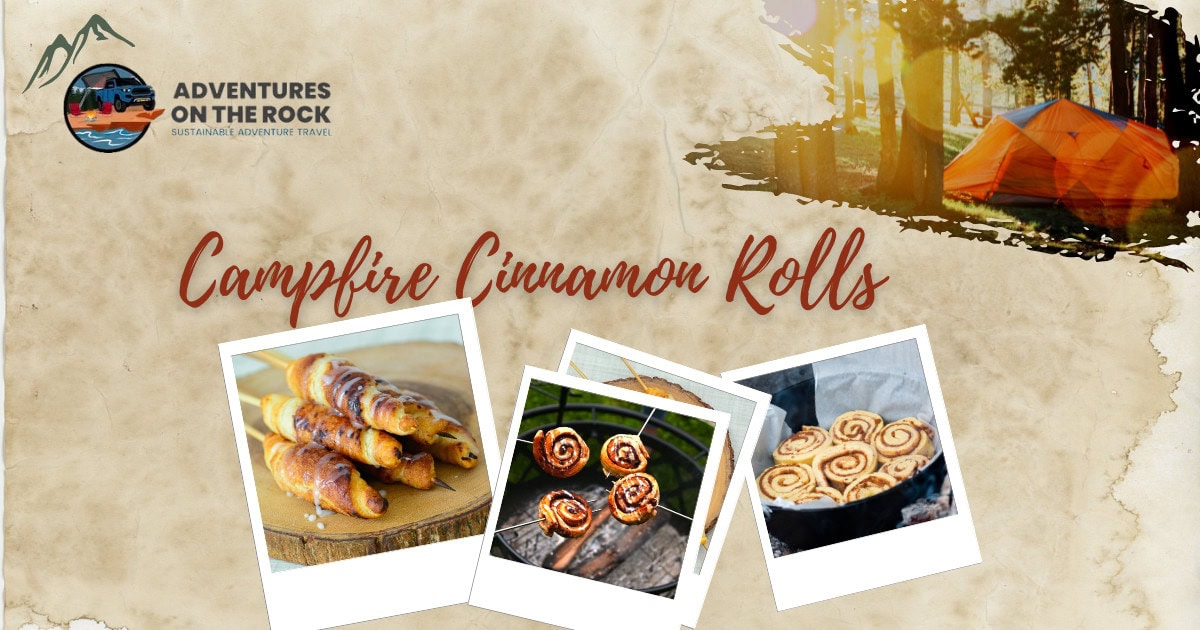 Cinnamon rolls are a breakfast treat that'll have you doing the happy dance.
This recipe uses canned cinnamon rolls wrapped in foil and cooked over hot coals until gooey. And let's be real, it looks mouthwatering, don't you think?
Perfect for indulging your sweet tooth in the morning.
#4 Camping Breakfast Sandwich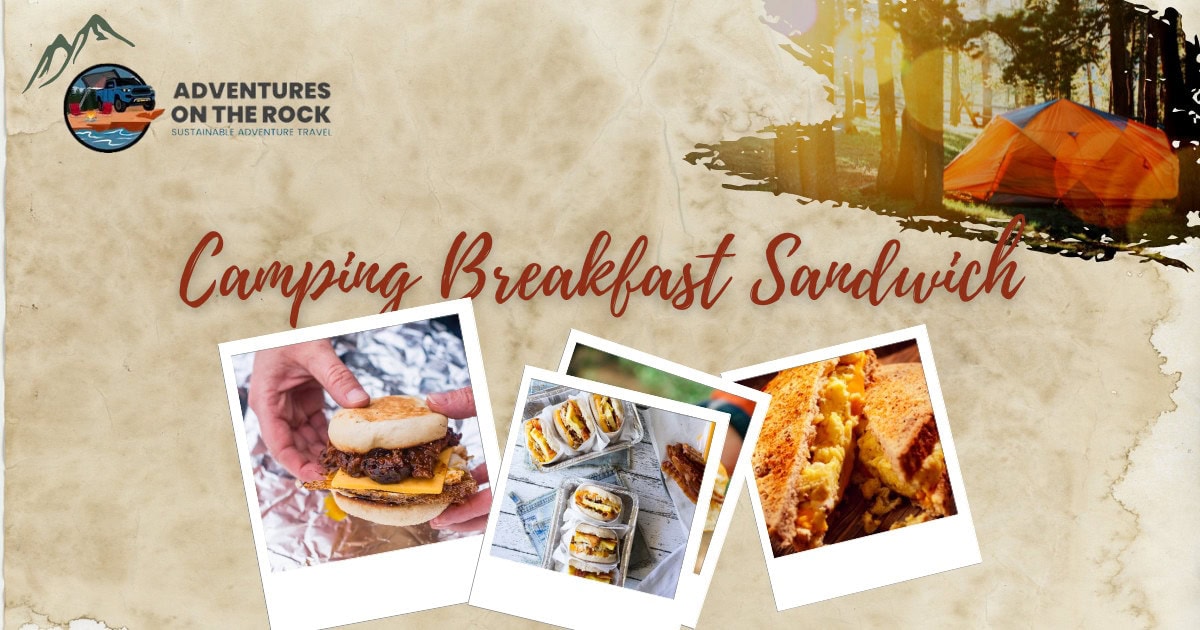 This breakfast sandwich is a yummy and filling way to start your day.
Toast an English muffin over a campfire or stove, then add a fried egg, cheese, and bacon or sausage.
Customize with your favorite breakfast meats and toppings for a hearty meal that's all your own.
#5 Pancakes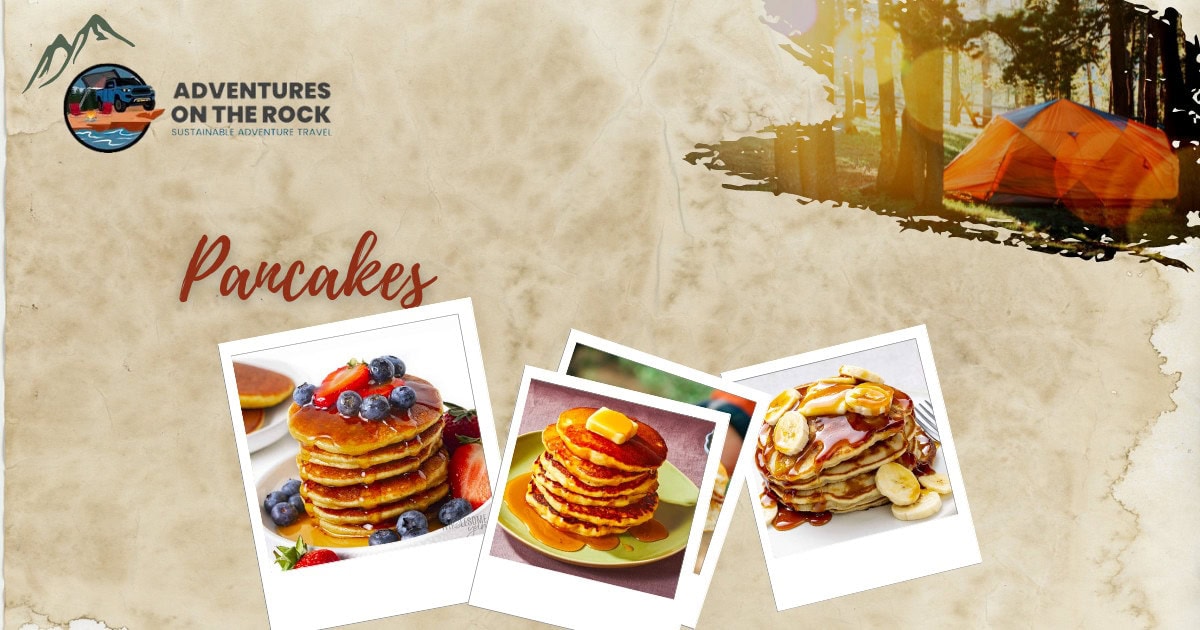 Pancakes are a camping classic that can be made with just a few ingredients. Mix up a batch of batter ahead of time and cook it over a campfire or stove.
Add butter and syrup or some fresh fruit (like blueberries) for a burst of flavor that'll make you smile from ear to ear.
#6 French Toast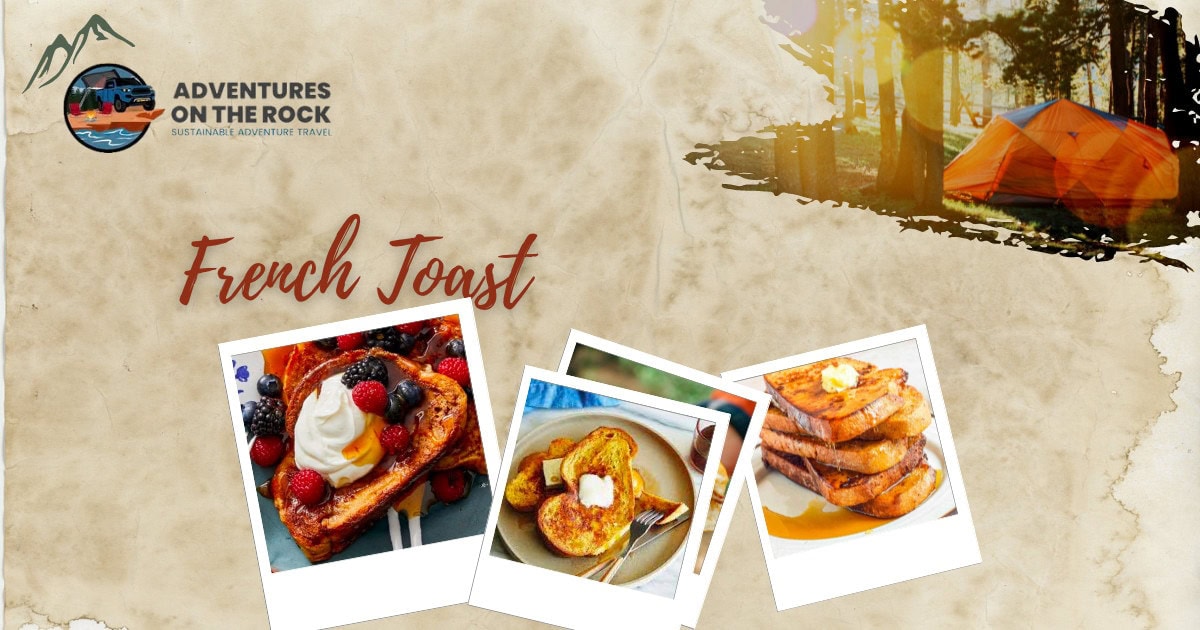 A classic breakfast dish that's always a hit and easy to make over a campfire.
Soak thick slices of bread in a mixture of eggs, milk, and spices, and cook over hot coals until golden brown. Serve with your favorite toppings, such as fresh or dried fruit or syrup.
#7 Dutch Oven Frittata
Just like French toast, its northern neighbor is one of the easiest breakfast ideas to make. It is perfect for feeding a crowd of hungry campers.
Mix eggs with cheese, vegetables, and your favorite meats and cook them in an oven over a campfire or stove.
It's a great way to use up leftover ingredients and can be customized to your liking.
#8 Cinnamon Rolls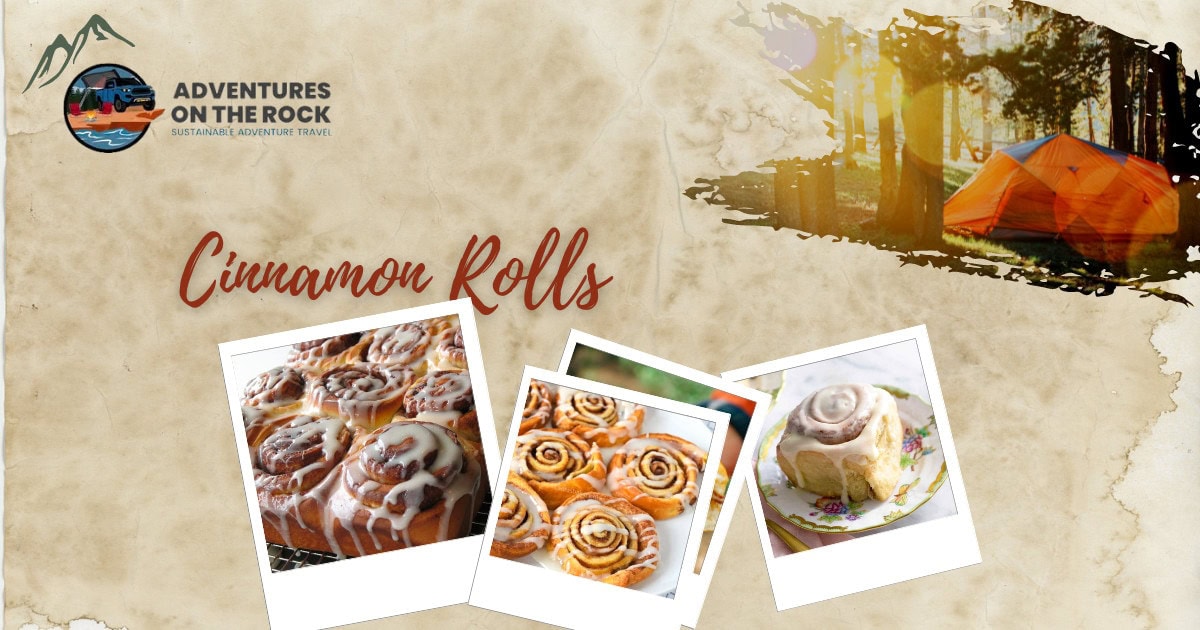 These sweet and sticky treats are a campfire favorite. Use canned cinnamon rolls or make your own dough and wrap them in foil before cooking them over hot coals.
Top your hot cup with icing and enjoy a delicious and indulgent breakfast.
Be careful, though; cinnamon rolls can be very sweet and are not recommended for those who want to keep their calories in check.
#9 Breakfast Hash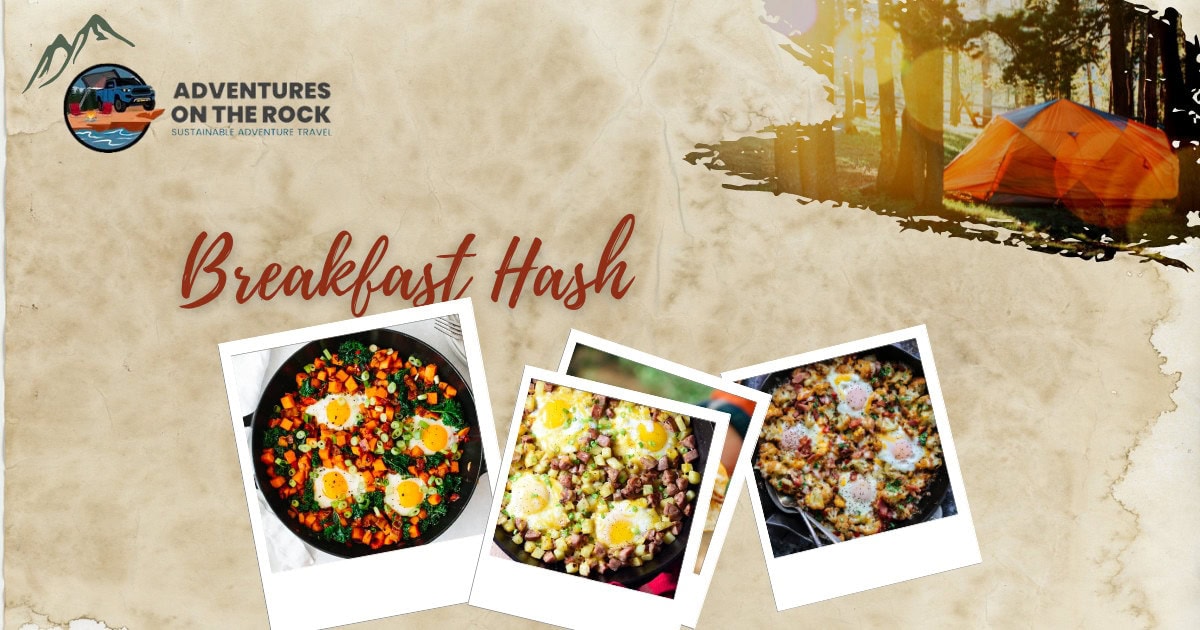 This easy one-pan meal is a great way to use up leftover ingredients from the night before.
Simply cook potatoes, meat, and vegetables in a skillet, and top with eggs for a filling and delicious breakfast.
#10 Breakfast Skillet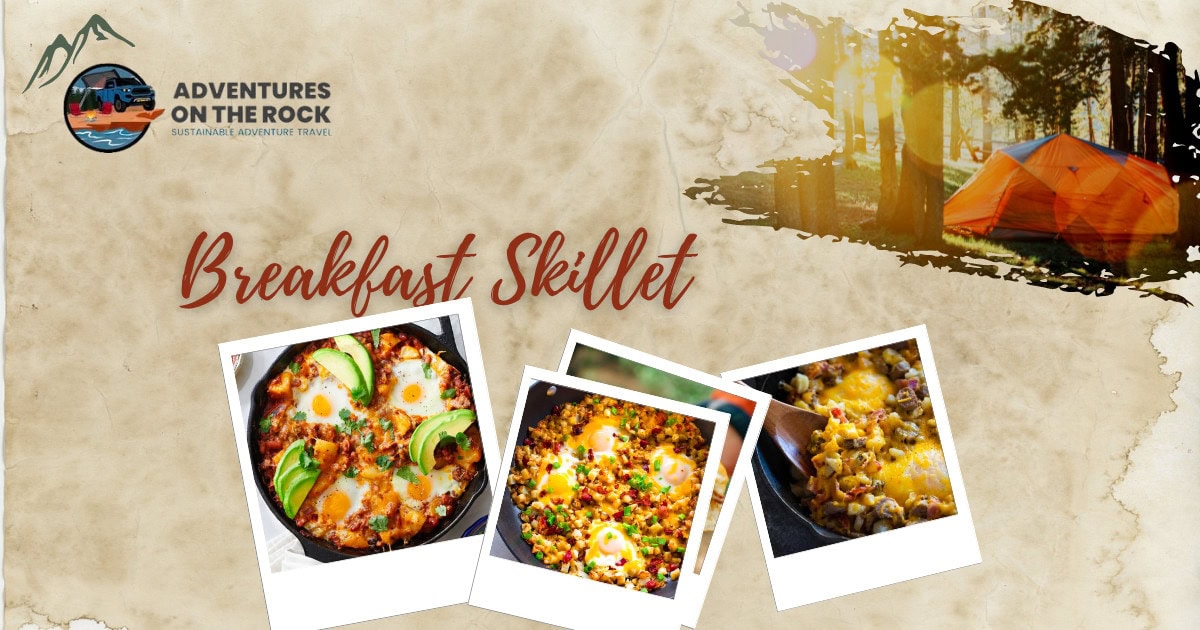 Another easy one-pan breakfast idea, this skillet is filled with eggs, sausage or bacon, potatoes, and vegetables.
Cook it in a cast iron skillet for a hearty and flavorful breakfast.
#11 Sausage Gravy and Biscuits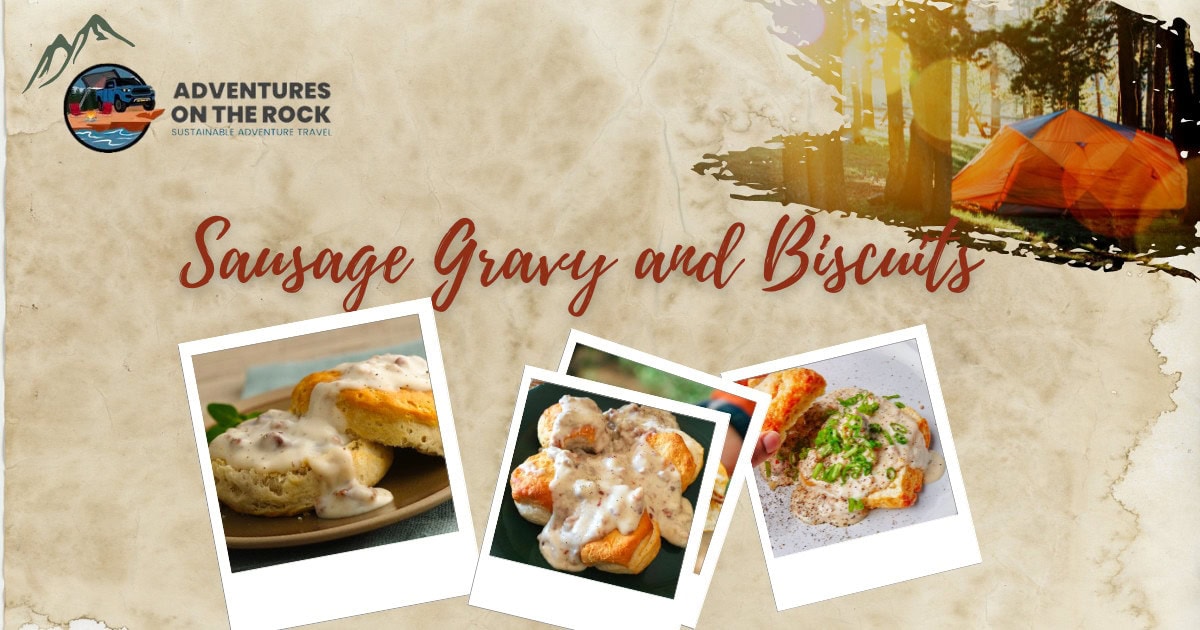 This Southern classic is one of my personal favorites when it comes to easy camping breakfast ideas.
Simply cook up some sausage and mix it with a simple gravy, then serve it over warm biscuits for a satisfying and filling meal.
#12 Blueberry Muffins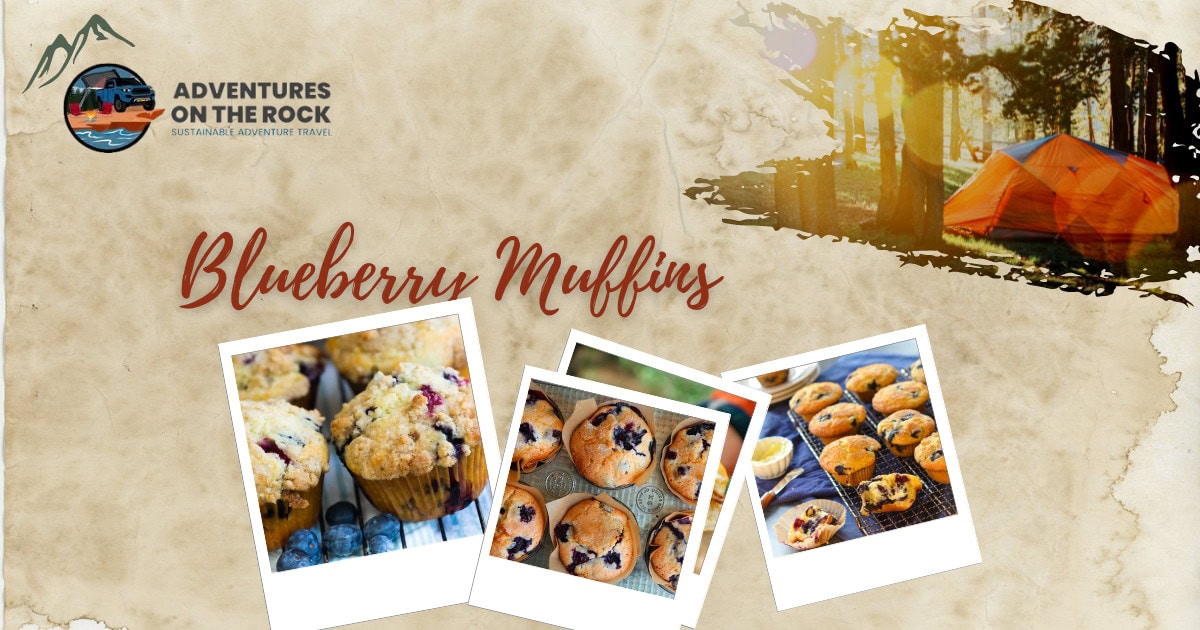 These easy and delicious muffins can be made ahead of time and are perfect for a grab-and-go breakfast on the campsite.
Mix up a batch of batter with fresh or frozen blueberries and bake in a muffin tin over a campfire or stove.
#13 Banana Bread Pancakes
Combine two breakfast favorites with these banana bread pancakes. Mash ripe bananas into pancake batter and cook over a campfire or stove.
Serve with butter and syrup for a sweet and satisfying breakfast.
#14 Camping Breakfast Pizza with Bacon and Mushrooms
Who says you can't have pizza for breakfast?
This delicious pizza is made with a crust of biscuit dough and topped with bacon, mushrooms, cheddar cheese, and eggs. Cook over hot coals for a unique and delicious breakfast.
#15 Johnny Apple Seed Oatmeal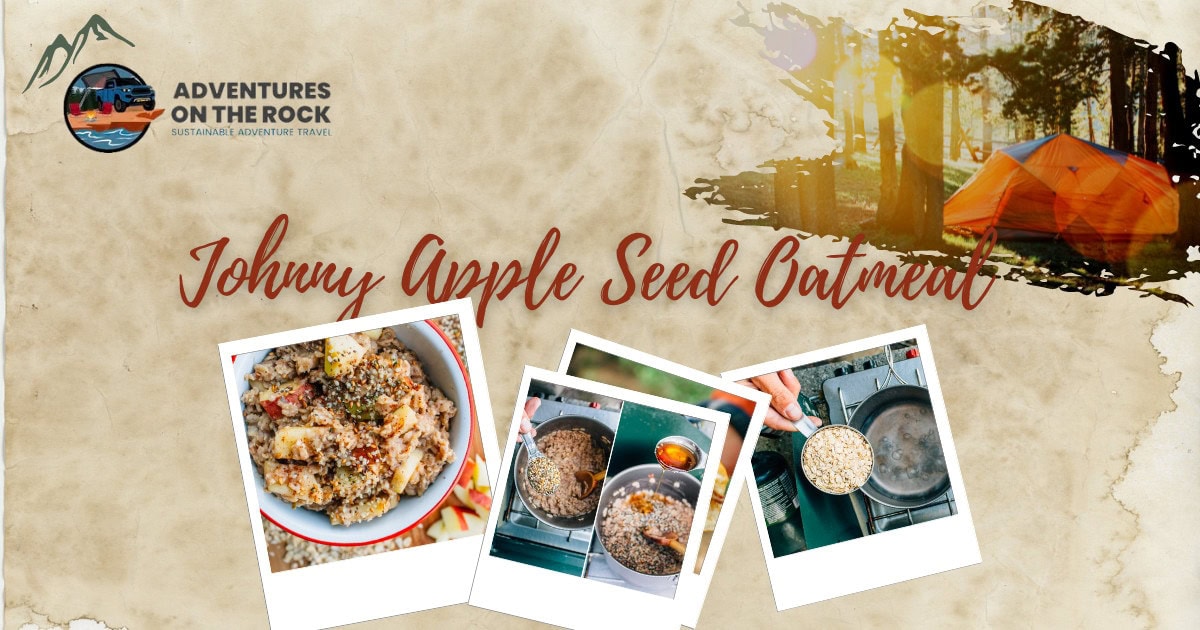 This oatmeal is filled with the flavors of fall: apples, cinnamon, and maple syrup. Cook over a campfire or stove for a warm and comforting breakfast.
Top with nuts or granola for extra crunch.
#16 Camp Stove Chilaquiles
Add some Mexican flair to your camping breakfast with this flavorful dish.
Sauté tortilla chips in salsa and spices, then top with fried eggs, cherry tomatoes, avocado, and cilantro. It's a satisfying and easy-to-make breakfast option that's perfect for camping trips.
#17 Granola and Yogurt Bowls
Start your day with a healthy and tasty breakfast by combining granola, yogurt, and your choice of fresh fruits.
This easy meal is great for camping and gives you all the nutrients you need for a day of fun in the great outdoors.
Plus, it's easy to prepare and clean up, so you can spend more time enjoying nature.
#18 Huevos Rancheros
For a hearty and delicious breakfast, try huevos rancheros on your next camping trip. Fry some eggs on top of tortillas and beans, and finish with salsa and some cheese.
I'm a big fan of Swiss food, and I especially like to add things like Swiss cheese to my huevos rancheros.
Cook it over a campfire or stove and enjoy a filling and flavorful meal.
#19 Coconut Chocolate Granola
Make your granola with oats, nuts, coconut, and chocolate for a sweet and crunchy camping breakfast or snack.
Toast it over a campfire or stove, and savor the homemade taste. It's also a great option for energy-packed hiking or outdoor activities.
#20 Greek Pita Sandwiches
These easy-to-prepare sandwiches are perfect for camping breakfast or lunch.
Fill pita bread with scrambled eggs, feta (or cheddar) cheese, and veggies, and you'll have a tasty and satisfying meal in no time.
#21 Campfire Apple Crisp
End your camping trip with a sweet and comforting dessert. Combine sliced apples with cinnamon, sugar, and oats, and bake in a foil packet over hot coals.
Top with whipped cream or ice cream for a delicious and indulgent treat.
Best Camping Breakfast Ideas Without a fridge
Let's be real: camping can be a hassle. Who wants to lug around a bulky fridge while trying to enjoy nature?
Luckily, we've got you covered with some tasty breakfast options that don't require any refrigeration.
Say goodbye to the fridge and hello to delicious outdoor eats!
#1 Cereal or Granola Bars
For a quick breakfast that doesn't require refrigeration, pack some pre-made cereal or granola bars.
They're perfect for on-the-go mornings or as a light snack before starting your day of outdoor activities.
#2 Pancakes
Whip up some pancake batter before your camping trip and cook them over a campfire or portable stove. Top them with syrup, jam, or fresh fruit for added flavor.
#3 Omelets
Pre-crack your eggs and mix them with your favorite toppings, like cheese, ham, and veggies, in a plastic bag.
Boil the bag in water and enjoy a tasty omelet without needing a fridge.
#4 Naan
This Indian flatbread can be easily stored at room temperature and paired with eggs, peanut butter, or jam for a quick and filling meal.
Naan bread is super versatile and can be used with a lot of easy camping breakfast ideas.
#5 Cracker Stackers
Layer crackers, cheese, and your favorite deli meat for a high-protein breakfast option.
Perfect for those early morning hikes or walks, it doesn't require a fridge.
High Protein Foods For Campers
And then we got the outdoor fanatics that are all about protein life…Fear not!
We've got you covered with some seriously convenient and protein-packed foods for all your camping needs.
#1 Canned Chicken
A versatile and convenient source of protein, canned chicken is perfect for camping trips. You can add it to salads, french toast, and sandwiches, or eat it on its own.
Plus, it doesn't need refrigeration.
#2 Tuna Packets
Some will lick their lips by just reading the word "tuna," while others might feel like… Well, let's just say opinions are divided.
Anyway, tuna is an easy-to-pack protein source for camping. Mix with mayo or avocado for a tasty sandwich or wrap.
#3 Chicken Packets
Pre-cooked chicken packets offer a quick and easy source of protein for camping meals. Add to salads or pasta for a protein boost.
#4 Fish
Freshly caught fish is a delicious and protein-packed option for campers who love to fish. Grill it over a campfire,portable stove (or bring your own portable kitchen) for a satisfying meal.
#5 Beef Jerky
High in protein and easy to pack, beef jerky is a classic camping snack. Eat as a snack or add to meals for extra protein. Look for low-sodium options.
So what is the most healthy camping breakfast idea?
Let's face it, camping breakfast can be a bit of a nutritional minefield.
You don't want to feel sluggish and bloated after a heavy breakfast.
The most healthy camping breakfast idea is one that provides the right balance of nutrients to keep you energized and ready for adventure.
So, skip the bacon and opt for a tasty breakfast burrito packed with protein and fiber, or try a bowl of oatmeal topped with nuts, seeds, and fresh fruit for a nutritious and satisfying meal.
And don't forget to pack plenty of water to stay hydrated during your outdoor excursions.
With these healthy and easy camping breakfast ideas, you'll be ready to conquer any trail or mountain peak that comes your way!
Conclusion
In conclusion, the most important part of a camping breakfast is not just filling your belly, but fueling your body for the adventures ahead.
Whether you're a fan of French toast, breakfast burritos, or granola and yogurt bowls, remember to pack enough protein, complex carbohydrates, and healthy fats to keep you going.
And don't forget to have fun!
After all, there's nothing better than a good breakfast to kickstart a great day in the great outdoors.
So, pack up your camp stove and get cooking!
Frequently Asked Questions
What should I eat for breakfast while camping?
You should try easy camping breakfast ideas like oatmeal, breakfast burritos, pancakes, and granola and yogurt bowls.
What is a high-protein camping breakfast?
Eggs, bacon, sausage, Greek yogurt, and protein bars are great sources of protein for camping breakfast ideas.
What foods do you cook when camping?
Popular camping foods include hot dogs, hamburgers, chicken, fish, and vegetables cooked over a campfire or on a portable stove.
What do kids eat when camping?
Kids can enjoy classic camping foods like s'mores, hot dogs, and roasted marshmallows, as well as healthier options like trail mix, fruit, and grilled chicken or fish.