If you're looking for a great way to have a fire without digging a hole or worrying about excessive smoke—a portable camping fire pit may be the perfect solution for you.
They are easy to set up and much more efficient when it comes to burning wood. This means they burn longer and hotter without producing as much smoke.
So whether you're looking for a stove you can cook on, one to keep you warm, or just some ambiance for telling ghost stories—we lay out all the best portable fire pits on the market for you to choose from for your next overlanding trip.
Table of Contents (Click to Expand)
Top 10 Portable Camping Fire Pits
Here is a complete list of the best portable propane fire pits for your backyard or camping adventures:
1. Biolite Fire Pit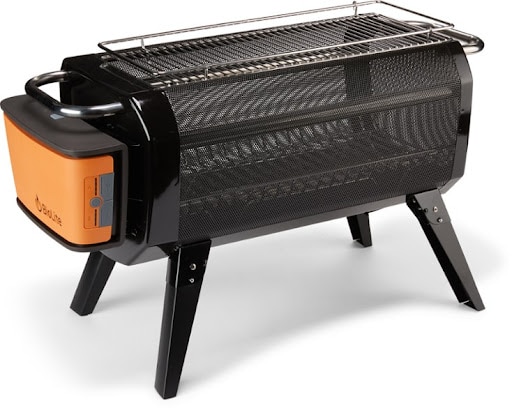 The Biolite Fire Pit is a portable campfire and stove in one. This fire pit can make a fire in under 30 seconds, and boasts a completely smokeless experience. You also have the option of burning charcoal or wood for your fire without needing an unsightly propane tank.
One unique feature of this fire pit is that it has an internal fan that can be run for up to 30 hours on one single charge. You can even control your fire from your smartphone using the Biolite app. Through the app you can control the flame speed and the fan intensity for a fully customizable fire and cooking experience.
Check out some of our favorite camping recipes to cook on your new fire pit!
2. Winnerwell Flatfold Fire Pit
The Winnerwell Flatfold Fire pit is great for those who are traveling light or with limited space because this fire pit folds down completely flat when its not in use. It is made from solid stainless steel which makes it completely corrosion resistant and easy to clean.
This wood-burning fire pit is fantastic because it provides a traditional fire experience while helping campers to leave no trace. This fire pit weighs just under 10 pounds making it one of the best portable outdoor fire pits on this list.
You'll definitely go through much less firewood than you would have with a traditional fire ring, but you should still be sure to have your axe for splitting wood on hand.
3. UCO Flatpack
The UCO Flatpack is similar to the Winnerwell flatfold fire pit in that it is constructed from solid stainless steel and folds down completely flat. This pop up fire pit runs off both wood and charcoal and also serves as a stove for cooking.
This fire pit comes in three sizes—small, medium, and large. The UCO flatpack also boasts being able to fold up so small it can fit in a traditional backpack. If you're in the market for a small, lightweight pop up fire pit—the UCO Flatpack may be the best option for you.
It's a great option to cook your own campfire pizzas!
4. Solo Stove Bonfire 2.0
The Solo Stove Bonfire 2.0 boasts an almost completely smokeless fire. This stainless steel stove is also incredibly efficient in retaining heat. This means that your wood burns much longer than a traditional fire. The Solo Stove's steel construction also has the right amount of ventilation to keep your flame burning strong for as long as you'll let it.
This camping fire pit also features a removable ash pan for easy dumping of your fine ashes. This also helps in keeping your campfire experience mess- and hassle-free.
It is easy to see why Solo Stove is the maker of some of the best portable fire pits on the market. Also check out the Solo Stove Mesa—a mini fire pit—or the Solo Stove Ranger, which is slightly smaller than the Bonfire 2.0.
Check out these other smokeless fire pits if the idea of a smokeless fire intrigues you!
5. Fireside Outdoor Popup
The Fireside Outdoor Popup boasts being the first truly portable wood or charcoal fire pit. This camping fire pit also exceeds the regulations for campfire bans placed by the forest service and BLM land. Because of the height of the design, this fire pit also leaves no trace and is perfect for eco-conscious campers.
This fire pit only weighs 8 lbs and folds down small for added portability. Set-up and take down for the unit takes less than two minutes.
6. Heininger Portable Propane Stove
The Heininger stove is a portable gas fire pit and boasts a completely smokeless fire. This CSA approved fire pit is also safe to use during fire bans, meaning you can have a fire any time of year.
Weighing 22 pounds— this fire pit is heavier than some of the other options on this list, but packs a big punch. It comes with a natural lava rock set to keep your fire burning evenly and hot.
This fire pit uses 58,000 BTU's, spand 19 inches in diameter and is rated for all weather usage. Some propane pits don't have an efficient heat output compared to a traditional wood fire, but the Heininger boats being a great fire pit for staying warm on cold nights.
7. Bali Outdoors Wood Burning Fire Pit
The Bali Outdoors fire pit is a perfect solution for those who wish to cook over an open flame. This wood burning outdoor fire pit comes with a steel grate which is perfect for cooking hot dogs, smores, and other traditional camping meals.
The metal cooking grate swivels a full 360 degrees and the height can be easily adjusted.
8. Primus Kamoto Portable Fire Pit
The Primus Kamoto portable fire pit burns both wood and charcoal. This Swedish design packs down quickly and easily and is perfect for a leave-no-trace fire. The bottom is fitted with a tray to catch any ashes that may fall.
The Primus Kamoto features a large detachable cooking grate that is perfect for grilling for a group. It also features windshield sides to ensure your fire stays burning evenly. The design allows enough air to enter through the bottom to keep your fire burning hot all night.
9. Breeo Y-Series
Photo Credit: Breeo
The Breeo Y-series fire pit features a solid stainless steel body and a double wall design that is perfect for keeping your fire burning efficiently. This portable fire pit boasts being one of the first smokeless fire pits, which is perfect for those who don't like when their clothes smell like smoke.
This fire pit can also work with wood, pellets and charcoal. If you're someone who loves to cook over an open flame, this portable fire pit has all the accessories needed to cook an extravagant meal over the fire bowl.
Because of the secondary combustion technology used, this fire pit is able to remain hot, efficient and stay burning for much longer than other fire pits.
10. Wolf and Grizzly Campfire Trio
The Wolf and Grizzly Campfire Trio is hands down the best backpacker friendly camping fire pit. This fire pit is made from a high quality stainless steel and comes with everything you need to get going, including a cooking kit.
This fire pit weighs just 4.8 pounds and packs away small in the premium carry bag. This makes transporting the fire pit on a long camping trip or backpacking trip easy and hassle free. It is perfect for wet climates when making a fire is difficult, or for areas where there are burn bans in effect.
Frequently Asked Questions
Here are some frequently asked questions about portable fire pits for camping:
Can you take a fire pit camping?

Yes. There are portable fire pits that come in all shapes and sizes depending on your camping adventure. If you're backpacking you can opt for a small foldable fire pit, and if you're car camping you can bring along a heavier, bigger fire pit.
How long will a 20lb propane last on a fire pit?

How long a 20lb propane tank will last depends on several different factors such as how intense your fire is and how big your fire will need to burn. Check the manual of your portable propane fire pit and look for the BTU usage.

As a general rule of thumb, for every 10,000 BTU's, your flame will require 0.5 pounds of propane per hour of usage.
Are propane fire pits worth it?

If you are someone who enjoys having a fire while camping and especially enjoys cooking over an open flame— a propane fire pit can be an excellent addition to your camping trips. This will help your camping guests stay away from the pungent smoke stream and they are safer in preventing forest fires than traditional campfires.

Propane fire pits are also much safer for the environment than using fire rings.
Do propane fire pits give off enough heat?

Gas fire pits are incredibly easy and safe to use in comparison to a traditional wood burning stove or campfire. They are not as efficient at emitting heat. If you're primarily looking for a way to stay warm on a cold night in the woods, a propane stove may not be the best option for you.
Other Camping Content
I hope this guide helped you choose the best camping fire pit for your needs. We've written about lots of other camping and overlanding topics, too!
Here are some other guides you might like: