If you ask me, there's nothing quite like making a hot pizza over an open fire while you're in the great outdoors!
I first became obsessed with campfire pizza when my buddies and I went camping and brought a frozen pizza. We loved to try cooking weird stuff over a fire, so why not?
We made a makeshift pizza oven out of rocks—and it turned out great!
But since that fateful day over 10 years ago, I've upped my pizza game. I've been overlanding for a while now and can honestly say that cast iron pizza is one of my favorite camping meals.
In this article, we're going to talk about how you can make pizzas with your camp stove, cast iron pan, and more. Let's dive in!
How to Make Campfire Pizza
Before you physically make your campfire pizza, there are a few things you should do.
First, you'll want to prepare as much as you can ahead of time (chop your veggies, grab the pizza sauce and cheese, and prepare your store bought or homemade dough).
Once that's done, it's time to decide which method you want to take to cook your pizza over the campfire. All methods are good in their own way, it simply depends on how you personally want to cook!
Let's quickly go over each method…
Cooking Pizza Over Campfire Using Tinfoil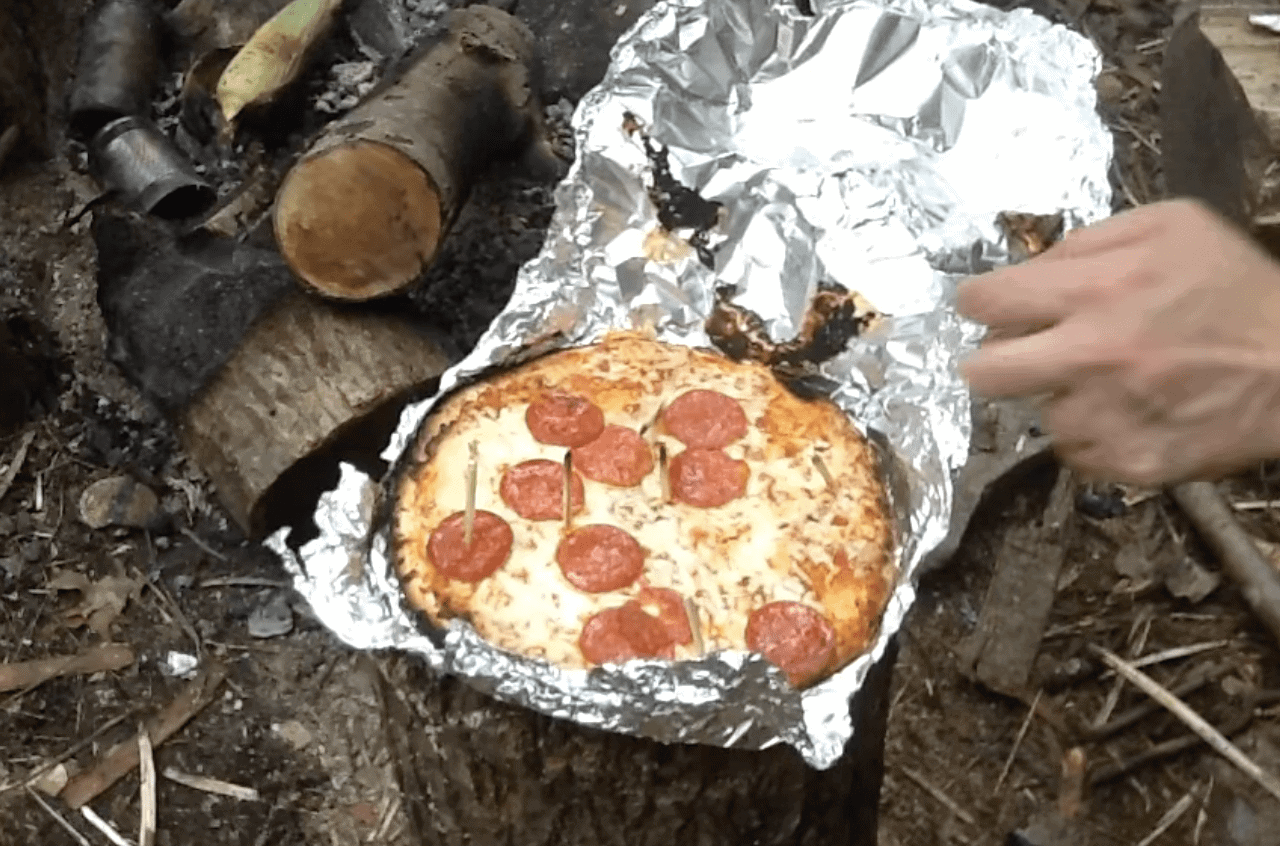 Tinfoil is a great makeshift pan (especially if you don't want to carry a heavy cast iron pan with you while camping).
To make your campfire pizza with tinfoil, simply roll out the tin foil and curve the edges inward to ensure that nothing spills out of it. Prepare your pizza on the aluminum foil (lay down your pizza crust and toppings) and put it over your heat source.
The best way to cook this camping pizza is low and slow. You can't flip it over without the toppings going everywhere, so don't rush it.
While tinfoil is a great way to make pizza, I don't often recommend it. The fact that you can't flip the dough can lead to a slightly more crisp pizza crust and, if you ask me, it just takes too long.
However, if you were making a calzone, tinfoil would be a great resource!
Related Reading: The Best Axes For Splitting Wood, Overlanding, & More
Camping Pizza Made in a Dutch Oven
Have you ever had deep dish pizza? That's sort of what you get when cooking a campfire pizza in a dutch oven! This is an incredibly delicious (and simple) way to make pizza while camping, too.
To make this camp pizza, simply lay your dough in the dutch oven and top with all of your toppings. Place it on some hot coals and, once covered, add some more hot coals to the lid of the dutch oven pan. Cook for five to ten minutes or until you're satisfied with how the pizza is looking!
Remove the dutch oven from the heat and cool it completely before removing the pizza. Serve it up and voila! You've made a delicious camp pizza that'll make everyone happy!
Using A Pan Or Pizza Stone To Cook Pizza
Much like tinfoil, a pizza stone and pan cooks pizza directly over a campfire. All you have to do is lightly grease your pan with olive oil and get your campfire ready!
Set your pan over the fire on a rack or support and cook until the cheese is completely melted. Remove, cool, and enjoy!
Note: Before using this method, make sure your pan and/or stone is campfire safe before you cook it over hot coals!
Cook Pizza Over Campfire Using a Pie Iron
Looking for an innovative way to make some pizza over the fire? Grab a pie iron!
Pie iron pizza tastes amazing and you barely have to do anything to make these! Simply grease your pie iron and place your dough inside of it. Add your sauce, cheese, and toppings, then latch the pie iron and hold it over the fire for about five minutes per side. Boom – your pie iron pizza is done.
If you have a large crowd, this is one of the fastest (and easiest) ways to cook pizza. Not to mention, a pie iron is incredibly easy to clean!
Now that you know the methods, let's talk about some awesome pizza recipes!
3 Easy, Mouthwater Campfire Pizza Recipes
Whether you choose to use a cast iron skillet or make a pie iron pizza, these recipes will not let you down.
1. Breakfast Pizza
Who said you can't have pizza for breakfast?! Not me, that's for sure!
This recipe by The Kitchen Magpie is my favorite breakfast camping pizza recipe out there. With hashbrowns, eggs, diced ham, veggies, and a good amount of mozzarella cheese, I'm sure it'll quickly become one of your favorite camping recipes to date!
Feel free to mix up the ingredients with your own choices. Switch out the cheese, add bacon instead of ham, or even fried eggs instead of scrambled!
The whole family is bound to enjoy this camping pizza (and they may even rate it 5 stars)!
2. Bacon & Date Campfire Pizza
I know what you're thinking… "Bacon and date… what?!" I thought the same thing when our friends at Fresh off the Grid shared this pizza recipe. But the flavor combination is out of this world (and you have to try it at least once in your life)!
The instructions they share to make this pizza are pretty simple, too. To start, you'll want to fry the bacon in a cast iron skillet until it's beginning to crisp up (which can take anywhere from 3-5 minutes). Remove the bacon and set aside.
From there, you'll need to stretch your dough into a roughly 10" circle and press it into your hot skillet (be very careful – it's going to be hot). Place the dough over the fire for a few minutes or until the underside turns golden brown.
Remove the skillet from the heat and carefully flip the dough with a spatula. Add the tomato sauce, cheese, dates, and bacon to the top and return the skillet to the heat for a few extra minutes (or until the dough is fully cooked).
Top it with arugula and a hit of balsamic glaze (if you so desire), cool slightly, and enjoy!
3. Personalized Pizza
Want to make a campfire pizza that only you would enjoy? If so, this is the one for you!
Say you love pepperoni, but your friends (or family) camping with you really don't care for it. Or, you want an all veggie pizza and no one else does.
Instead of both of you having to go half and half on a pizza, why not make your own?
Frequently Asked Questions
Here are some questions I'm often asked when it comes to making campfire pizza. If you have any questions that I didn't answer, leave a comment down below and I'll do my best to help!
Can I use thin crust pizza dough?

While thin crust dough is delicious, I tend to use a thicker "classic style" dough (also known as thick/original crust). When you think about it, thicker dough is a bit more fool-proof. It won't get as soggy when you add your toppings and you have more wiggle room when it comes down to cook time.

Because the temperature of the campfire may vary, having a bit more wiggle room while cooking your favorite camping pizza is a must.
Should I use store bought pizza dough?

Let's quickly reword that question…

Should you use refrigerated pizza dough to save time (and make your life easier) on your next camping trip?

Uh, yes. Yes you should! There's nothing wrong with using store bought pizza dough and, if you're looking for one to use, I recommend Jus-Doh.

Not only is their refrigerated pizza dough easy to work with while making campfire pizzas, it's high-quality and made without hydrogenated oils and artificial colors. It also browns and rises beautifully while cooking in the cast iron pan!

If you're on a time crunch and don't want to make homemade dough, store bought pizza dough works beautifully!
Final Thoughts
I hope this post has helped you to be more confident while you cook campfire pizza!
Whether you cook campfire pizza in a cast iron skillet or pie irons, I'm positive that pizza will be your new favorite campfire food.
Leave a comment below to share what your favorite campfire pizza recipe is!
Here are some other great camping food articles to check out: