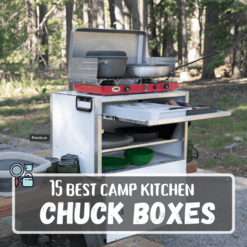 Are you looking to revolutionize your camping cooking experience? A chuck box may be just the fresh upgrade you need!
There are tons of different building blueprints, diy projects and pre-made options available.
So whether you're looking to fully build and customize your chuck box, or want to just purchase one and hit the road—we have laid out everything you need to know!
Let's dive in.
Table of Contents (Click to Expand)
Easy Buy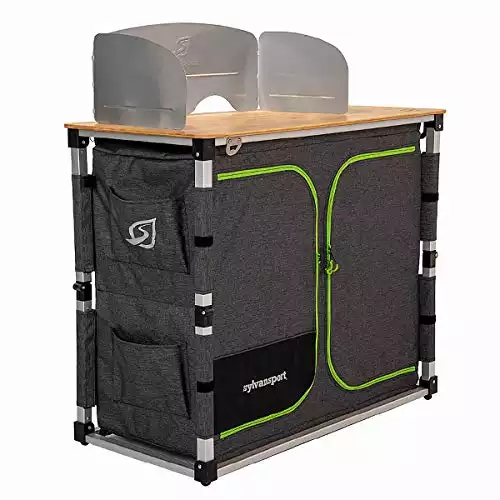 We earn a commission if you make a purchase, at no additional cost to you. We appreciate you!
What is a Chuck Box?
A chuck box is the perfect place to store all of your kitchen camping essentials. It is basically your own grab and go kitchen.
There are tons of premade chuck boxes and diy plans. Finding the perfect chuck box for you will surely revolutionize how you cook all of your favorite camp meals on the road (and don't forget about all of your camping snacks you want to bring with you!).
Why is it called a chuck box?
A chuck box is sometimes called a "grub" box as well. Both terms seem to have originated from old wild west lingo. Chuck meaning "to throw it in" and grub meaning food.
What is in a chuck box?
A chuck box should house all of your cooking essentials. It should carry spices, utensils, cooking oil, spare fuel, pots, pans etc. Really, your chuck box will vary based on your preferences and requirements for an ideal camp cooking setup.
Chuck Box vs. Portable Camp Kitchen
Although chuck boxes and portable camp kitchens seem to serve similar functions—such as holding cooking gear, utensils, and spices—a camp kitchen will be much more comprehensive and take up more space.
Camp kitchens are great for if you're planning to be in one place for a while or you're planning to cook for a larger group of people. They are amazing at providing comfortable and spacious outdoor cooking areas.
Chuck boxes are the simpler bite-sized version.
Chuck boxes are designed to require little to no setup. They are essentially pre-made to just chuck on a picnic table and start cooking. They are the perfect sized kitchen for overlanding, vanlife, car camping, and weekend trips to your favorite campsite.
If you want to keep things REALLY simple, you could just cook over a portable camping fire pit and organize all of your cookware and spices in a storage tote. But we'll talk about all of your options below.
DIY Camp Kitchen Chuck Box Plans
If you're wanting to build your own fully customized chuck box, there are tons of great blueprints you can utilize to ensure you meet all of your camping needs.
Whether you're hoping to modify a piece of old furniture, or build one from scratch using your old wood— there are tons of blueprints available.
Beginner's DIY Chuck Box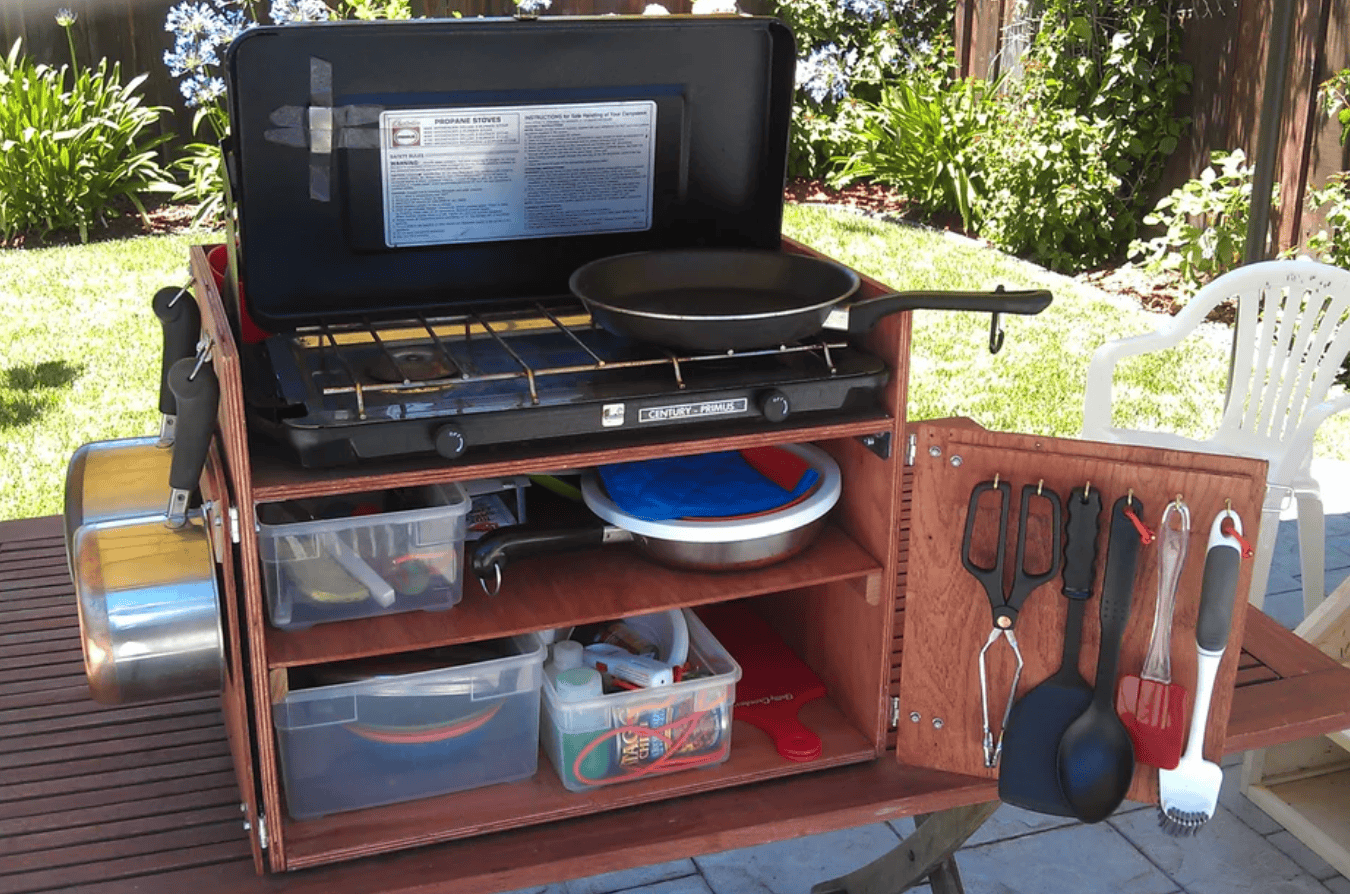 This beginner chuck box DIY plan is inspired by old Volkswagen buses that had built in stoves. It is a simple design that is perfectly sized to hold your two burner stove and all of your camp kitchen essentials.
With just two pieces of ½ inch plywood, some basic tools and simple hardware, you can craft this simple chuck box and revolutionize your outdoor cooking experience.
The front cabinets were designed to swing open instead of dropping down into a workstation to keep the stove easily accessible. The hooks inside the door and on the side are perfect for keeping your utensils organized and easily accessible.
IKEA Chuck Box
Ikea is a great resource for finding generic furniture that can easily be modified. They sell several different kinds of shelving units that can be turned into a chuck box with just a little creativity. Think about turning it on its side, adding a door with a hinge, or extra hooks to hang things on.
The Ikea Trofast is a popular pick for a self-converted chuck box. It is a pretty basic shelving unit that has pull out drawers that can be filled with all of your essentials.
Another great Ikea option is the Duktig kid's play kitchen. Many have converted it into a fully functional kitchen for camping. Just remove the play faucet and replace it with a functional electric faucet. Then remove the play microwave and add some baskets, hooks and drawers.
REI Chuck Box
If you're feeling crafty, REI provides a blueprint and step-by-step instructions for building your own chuck box. This is a great option if you have extra wood laying around or just want to build and customize your own.
With one sheet of ½ inch plywood, some basic hardware and simple tools, you'll be able to build your own chuck box.
Some of the best features of this diy chuck box is that it comes with a perfect space to house your coleman stove, lots of kitchen gear, and enough space to keep some spices supplies.
If you're lacking the power tools necessary to cut up your plywood— bring the cut list provided to the hardware store and they will cut it for you.
Chuck Box from Modified Tool Box
Another easy diy chuck box option is to modify an old tool box into a chuck box. The trickiest part will be finding a tool box that will also hold your camp stove— if that is something you desire. There are a few different styles of metal tool boxes that will work, so make a list of all the things you would like to include before making a decision.
The ones that we like the best are these Rigid stackable tool boxes. You can mix and match for extra customization, and they're incredibly sturdy. You can find them in Large, Medium, and Small.
You can then mix and match them to have the perfect amount of storage for your ideal camp kitchen setup.
Small Chuck Box with Slide-Out Cutting Board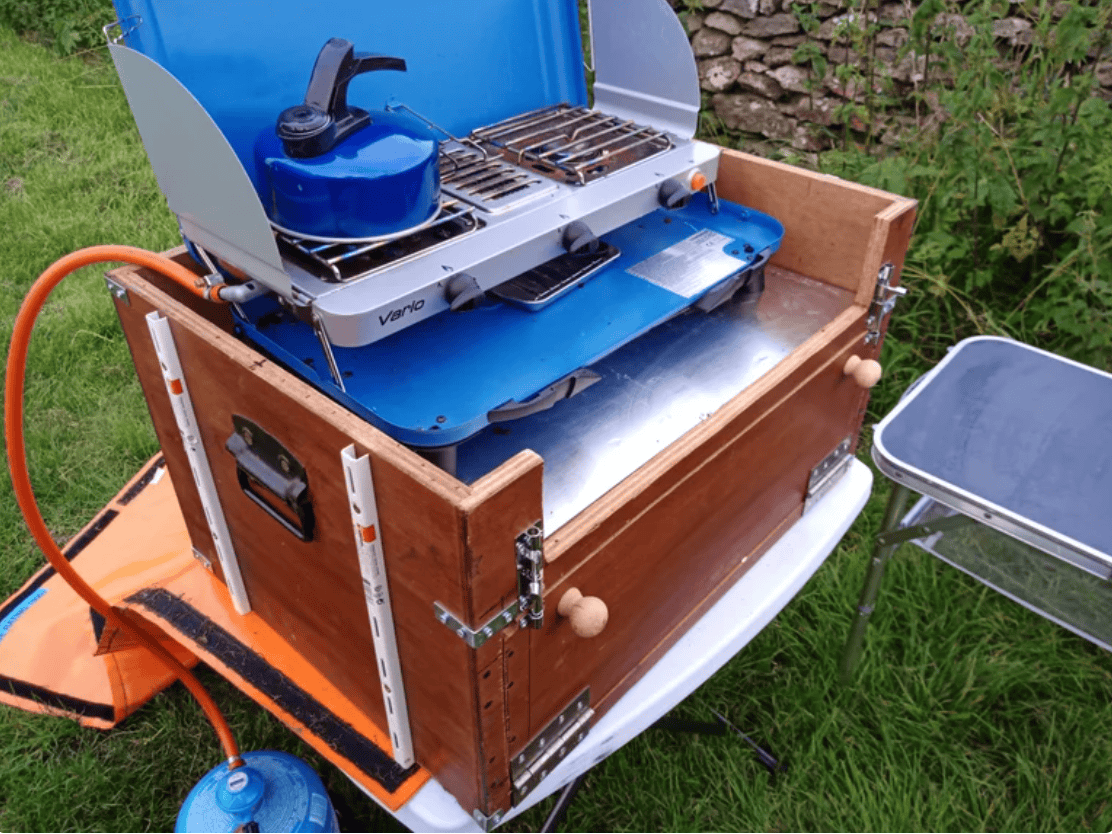 Another great DIY option is this small chuck box with a slide-out cutting board. This chuck box was made out of an old wooden box with the lid removed.
These are not specific step-by-step instructions, but they offer very creative suggestions as to how you can modify an old box into a fully customized chuck box.
This particular chuck box has a magnetic strip to hold metal items while cooking, an inner drawer that can hold cutting boards and cutlery, and side brackets so you can fully customize the height of your lower shelf.
Deluxe Chuck Box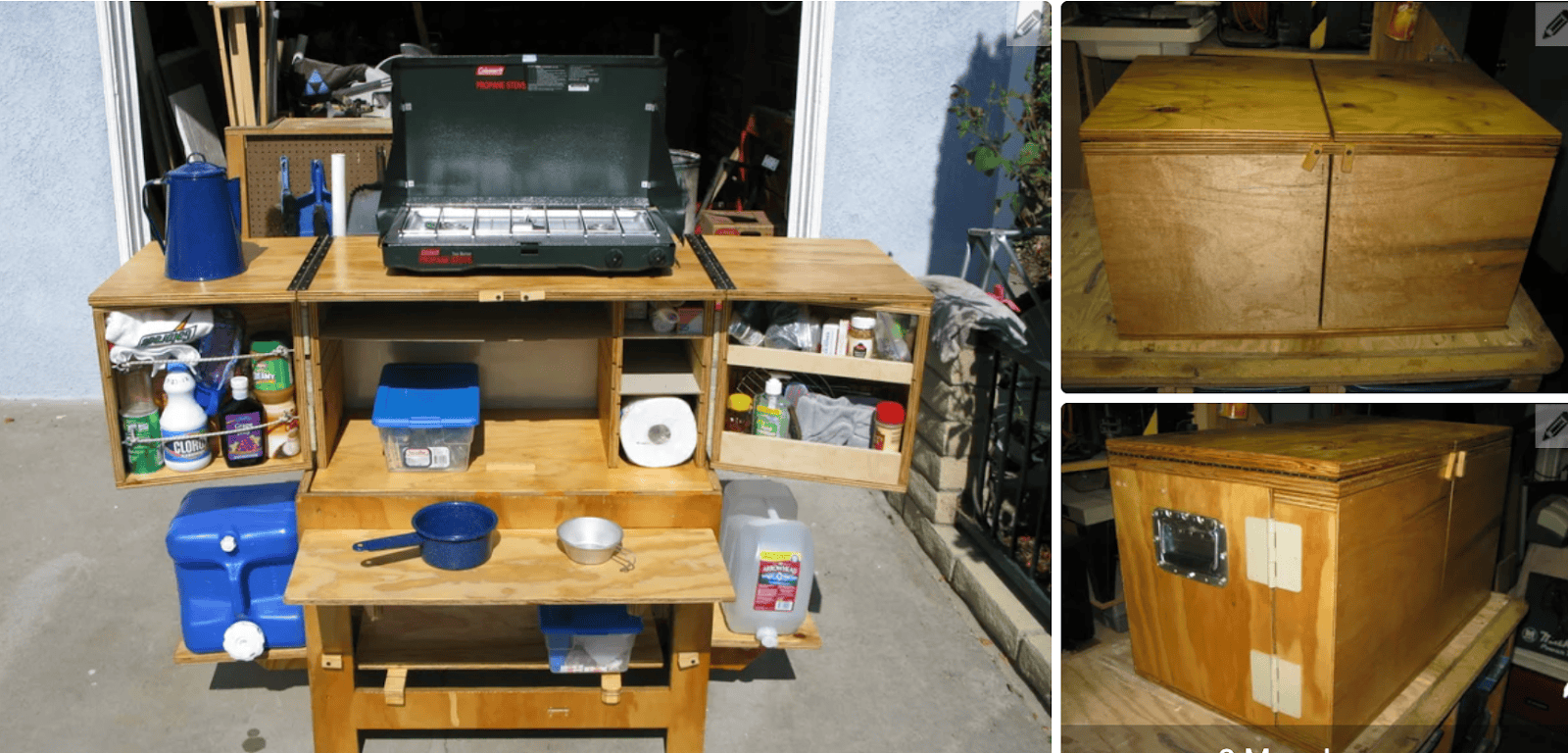 This Deluxe DIY Chuck Box is full of drawers, shelves and details to give you the most luxurious camp cooking experience. It has plenty of space to hold your water Jerry cans and all of your kitchen essentials. The front door folds out to provide tons of counter space to cook and prepare on as well.
Truly, if you're looking for a glamorous chuck box cooking experience— this is the design may be for you. The comprehensive design does mean it takes up more space than some of the other options on this list. It also requires a bit more wood which adds to both the cost and the final weight.
If you do decide to build this particular chuck box, the creator rated the difficulty a 6/10. Depending on your experience, this could be quite the challenging piece to build.
"Yack Box" (Compact, Lightweight Chuck Box)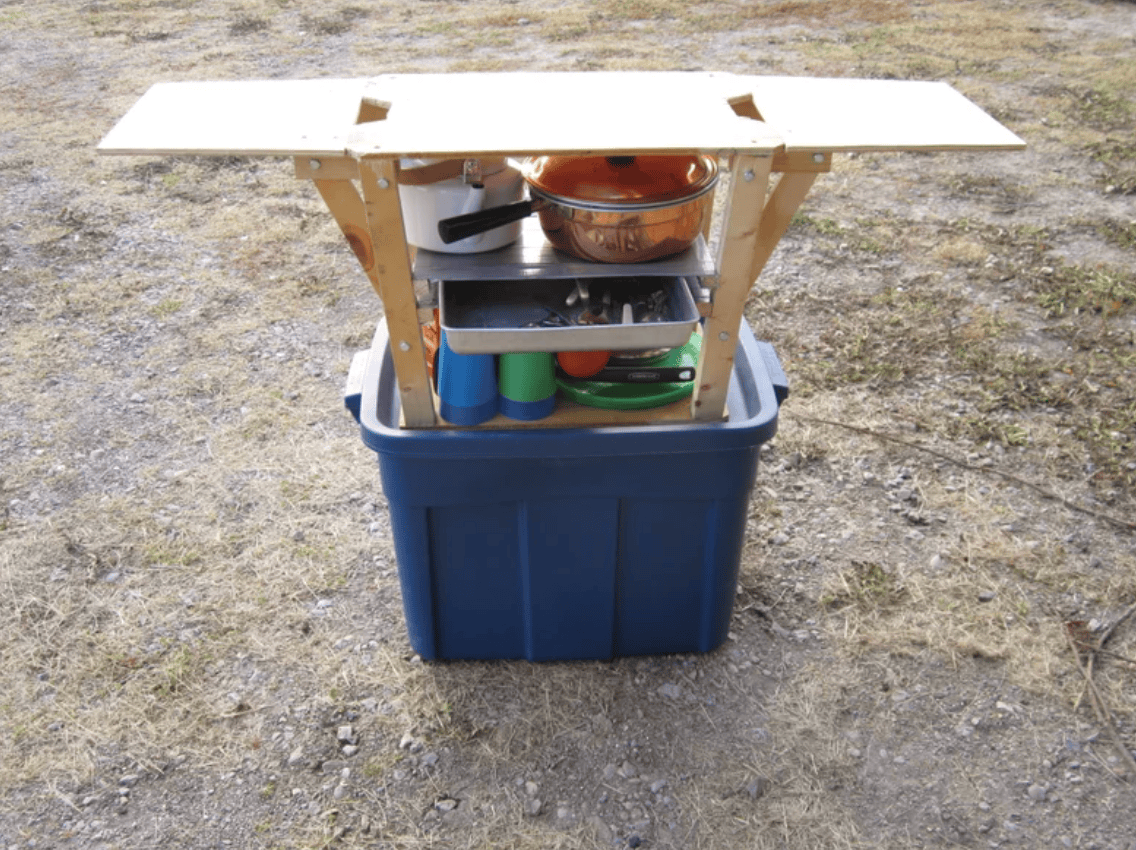 Here is Yet Another Camp Kitchen. No, really, that's the name of this chuck box. The biggest allure to this design is that everything fits snug inside one plastic tote. Just toss this tote in the car and you'll be off on your next camping trip.
The tote that holds the gear doubles as the perfect place to wash dishes as well. The supplies needed are all pretty basic and can be found at any hardware store.
The fold up table design offers plenty of cooking and cutting space, and it is designed to stand tall on top of the tote to help make the cooking experience more comfortable.
This is a very user friendly design that anyone could build with a little bit of determination.
Vintage Style Camp Chuck Box
This DIY Deluxe Chuck Box was created by Georgianbay Scott and was inspired by the "glamorous picnic hampers of yesteryear."
This particular chuck box does require a bit more skill and supplies to craft, however it offers plenty of storage space, a fold out workstation to cook on, and is designed to be customizable. Not to mention the fact that it is absolutely stunning.
All of the shelves inside the unit are constructed with plywood on pine cleats. This means they can easily be fitted to the dimensions of your specific cookware.
Chuck Box with Fold-Out Side Cabinets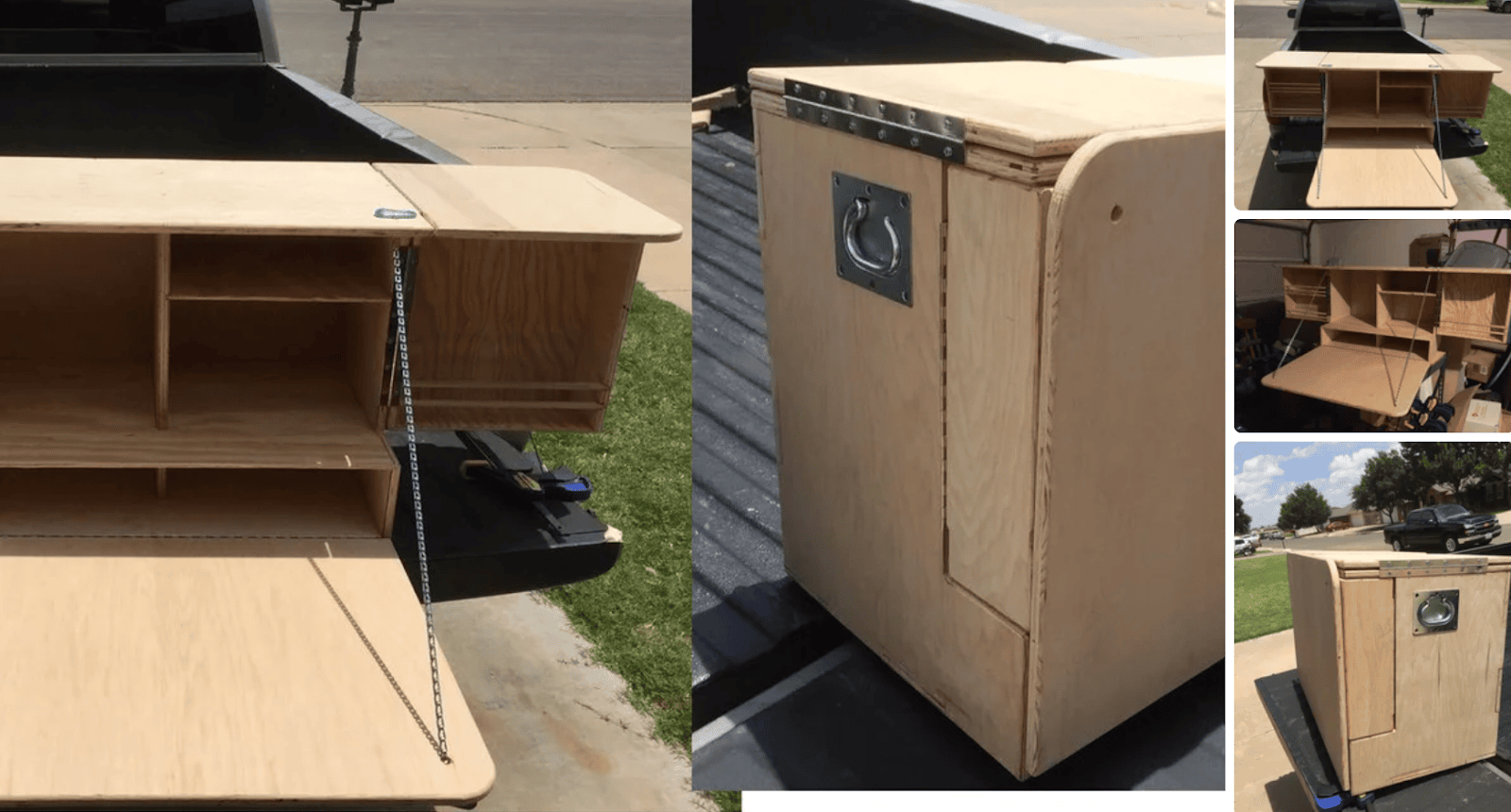 If you camp in a truck, this chuck box with fold out side cabinets is perfectly sculpted to fit in your tailgate and transform into a stunning kitchen design. It does weigh a whopping 80 pounds, so if you're keen on saving on weight—be wary.
The designer of this chuck box was able to build it for under $100 using recycled materials and budget supplies.
This design is very spacious and folds down pretty compact. The top portion folds out to lay over the swinging cabinets and provides plenty of cooking space. It also has a fold down table that can be used as either a dining area or extra prep space.
Things You Can Make Into a Chuck Box
These options are perfect if you're looking for a more hands-off version of a chuck box you can just stock up and hit the road with.
Quick Cart on Wheels Chuck Box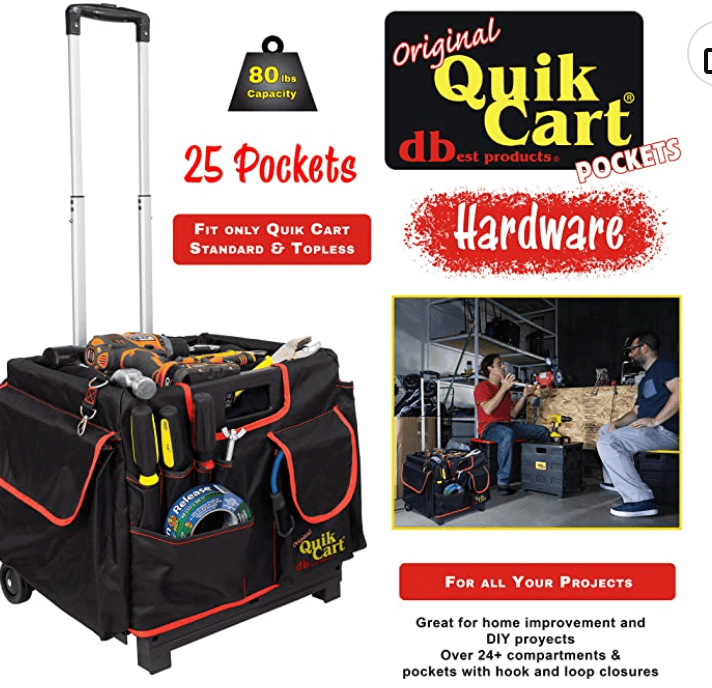 This quick cart on wheels is perfect for holding all of your camping cooking gear. It pops up quickly and easily and can be rolled to your picnic area or camp site. This is also a very light weight option as the bag comes in at only 8 lbs.
This bag also has 25 different compartments and pockets to keep you organized while you're adventuring.
This is a fantastic option for those hoping to save on space and weight while staying organized.
Stalwart Rolling Tool Box
This Stalwalt rolling tool box would make for a very organized and versatile chuck box. The stackable boxes make it very easy to transport as a single unit, or packed to be individually used.
This option is reinforced with steel so it is incredibly durable but only weighs 33.5 lbs. If you're looking for a lighter weight option that will last— this option may be perfect for you.
Rubbermaid Chuck Box
The best thing about this Rubbermaid Action Packer chuck box is how customizable it is. As an individual product, the box does not come with any organizational components. However, this fully loaded chuck box is complete with a drying rack, paper towel holder, knife rack and wire organizer.
This option will require some ingenuity and creativity, but the rubbermaid action packer is incredibly durable and built to last a lifetime.
Check out the breakdown of how this chuck box was created.
Pre-Made Camp Kitchen Chuck Boxes
If you're not wanting to take on the daunting project of building a chuck box, consider purchasing a pre-made chuck box. There are several great options available for your individual needs. Just pack them up and hit the road!
Yoke Chuck Box
This Yoke Chuck Box is cleverly designed to revolutionize your camp kitchen. The top cover that houses your stove is fully removable and turns into your camp sink. The front cabinet flips down and becomes a convenient workstation.
The inside even has a slide-out silverware drawer and provides plenty of compartments to organize your kitchen essentials.
This is a lighter weight and smaller chuck box option for those hoping to keep their setup low profile. The Yoke box also comes pre-assembled— just pack it with your things and you're ready to go.
King Charles Chuck Kitchen
The King Charles Chuck Kitchen boasts being lightweight while also incredibly sturdy. It is built from aircraft grade aluminum and is crafted to last a lifetime.
This chuck box will comfortably fit a two burner stove, plates, bowls, utensils, pots, and all of your camping essentials. The top sliding drawer perfectly houses a silverware tray and the lower shelves can be adjusted to perfectly fit your supplies.
Portal Chuck Box
This portable cooler table is an aluminum base and table top that has a zippered compartment. The zippered compartment houses four color coded bags that can be labeled for extra organization.
This versatile product can be used to keep different families' supplies separated, or organized to keep cooking supplies and foods separated.
This table can be fully taken down and stored away when it is not needed.
Frequently Asked Questions
Here are some frequently asked questions about chuck boxes.
How do I store my camping kitchen supplies?

A chuck box is a great way of storing all of your kitchen supplies in one convenient place. A chuck box makes it easy to grab all the supplies you need and bring them along on your camping trip, picnic or overlanding adventure.
What makes a good chuck box?

What makes a good chuck box is fully subjective. It is a good idea to decide exactly what things are most important to you and your camp cooking needs.

Decide how big you would like it to be and how much weight you are willing to spare.