When it comes to outdoor adventures, having a reliable water storage solution is essential. Water is not only necessary for survival, but it's also important for cooking, cleaning, and hygiene.
That's where Jerry cans come in!
Jerry cans have been a reliable choice for water storage for over 80 years. They were invented in the late 1930's as a water storage solution for soldiers in World War 2. They are rugged, efficient, and made from food safe and durable materials.
They're an ideal solution for overlanders and outdoor enthusiasts alike. So below, we lay out everything you need to know about how to find the right Jerry can for you and your outdoor needs.
11/22/2023 10:56 pm GMT
Table of Contents (Click to Expand)
What To Look For in a Jerry Can
Not every Jerry can is made equal, so here are some things to look out for when you're shopping around:
Water Storage Capacity
It's incredibly important that you bring enough water for the entirety of your outdoor excursions. This means you'll need enough water for drinking, cooking, washing dishes, hygiene, etc.
On the low end, you should anticipate needing a gallon of water per person, per day.
So if you're a group of five on a three-day trip, you'll want to have at least 15 gallons of fresh and safe drinking water.
Now, another option could be to bring a water filter or a Jerry can with a water filter attached (like the Lifesaver Jerry can) and refill on the trail. However, it's imperative that your water source is reliable if this is the route you decide to go.
I've personally been on a few trips where I was planning on filtering my water from a natural water source, only to find that the river or lake had run dry for the season. Always plan for the worst!
Material
Finding a Jerry can that is food safe, BPA free, and won't leave your water tasting like chemicals and plastics is important.
Plastic can be detrimental to human health if it isn't prepared properly. BPA—or bisphenol A—is a chemical that seeps from plastic and can contaminate your water. This chemical is known to cause diabetes, infertility, cancer, and more.
However, even food safe and BPA-free plastics can be damaging to your health if they're scratched—a simple scratch can still release other harmful chemicals such as BPF and BPS which are commonly used in place of BPA and are similar enough in chemical makeup to still warrant concern.
Your Jerry can will have to endure some of the harshest road conditions, so you'll want to be sure it's a highly durable material that won't scratch easily.
If you've never done a deep dive into different kinds of plastics, don't fret, I hadn't either! Here are some interesting facts about each of the common kinds of plastics you'll see on grocery store shelves and in your water containers:
Polyethylene terephthalate: Also known as PET. This is the plastic you commonly see used in things like soda bottles and disposable water bottles. This is a highly recyclable material that has antimicrobial properties and is corrosion resistant. Bear in mind that some PET bottles are made to be single-use, and can seep harmful chemicals if reused!
*High-density polyethylene: Commonly known as HDPE, this material is a top choice for long-term food storage and is a go-to for things like milk jugs, plastic cutting boards, and even grocery bags. This material is durable, doesn't harbor bacteria, and has a much higher boiling point than water. *This is the best kind of plastic for water storage and Jerry cans.
Polypropylene: Or PP. This kind of plastic is most commonly seen in single-serve items like condiment packets, yogurt cups, sour cream containers, etc. It's also commonly used in things like tupperware because of its ability to be safely reused for such a long period of time. It has a remarkable resistance to temperature shifts and boasts impressive durability and malleability.
Polycarbonate: Also known as PC—this kind of plastic is most commonly used in sports water bottles. It's important to note that this kind of plastic is found in both BPA and BPA-free options, so it's imperative to always be sure you're specifically looking for the BPA-free stamp on the bottle itself. This type of plastic is used in a variety of different things like greenhouses, headlights, CD's, and eyeglasses lenses.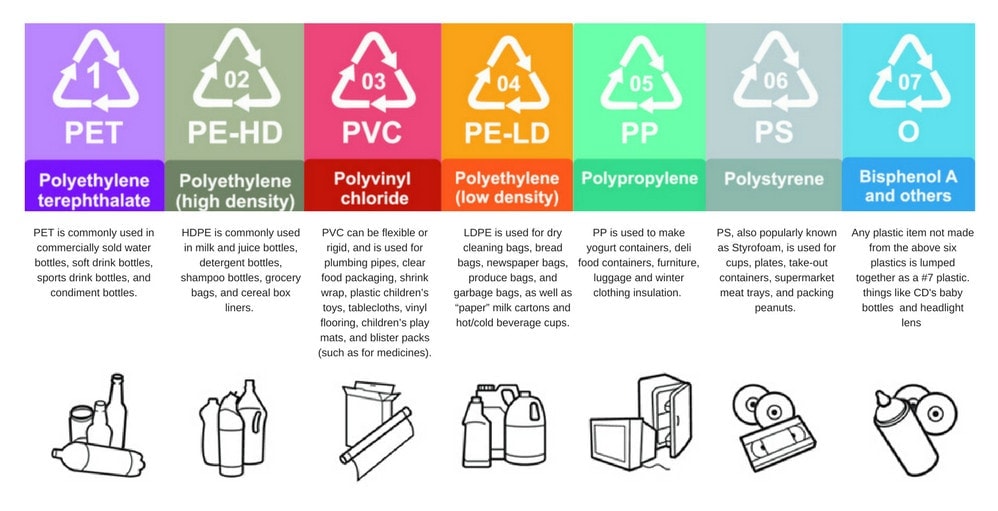 Shape and Dimensions
It's no secret that cargo space is often limited, and packing all of your camping and overlanding gear can quickly feel like an expert-level Tetris game.
If you have an established overlanding setup, off-road van, or other vehicle you bring on adventures, measure out the space allotted for your water containers and find ones that can comfortably fit there.
To make your shopping a little easier, we've also listed dimensions of each of the Jerry cans we recommend below.
The 7 Best Jerry Cans For Overlanders and Outdoor Enthusiasts
Here are the best Jerry cans to store your drinking water while adventuring:
1. Wavian USA Authentic NATO Jerry Can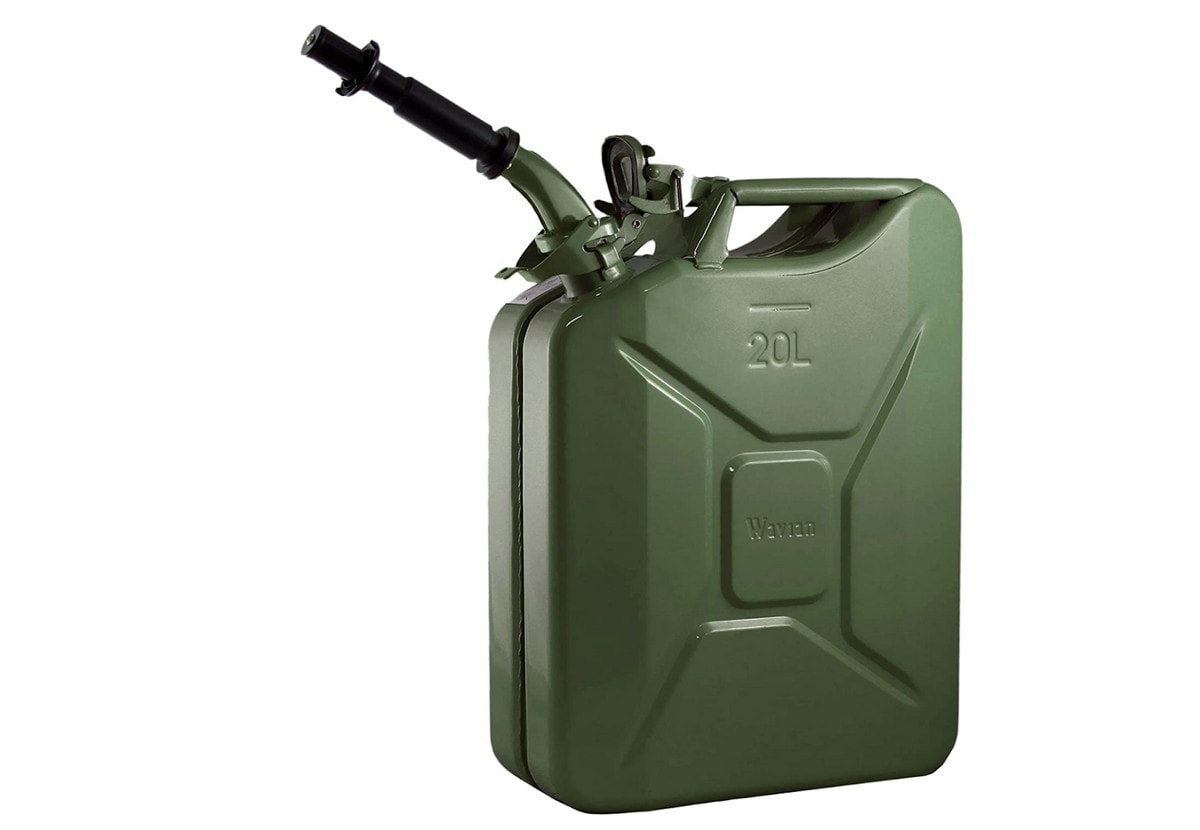 Storage Capacity: 20 Liters
Material: Military grade rust proof steel
Dimensions: 19 x 15 x 7 inches
The Wavian USA Can is one of the most popular Jerry can options on the market—and it's easy to see why. This rugged container is made from military grade steel, complete with a leak-proof closure and locking pin to ensure your water doesn't splash and spill on bumpy roads.
We also happened to rate it as one of the best off-road fuel cans as well! The Wavian NATO Jerry can is safe to use for other liquids like gas, oil, and diesel in addition to water. But you should never drink from a container that has previously been used for non-human safe contaminants.
2. Front Runner Water Jerry Can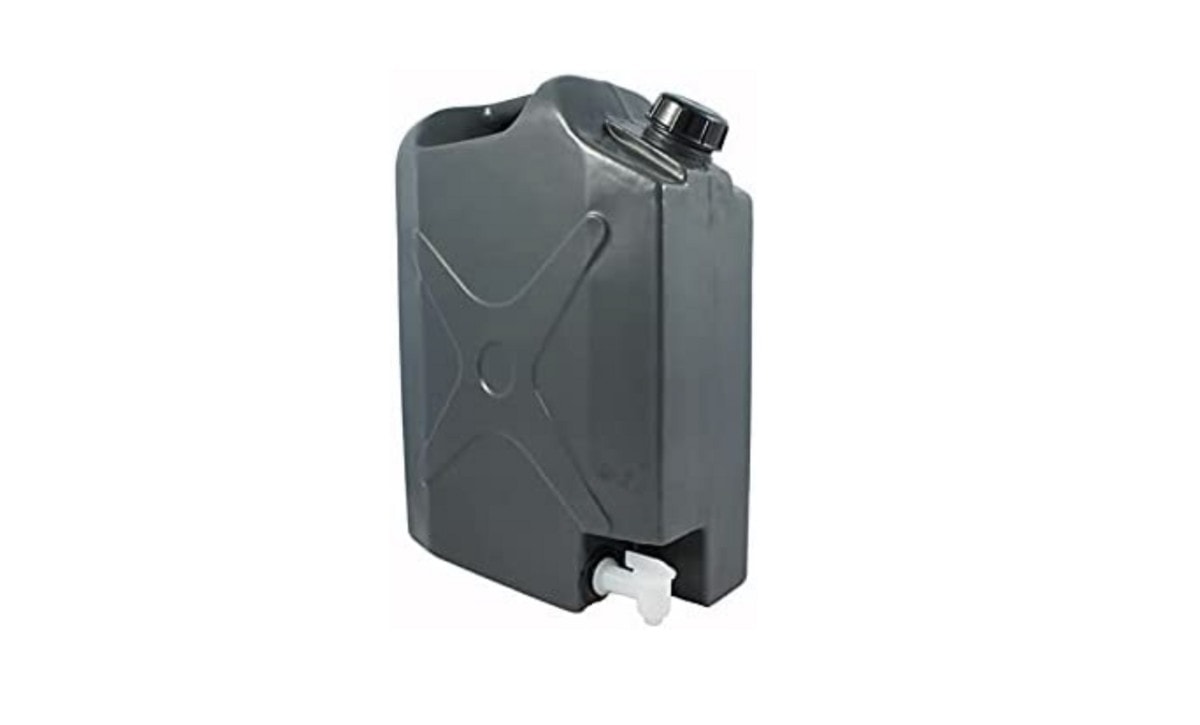 Storage Capacity: 20 liters
Material: Food grade polyethylene
Dimensions: 18.11 x 13.58 x 7.87 inches
If there's one thing you can be certain of, it's that you can rely on Front Runner to always have some of the best overlanding gear and accessories on the market. The Front Runner Jerry can is no exception.
This canister is equipped with a plastic tap on the bottom which makes it exponentially easier to use than some of the other options popular Jerry cans on this list. Most Jerry cans require you to pour the water out from the top, which leaves you prone to spilling.
3. UPWOIGH Jerry Can
Storage Capacity: 2.5, 5, 6.6 Gallons
Material: Food grade HDPE plastic
Dimensions: Up to 16 x 10 x 14 inches
The UPWOIGH Jerry Can stands out from the others because of its completely spill-proof design. This Jerry can also meets the rigorous US military specifications for both durability and safety.
One of my favorite features is the built-in vent that allows for smooth flow, and a wide mouth that makes it easy to fill and pour. The vent is nice because it allows air in without letting the jug leak, like other cans are prone to.
One thing to note about this Jerry can is that the dimensions are quite different than traditional designs, meaning that it won't be compatible with universal Jerry can mounts.
4. Reliance Aquatiner
Storage Capacity: 26 liters
Material: BPA-Free HDPE plastic
Dimensions: 11.25 x 11 x 15.25 inches
Because of its affordability, availability, and reliability—the Reliance Aquatainer is one of the most popular plastic water Jerry can options available.
This Jerry can has a convenient plastic water spout that makes dispensing water easy. The cap also screws off to reveal a wide opening that makes refilling this container quick and simple.
*One thing to note about this particular design is that the pour spout is prone to leaking unless it's stored completely upright. I've owned several of these jugs and all of them eventually leaked like this.
5. Scepter Military Fuel and Jerry Can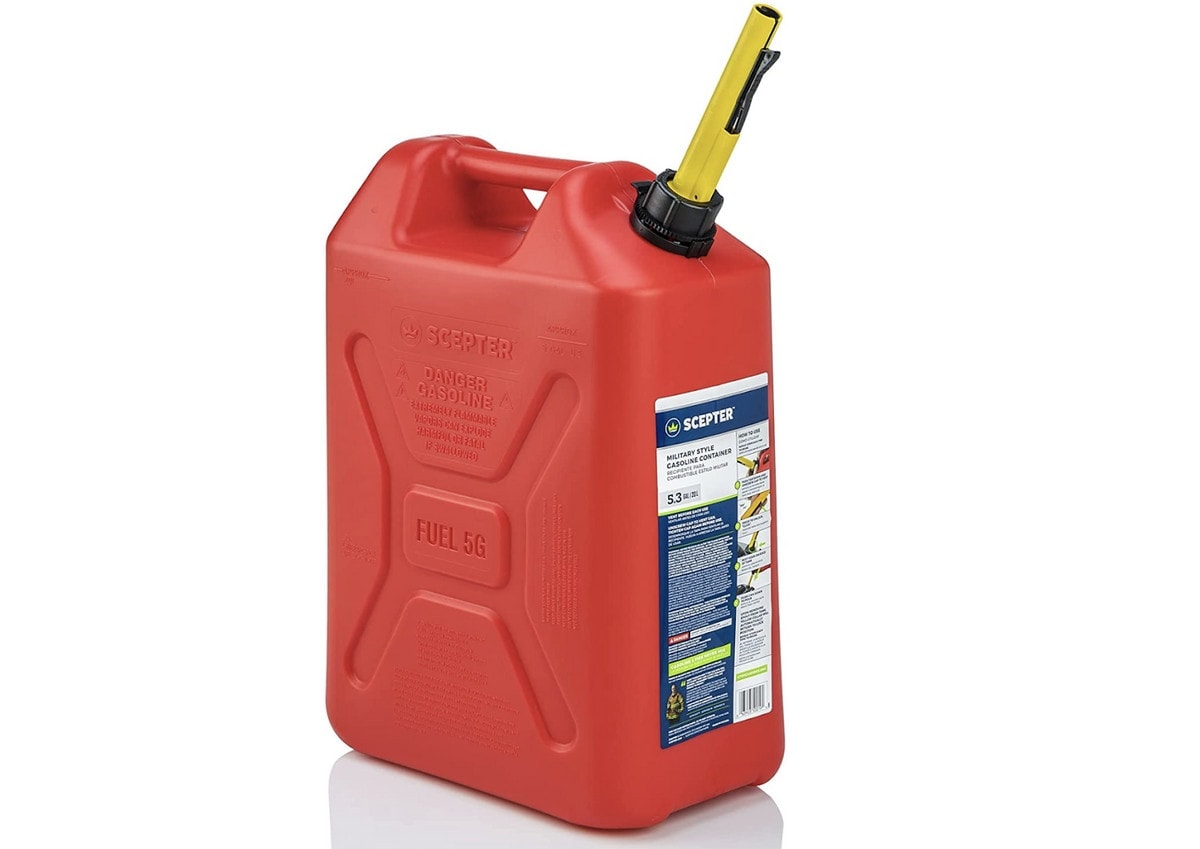 Storage Capacity: 20 liters
Material: Food grade HDPE plastic
Dimensions: 13.11 x 7.47 x 18.46 inches
Arguably one of the most recognizable Jerry cans on the market is the Scepter Jerry can. This company has been making Jerry cans for decades that are suitable for both fuel and water alike.
Fun fact: This water can is currently used by multiple different military forces in both the USA and Canada!
While this particular water Jerry can doesn't have the fancy bells and whistles seen in the newer designs—you can be sure that your purchase is going to stand the test of time and keep you hydrated in the backcountry and beyond.
6. RotopaX Water Pack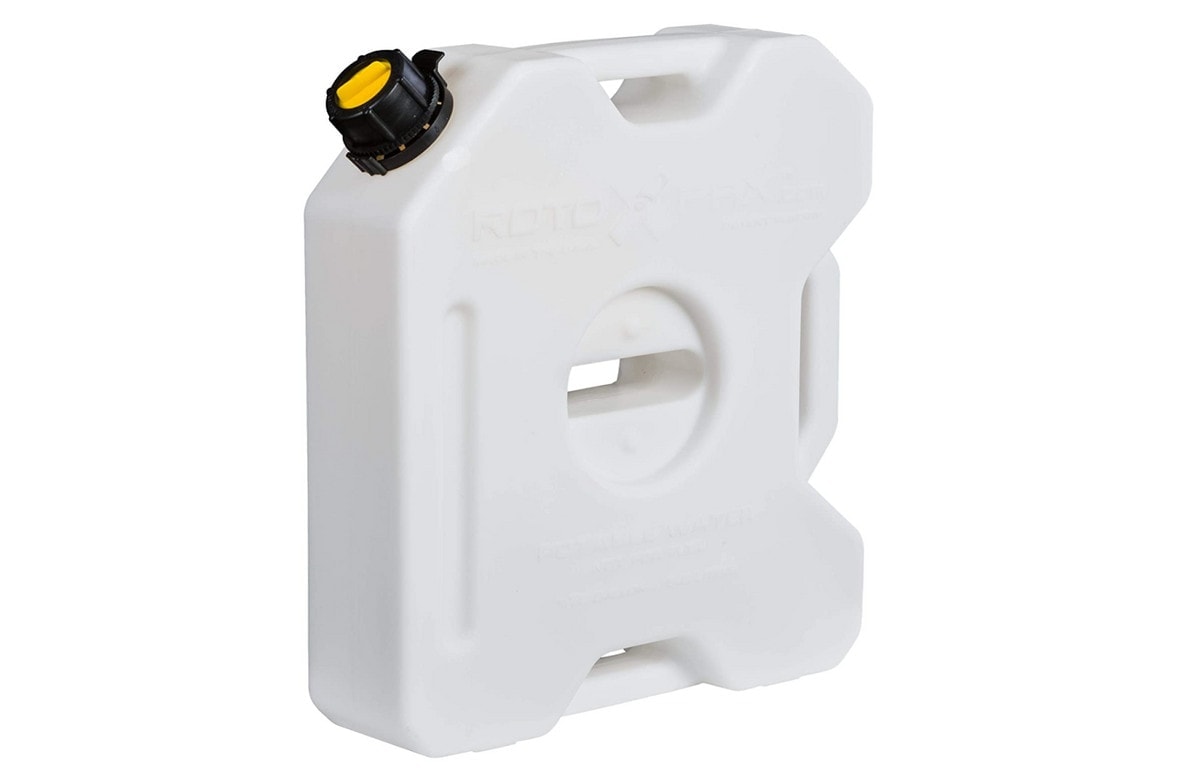 Storage Capacity: 1.75 gallons
Material: BPA Free Polyethylene
Dimensions: 14.5 x 13.25 x 3.5 inches
The RotopaX Water Pack may have a smaller carrying capacity than the other Jerry cans on this list, but it still carves its name as one of the best water Jerry cans because of its clever design.
These containers are designed to easily attach to your roof rack or truck bed rack using one of the small Rotopax DLX Pack Mounts. They are sold separately but work on other products including the Rotopax fuel can and even Maxtrax.
They're made from food grade plastic that is safe to freeze for cold water while you're out on the trail. They're expensive, which kept me from getting one for a long time—but they're worth it if you need something that can be easily stored outside your vehicle.
Related Articles:
7. Lifesaver Jerry can With Water Purifier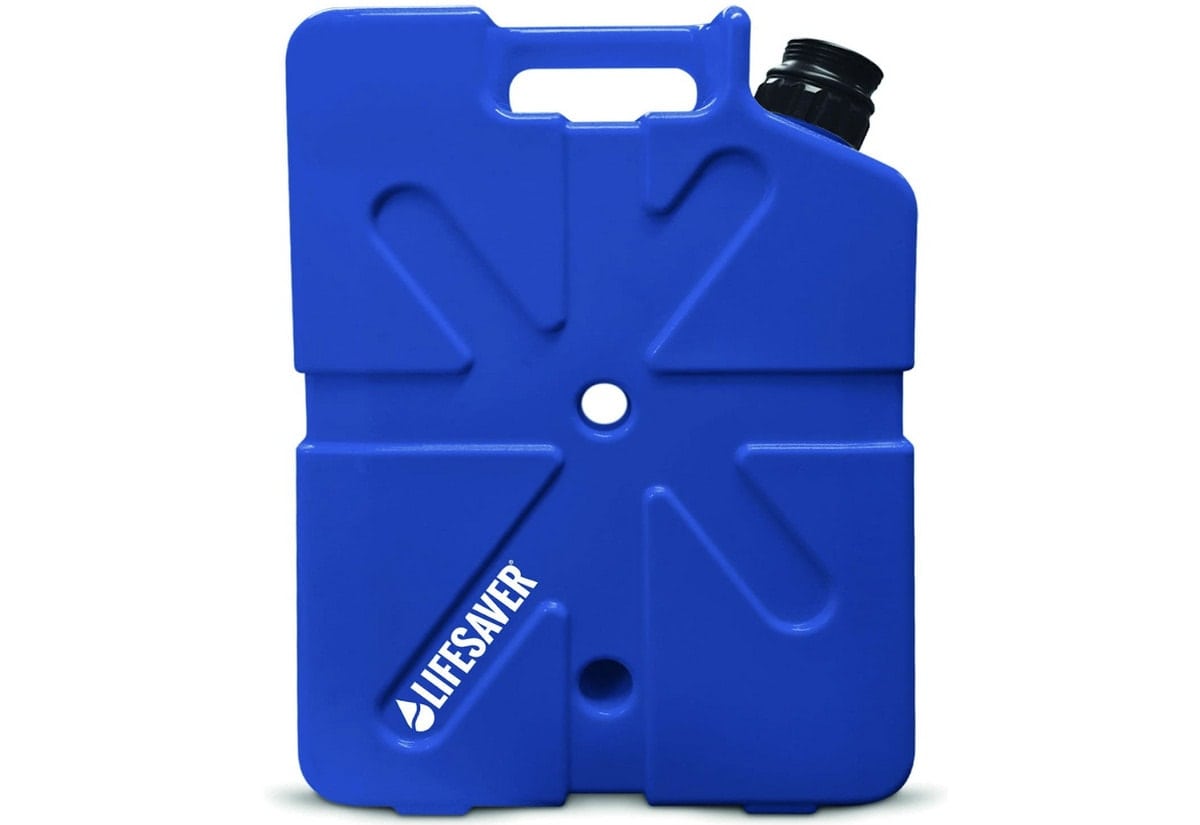 Storage Capacity: 5 gallons
Material: BPA Free Polyethylene
Dimensions: 13.98 x 6.3 x 18.11
If you're someone who likes to be prepared for everything—the Lifesaver Jerry can may be the best option for you. This Jerry can is equipped with a built-in military-grade manual purification filter that purifies your water as you pump it.
The carbon filter boasts the ability to purify over 5,000 gallons of water before it needs replacing. Plus, it has a fail-proof indicator to alert you when it needs replacing. Just fill the jug up with water and push the hand pump to pass the water through the filter and directly into your cup!
Personally, I keep a Berkey Black water filter on me just in case I need to filter water on the trail, but that adds one more thing to pack which isn't ideal.
Frequently Asked Questions
Here are answers for some common questions you may have about water Jerry cans:
How long can you leave water in a Jerry can?
It's recommended that you either replace or disinfect your stored water every 6 months. This is assuming the can was sealed the whole time and clean at the time you put the water in it.
Can you use Jerry cans for liquids other than water?
There are certain Jerry cans—such as the Wavian NATO Jerry can—that can be used for different kinds of liquids such as gas, diesel, kerosine, oil, etc. However, not all Jerry cans can hold liquids other than water—be sure to check the manufacturers guidelines, and never cross contaminate your fresh water jugs.
Are Jerry cans legal in the US?
Yes. However, different states and countries have different rules about how to store and transport fuel. Always follow local laws if you're planning to store fuel in any type of container.
How do you clean a water Jerry can?
To clean a water Jerry can—fill the container with one-part chlorine bleach to four-parts filtered water. The bleach should be 5%–9% sodium hypochlorite to ensure you're effectively killing all bacteria. Rinse your Jerry can and let it air dry completely before storing.
Final Thoughts
Overall there are plenty of amazing Jerry can options on the market, and finding the right one for you will boil down to your specific needs. If you do a lot of multi-day off-grid adventures—the LIFESAVER purifying Jerry can may be the best choice. If you're a day-trip overlander, the RotopaX Jerry can will help you save on space and provide plenty of backup water.
Regardless, always remember to bring more water than you think you'll need and plan for the unexpected!