If you've ever thrown all your gear in your truck bed only to have it get buried, lost, or all-around messed up, you know how important proper truck bed organization is.
Luckily, there are plenty of DIY storage solutions to keep your truck bed nice and tidy.
Whether you're looking to buy storage boxes or a full storage system—or you want to build something yourself—this is the ultimate guide to truck bed storage ideas. Let's dive in!
Table of Contents (Click to Expand)
Pre-Fabricated Truck Bed Storage Systems
If you're looking for the simplest solution to get your truck bed organized quick, a pre-fabricated truck bed storage system may be the best solution for you.
DECKED Truck Bed Storage System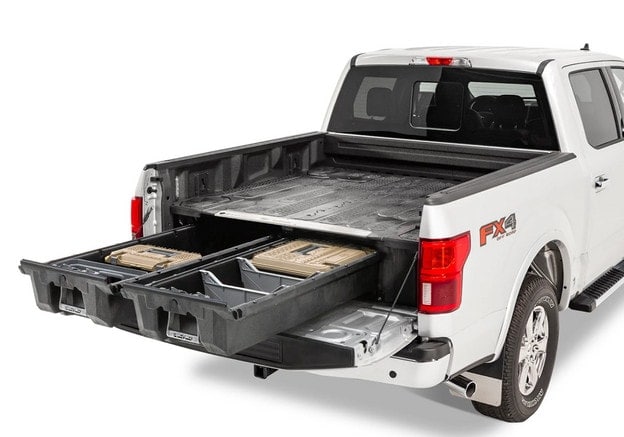 The DECKED truck bed storage systems are some of the best in the game. They make installation super simple and have plenty of different options available depending on your needs.
The drawer storage system is ideal for keeping organized, and even comes with an accessory pack that fits perfectly in the pull out drawers. They also offer a great tool box, a cargo glide pull out shelving system to add even more organization and storage, and plenty of other organization accessories.
Goose Gear Storage System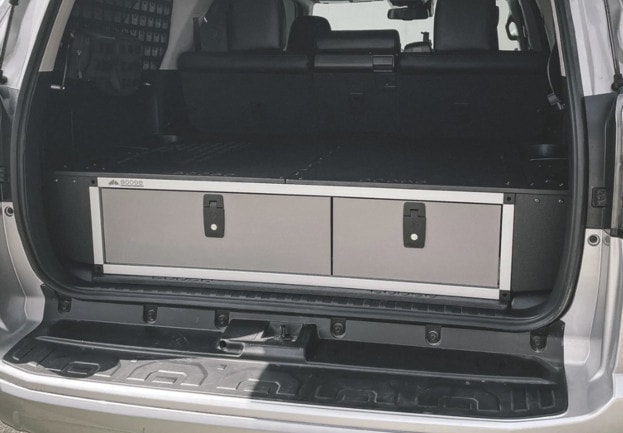 What we love most about the Goose Gear Storage Systems is that they are modular. This means you can order the pieces you want individually and in whatever size works the best for you. They provide an excellent way to organize your gear, food, tools, and other important things you may need on your overlanding or camping trip.
Each drawer comes with a compression latch system that locks securely. These drawers are built with professional grade plywood and finished with a dovetail coating. You can also choose between black and gray to match your drawers to your rig.
Weather Guard Truck Bed Storage
The Weather Guard Truck Bed Storage Solutions are an absolutely incredible line of pull-out storage drawers. One of the biggest concerns truck owners have with pre-fabricated truck bed solutions is that they aren't fully customizable and don't always maximize space.
These storage drawers can be fully customized to store your things in a way that makes sense to you.The drawer has a locking system to keep your equipment secure. This drawer system is also low profile and leaves plenty of additional space for other larger items in your truck bed.
Tuffy Security Heavy Duty Truck Bed Drawers
What we love most about the Tuffy Security Heavy Duty Truck Bed Drawers is that they nestle into your truck bed so nicely, and leave the space around your wheel wells open. While some solutions cover them we find that this can leave quite a bit of wasted space.
Leaving this space open lets you still store smaller items on either side of your wheel wells. These boxes also both individually locked and have been built to be completely resistant to pry bars.
DIY Truck Bed Storage Ideas
If you're wanting to get your hands dirty and build your own DIY storage system, you'll be able to fully customize your setup and probably save some money. Here are some DIY plans for inspiration.
An important thing to note is that while these DIY solutions can save you hundreds or even thousands, they will take much more work to make. If you don't have access to a shop or tools, you can always consider renting the tools you need through stores like Lowes or Home Depot.
Artisan Made Truck Bed Storage Plans
This truck bed storage system plan was made by a carpenter who loves to share his plans with the world on YouTube and on his Etsy shop. This system is technically designed to fit in a chevy silverado short bed, but can be modified to fit in any truck bed.
This plan features two sliding drawers and two bin type storage boxes to keep items from rolling around. It also leaves plenty of your truck bed wide open for other larger items, too. Finally, it includes plans for the best way to cut your plywood so you are getting the most efficient use of your lumber.
Overall, depending on the price of wood this DIY truck bed storage plan would most likely cost less than $200 in supplies to complete.
Here is the video for the full overview of what you can expect:
Recoil DIY Truck Drawers
The Recoil truck drawer plan is a free design that boasts a full storage system for under $250. That is significantly more affordable than some of the other prefabricated systems on this list. This DIY truck bed storage plan is a little more advanced, but the instructions are very clear and easy to follow.
This system features two sliding drawers to help you keep your things organized. This design uses carpeting to protect the piece and make it blend with the interior of the vehicle, but you could omit this and paint or polyurethane your drawers instead.
Third Coast Craftsman DIY Truck Bed Storage Plans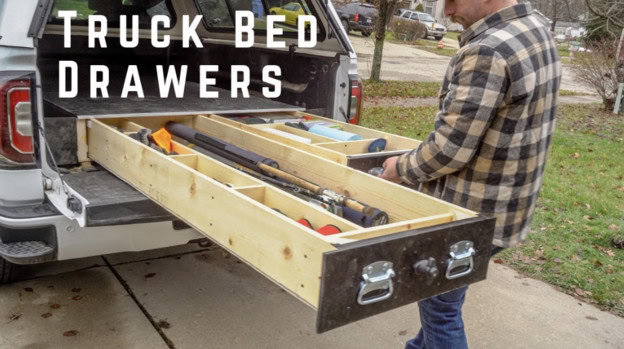 The Third Coast Craftsman DIY Truck Bed Storage plan is a very inexpensive blueprint that features incredible storage for a standard truck bed. If you have a pickup truck with a short bed, this plan can be easily modified to accommodate that too.
This two drawer system provides easy access to your camping equipment, tools, food, or whatever else you decide to keep in them. This plan costs an average of about $400 to build, and will take a couple days of work to complete.
This DIY truck bed storage plan is a bit on the advanced side, but he also has a youtube video available that you can follow along with.
Expanding Your Truck Bed Storage Capacity
If adding drawers and storage systems still isn't enough storage for you, or you don't want to install heavy drawers in your bed, there are other ways you can organize your truck bed.
Bed Racks
Adding a bed rack is a fantastic way of increasing your truck bed storage. It gives you plenty of extra space to haul bigger items like kayaks, bikes, or even a rooftop tent.
If you're wanting to compare bed racks and roof racks, we wrote some articles to help you decide which one is best for you. Check out our guide to the best overlanding roof racks, and the best bed racks for the Toyota Tacoma.
Camper Shells
Adding a camper shell is another great way of increasing the space in your truck's bed. They give you tons of extra vertical space and provide a secure place to store your valuables. There are tons of different camper shells on the market to choose from that all have varying features.
Another thing to consider is that you could purchase a camper shell that doubles as a living space. There are so many great options available and make for a really comfortable overlanding setup.
We also wrote about some of the most popular camper shell setups for the Toyota Tacoma.
Truck Bed Covers
Truck bed covers like the Diamond Back are great for keeping your valuables secure and out of sight. They also allow you to store things inside without needing straps or tie downs.
Truck Bed Storage Compartments & Boxes
If you're not ready to commit to a full storage system in the bed of your truck, or need more than one drawer system, here are some other great options to consider.
Bolt-In Compartments & Boxes
Here are a few great bolt-in options:
1. Diamond Tread Aluminum Topsider Truck Box
This truck box is a heavy duty and secure way to store valuables in your truck bed. It is completely corrosion and rust resistant, and also weather sealed so it's safe to leave in your truck bed long term.
2. Lund Specialty Storage Box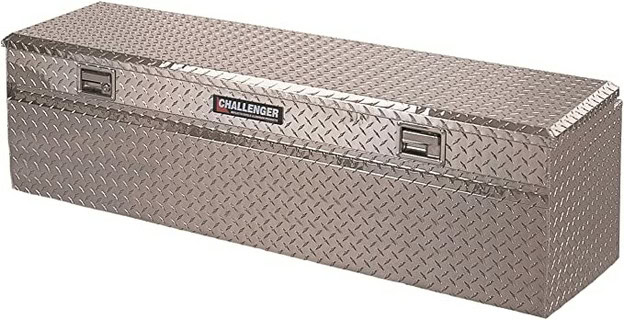 This Lund 5560 storage box is crafted from solid aluminum and has a diamond plate coating. This ultra secure storage box is ideal for keeping your things secure. This box securely locks into your truck bed with J-bolts and therefore doesn't require drilling into your truck to mount it.
3. Smittybilt Rear Lockable Storage Box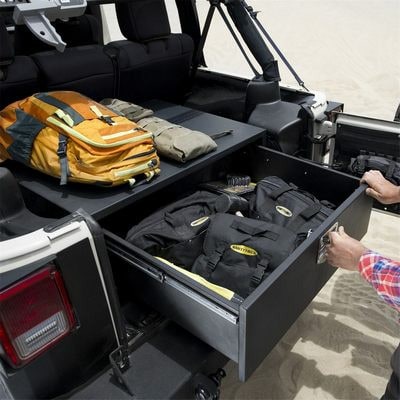 This Smittybilt storage box is constructed from powder coated steel and is totally weather sealed. The drawer is designed to be able to support 350 pounds, which is plenty for most equipment and tools.
While this box is technically designed to fit perfectly in a Jeep Wrangler, it does include multiple different hardware options so you can mount it in any vehicle.
Storage Boxes
If you're not needing a permanent storage solution for your truck and instead want to just create some more organization overall, there are tons of off-road storage boxes on the market.
We have a whole guide to the best off-road storage boxes on the market to help you make your choice.
Totes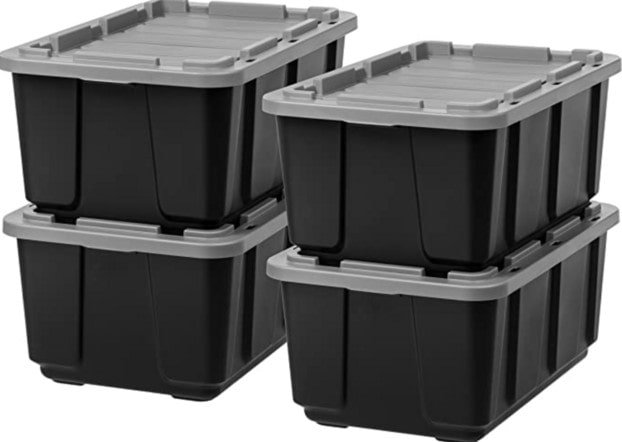 Totes are so versatile and are one of the easiest ways to keep your truck bed organized. The best part is you can easily switch them out depending on what kind of adventure you're heading out on. Be sure to invest in some high quality totes that won't break and will last for years.
Bags
Storage bags are a very inexpensive and easy way to keep your things organized and prevent them from rolling around in your truck's bed. They are incredibly convenient and bags like the Higher Gear one even folds down when it's not in use.
Other Truck Bed Accessories
Here are some other great things to consider adding to your rig to improve your organization and storage capacity:
Tie Down Tracks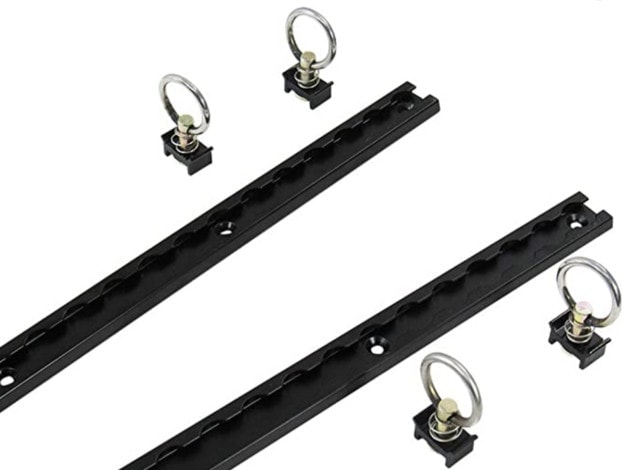 Tie down tracks like these from Pit Posse are easy to install and create a super easy and convent system for tying things down in your truck bed. They're compatible with all kinds of ratchet straps, D rings, and O rings.
Truck Bed Extender
There are a couple great ways to extend the capacity of your truck bed. Here are two different styles of truck bed extenders:
1. AMP-Research BedXtender
Truck Bed Extenders like this one are great for easily adding much more space in your truck but utilizing your tailgate. They are super easy to install and are ideal if you have projects that regularly require more space in your truck bed. They do make loading and unloading heavy things a little more hectic, but can be completely worth the extra effort.
2. Pensun Truck Bed Extender
Truck bed extenders like this Pensun one are incredibly versatile, inexpensive, and convenient. They work by hooking into your hitch and can easily help you balance larger objects like wood or kayaks.
Truck Bed Cargo Slide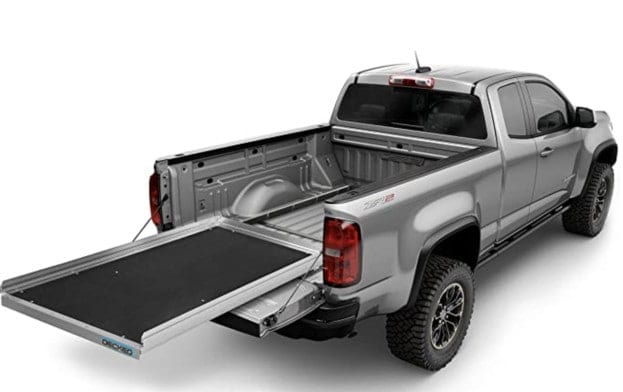 Truck bed cargo slides like the Decked CargoGlide are great ways to keep your truck bed organized. They can be installed on the bottom of your truck bed or even mid-way to create a sort of shelving unit. They give you better access to your things and can hold up to 1000 pounds of gear.
Truck Bed Rails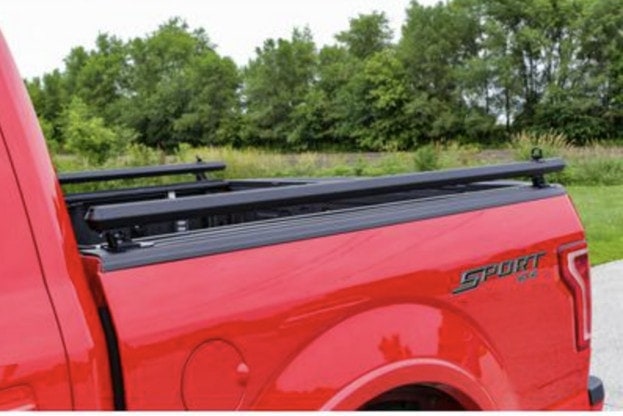 Truck bed rails like these Dee Zee Hex Series rails are great for adding additional functionality to your truck bed. They provide additional anchor points to strap things in and also work to mount accessories.
Final Thoughts
There are so many ways to increase the storage capacity of your truck and keep things organized. Whether you're going to DIY your own storage drawers or just organize things better in some totes—upgrading your storage will dramatically improve your quality of life on the job or on the trails.