Looking to maximize your Toyota Tacoma's storage space?
A bed cap is an awesome Tacoma mod that can also keep your valuables safe from bad weather, sun damage, and prying eyes.
A bed cap will not only give you more flexibility and peace of mind when storing gear, but it can also be used as a camper shell. There's nothing like having a peaceful refuge from wind, rain, and cold weather while adventuring.
Here's a list of the best bed caps for 2nd & 3rd gen Tacomas:
Table of Contents (Click to Expand)
What To Look For When Buying a Truck Bed Cap
Photo Credit: @_jim_bob on Instagram
Here's what to know when you're shopping for a truck bed cap:
Material
There are a few different material options when it comes to truck caps. The most popular are fiberglass, steel, plastic, and aluminum.
Each of them vary in durability and weight, so you'll need to consider whether you're willing to compromise with gas mileage and get an ultra-durable steel bed cap, or whether you're just looking for a simple and lightweight option to store a few extra gear items.
Weight
Weight can vary dramatically depending on what truck cap you decide to put on your Tacoma.
Plastic and composite truck caps are as light as 50 pounds, while some heavy-duty steel caps can weigh upwards of 400 pounds.
It's crucial to know how much weight you're adding to your Toyota Tacoma because you don't want to overload your suspension & leaf springs. Especially since adding a bed cap provides more storage space—and thus, more things and more weight.
If you need a heavy-duty truck topper, make sure you check out the weight rating for things like your brakes, tires, drivetrain, and suspension.
Height
Choose the height of your truck cap wisely.
Having one that's too tall could prevent you from going through drive-throughs or parking garages and negatively affect your gas mileage.
While this may not be an issue for everyone, it's an important consideration.
You also should know how you're going to use your truck cap. If you just want a secure place to store a tool box and some totes, a regular tonneau cover (like the Diamondback) might be a better option.
If you want to make your truck cap into a livable camper shell for overlanding trips, then it's probably worth investing in something taller (like the Smartcap EvoA Adventure).
Budget
The price of truck bed caps varies dramatically.
You can find them for as little as $300 for basic ones to upwards of $5,000 for top-of-the-line caps with all of the bells and whistles.
Therefore, your budget will be a big factor in choosing the right truck bed cap for you.
5 Best Truck Bed Caps For Your Toyota Tacoma
Here are our top choices for Toyota Tacoma truck bed caps:
1. Smartcap EvoA Adventure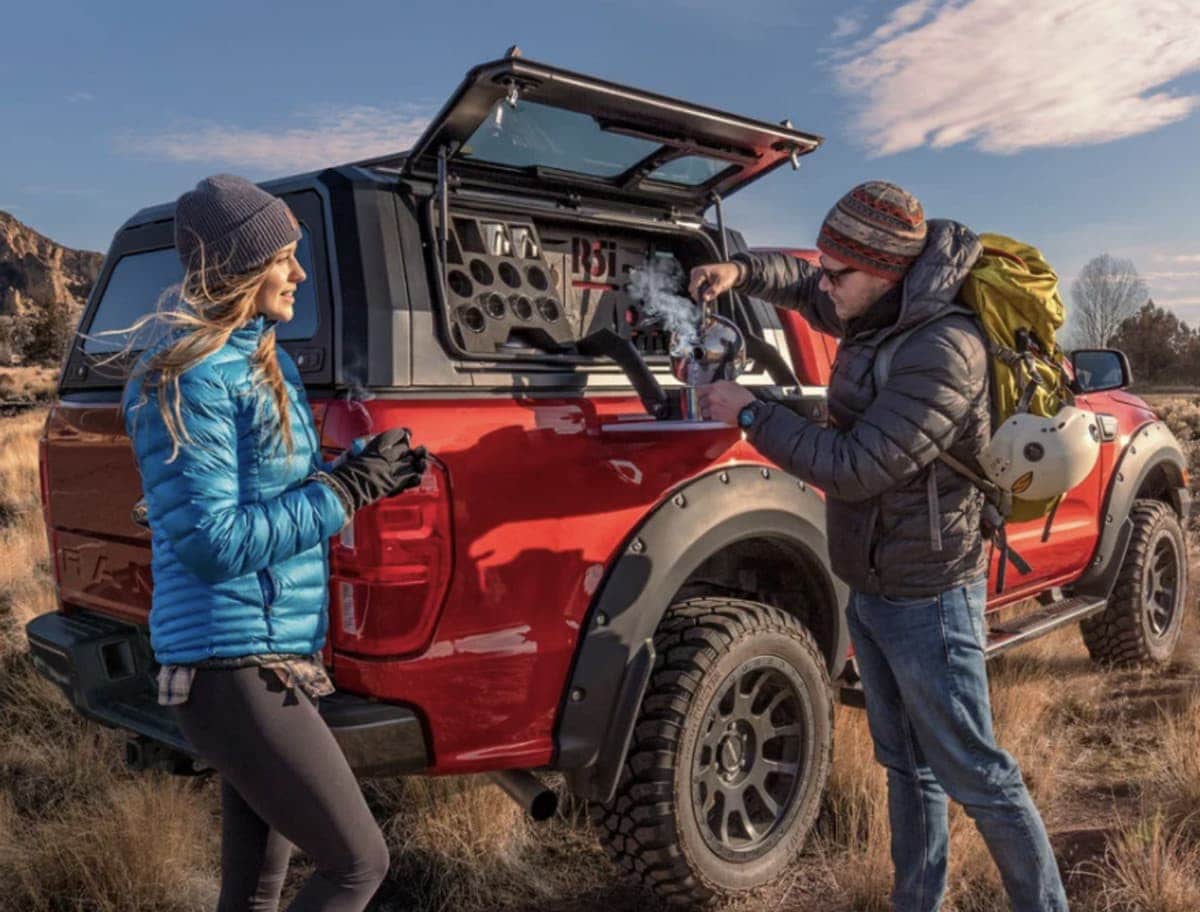 The Smartcap EvoA Adventure was designed with overlanders and outdoor enthusiasts in mind—and it's my personal favorite choice.
The heavy-duty stainless steel design boasts the ability to hold up to 330 pounds of dynamic weight and 770 pounds of static weight. This means you'll have no issues adding things like a rooftop tent, kayaks, bikes, or any other heavy items on top.
The RSI Smartcap EvoA Adventure was built and tested in the harsh conditions of South Africa, so it's built to keep you and your gear completely dust-free and safe from rain.
This camper shell features three different windows—two on the sides and one on the back that are all lockable and tinted. It also has double-walled solid gullwing side doors that provide full access to your gear from all three sides.
If you're someone with a lot of equipment, this shell also has MOLLE side panels that allow you to conveniently mount different overlanding gear and accessories to the shell.
2. SofTopper
If you're worried about weight or want a cap that can be easily removed, the SofTopper is an excellent choice.
This bed cap is made from 2-Ply Laminated PVC-coated Sailcloth that is ultra-durable, waterproof, and UV safe.
The SofTopper is easy to install and doesn't require any drilling. Once the initial installation is finished, it can be put up and taken down in seconds. It's perfect for those who want the flexibility to alternate between an open and covered truck bed.
Each of the sides features vinyl windows and panels that can be opened so you can easily access your gear. The best part? This topper can be used in all four seasons so you don't have to ever remove it if you don't want to.
This is a perfect choice for those who want a budget-friendly, lightweight, and versatile bed cap for their Toyota Tacoma.
Worried about hauling heavy gear like kayaks or bikes? You can add a cage rack at any point so you won't have to worry about overloading your SofTopper.
3. FLATED Air-Topper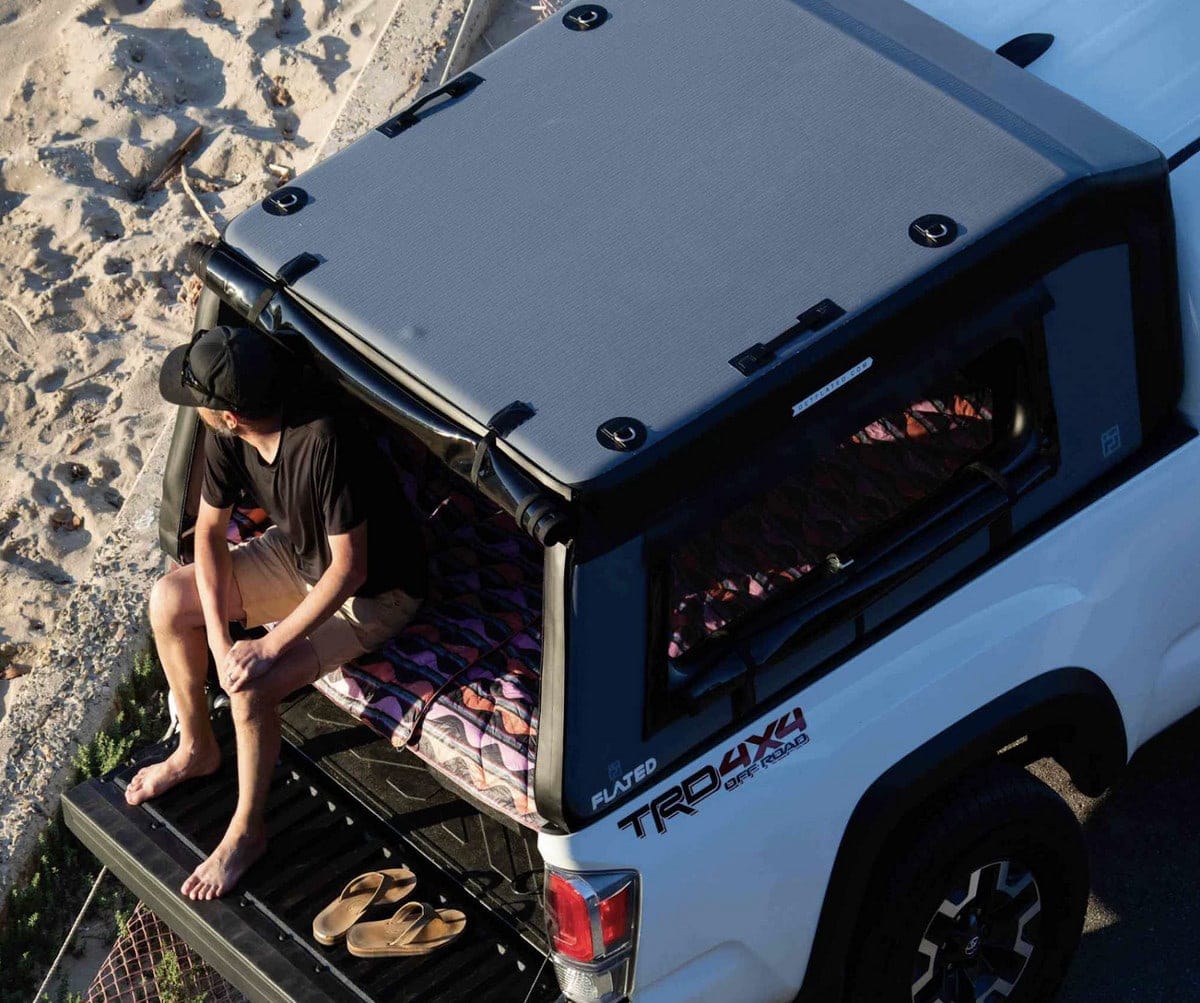 An inflatable truck bed topper? You're probably riddled with as many questions as we were when we heard about it. Will it pop? Is this safe? Is it annoying to set up?
Truly, this is an impressive solution for those who want to swap between having a topper installed and having their truck's bed open. The Flated Air-Topper deflates enough to fit in a compact bag that can be stored in the back of the closet or with other camping gear.
While this topper isn't as durable as one made from metal or plastic, it is still durable enough to hold over 100 pounds and uses special stitching and a PVC coating to ensure it won't pop. This makes it a great option for those who want extra cargo room without the commitment.
It also features integrated tie-down anchors, privacy tinted side and rear windows, mesh bug screens, and internal storage pockets—making it a great option for those who want to use it as a small camper on trips.
They even have the option to add an air deck which is a raised platform bed that perfectly fits inside your shell.
This specific design is made for 6-foot beds, but they also make a short bed topper as well.
4. Alu-Cab Contour Canopy
Alu-Cab is one of the biggest names in the game of camper shells, and their truck bed caps are just as impressive. The Alu-Cab Contour Canopy is a solid aluminum shell that has been fully powder coated in black for durability and a weather-proof finish.
This truck cap is equipped with water and dustproof seals throughout. The hinges on each of the sidewalls and windows are even waterproof to prevent water from getting inside while they're open. They're also all on dual gas struts to make getting stuff in and out a breeze.
The Contour Canopy is tamper-proof and fully lockable to keep your gear safe while you're away, and the windows are all tinted to better conceal what's inside. For safety purposes, Alu-Cab also included integrated backlights directly in the cap to help you stay visible on the road.
If you plan on adding a rooftop tent or storing other gear on top, you won't have to worry about Contour Canopy letting you down. It's rated to hold up to 350 pounds of dynamic weight on the integrated roof rails, which is plenty for most outdoor enthusiasts.
If you're a fan of this design you may also like the Go Fast Camper. This is a truck bed cap with an integrated rooftop tent that allows you to even stand up inside.
5. SnugTop Super Sport
First, what we love about the SnugTop Super Topper the most is that they designed them to look like they belong on your truck, right out of the factory.
They're made of fiberglass and feature large windows, multiple roof rack options, and they come in OEM factory-matched colors. This cap also is fully lockable to protect your gear and accessories safely while you're away.
With the multiple rack system mounting options you'll never have to worry about needing to leave gear behind, plus the cap is rated to hold over 500 pounds, meaning it's impressively durable.
Another welcomed feature is that this cap has a carpeted headliner inside. This protects your gear from potential dings and scratches but also gives the interior a homier feel for those planning to use it as a camper.
Frequently Asked Questions
Here are some commonly asked questions about bed caps for the Toyota Tacoma:
Are bed caps waterproof?
Most of the time, yes. However, look for phrases in the item description that state that it is either weather-proof or waterproof.
Can I install a bed cap myself or will I have to hire a professional?
This depends on the bed cap you purchase and your level of comfort. Truck bed caps like the Flated Air Topper are fairly simple to install by yourself and are light enough to be easily lifted alone.
The Alu-Cab Contour Canopy, by comparison, is quite a bit heavier and will require some helping hands. This can be done in your garage or driveway without the help of a professional—if you feel handy enough to do so.  
Can truck bed caps be locked?
Most truck bed caps can be locked, however, the level of safety and security of your belongings will vary depending on the kind of material it's made out of and whether or not it has easy-to-smash windows.
Always take extra precautions when leaving valuables in your vehicle while you're away.
Are bed caps compatible with tonneau covers or other truck bed covers?
Not usually. You will most likely have to completely remove your tonneau cover in order to install your truck bed cap on your Toyota Tacoma properly.
Final Thoughts
Whether you're looking to add covered storage space for gear or if you're looking to turn your Toyota Tacoma into a camper—a bed cap is a great way to add functionality to your outdoor adventure needs.
They provide a secured interior to keep your belongings safe, which is harder to accomplish with something like a Tacoma bed rack. Most are weatherproof with integrated rack systems and can easily be installed at home without the help of a professional.  
We hope you found the truck bed cap of your dreams to help you have the best and coolest off-road adventures!