A sturdy kinetic recovery rope is an essential tool for any off-road travel.
These ropes have many uses for adventurous overlanders off the beaten path, but their most common (and most important) purpose is helping stuck vehicles get unstuck.
The recovery rope works by storing kinetic energy as a "recovery vehicle" pulls away from the stuck vehicle.
When it stretches to its full length, the rope will quickly contract, pulling the stuck vehicle along with it.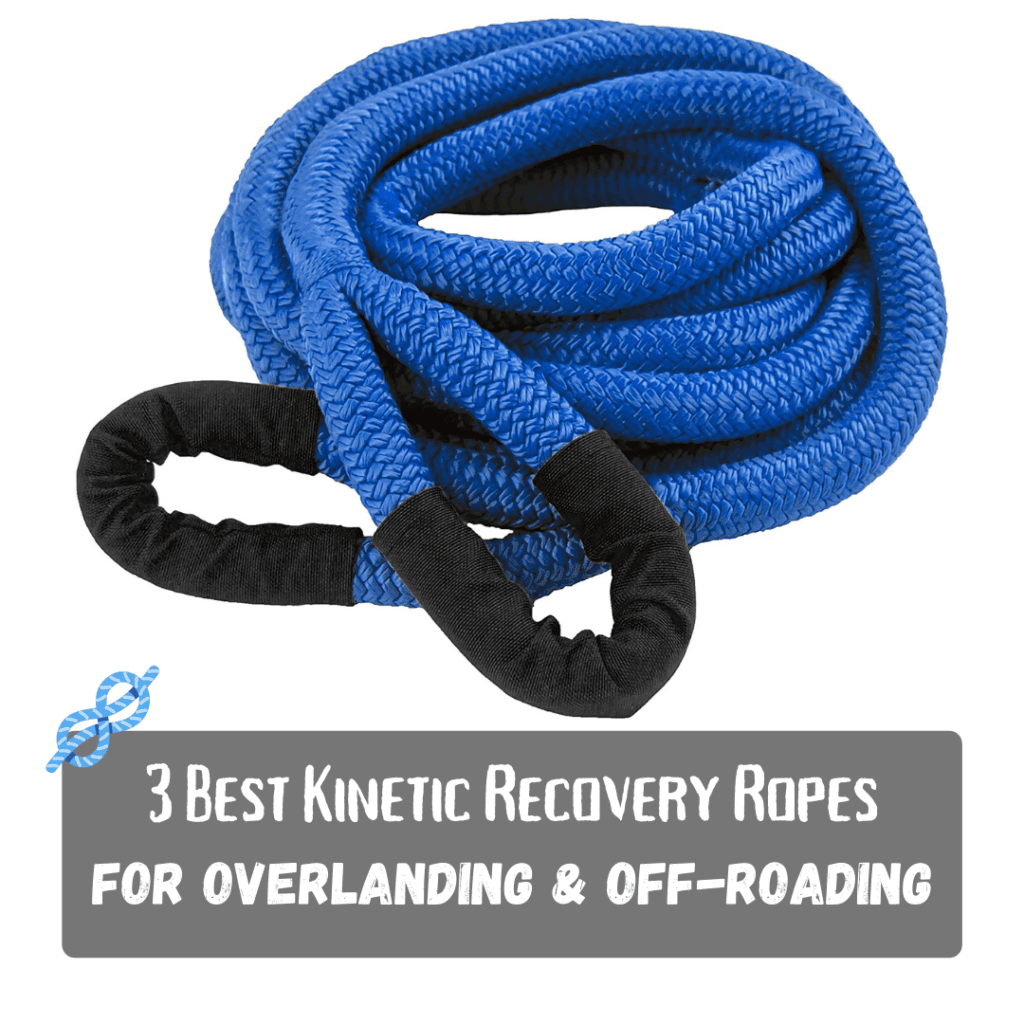 The techniques and technologies behind the kinetic energy recovery ropes have advanced rapidly through recent years, but no two brands are alike. It's essential to pick one that fits the situation you'll think you'll be in, so we've provided some expert recovery rope reviews to help you make your decision.
3 Best Kinetic Recovery Ropes
Below we've listed some of the best kinetic recovery ropes available today. While this isn't an exhaustive list, it'll still give a good idea of what to look for when purchasing a rope for your vehicle.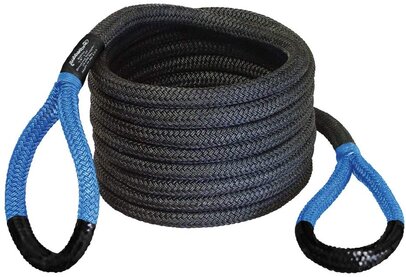 Bubba Rope is a powerful recovery cord manufactured by the American company Bubba Gear. Initially designed for military use to airlift large cargo, these highly durable ropes can withstand extreme temperatures and heavy impacts with ease. Additionally, Bubba Gears makes its ropes from high-quality nylon that resists wear and tear while remaining lightweight for ease of handling.
Pros
The Bubba Power Stretch Recovery Rope can support up to 28,600 pounds.
Made out of high-quality nylon that allows it to remain effective while only weighing 4.1 pounds.
Can tow heavy loads stuck in a variety of rough terrains.
Highly durable and resistant to abrasion, UV, and water damage.
Comes with a tote bag for easy storage.
Cons
Can smell unpleasantly strong when first opening the box.
While the rope remains effective, its color tends to fade over time.
Our next recovery rope option comes from Mibro. They've constructed their DitchPig Kinetic Rope with tough, double-braided nylon for extra strength to handle heavy loads. Both ends form a sturdy loop that resists wear and provides comfortable handholds or hooks. In addition to its strength and durability, the DitchPig Kinetic rope is one of the best kinetic tow ropes available, malleable enough to stretch up to 30% over its original size.
Pros
The DitchPig Kinetic Rope is much more affordable than other leading brands.
Strong and durable but lightweight for ease of use.
Very elastic—perfect for getting your vehicle back on the road.
Can hold weight up to several thousand pounds.
Cons
The double-braided weave can catch on rocks or other protrusions.
Mibro only offers limited warranties in case of issues with their product.
ARB is a popular, Australian-based manufacturer of off-road gear and accessories. They make their snatch straps from 100% nylon material, providing durability and elasticity that other brands can't beat. Typically coming in well-stocked kits, ARB gives you the tools to get your vehicle through any off-road traveling you go through.
Pros
The ARB Snatch Strap can handle loads of up to 33,000 pounds.
The nylon material allows the strap to stretch and adds to its effectiveness.
It can extend an extra 20% in addition to its regular 29-foot length.
Inexpensive compared to competing brands.
Cons
Good overall performance, but their design makes them unsuited for specific terrains.
Benefits of a Kinetic Recovery Rope
Kinetic recovery ropes and snatch straps have the same purpose and are crucial in every overlander's gear kit. Still, there's a world of difference between them in terms of actual effectiveness. Manufacturers design kinetic recovery ropes to improve snatch straps' core functionality: absorbing and transferring energy to rescue a stuck vehicle.
To improve the snatch strap, leading recovery rope brands design them to stretch up to 30% over their resting length, 10% more than leading snatch strap brands. Their stretchiness allows a recovery vehicle to pull a stuck vehicle without many sudden stops and jerks, ensuring both cars come out with minimal damage.
You can use them in combination with a winch and a snatch block to get out of even the stickiest of situations!
What to Look for When Buying a Kinetic Recovery Rope
While recovery ropes all serve a similar function, no two brands make them the same. Any number of factors can heavily alter how useful they'll be to you while on rough terrain.
It's essential to understand the different factors that go into a recovery rope's construction so that you can pick out the one that best satisfies your needs. Below is a comprehensive guide of various recovery rope characteristics that you should pay attention to so you can pick one that fits your vehicle.
Material
While certain brands make recovery tools from metal or woven fibers, these materials are inefficient and are prone to breakage. In contrast, almost all kinetic recovery ropes are made from nylon, significantly increasing their durability, lifespan, and effectiveness.
Other brands, such as GearAmerican and DitchPig, use other materials such as neoprene and polyester or focus on increasing tenacity rather than elasticity.
Size
The length and width of your rope can drastically affect how well it can pull your vehicle out of a bad situation. Generally, kinetic ropes come in sizes ranging from 20 to 30 feet, with width increasing or decreasing to match. A good rule of thumb to follow is that the longer a rope is, the more situations it can get you out of, and the wider a rope is, the longer it'll last.
Breaking Strength
The breaking strength of your rope is likely the most critical variable to track because it determines how much weight it can hold before breaking. There's a wide range of breaking strengths among kinetic ropes, ranging from around 7,000 pounds (good for ATVs or snowmobiles) to 70,000 pounds (suitable for large transport trucks. For the best performance, it's best to pick the rope that can hold your vehicle two times over.
Stretch
The more your recovery tool can stretch, the more kinetic energy it can store—that's why it's called a kinetic energy tow rope. More energy storage allows the recovery vehicle to exert more force on the stuck vehicle without damaging either care in the process. Traditionally, snatch straps can stretch up to 20% over their resting length, whereas kinetic ropes can stretch up to 30%.
Durability
In off-road terrains, the rope will come into contact with sharp rocks that cause abrasions, extreme weather conditions, water damage, and other hazards. The best kinetic recovery ropes are made from suitable materials. They can stand up to those conditions as well as the strain of pulling a heavy vehicle so that you won't have to worry about potential breakages leaving you stranded.
Conclusion
While overlanding is a fun and rewarding experience, doing so without the proper preparation is a recipe for disaster. Give yourself options to get your car unstuck from rough terrain and keep frustrating situations from turning into scary ones. A kinetic recovery rope is only the start of an adequately stocked recovery kit, but knowing how to pick out the best one could potentially save your life.