Want to upgrade to gnarly, aggressive all-terrain tires on your Tacoma and increase your ground clearance for dirt mounds and rocky terrain?
Then you're gonna need a lift kit.
But which kit is best for you depends on your driving style, budget, and the type of trails you'll be riding.
Below, I break down the types of lifts you can buy and which is best for what.
Table of Contents (Click to Expand)
Why Do You Need a Lift Kit for Your Toyota Tacoma?
Lifting your Tacoma is one of the coolest things you can do to it… but is there a reason other than looks?
A lift kit increases the overall height and ground clearance of your Toyota Tacoma. It's important to note that a body lift kit is not the same as a suspension lift.
In a body lift, spacers are added to the mounting points where the body of your truck meets the frame.
Suspension systems, on the other hand, work by raising the frame of the truck higher off the ground to improve ride quality. x
This also gives you the option to add larger tires (but you'll need additional mods for that).
What You Need To Know About Suspension and Alignment
Here are some of the main things you need to know:
Leaf springs (one of the oldest suspension designs) are made of several metal strips curved slightly upward that are clamped together. We have a full guide to Tacoma leaf springs here.
Coilovers combine a front spring and shock assembly into one unit. Shocks are oil or gas-filled pistons (inside your springs) that compress and expand to absorb impacts and give you a smoother or stiffer ride.
Upper control arms are part of your independent front suspension and are responsible for the vertical alignment of front spindles; they're generally not load-bearing.
Lower control arms are also part of your independent front suspension but take on most of the load-bearing.
Lug nut wheels: Some lift kits are specially designed for either 5- or 6-lug models, so check yours before investing in the wrong one.
Correct alignment also ensures your tires don't suffer from uneven wear and tear:
Caster is the angle that your front tires are tilted in relation to the steering axis.
Camber is the angle of your tires in relation to the vertical axis when looked at from the front of your vehicle.
Toe is the angle your tires turn in or out in relation to each other.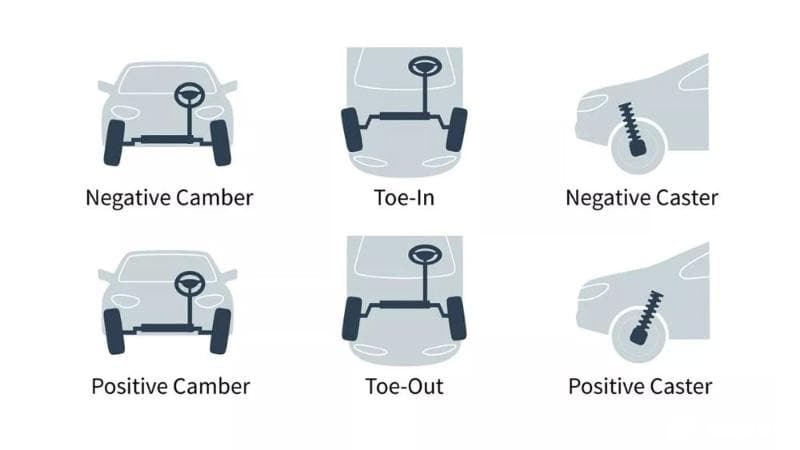 Image Source: https://www.wapcar.my/
Now, let's consider the difference between front and back lift kits.
Different Types of Front and Back Lift Kits (+ Suggested Brands)
Some lift kits come with everything you need for both front and back. However, you might want to invest in each part separately based on how you'd like to customize your vehicle.
Front lift kits
Spacers (AKA leveling kits, spring blocks, or leveling spacers) are the cheapest method for a fixed amount of lift. They also don't require any new mods or suspension components. They work by adding space between the body of your truck and suspension for 1 to 3 inches of lift.
Shims are a similar concept but a little different. These thin and often wedged components are a quarter of an inch thick and provide a half-inch lift. You can stack a maximum of two on one side for a small rise. (Toyota Tundras have a famous driver-side lean which shims are used to even out.)
Suggested brand: Supreme Suspensions 3" Front Leveling Kit
Coils and coilover kits work in the same way—the only difference is a coilover is one unit, while coils are separate pistons and springs. They both replace the stock suspension entirely and come in tons of different stiffnesses and sizes. Coilover lift kits are more expensive (and popular) as they're already assembled.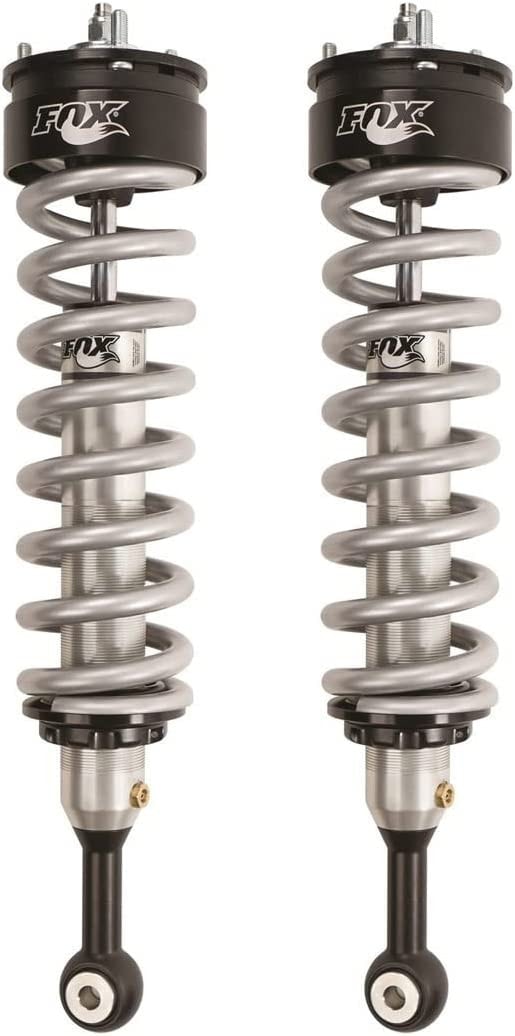 Suggested brands: ARB Old Man Emu Coil Spring or Fox Racing Coilovers 2.0 Performance
Rear lift kits
Rear lift blocks work the same as spacers do for the front of your truck. They're placed under your rear leaf packs on top of your axles. However, they don't improve ride performance at all.
Used incorrectly, they can actually do more harm than good as they mess with the weight distribution and angles on other parts of your Tacoma.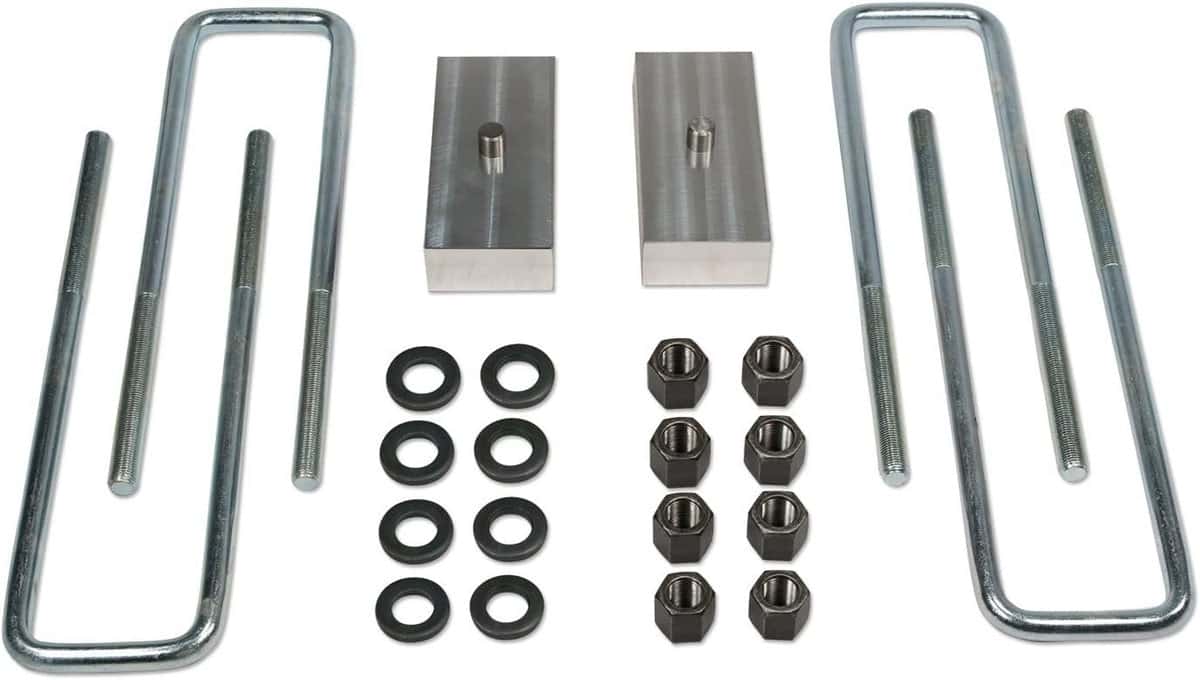 Suggested brand: Tuff Country Rear Block + U-Bolt Kit
An add-a-leaf is an excessively arched additional spring that can give extra support to the rear of some trucks.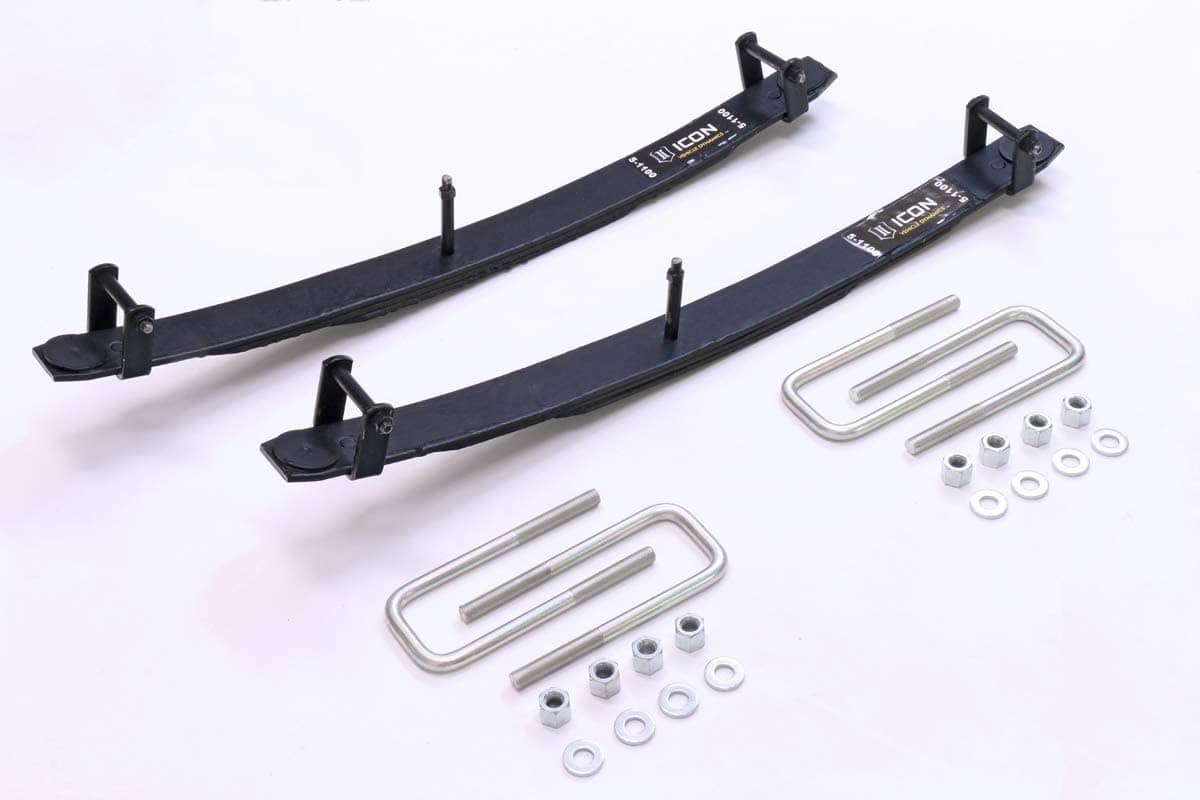 Suggested brands: Toytec Rear Add-a-Leafs or ICON Vehicle Dynamics 1.5" Lift
Leaf pack replacements are sets of leaf springs designed to have a better spring rate and increase your ride height. They can also increase or decrease your suspension travel and hauling capacity.

Suggested brands: ICON Vehicle Dynamics Multi-Rate Leaf Spring Kit or Pro Comp 5″ Rear Leaf Spring
Again, read our full guide to Toyota Tacoma leaf springs to learn more.
6 Best Lift Kits For The Toyota Tacoma
One of the biggest considerations when buying a lift kit for your Toyota Tacoma is the age of your truck. You have to buy specific kits depending on whether it's:
Gen 1 (1995-2004)
Gen 2 or 3 (2005+)
Get this wrong, and you may buy something that's not compatible with your truck. No one needs that waste of time and money.
If you're looking for a lift system for your Tacoma, check out our list of the best picks for each generation:
Gen 1 (1995-2004) Lift Kits
It can be a little harder to find lift kits for Gen 1 Toyota Tacomas (as they're obviously older), but there are still plenty of options out there.
Bilstein shocks are one of the biggest names in the game. Made in either the USA or Germany, these matching front and rear models are available in various lift heights.
Some of the other features are:
Valving that immediately reacts to a variety of surface conditions
OEM-certified mounting hardware that's easy to install
Zinc-plated resistance against tough elements
Durable vulcanized neoprene rubber bushings
When paired with the right set of coil springs, these shock absorbers can add up to 2.5" of front lift. If you want, add a solid pair of coil springs and a rear lift kit and you'll have a setup that lets you take your Tacoma anywhere.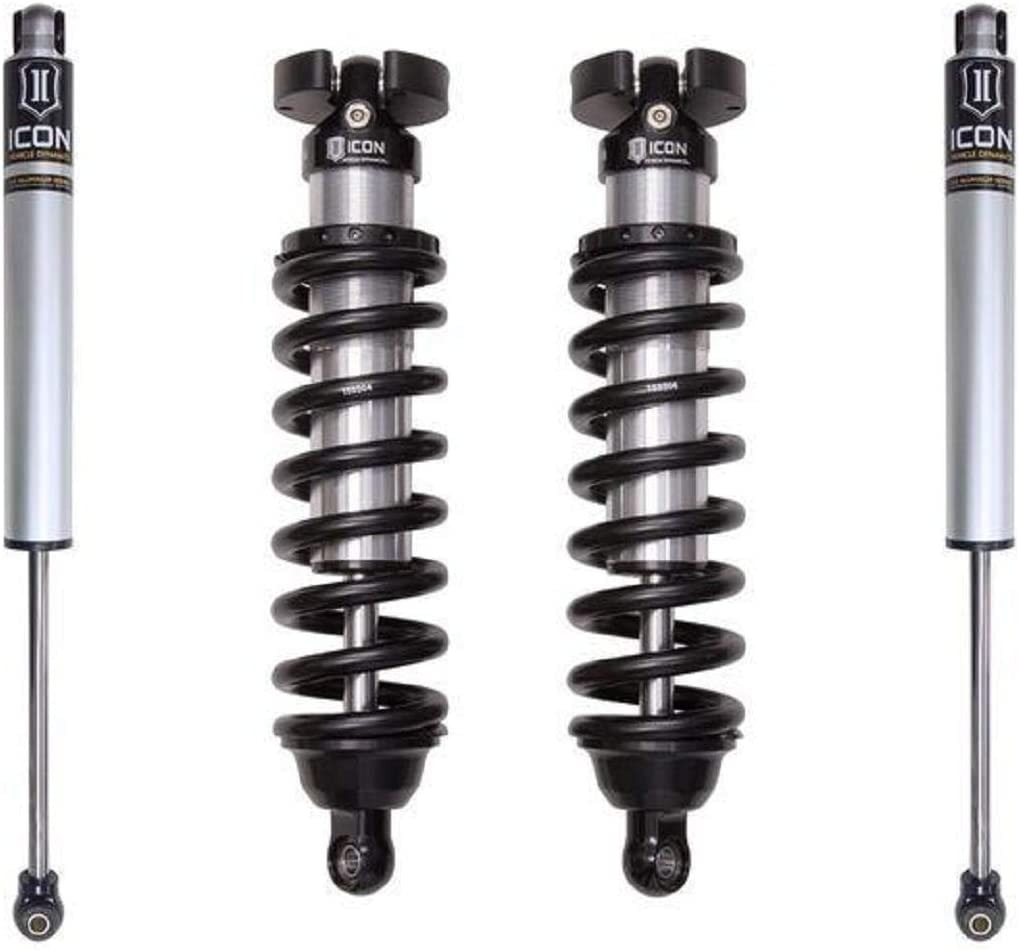 The ICON Stage 1 is designed for serious drivers and maximum performance. The kit includes tuned 2.5" coilover shocks and Eibach coil springs for an awesome "feel" through the range of travel. The coilovers are also adjustable (between 0-3").
Tuned front and rear shocks for superior damping and control
Aircraft-grade aluminum components
Corrosion-resistant coilover shock body with 7/8″ shaft
The bolt-on system means there's no cutting or welding necessary for installation. This is a kit that's perfect for those who want bigger, more aggressive wheel and tire combinations.
Check out our guide to 37 inch tires if that's what you're looking for.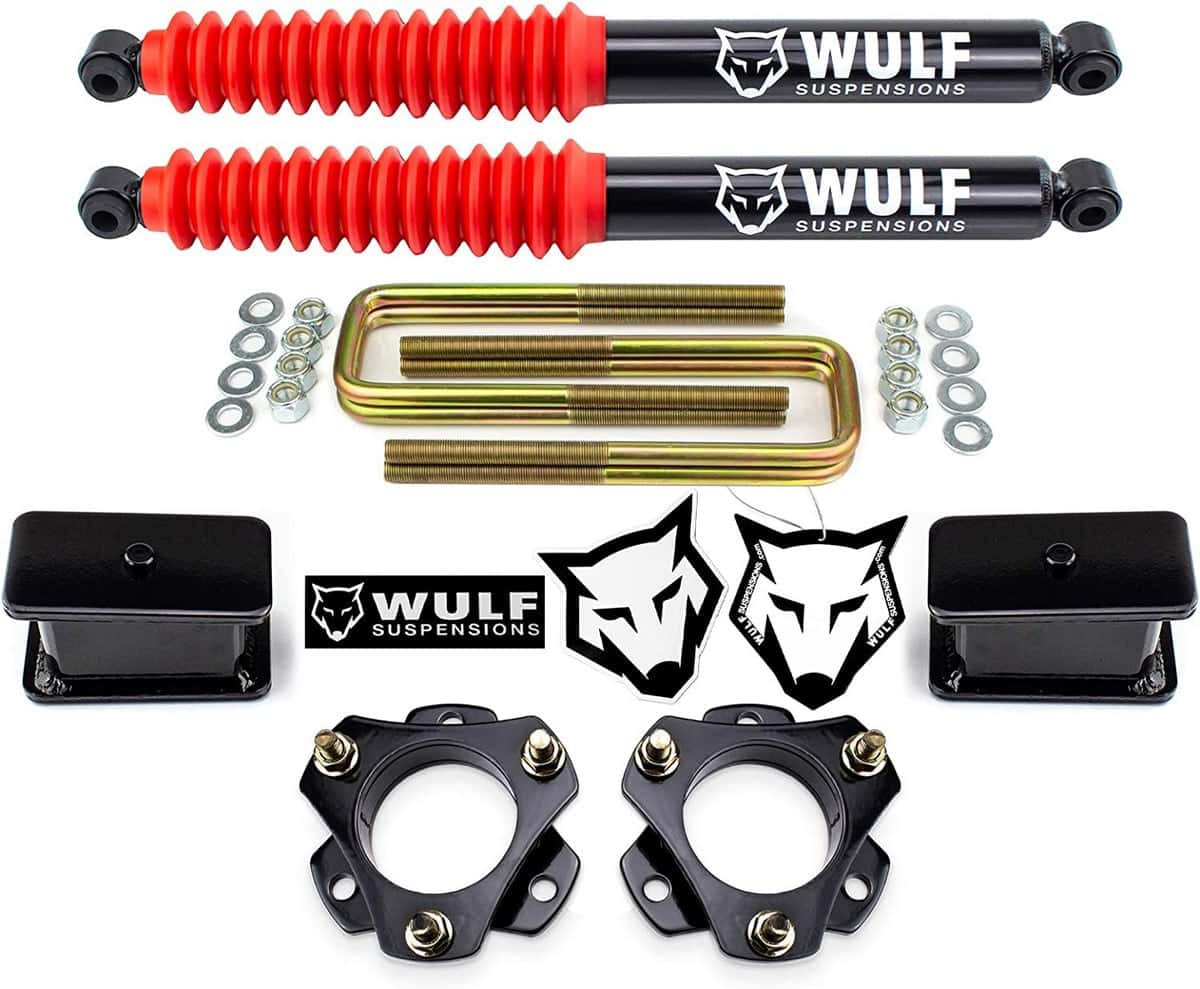 WULF is another huge name in the industry. If you're looking for improved ride quality and cornering capability (with not much focus on off-roading), this is a decent option for increasing your height.
This suspension lift kit includes:
Front strut spacers
Rear shock absorbers with red dust boots
Angled rear lift blocks
U-bolts
It also doesn't need extended fuel lines or a differential drop.
Gen 2 and Gen 3 (2005+)
Now we're getting into the newer models, your options for lift kits greatly increase. Here are a few of our favorites.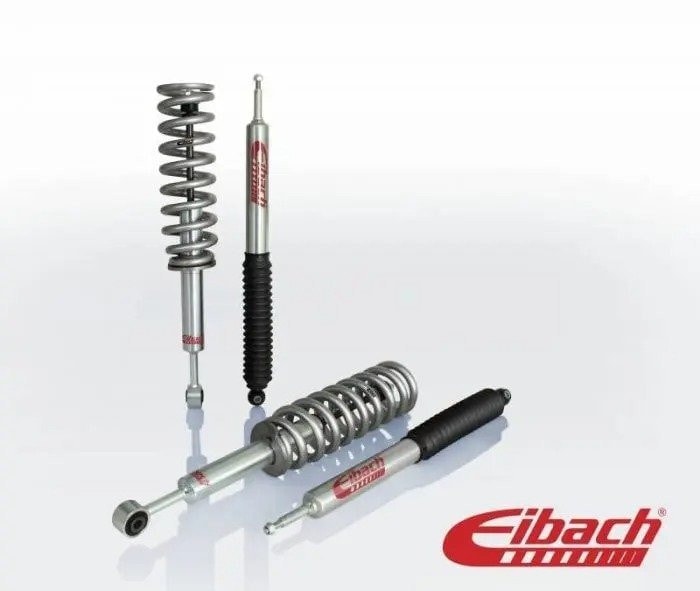 You'll see the Eibach brand name everywhere. Their Pro Truck Lift kits are engineered to give you the best possible ride quality and off-road performance.
Made in the USA, some of its features include:
2-3″ of lift or leveling
Perfectly matched system of lift springs and shocks for maximum performance
Manufactured using WULF's off-road race spring technology
Developed to provide balanced ride quality, control, and off-road capability
A million-mile warranty
This technology comes with block-resistant design for consistent ride height that doesn't sag.
If you're looking for a complete suspension kit for off-road use, look no further than this version from Dobinsons. The coils are specifically matched to any additional weight with Nitrogen-charged shocks, thicker walls, and self-proclaimed "superior design".
The top-quality Australian-made coil springs are heat-treated, fully scragged, and powder coated. You can also choose the particular suspension parts you want to build the best lift kit for your desired height.
If you want your truck to be returned to stock at any time, this kit is the one for you. It can be installed with limited cutting, drilling, and tools you'll likely have in your garage.
Rough Country's 3-inch Bolt-On Kit features:
An all-inclusive kit with everything you need to install
N3 Nitrogen-charged shocks, giving your truck incredible ride quality both on and off-road
A set of durable strut spacers
2″ rear blocks to provide lift height from front to rear
Rough Country's lifetime replacement warranty
You'll have plenty of ride height for larger tires with a clean, level look from front to back. Just be aware, this one doesn't fit models with 5-lug wheels.
While spacers and blocks are definitely cheaper than a replacement suspension, they'll never improve the ride, and it generally won't affect the spring rate. Plus, you have to deal with the added issue that they may fall out.
Buying Guide for Your Toyota Tacoma Lift Kit
While you may be set on the one you want, here are a few extra considerations to help you make the right choice:
Generation: You need to match the age of your truck with the corresponding lift kit.
Compression adjustability: The more control you want to have over your precise lift height, the more expensive the kit will be.
Trail riding: You'll need more or less lift depending on your usage (e.g. daily driving vs. light off-roading or advanced trails).
Rebound adjustment: If you use your truck for overlanding and daily driving, a wider range of rebound adjustment means you can fine-tune your ride depending on road conditions.
Additional add-ons: The more upgrades you add (e.g. extended brake lines, front differential drop and needle bearing, carrier bearing drop kits), the more it'll cost.
Check out these lifted Toyota Tacomas for inspiration.
Final thoughts
A lift kit is one of the best Tacoma modifications you can do to make your truck look cooler and perform better off the trails—if you do it properly.
Overall, if you use your Tacoma for the odd weekend trip, just get a spacer kit like Rough Country. If you enjoy driving hard and fast down the trails, you'll need a more heavy-duty lift kit like Dobinsons.
Just remember: if you alter one part of your truck, it'll affect something else! You should also always get an alignment after changing out suspension parts, and if you lift your Tacoma, non-lifted parts like the upper and lower control arms may need to be changed too.
If you're still convinced and choose to modify yours, make sure you know what you're doing or consult a professional.
Interested in more guides for Toyota Tacomas? Check out: